Dining Room Window Treatments
Formal or Informal - Your Choice
Norman®  offers a variety of window treatments to complement your dining room decor.  Choose elegant and luxurious roman shades, shutters, or wood blinds to match a formal setting.  And for more informal settings, select from our extensive shade and blind offerings.  Your interior decor is all about showcasing your personal home fashion, and we're here to maximize that potential with beautiful customizable window treatments. No matter your style, we have quality selections to match your taste.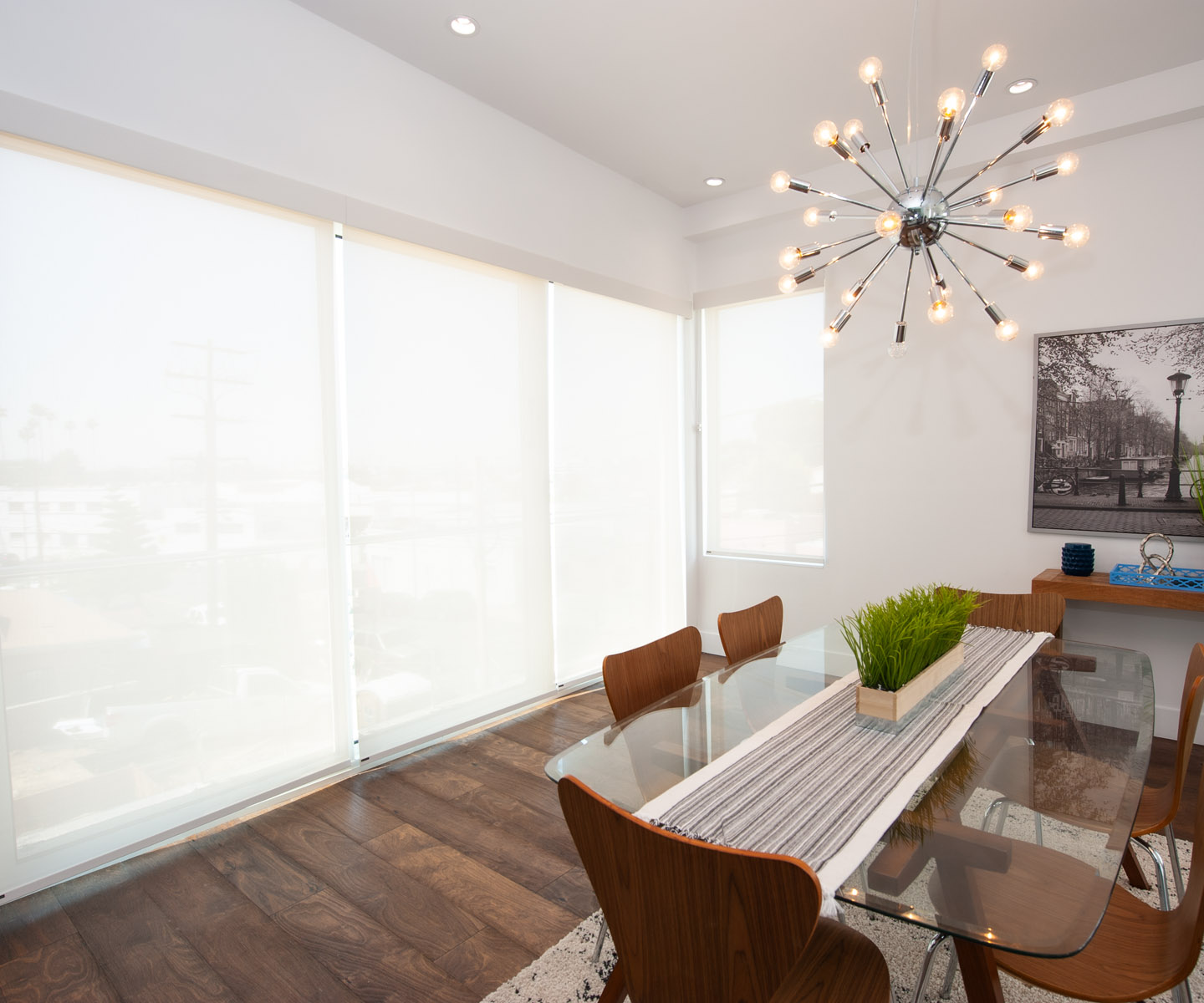 "The shutters just compliment our formal dining room perfectly."
Sharon S.
"I love my new shutters. Completely changed the look of my home interior."
Louis M.
"Wonderful beautiful blinds… Quality material & craftsmanship. Awesome selection of colors & designs."
Ron & Debbie G.
Frequently Asked Questions
Are drapes or blinds better for the dining room?
It honestly depends on your own personal style and preferences! If you like a more airy and light feel in your dining room, then PerfectSheer™ might be the way to go. If you prefer something a little more structured and classic, then Ultimate™ faux wood blinds could be better suited for your taste.
Are blinds good for light control and privacy in the dining room?
Yes, blinds are excellent for light control and privacy in the dining room! You can adjust the slats to let in as much or as little light as you want, and they provide some privacy when closed, though not completely. For full light control, the best type of blinds to get are SmartPrivacy® blinds, which prevent any potential light leakage through its innovative design which places route holes in the back of each slat.
What color draping is the best for dining room window treatments?
The best color draping for dining room window treatments would be white or off-white if your aesthetic is light and modern. For a more formal dining room look, go for fabrics in darker colors or rich textures. If you want to add a pop of color, deep green or blue coverings would be a good choice. No matter your personal preference or home style, Centerpiece™ roman shades have a wide range of colors that are sure to fit any decor.
What is the best way to dress a dining room window?
Dining room window treatments should be both functional and stylish. Centerpiece™ Roman shades are a popular choice because they offer a clean, classic look. If you want something with a little more personality, textured fabrics that offer the woven woods appearance in Soluna™ roller shades are a great option. For something more airy & ambient, consider SmartDrape™ in a light color.
Can you put honeycomb shades in a dining room?
Yes, honeycomb shades are a great option for dining areas. They provide excellent insulation and can help to keep the room cool in summer and warm in winter. Portrait™ honeycomb shades are also available in a variety of colors and prints to suit any decor.
What is the most popular type of dining room window treatment?
Trending dining room window treatments include wood blinds, roller shades, shutters, draperies, and Roman shades. Shutters provide a timeless look and can be customized to fit any window size and shape. Roman shades are a popular choice for any dining area because they offer different shade styles that can evoke a formal or more relaxed look.
Are there motorized window treatments for the dining room?
Yes, motorized window treatments are available for the dining room. Motorized shutters and Roman shades can be operated with remote control, making them easy to use. Motorized window treatments are a great option for not only hard-to-reach windows, but also large windows or many windows in the same room. They're also ideal for those who want the convenience of not having to manually adjust their window treatments while they're enjoying a meal.