Blinds have been a popular option for kitchens for years. Increasingly, kitchens are the central hub of a house where cooking, eating, and entertaining are conducted. Given their increased significance homeowners are even more focused on their appearance and window treatments play an important role in the overall décor.
Kitchen windows can be challenging to cover for a few reasons. First, because homeowners want to enjoy ample natural light while still maintaining privacy,  and secondly because they are high-traffic areas that often are subjected to more heat and moisture than other living spaces.
When considering the appropriate kitchen window treatment many options are available and it's not necessary to compromise fashion for practicality. Norman® has an array of high-quality products that deliver exceptional performance with a stylish look.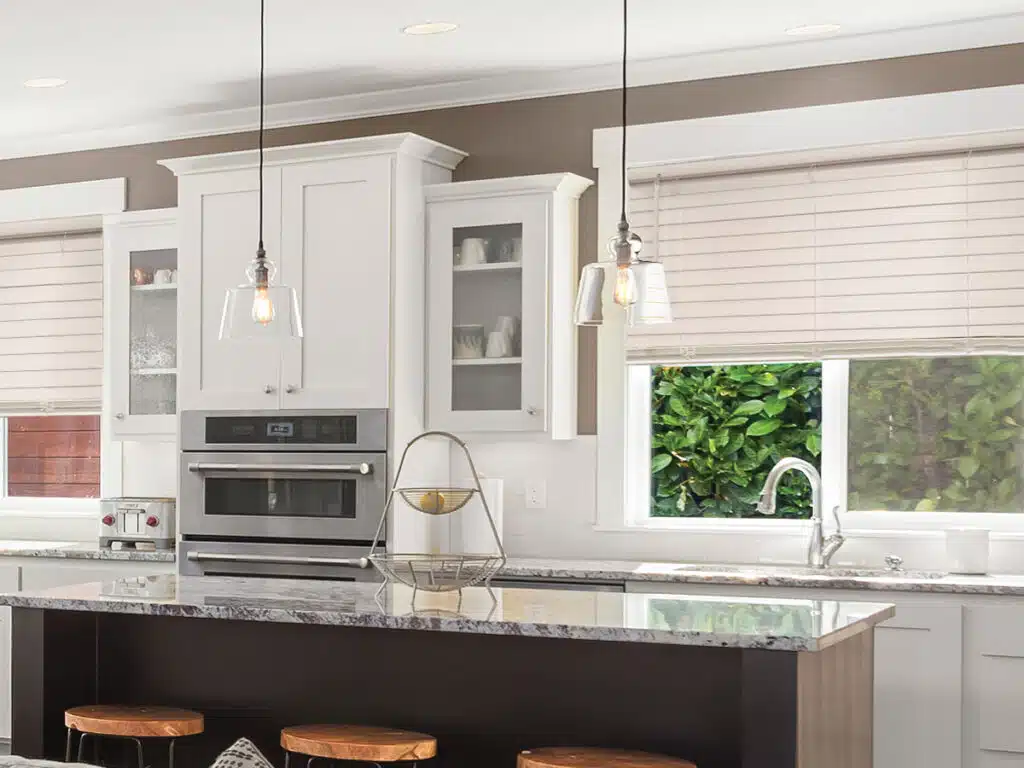 Different Types of Kitchen Blinds
There are an abundance of kitchen window treatments on the market, and each has its own set of benefits:
Faux wood blinds:

Norman® faux wood blinds are crafted from lightweight and safe, lead-free ABS materials. This durable option is highly moisture resistant, making it a great choice for above the sink.

Wood blinds:

Structurally sound and classically elegant, wood blinds can make a statement near a dining table in the kitchen but should not be placed near water or heating appliances.

Vertical Blinds:

These blinds are ideal for large windows or sliding doors in the kitchen. They can be adjusted to allow light to filter in while maintaining privacy. 

Aluminum blinds:

These low-maintenance, highly durable blinds effectively resist humidity and warping making them a good choice for windows close to faucets or heating elements.
Features and Benefits
Norman® USA's kitchen blinds have a reputation for superior quality and craftsmanship:
High-quality materials ensure longevity:

unlike other products that rely on PVC and vinyl materials, Norman® uses eco-friendly ABS composite materials for unmatched strength and performance.

Customization options for size, color, and style:

We've never met a window we couldn't fit. All our kitchen blinds are fully customizable in hundreds of on-trend colors and stains.

Advanced control mechanisms for precise light management:

for convenience and safety, Norman® kitchen blinds can be equipped with cordless lift technology. 

Cordless and child-safe options for enhanced safety:

Our products are safe for everyone in your home.

Easy maintenance and cleaning:

Our window treatments will last, so your investment is definitely worth it. 
SmartPrivacy® Faux Wood Blinds 
Norman®'s patented SmartPrivacy® faux wood blinds are a great option because they are attractive, durable, moisture resistant, and easily cleaned. You can enjoy more privacy and less light leakage in the kitchen, thanks to patented SmartPrivacy® technology. Faux wood blinds stand the test of time in virtually any environment from extreme heat to moisture to UV exposure.
When you have large kitchen windows, privacy control matters. Our award-winning design places the route holes at the back of the slat, unlike traditional blinds. This substantially minimizes light leakage and enhances privacy in a way that other kitchen roller blinds, venetian blinds, and shutters can't.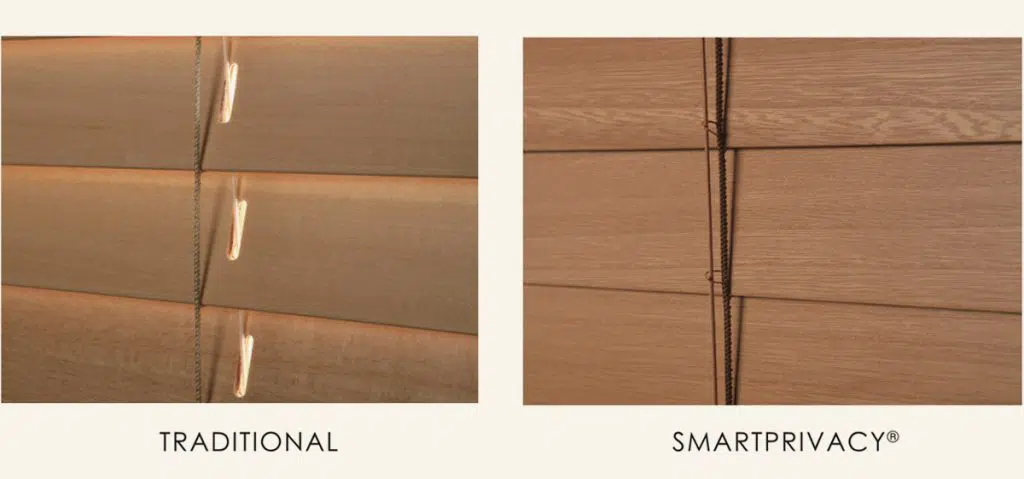 Ultimate™ Faux Wood Blind
Our Ultimate™ Faux Wood Blind takes light control and privacy to the next level by also incorporating an exclusive bottom rail that pivots 90 degrees when closed to align with the slats and offer the tightest closure in the market.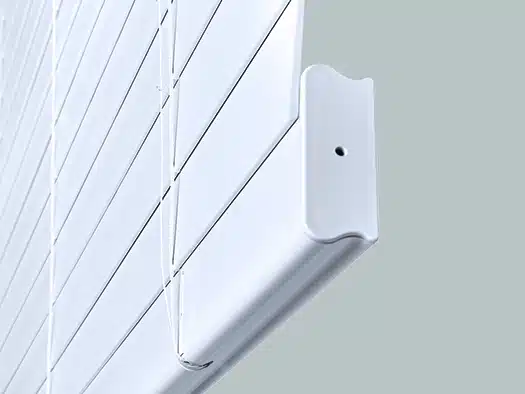 Emulating the look of real wood, you achieve a timeless style by choosing from a variety of realistic wood finishes, textures, and colors while staying on budget. As an added bonus, they offer protection against harmful UV rays and a level of insulation, helping to regulate indoor temperatures by blocking or allowing sunlight as needed.
Synchrony™ Vertical Blinds
A refinement on an iconic solution, Synchrony™ combines the traditional practicality of vertical blinds with the superior light blocking ability and refined modern look of our award-winning Aileron™ headrail.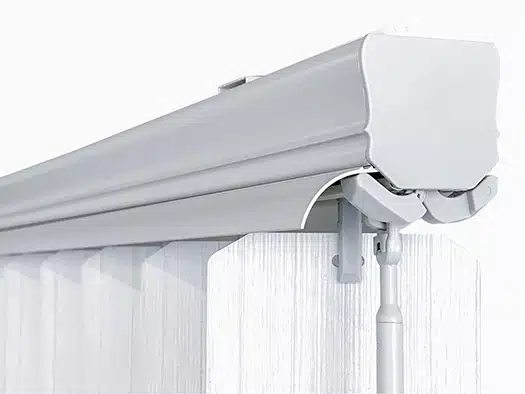 The kitchen is the heart of the home where family gathers. Synchrony™ vertical blind's cordless design is certified "Best for Kids™", and eliminates dangerous cords that can be a serious risk for children and pets alike. Constructed to provide extra durability against scuffs and dents, it's a great option for french doors and floor length windows.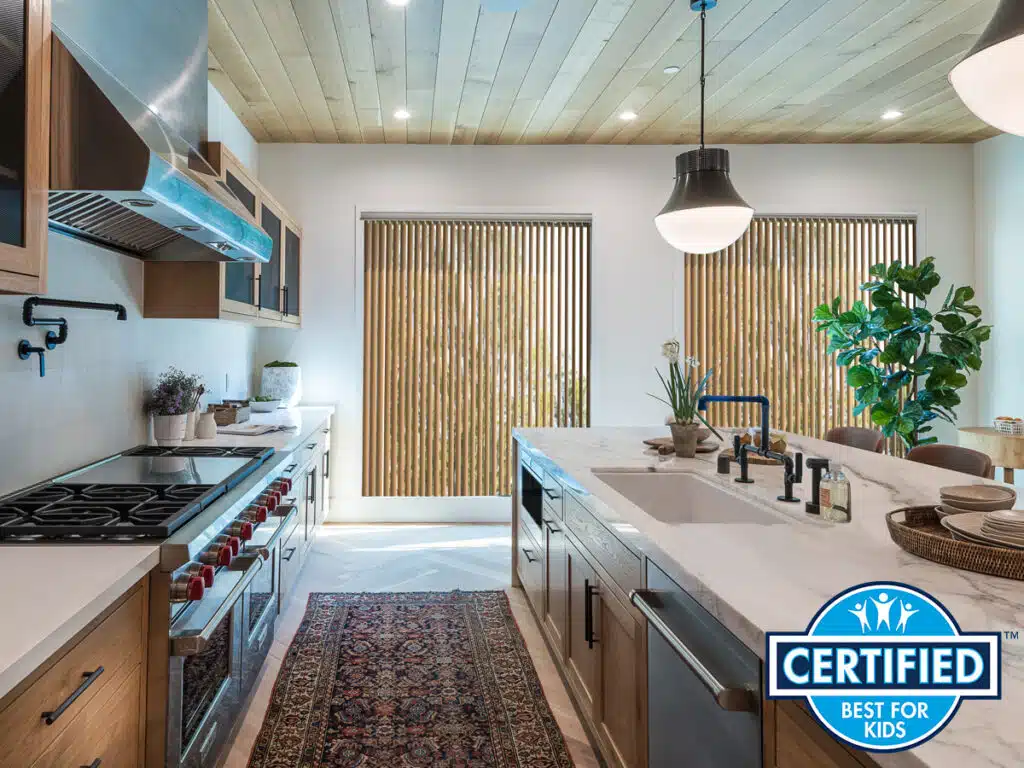 CityLights™ Aluminum Mini Blinds
A new water-resistant option for kitchen window blinds is CityLights™ aluminum mini blinds. They are preferable over fabric curtains, drapes, and roman shades, because their durable materials are ways to clean and hold up well against humidity. They feature modern design with clean lines and come at a great price point!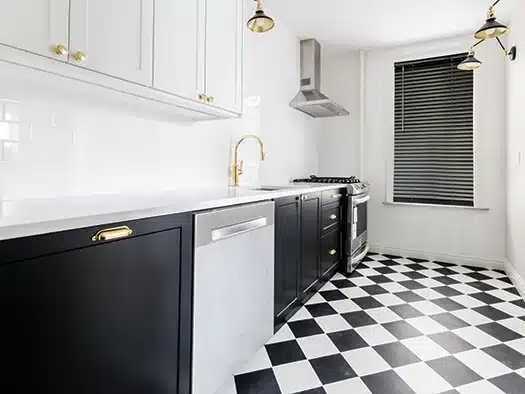 How To Choose the Best One
The best way to choose kitchen window blinds is by checking off this must-have list: 
Natural light:

consider how much light you'd ideally like in your kitchen balanced with your privacy needs, and narrow in on options that provide appropriate light control.

Materials: your kitchen is home to many water and heating elements, so be sure to only select window treatments with durable construction and water or moisture resistant materials to place near them.

Budget:

high-quality doesn't have to mean high prices, shop smart and check out Norman®'s collection of budget-friendly kitchen blinds.

Style:

the right window treatment can elevate the style of the whole room. Modern kitchen window treatments such as faux wood blinds, aluminum mini blinds, and vertical blinds are both trending and functional.
But you aren't limited only to these window treatments! Window coverings like Soluna™ roller shades and PerfectSheer™ shades are classically minimalist and easy to care for. Our timeless Woodlore® shutters and Roman shades are an elegant addition to any breakfast nook. Each of these premier solutions allow for plenty of light control and are fully customizable to meet any measurement size or specialty shape needs.
Honeycomb Shades are also a leading choice by interior designs and homeowners. Engineered with honeycomb pockets that trap air, they help insulate and regulate your environment to keep it comfortable and energy-efficient. They are a great way to reduce your carbon footprint. Learn more and explore each of our window treatment options designed for today's kitchens!
FAQS
What types of blinds should I use in my kitchen?
Select blinds that offer light control, are durable, and match your desired style such as roller blinds, aluminum mini blinds, wood blinds, and vertical blinds.
What's the best blind to use above the kitchen sink?
Prioritize blinds that are water and moisture resistant such as aluminum mini blinds and faux wood blinds.
How do I maintain and clean them?
Simply wipe them down with a damp cloth or dust to keep them looking fresh and new.
Are motorized kitchen blinds available?
Blinds come in convenient smart release cordless options,  while Norman® also offers Smart Motorization available for roller shades and PerfectTilt™ motorization available for shutters.
Enhancing Your Kitchen with the Right Blinds at Norman® USA
Find and Specialist