In these hot summer months, many homeowners are concerned about finding as many ways as possible to keep their homes cool— without spending a fortune on energy bills.
Window treatments can play a major role in this mission, as long as you know how to make them work for you. Most people are familiar with the concept of using window coverings to keep heat out, but what are the best window coverings to use for this purpose? The answer may surprise you. Here's our list of the top 4 window coverings for keeping heat out.
Shutters
One of the best window treatments to keep heat out is the increasingly popular interior shutter. Shutters are best known for their aesthetic appeal, but they can also be highly effective at regulating temperature.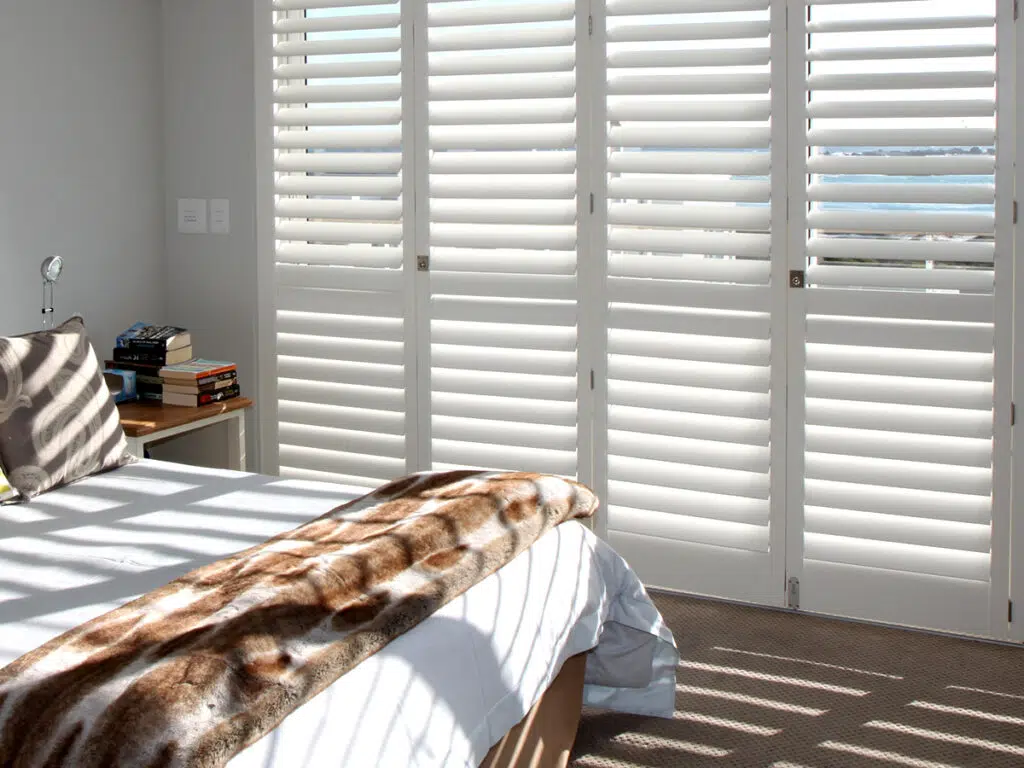 In the summer, shutters can block out direct sunlight, preventing heat from entering the home. Additionally, shutters can provide an additional layer of insulation, further reducing heat transfer. As a result, shutters are one of the best ways to keep heat out of the home.
Honeycomb Shades
Honeycomb shades are one of the best window coverings to keep heat out. The honeycomb design helps to insulate the window, and the cellular shade structure traps air to further reduce heat transfer. Standard honeycomb shades are single cell shades meaning that they are crafted with a single layer of cells that traps heat. Double cell shades add an additional layer of honeycombs to better insulate homes against heat transfer.  In addition, honeycomb shades are available in a variety of colors, styles, and pleat sizes to suit any décor. The larger the pleat size, the more energy efficiency you'll get out of your shade. They can also be raised or lowered to control the amount of light and privacy in a room. For these reasons, honeycomb or cellular shades are an excellent choice for those who want to keep their home cool during the summer months while complementing your personal style.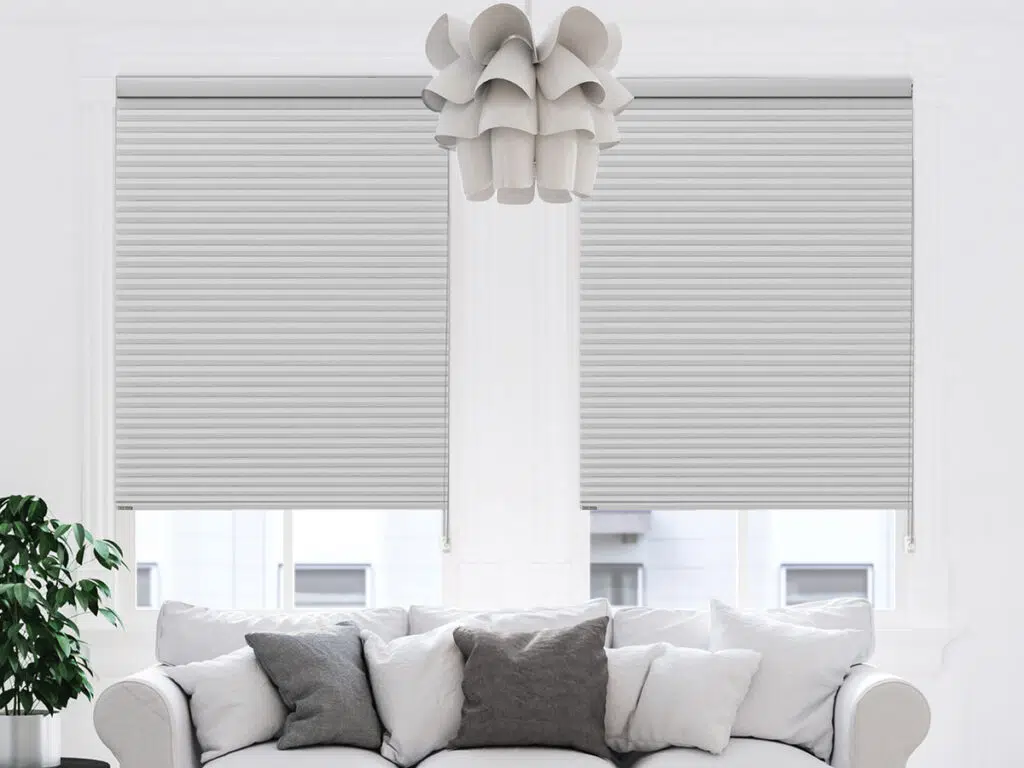 Roman Shades
Roman shades are a type of window treatment that can be used to add both style and function to any room. Unlike traditional curtains or blinds, Roman shades provide a clean, tailored look that can complement any décor. In addition, Roman shades are available in a variety of materials and colors, allowing you to find the perfect match for your home. Roman shades are also highly versatile, as they can be raised and lowered to control the amount of light and privacy in a room.
Roman shades are available in a variety of styles, including flat fold or soft fold, which can block out more heat due to its cascading design. The visual similarities of soft fold roman shades to a waterfall actually block heat better than traditional flat folds due to the small pockets that trap hot air. If you're looking to reduce heat transfer into the home further, consider installing a Day & Night roman shade which can insulate more efficiently than a single roman shade can. When lowered, roman shades create an insulating layer at the window that helps to keep heat out in the summer, making it more comfortable year-round.
Horizontal Blinds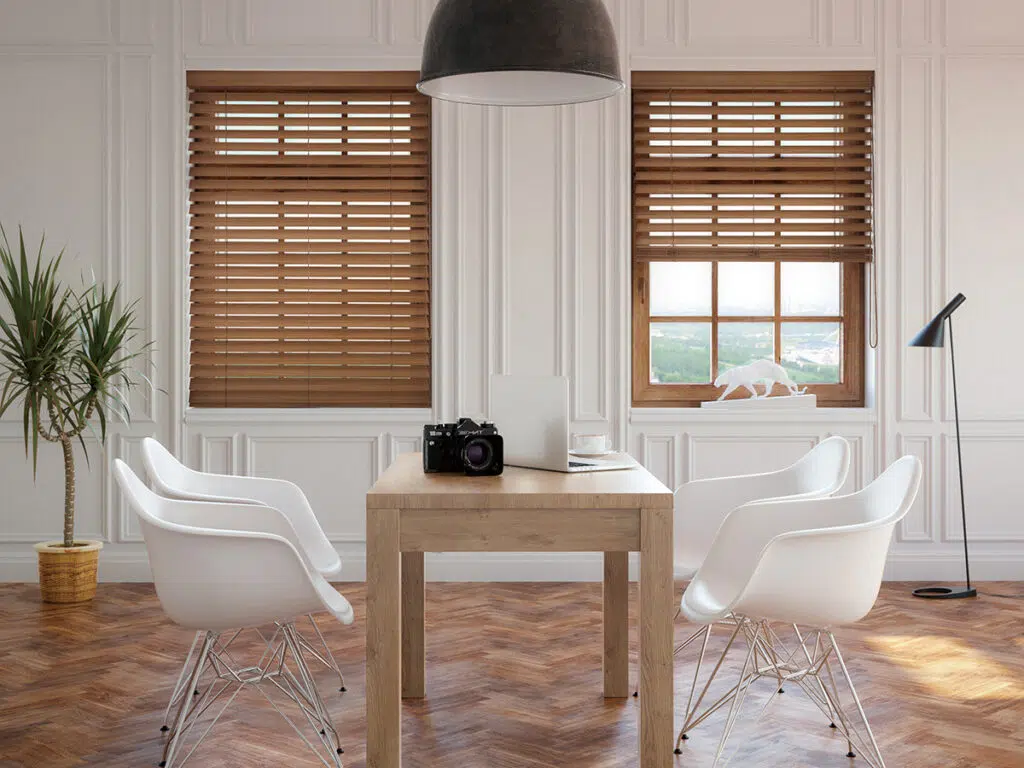 One of the best window coverings to keep heat out is SmartPrivacy® Faux Wood blinds. Traditional blinds typically contain route holes located right in the middle of each slat, allowing heat to penetrate through into the home. The innovative SmartPrivacy™ design places route holes in the back of each slat, allowing for tighter closure and great heat reflection. These window treatments work by reflecting sunlight away from the windows, and they can also be closed tightly to form a barrier against heat build-up. If you're looking for the best window coverings to keep heat out, SmartPrivacy® blinds are an excellent option.
Frequently Asked Questions
What are the best shades for keeping heat out?
Portrait™ honeycomb shades are a good option, as the unique cellular shade structure traps solar heat on the outside from being passed through the windows to the interior of the home. This architecture helps prevent hot air from entering your home during the warm summer months. Larger cell sizes are able to trap more heat in the shade, keeping your home cooler. If you'd like to get even more energy efficiency out of your window treatment, consider investing in a double cell shade, adding another layer of heat-trapping honeycombs that will help your home cool off.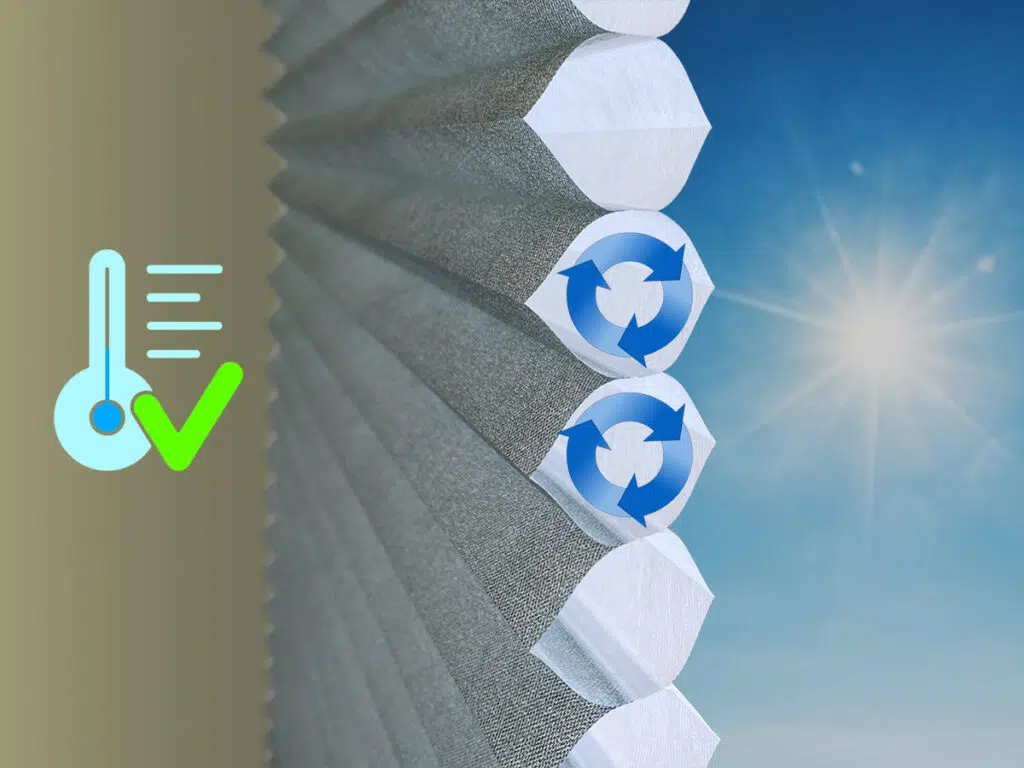 Does keeping blinds closed keep heat out?
Depending on the type of blinds, they can actually trap heat in rather than keep it out. For example, traditional blinds made of synthetic materials such as PVC are good at trapping heat and typically contain route holes in the middle of the slats that allow heat to penetrate into the home. On the other hand, wood blinds are made of natural materials such as wood which are better at letting heat escape. They also place the route holes in the back of each slat, creating tighter closure and preventing heat from piercing through, helping to keep your home cool and comfortable for your family all summer long.
Do black curtains keep heat out?
Black, or opaque curtains that block light, will stop the radiation heating of objects in the room that would normally be receiving direct sunlight. But, if the sunlight is coming through the window and heat is being absorbed by the back side of the dark curtains, that means the heat is still getting into the room. The hot fabric will cause convection heating to take place as cool air will be drawn up from the bottom, and rise up as it is heated, and come out the top as hot air. A Norman® Centerpiece™ roman shade with a black fabric and white lining will help reflect some of the heat back out the window.
Are curtains or blinds better to keep heat out?
Both curtains and blinds are effective at controlling the amount of light and heat that enter a room, but they each have their own unique benefits. For example, curtains are typically made from thicker fabrics that provide better insulation, making them ideal for rooms that tend to be hotter than others. Additionally, curtains can be pulled closed completely to prevent any radiant heat from passing through the windows. On the other hand, SmartPrivacy® blinds offer tighter closure and more light blockage, which can reflect heat back out due to its non-traditional route hole placement in the back of each slat. In addition, blinds come in a variety of styles and materials, so you can find an option better suited to your needs that's also simple to clean and maintain over time.
Buy Your Next Set of Energy Efficient Window Coverings
If you're looking for energy efficient window coverings that will help keep the heat out and the cool in— and help your house look stylish along the way— Norman® is your most trusted source. Browse shutters, shades, and blinds in a range of styles and colors designed to suit any home.