Windows are a big part of any home. They let in natural light and fresh air and can add beauty to any space. But they also play an important role in your home's energy efficiency. Windows that are not properly covered can let in a lot of heat during the summer and let heat escape during the winter, which can lead to high energy bills. In this blog post, we will discuss five different types of energy-efficient window treatments that can help you save money on your energy bills!
Benefits of Energy Efficient Window Treatments
Window treatments, attached to a window internally, provide many benefits beyond style and aesthetics, such as: 
improve energy performance

enhance the value of your home

create more comfortable living spaces

reduce glare

increase privacy control
Homeowners often update their window treatments to keep up with decor trends, or increase functionality, but many are unaware of the budget-friendly benefits new window coverings can provide. New innovations in design help today's window treatments improve your home's energy efficiency tremendously.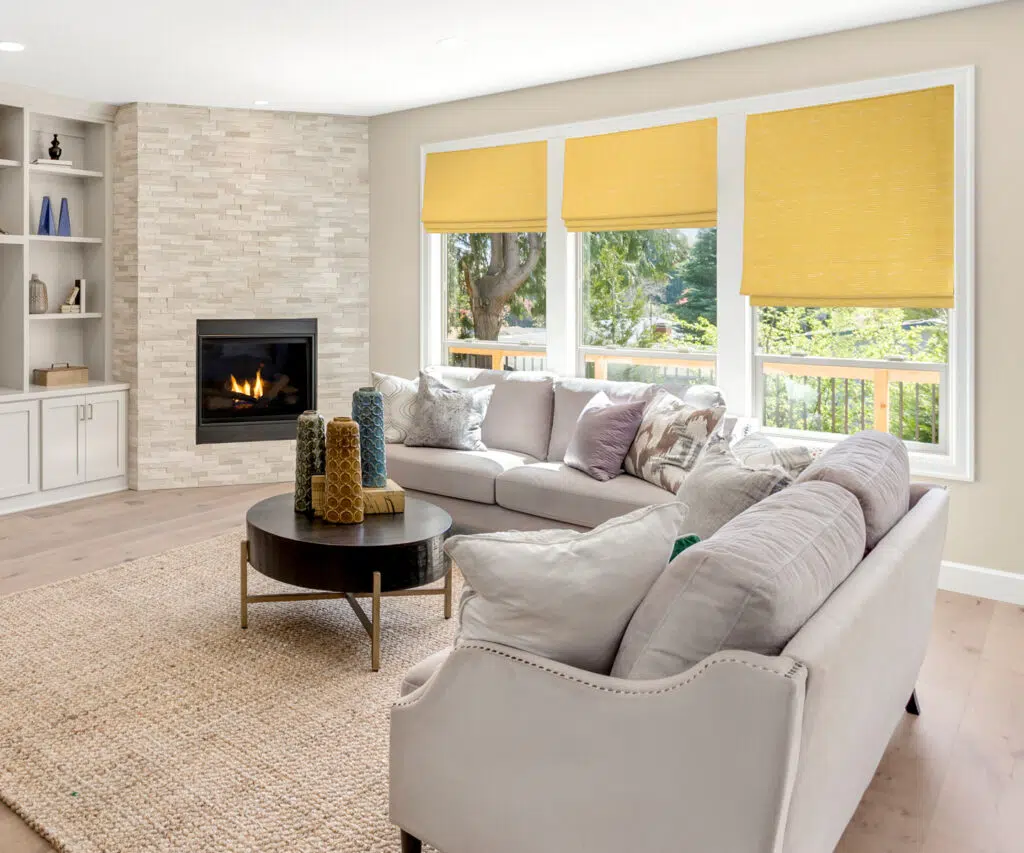 One major benefit of energy-efficient window treatments is cost savings. By blocking heat gain from direct sunlight, energy-efficient window treatments can help reduce energy bills year-round. In the summer months, when temperatures are high and air conditioning is running all day, energy-efficient window treatments can block a great deal of solar heat gain, reducing your need for cooling. By reducing drafts and controlling solar gain, these window coverings will reduce how much you spend on utilities each month.
Another benefit you'll get from energy-efficient window coverings is improved comfort and less glare. With advanced technology, energy-efficient window treatments are specifically designed to reduce solar heat gain and reflect away the sun's harsh UV rays. This helps keep your home cooler in the summer and warmer in the winter by blocking out drafts from outside. It also cuts down on annoying glare from direct sunlight.
Have you ever avoided certain rooms during the winter months due to chilly drafts?  Energy-efficient window treatments can help keep that drafty feeling out of your home by insulating against heat loss. This will keep the heat inside in the winter so you stay comfortable and warm.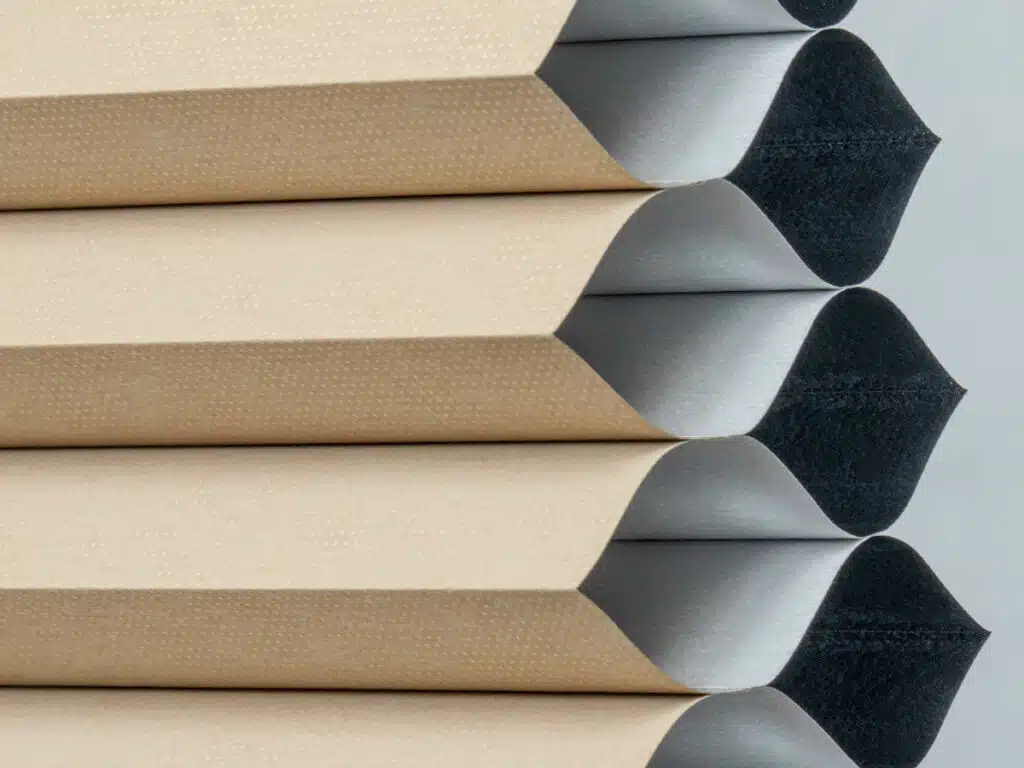 Depending on the region you live in, certain window treatments can provide specific benefits. For example, cellular shades are ideal for cool climates because they have an air pocket built into them that traps heat. For warm climates, lighter colors and sheer fabrics are recommended because they reflect the sun's rays away from your home.
When it comes to energy-efficient window coverings, you don't have to sacrifice style for function. There are plenty of designs, colors, and premium materials to choose from that can suit the interior design of your space. Let's take a detailed look at the best energy-efficient window treatments on the market right now.
Best Energy Efficient Window Treatments
If you're planning to update your interior window treatments, consider these stylish and functional products that have proven to be leaders in energy efficient design.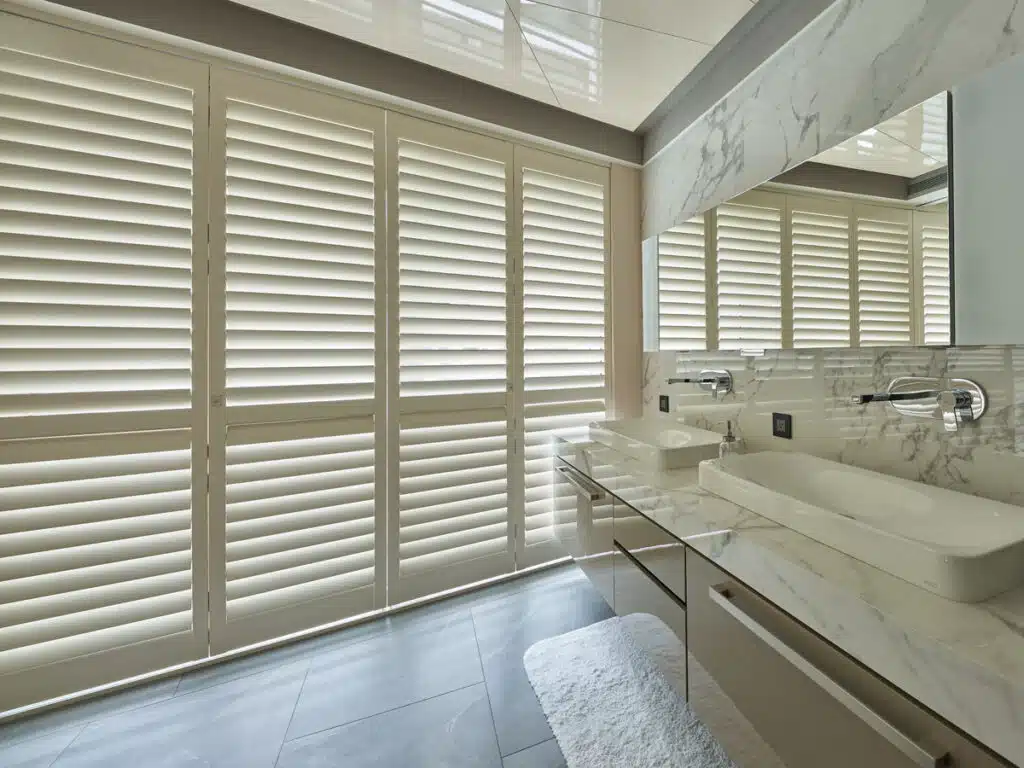 Woodlore® Plus Shutters
With a reputation for expert construction and quality, Woodlore® Plus Shutters have become a popular choice for homeowners who are looking to create a classic style that is energy efficient. Woodlore® Plus Shutters are built with an advanced louver structure that emulates aircraft wing spars, which resists deformation over time. This louver system controls the amount of heat and light entering through the window, allowing you to adjust it as needed throughout the day and the seasons. 
These handsome interior shutters are perfect for spaces like bedrooms and bathrooms, as they provide unmatched performance, privacy, and light control. Plus, the shutters are made from high quality materials that won't harm the environment or your pocketbook. Crafted from lightweight yet durable ABS materials, they can withstand heat and moisture without warping or cracking, so you can be sure to enjoy them for years to come.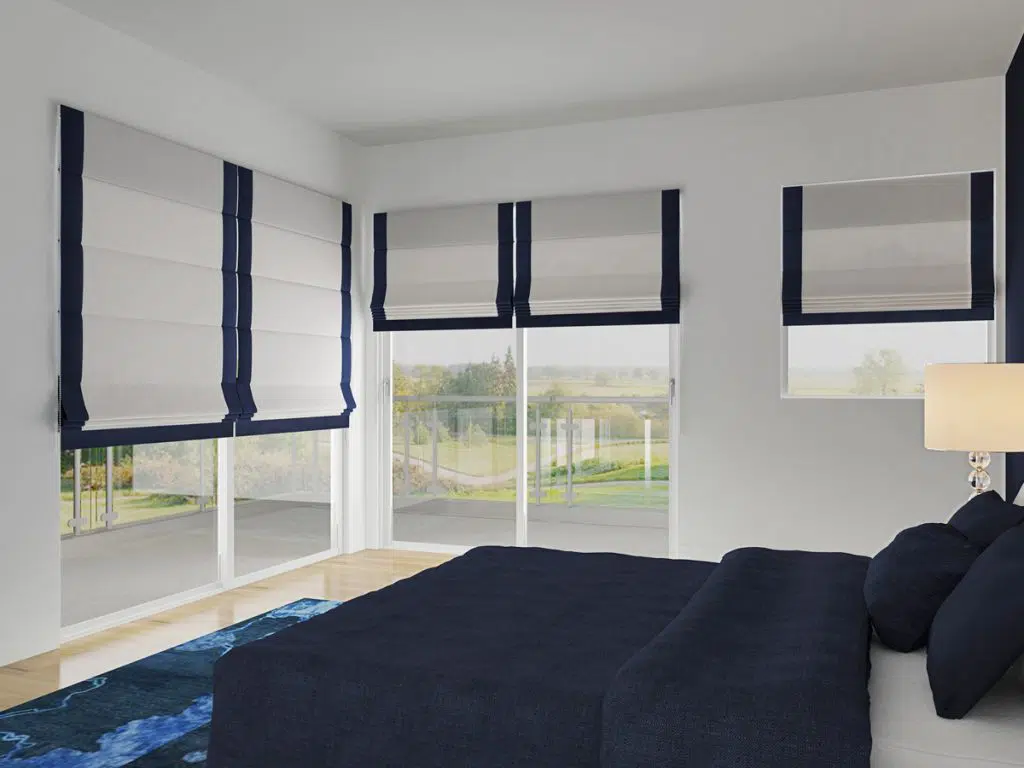 Centerpiece™ Roman Shades
These modern fabric window shades are a good choice for any home living or office space. They feature an energy-efficient fabric that reflects heat, reducing the amount of energy needed to cool your space. The shades also come with customizable lift options like cordless and motorized, allowing you to adjust the light entering your space without having to manually adjust the shade. 
Centerpiece™ Roman Shades are very suitable for warm climates, as they have the option to provide room-darkening benefits while still allowing air to flow through the window. Roman shades with Soft Fold have cascading fabric pockets that can trap heat. This helps reduce unwanted solar heat gain through your windows on those especially scorching hot days, lowering your energy consumption. 
Made with the highest quality materials, these shades will never fade from the sun's heat and relentless UV rays. They are also easy to maintain and clean, so you can enjoy your window coverings without any extra hassle.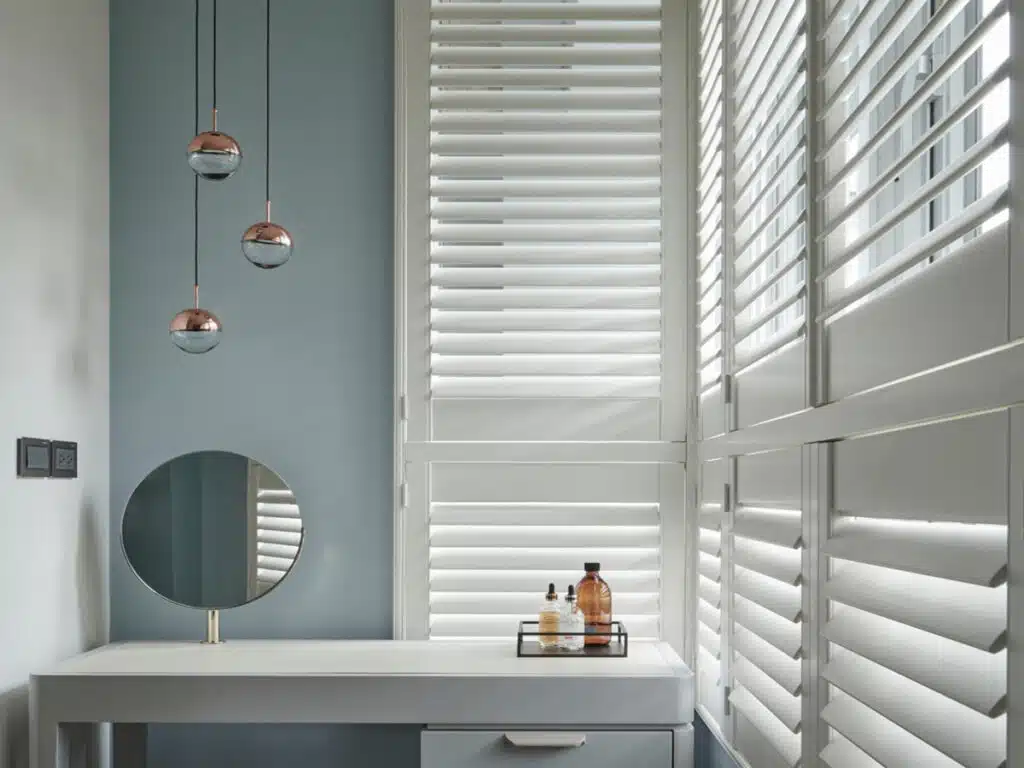 Woodlore® Shutters
Woodlore® Shutters are perfect for homes that want to make a bold statement. Their craftsmanship and elegance will add sophistication and warmth to any room, while their adjustable louvers also act as a highly effective energy-saving window solution. Simply adjust the louvers throughout the day or night in order to control how much light you let in, thereby regulating the temperature of your room. 
Getting the modern perks of energy efficiency doesn't necessarily have to equate to an ultra-modern-looking window treatment. Woodlore® Shutters are sought after for their timeless style and beautiful wood composite finish that bring class to any home. These shutters are the perfect solution for updating windows in elegant rooms with energy-efficient window treatments.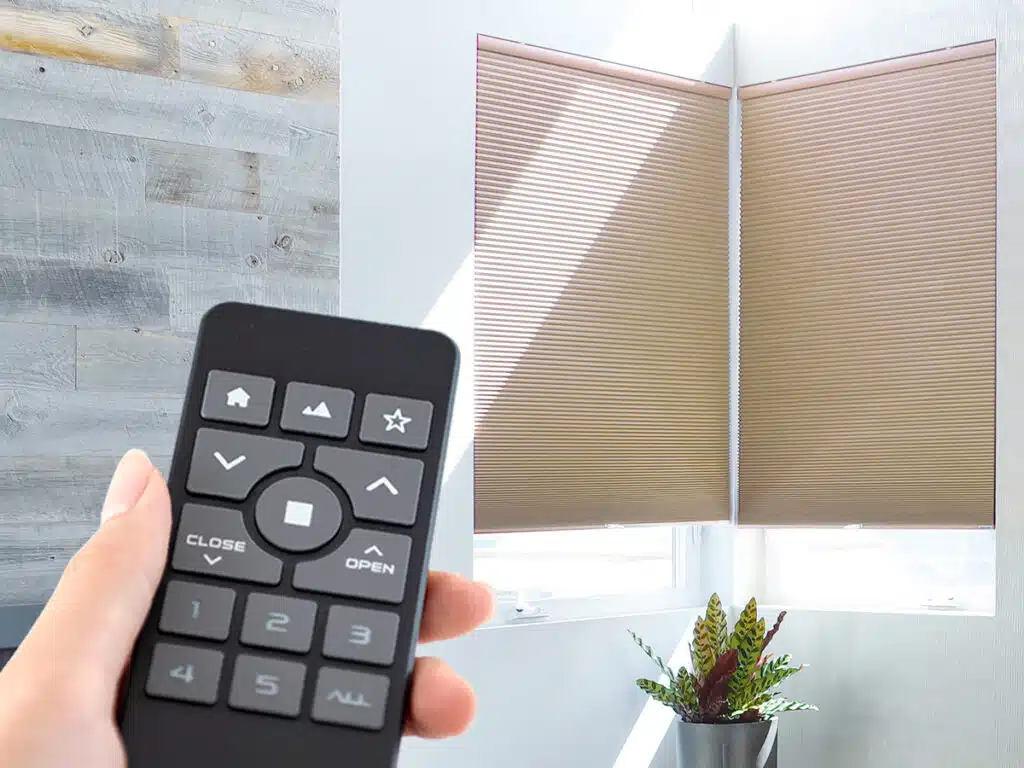 Portrait™ Honeycomb Shades
If you're looking for the ultimate in energy efficiency, honeycomb or cellular shades might be your best bet. Portrait™ Honeycomb shades feature an innovative honeycomb-like construction that traps heat within its pockets. This helps the shade block out hot air from entering through windows during summer months and keep warm air from escaping during winter months. The greater efficiency in air flow keeps your house feeling comfortable year-round.
These stylish window shades are a great pick for homes in colder climates where energy efficiency is essential. By trapping hot air within the pockets of the shade, the shade creates unbeatable insulation opportunities. Not only will this keep your home warm and cozy, but you'll also save on energy bills!
They are interior designer picks for bedrooms, living rooms, and offices because they can also offer increased privacy control. As an added bonus, Portrait™ Honeycomb Shades can be equipped with motorized lift systems, giving you the ability to adjust your window treatments with the touch of a button.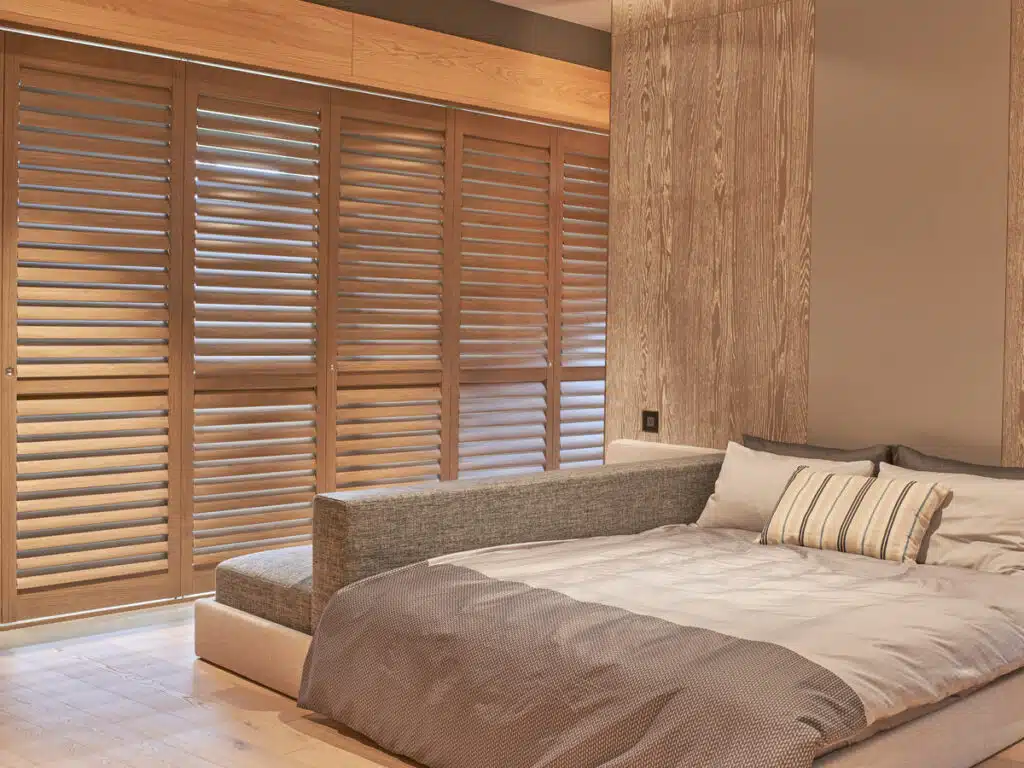 Normandy® Shutters
Normandy® Shutters offer both luxurious style and cutting-edge energy efficiency. They're designed to fit nearly any window type and are perfect for french doors or other large windows. 
Unlike many window treatments, shutters are installed directly into the frame of your window, providing superior insulation against heat transfer. Plus, since shutters offer exceptional coverage against sunlight, they provide direct protection from UV rays, helping to keep your home cooler during the summer months.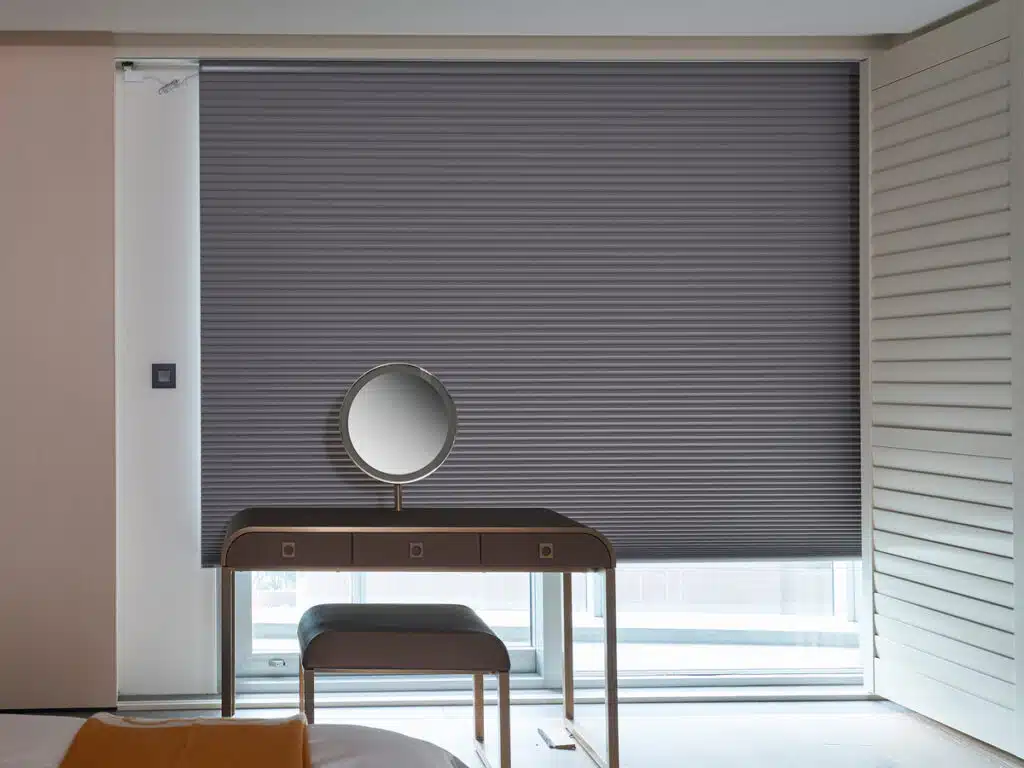 Enhance your treatment by incorporating DayNite™ shutters! With the addition of a Portrait™ honeycomb shade between the window and the shutter, your home's capacity for energy efficiency is bolstered. DayNite™ shutters combine the pocket insulation of a honeycomb shade with the tight UV protection of shutters to deliver a treatment that maximizes energy efficiency in your home for all sorts of climates. 
Maximize Your Energy Efficiency With Window Treatment Operation
Most window coverings are operable, meaning you can easily adjust them at your leisure.  However, according to a study by the U.S. Department of Energy, 75% of residential window coverings remain in the same position every day.  This shows that most homeowners are not being strategic about which coverings they open and close throughout the day and are missing out on maximizing their energy savings.
Here are a few good habits and routines to get into:
If it's winter and likely to be sunny, open the window coverings in the morning to allow the sun to heat your home through the day—especially those that receive direct sunlight.

In the summer, you may want to keep window coverings closed to reduce heat gain. For natural light, open those window coverings that don't sit in direct sunlight.

You may also want to try switching the ones that are opened and closed throughout the day to maximize light and heat from the sun when you desire it in order to reduce energy loss.
Consistency is key! Streamline and automate your routine with smart window covering options from Norman®, which make them easier to operate, especially those located in hard-to-reach places. Optimize your energy performance with the click of a button!