Now more than ever, working from home is the new norm. Whether you've been working at home for many years or made a hasty transition during the pandemic, a functional home office space is essential to help you stay productive and comfortable.
Finding the best window treatments for your home office can help you create an inviting space that promotes privacy, productivity, and aesthetic appeal at the same time. Norman® has just what you need to enjoy the view of the outdoors and enhance the look and feel of your home office, all with custom solutions that are both stylish and functional.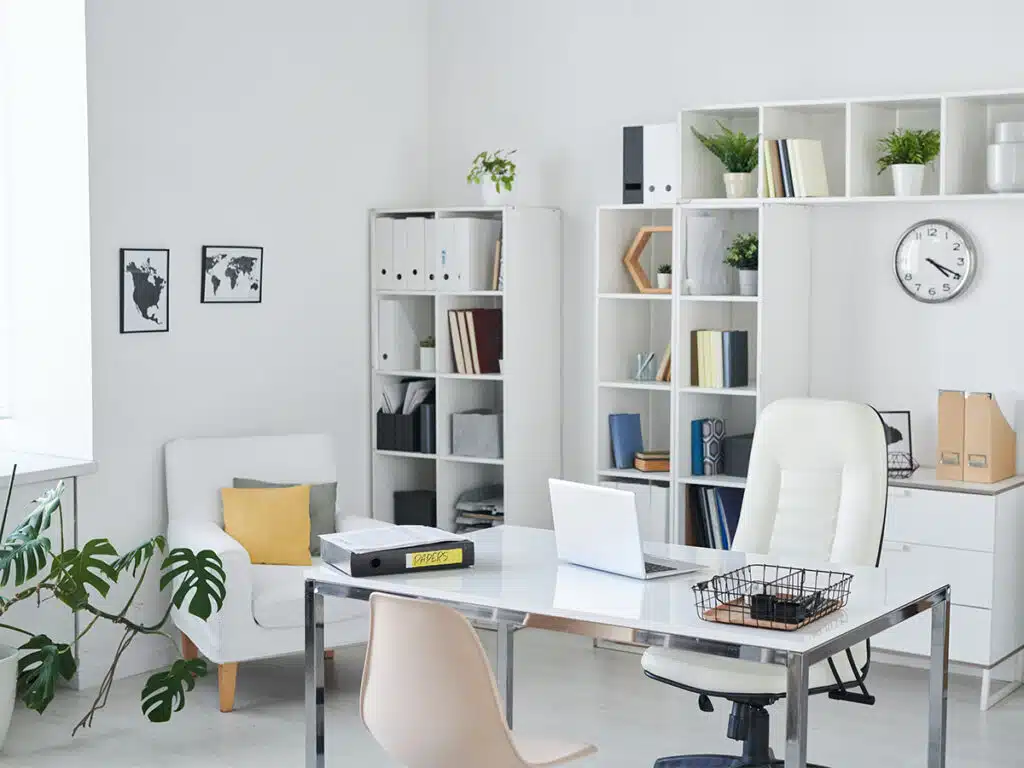 Features to Look For in a Workspace
The best window treatments for home office spaces work to maximize focus and health benefits while enhancing the ambiance of the office. 
Minimize Glare
What if your morning headache has nothing to do with the fact your coffee hasn't kicked in yet? Glare can cause eye strain, headaches, and even fatigue when working at a computer for too long.  Light control is essential in home offices, and Norman® has a stunning range of light-filtering options that offer glare control for the perfect balance of natural light to minimize harmful glare.
Comfort
Tackling your work to-do list is near impossible when your home office feels stuffy, drafty, or just plain uncomfortable. Window coverings play an essential role in regulating the temperature, humidity, and air quality of your home office all year round. Norman®'s shutters, Roman shades, and honeycomb shades are all great solutions for insulation and comfort control in your workspace.
Privacy
Privacy is paramount in any workspace, and window treatments with more solid opacities can help keep snooping viewers away. Norman window treatments keep privacy as an essential function in mind – to provide the right amount of peaceful solitude for your home office. 
Motorization
Not only are motorized window treatments energy-efficient, but they also make it easy and convenient to adjust your office shutters and shades with the press of a button. Norman®'s motorized window treatments come with wireless remotes and app integrations so you can control them from anywhere in your home!
Window Treatments for the Home Office
Norman® has all your bases covered with 5 premier window treatment solutions. Every one of these products offers a variety of functions and comes in top trending styles. Whether you're choosing based on features or aesthetics, you can't go wrong with these great options: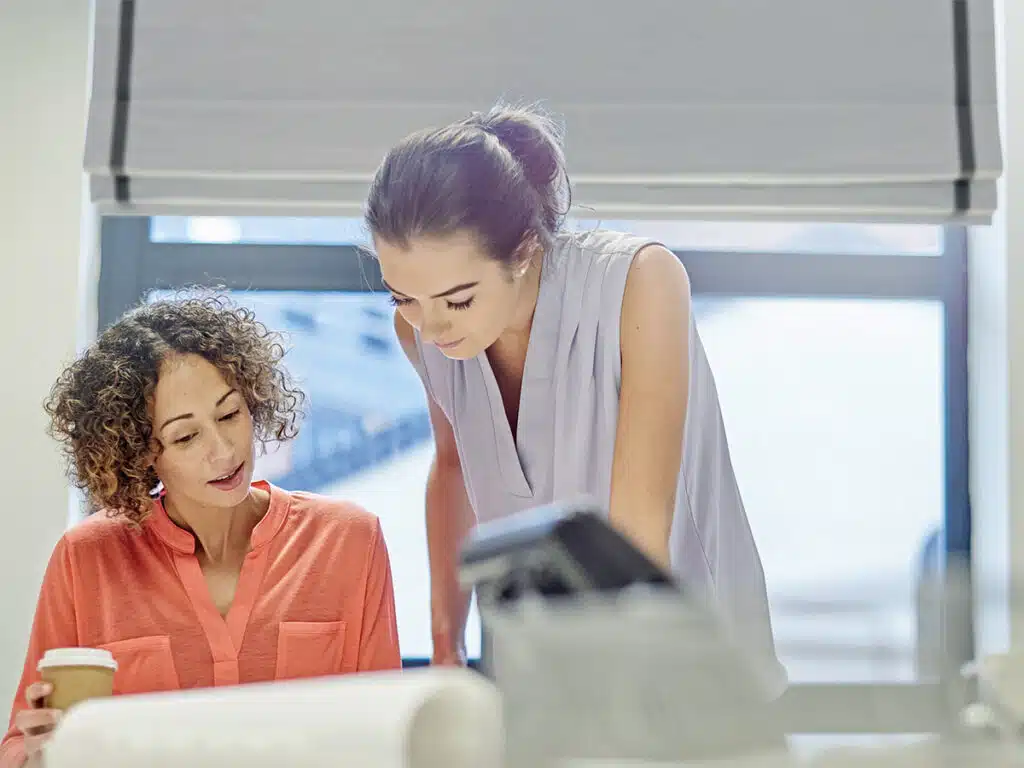 Roman Shades
Classic design and timeless style meet modern amenities with Centerpiece™ Roman shades. These custom window shades feature the look of soft folds that complement the beauty of natural light. Choose from three unique and elegant fold styles to find the one that suits your home just right. Our original Flat fold without seams offers a clean and modern look that is relaxed and laid back, maximizing privacy and reducing glare.
Available in the finest Libeco textiles, our Roman shades are available in a gallery of fabrics ranging from luxury silk to the latest in heritage-inspired embroidery and weaves. Perfect for the fashion-forward remote worker! Our tailored shades feature exclusive child and pet-safe lifting technology, so you can adjust without distracting from your workflow.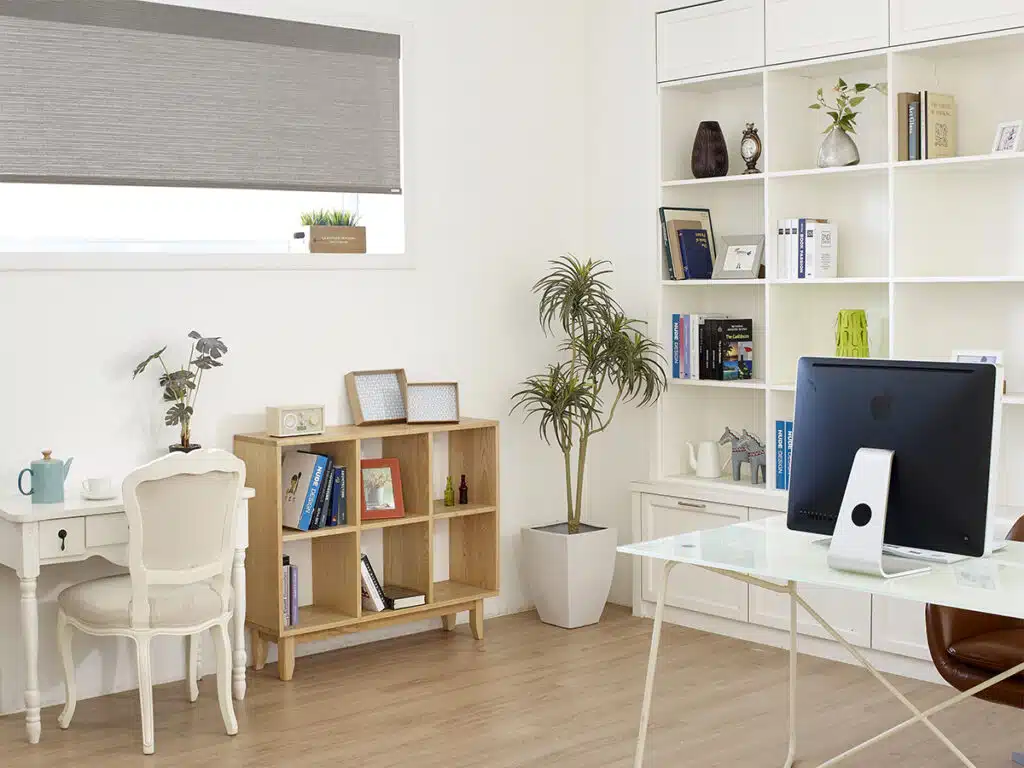 Roller Shades
With their clean lines, Soluna™ roller shades offer a sleek look and come in a wide range of fabric collections that provide varying levels of light control and privacy. Remote work relies on a daily flow and your roller shades can help add continuity to your personal routine, maximizing productivity and reducing distractions. Convenient Norman® Smart Motorization can help you schedule and automate these popular window shades to coordinate with your daily routine. 
Need complete privacy and light control? LightGuard 360™ is an excellent addition for blocking direct sunlight at any hour of the day. This innovative system incorporates bottom and side channels that wrap around the edge of the shade to take care of any light that might seep through. This results in a window covering that blocks out more light than a standard window shade, helping you to better focus on your daily tasks.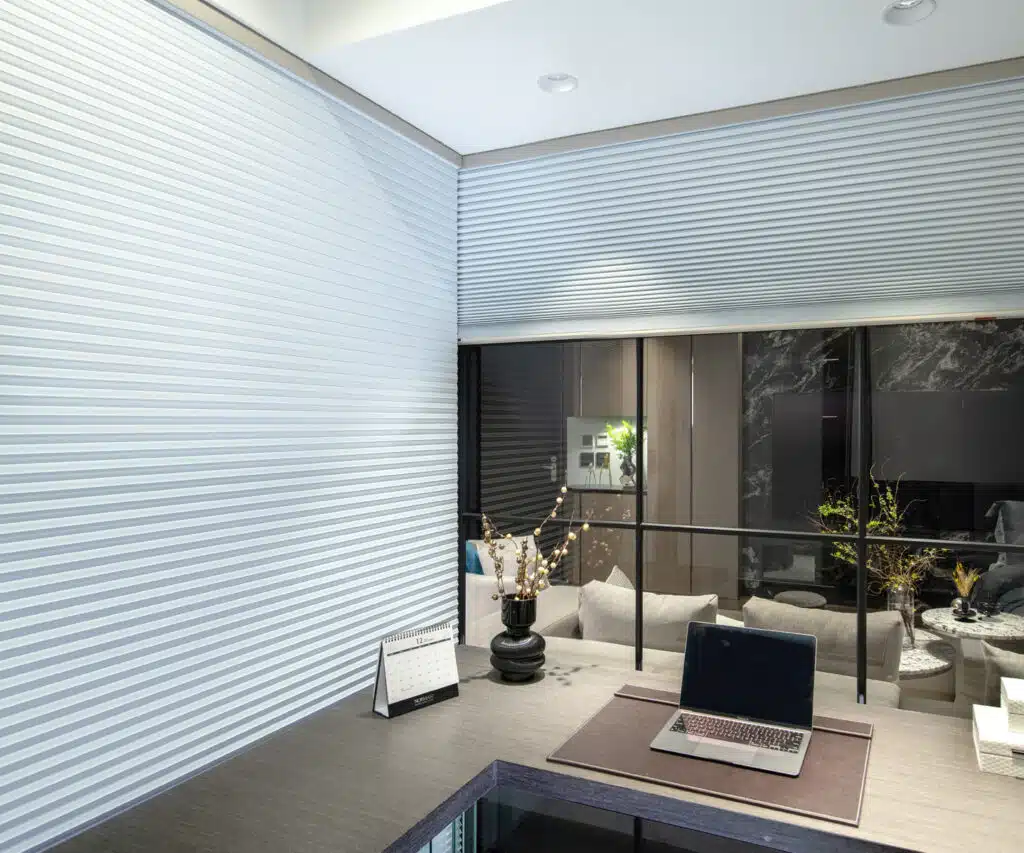 Cellular Shades
With advanced materials and energy-efficient design, Portrait™ honeycomb shades are crafted to provide superior insulation. Outdated curtains and drapes just can't provide the stylish look, superior light control, and excellent UV protection of these designer shades. Experience fabric technologies that will make you feel more comfortable in your workspace in all seasons. The unique cellular design traps warm air within its pockets, providing a layer of superior insulation that is sure to help you with energy savings.
Portrait™ Honeycomb fabrics offer 3 different opacities from sheer to light filtering to room darkening. All three levels of transparency are available in a large selection of colors and fabrics and are a perfect choice for large windows. They can even fit in an arched window! The inclusion of cordless lifting technology lets you enjoy the outside view with excellent light control, unobstructed by slats or blinds.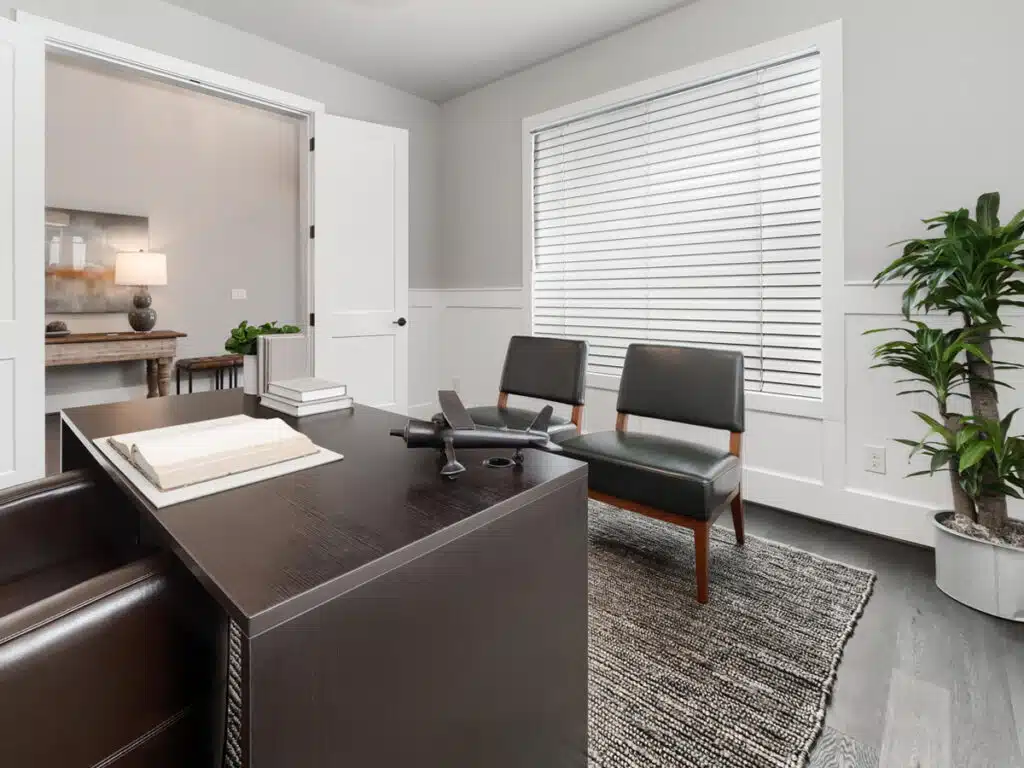 Ultimate™ Faux Wood Blinds
Love the look of hardwood accents for your home office but want a modern, functional alternative? Ultimate™ Faux Wood Blinds feature the classic beauty of simulated wood with all the benefits of a durable and easy-to-clean material. Made from a specially formulated material that is not only lightweight but durable, they're available in an array of stunning on-trend colors.
With Ultimate™ faux wood blinds, experience enhanced room darkening with convenient operation. Unlike traditional blinds that place route holes in the middle of their slats to run cords through and allowing unwanted light to peek in, these innovative blinds instead place route holes in the back, thereby cutting off potential light gaps and maximizing privacy and illumination control; allowing you to tune out distractions and increase your daily productivity.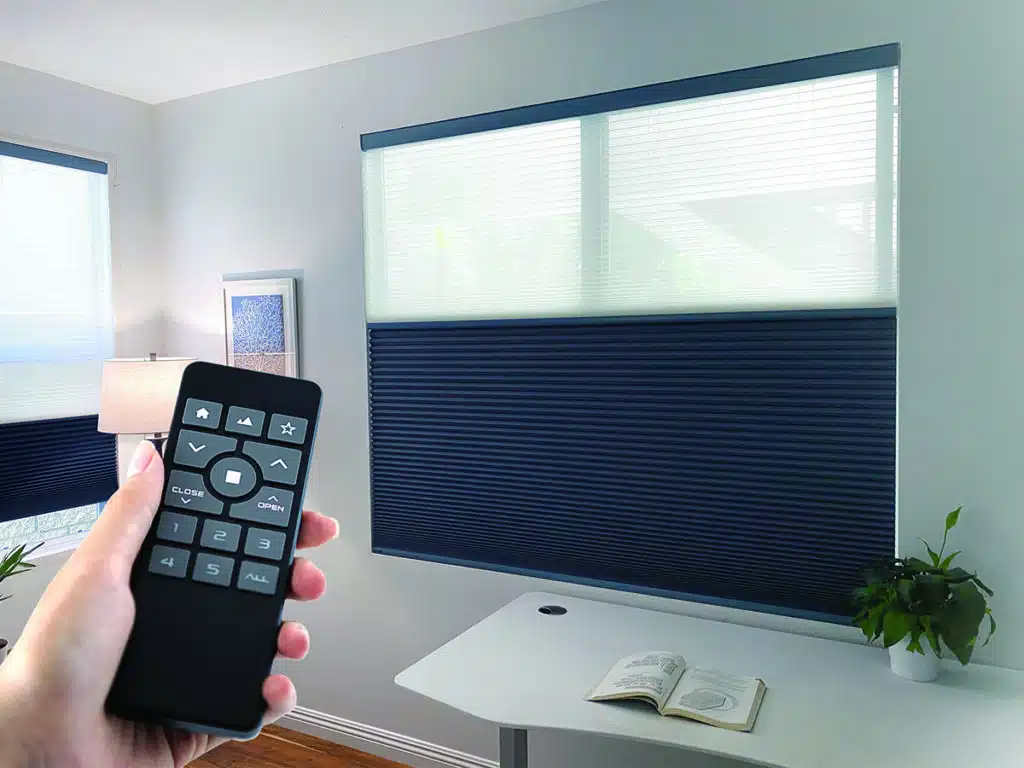 Motorization for Your Office
Motorized window treatments don't have to be complicated. Craft the perfect room ambiance without sacrificing comfort with Norman® motorized shades and shutters. Our motorized window treatments provide consistent performance, and come with intuitive controls through a RF remote or your smartphone.
Don't interrupt your zoom call to mess with cumbersome cords and blinds to try and remove distracting glare. You can achieve your ideal lighting, temperature, and privacy levels by setting the exact position of your window coverings with PerfectTilt™ G4 shutters, or by adding Norman® Smart Motorization to your favorite shades! 
Create Your Ideal Home Office
Start transforming your space now with Norman®'s superior window treatments and customize your home office to make it just right. With our commitment to quality materials, innovative technology, and classic styles, remodeling is simple and easy. Our team of design experts is here to provide personalized advice so you can find the perfect window treatment for your home office.