Bay Window Blinds & Window Treatments
Bay Window Blinds
Bay windows are beautiful and lend themselves to a host of window treatment options including blinds, roller shades, roman shades, cellular shades, and shutters to name a few. The shape, angles, and depth of your particular bay dictate the best window treatment solution. Ideally, the chosen window treatment will mirror the dimensions and angles of the window to provide the desired custom look that complements the bay window's beauty.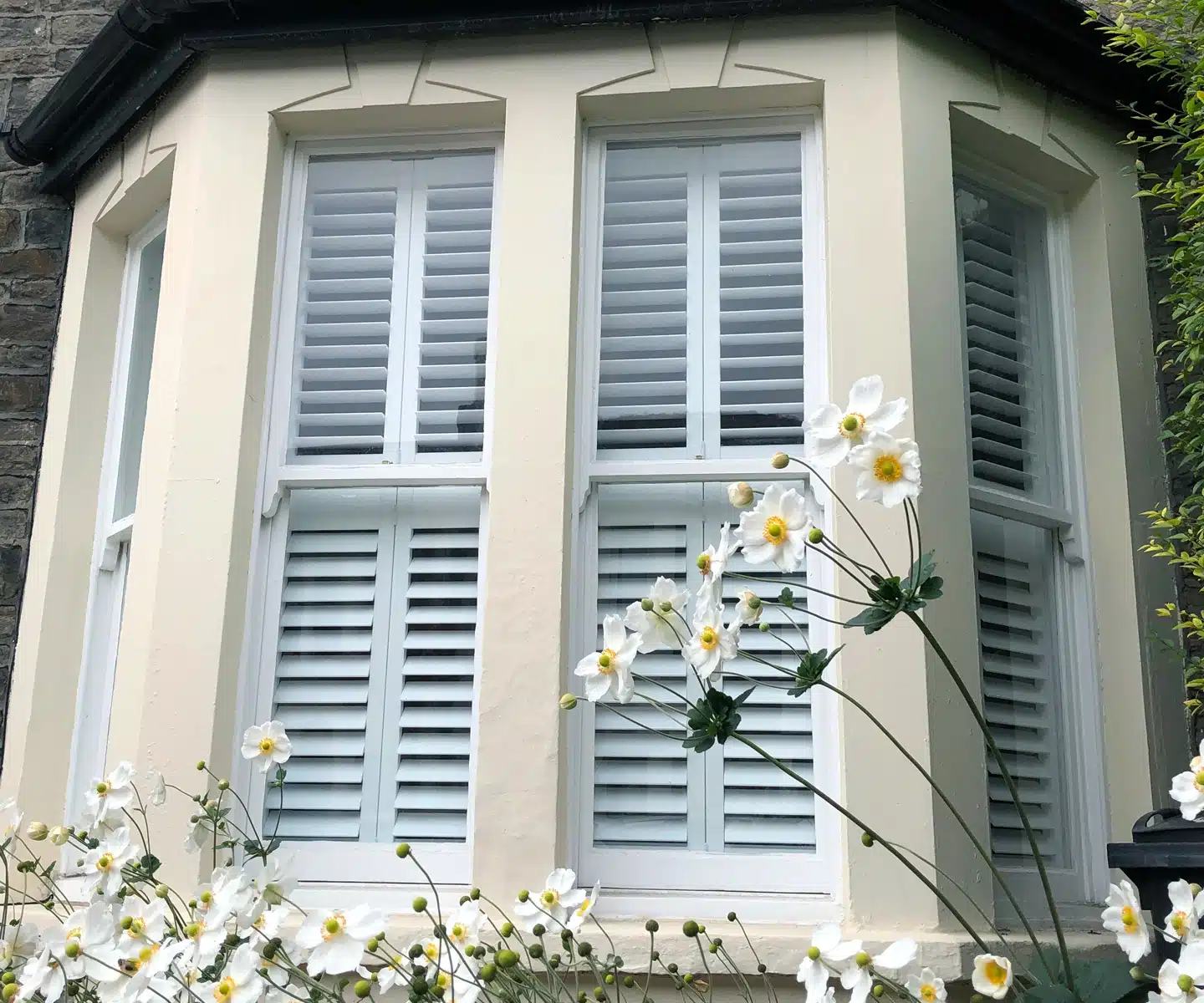 How to Choose
Selecting the right window treatment for your bay window begins with taking accurate measurements. Light control and privacy, quality materials, and style are major factors when selecting bay window blinds as well. Cellular shades, wood blinds, and plantation shutters all provide varying levels of light-filtering options that can enhance the comfort of your room.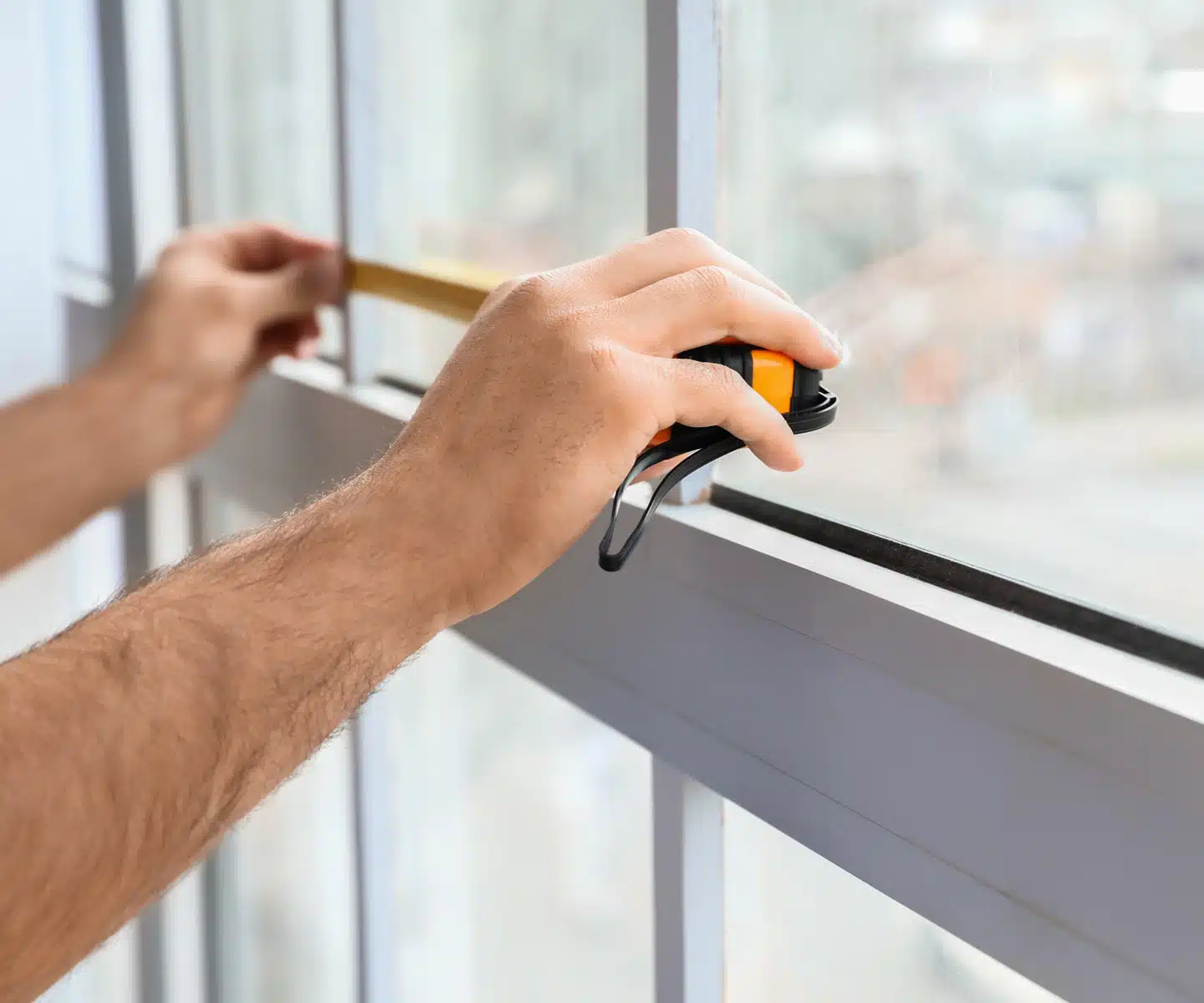 Benefits of Bay Windows
Bay windows can be used as focal points in any home. With Norman®, you can make a style statement while staying on budget. 
Lighting:

Research shows that lighting has a profound effect on our mood. Bay windows allow for more light, which means with the right window treatment, you can enjoy lots of natural light without compromising on privacy.

Materials:

Bay windows often feature hardwood window frames that enhance the aesthetic of the room. They are crafted with care and your window treatments should be too! From luxury fabrics, and premium hardwoods, to eco-friendly materials, Norman® has it all. 

Style and design: Bay windows can open up the view in any room while also providing flexible seating arrangements in both dining room and living room spaces. A well-dressed bay window never goes out of style!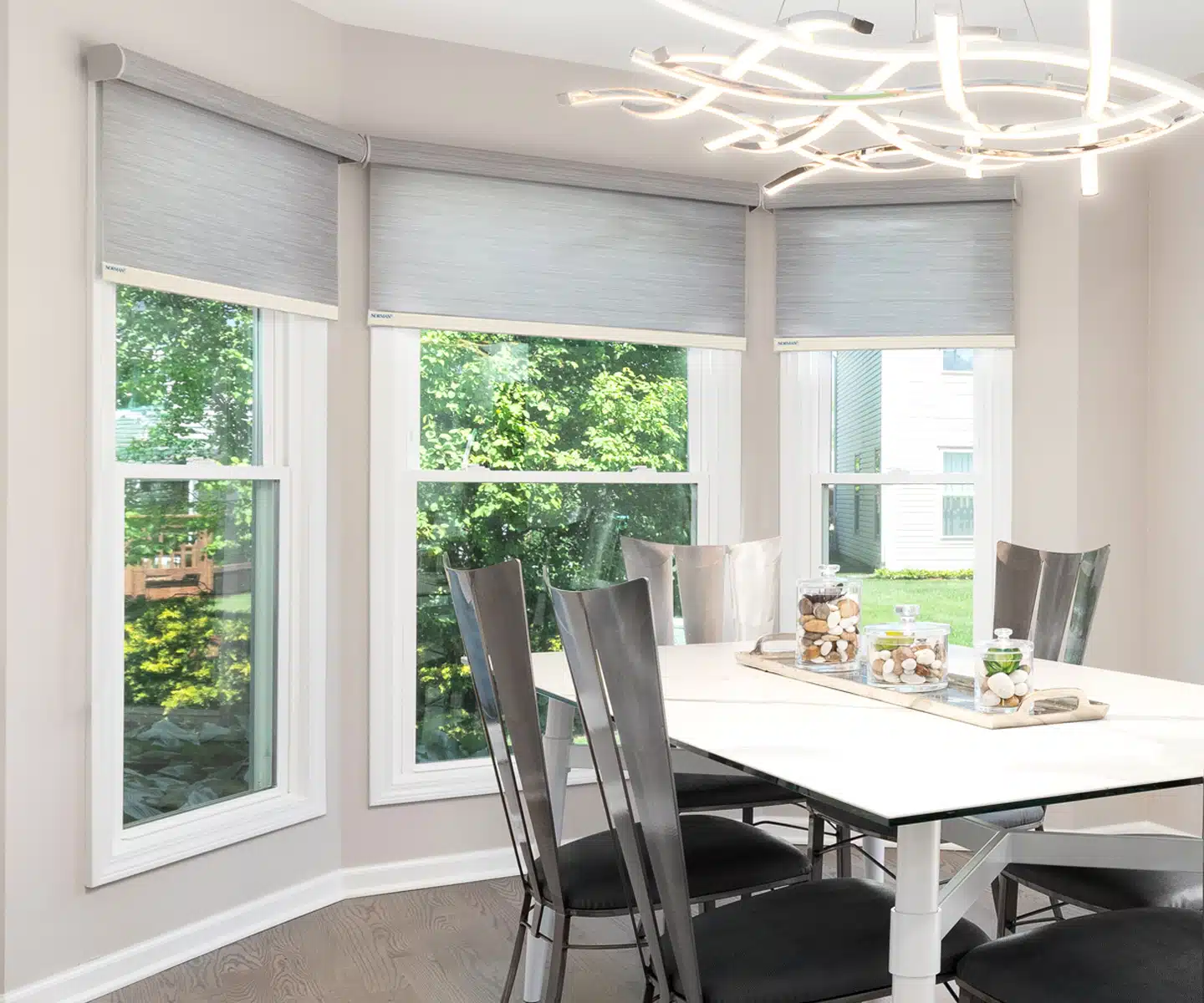 Norman®'s Bay Window Blinds
We understand the importance of quality products and how they can make all the difference in the look and feel of your room. From classic to modern, let us help you find the perfect window treatment for your bay windows!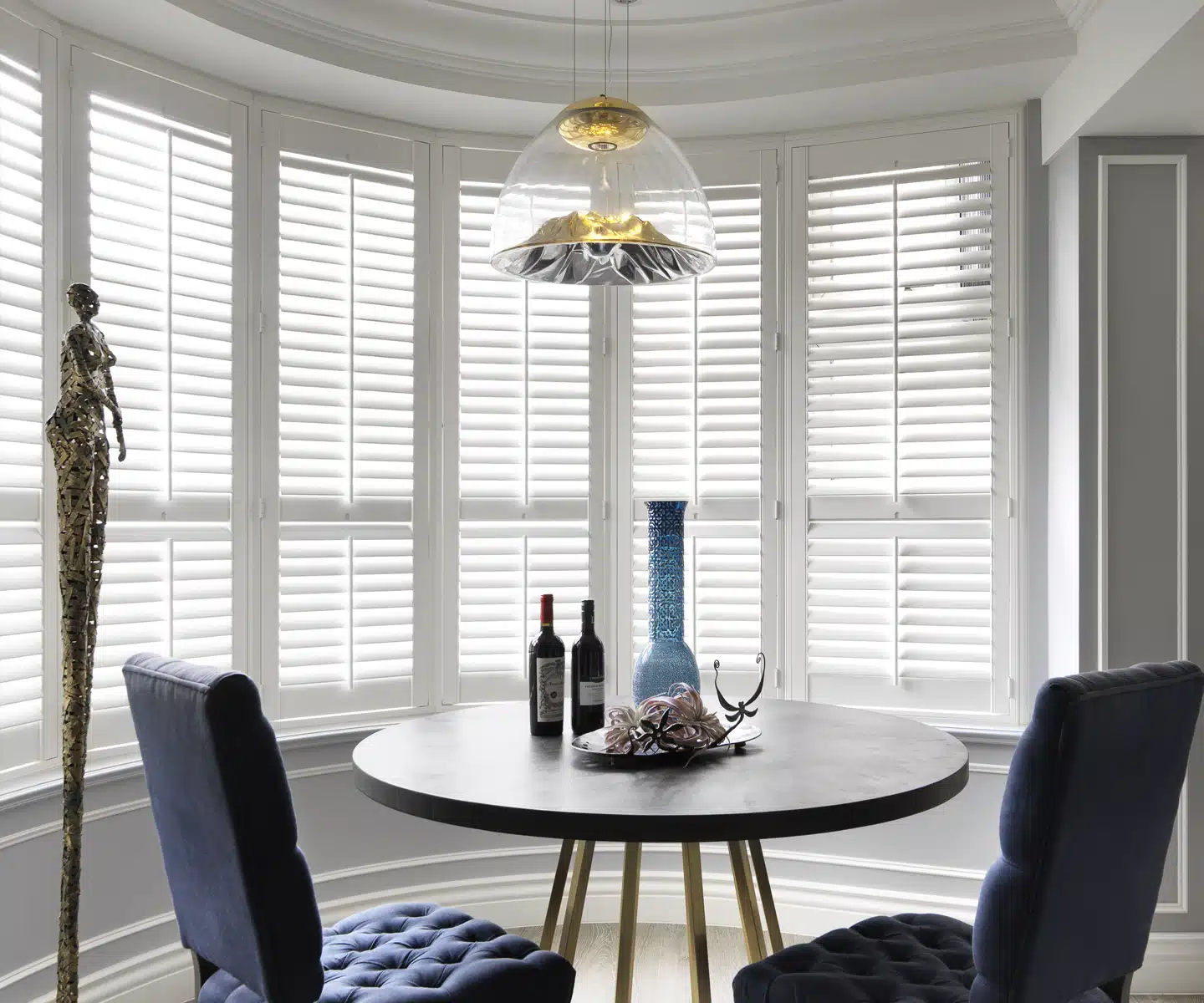 Ultimate™ Faux Wood Blinds
Our Ultimate™ Faux Wood Blinds feature a pivoting bottom rail for the ultimate light control. Traditional blinds typically place route holes in the middle of each slat, allowing unwanted light to pierce through. The new innovative SmartPrivacy® design offers the tightest closure in the market. Ultimate™ Faux Wood Blinds are also equipped with today's best cordless lift system, making them a modern choice for bay windows.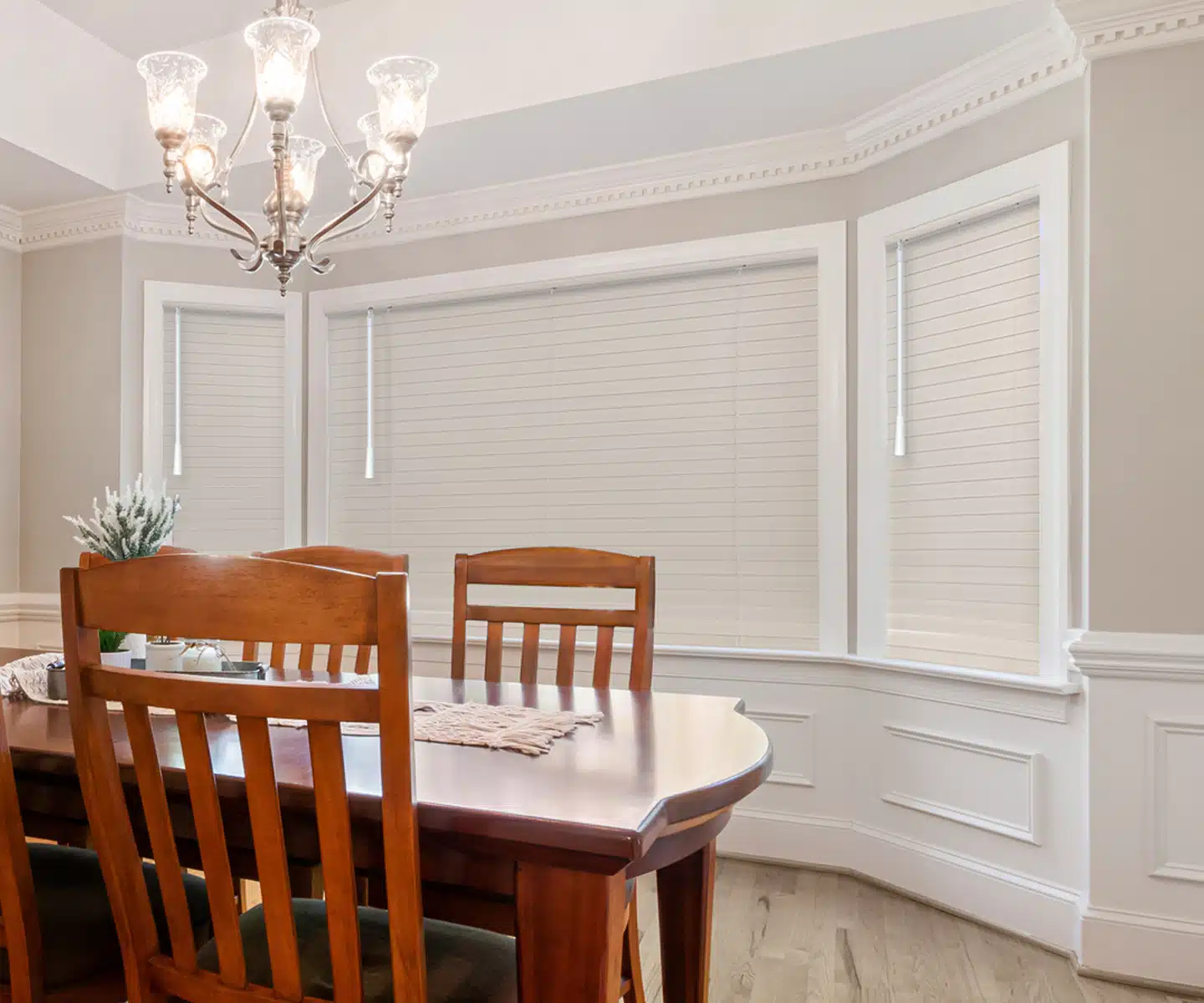 Normandy® Wood Blinds
Normandy® Wood Blinds are made with premium Phoenix Wood®, a sustainable product with a beautiful wood grain. They come in a wide array of finishes and feature a superior cordless lift system, ensuring safety for the whole family while maintaining ease of operation.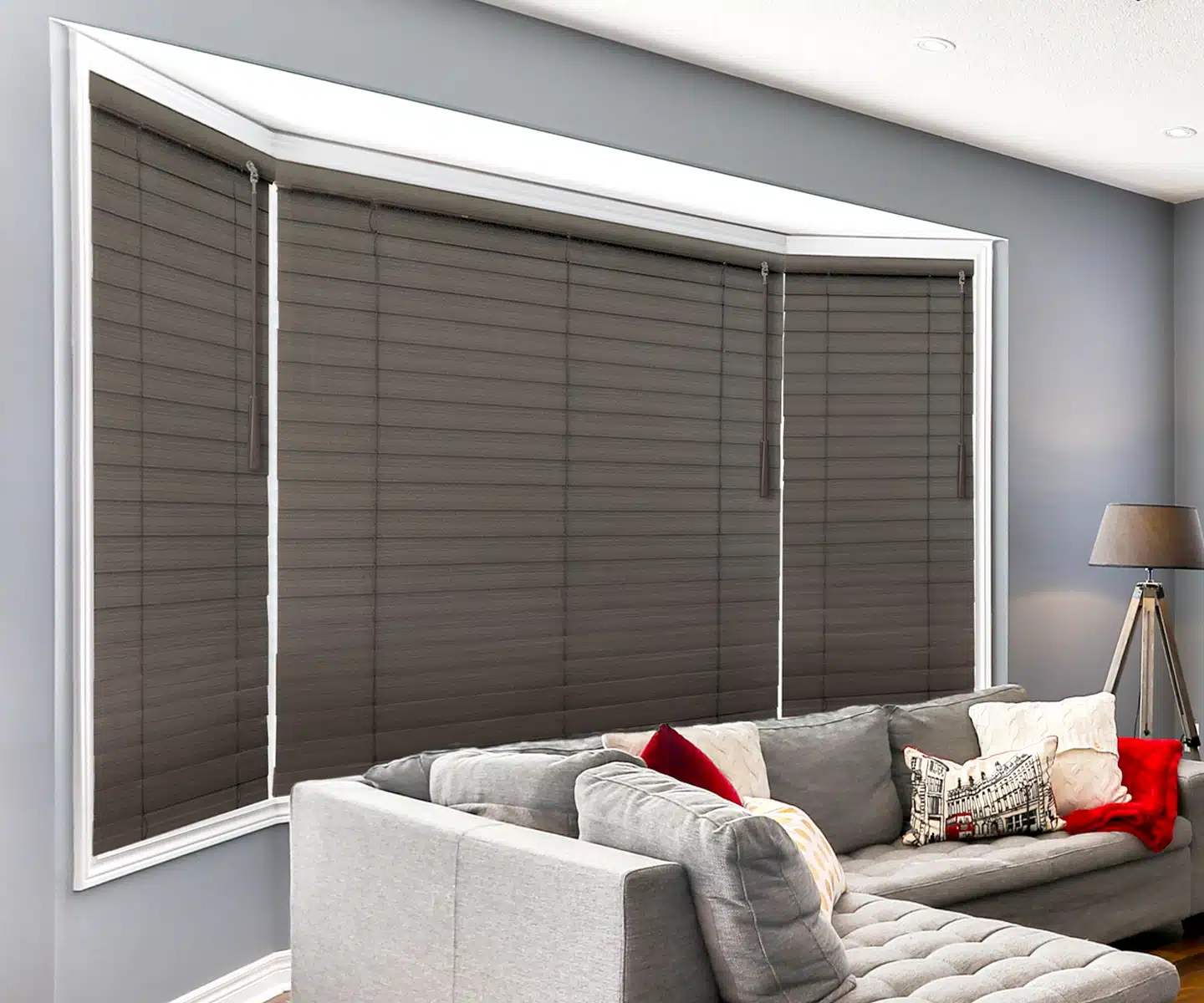 Woodlore® Shutters
Meet the world's best selling shutter. Woodlore® Shutters are ideal for bay windows. Easy to operate, they allow natural light in, while also providing privacy when needed. The special bay window posts make individual shutters appear as a single unit for a more cohesive look for your room.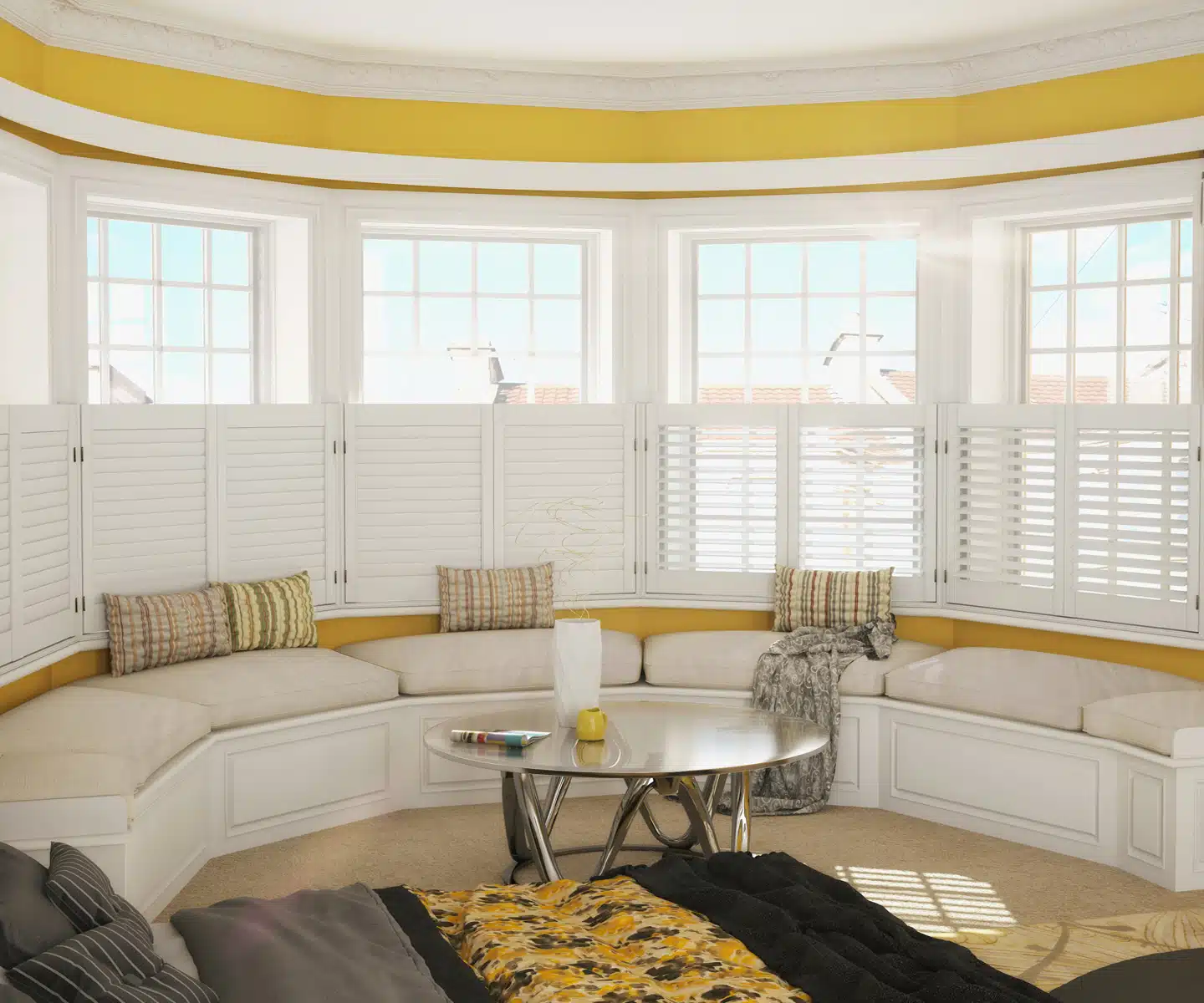 Soluna™ Roller Shades
Soluna™ Roller Shades are the perfect choice for bay windows. The products come in different textures and colors, creating a modern and clean appearance. The optional light guard can be added to enhance your privacy and light control. Plus, the safe and convenient cordless design makes the operation effortless.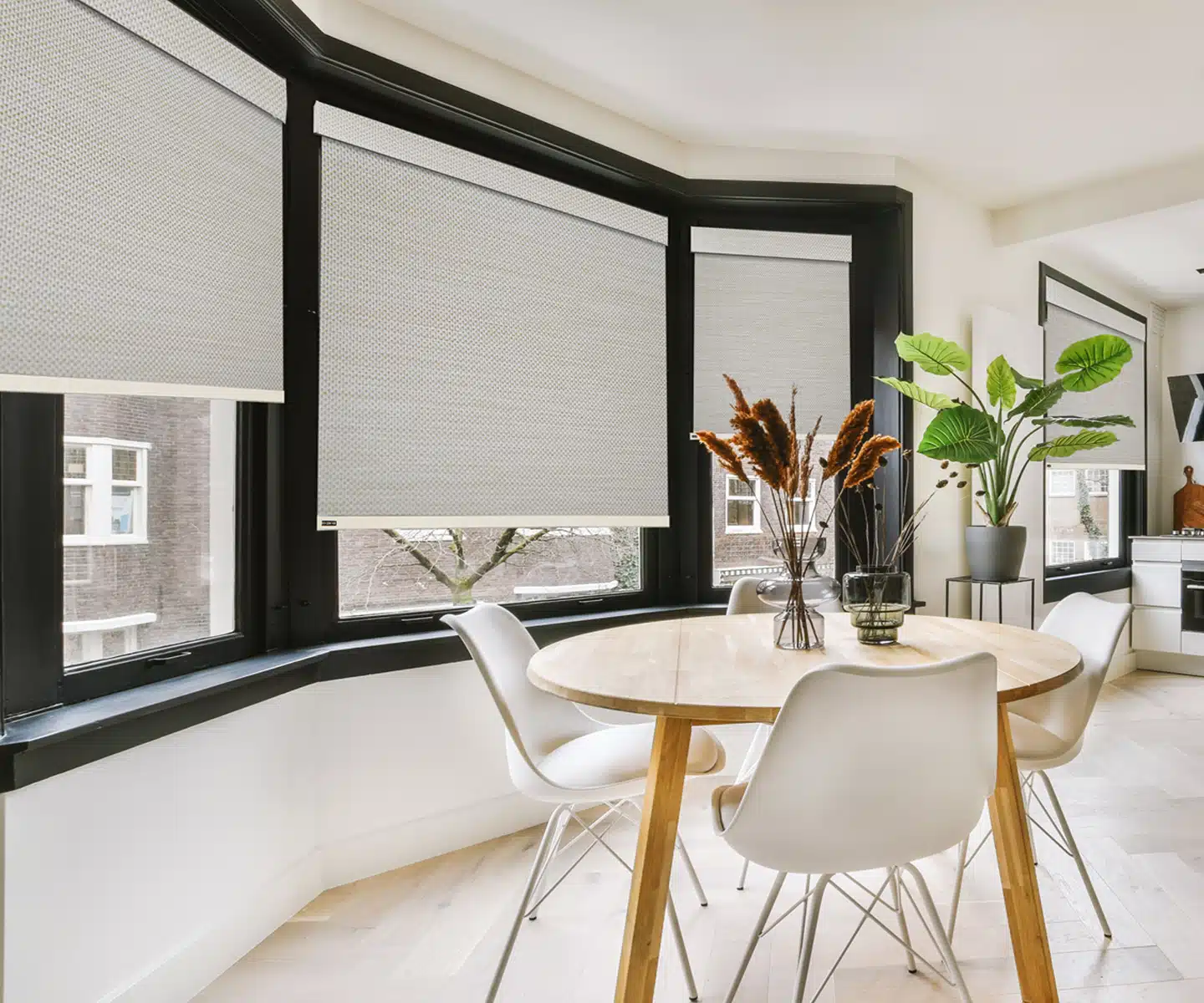 Why Norman®?
Norman® is the right choice if you are looking for a trendy way to cover your bay windows while still enjoying the view and natural light. Our products are crafted from high-quality materials to ensure trouble-free user experience.
Norman® retail partners offer personalized in-home consultations and will work with you to find the perfect fitting custom blinds or shades for your bay windows. Our mission is to bring your interior design vision to life!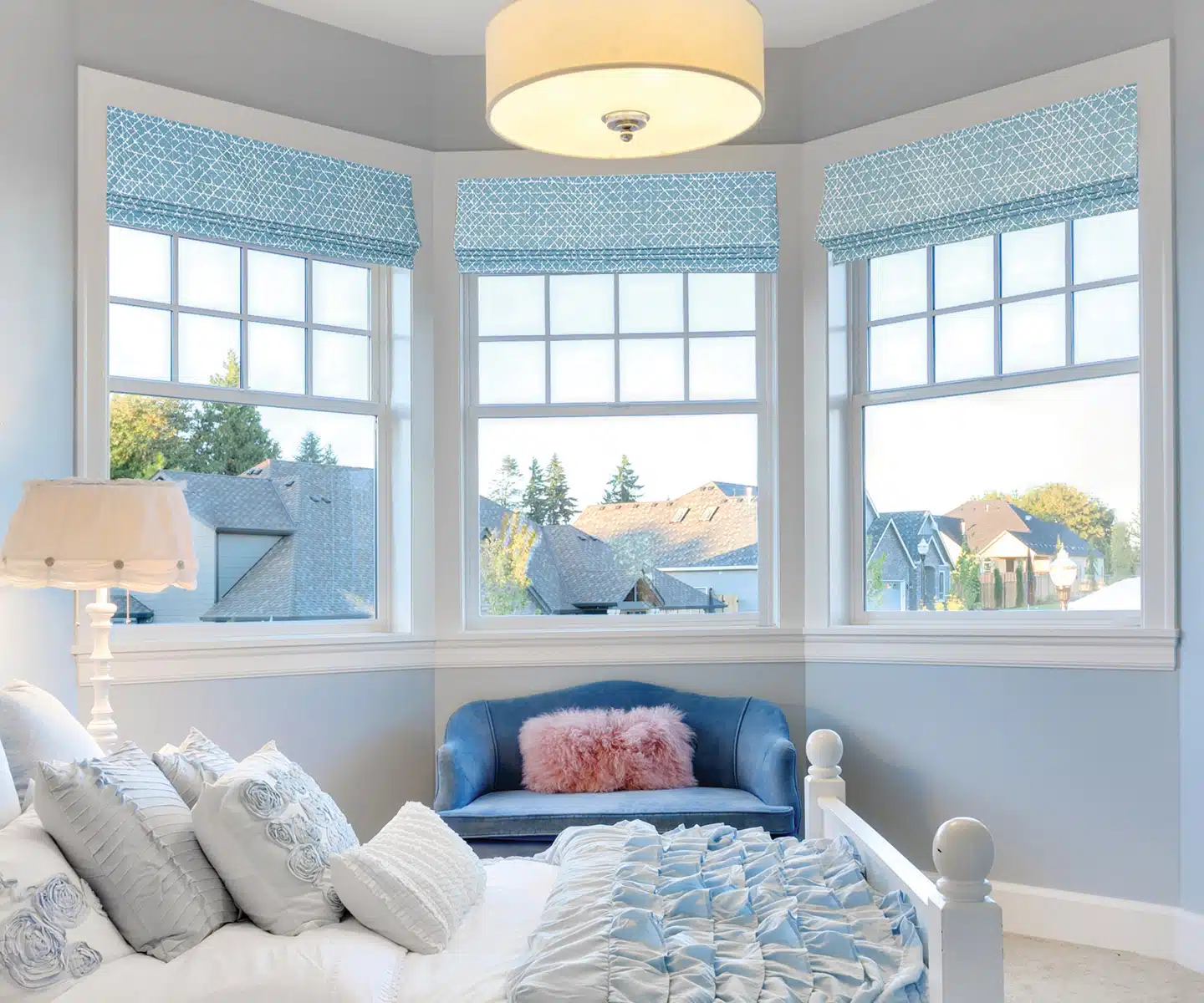 Frequently Asked Questions
What's the best window treatment for bay windows?
Custom shutters, faux wood blinds and roller shades are perfect for bay windows. They come in different colors, finishes and textures. With our unique options designed for bay windows, you can rest assured that your beautiful bay windows will add a touch of class and sophistication to your home decor.
Can you use blinds on a bay window?
Yes, of course. Blinds are great for bay windows. We offer an impressive selection of options. From our beautiful varieties of wood and faux wood blinds to our timeless and elegant shutters and shades, you're sure to find the perfect style.
How to put blinds on a bay window?
Have a bay window with tricky measurements? No worries. Norman® retail partners are professionally trained and can take care of installation for you.