With their timeless elegance and ability to effortlessly connect indoor and outdoor spaces, French doors are popular with homeowners and interior designers alike. The double doors with glass panels allow for an infusion of natural light and an inviting view of the exterior, transforming rooms into vibrant, picturesque living spaces.
While French doors offer a captivating view, they also present a challenge in balancing privacy and light control. This is where French door window treatments come into play, acting as a harmonious bridge between style, privacy, and light management.
Why Do We Love French Doors?
French doors are truly a testament to architectural beauty and the seamless integration of indoor and outdoor living spaces. Their glass panels invite natural light and scenic views, transforming ordinary rooms into spacious sanctuaries. The enhanced illumination can make the room feel larger, more open, and positively impact the mood of its occupants.
The design of French doors exudes elegance and charm. Their symmetrical layout and glass panels evoke a sense of classic beauty, adding a touch of sophistication to any living room, dining room, or kitchen in your home. They serve as a focal point, enhancing the overall aesthetic interest of the space.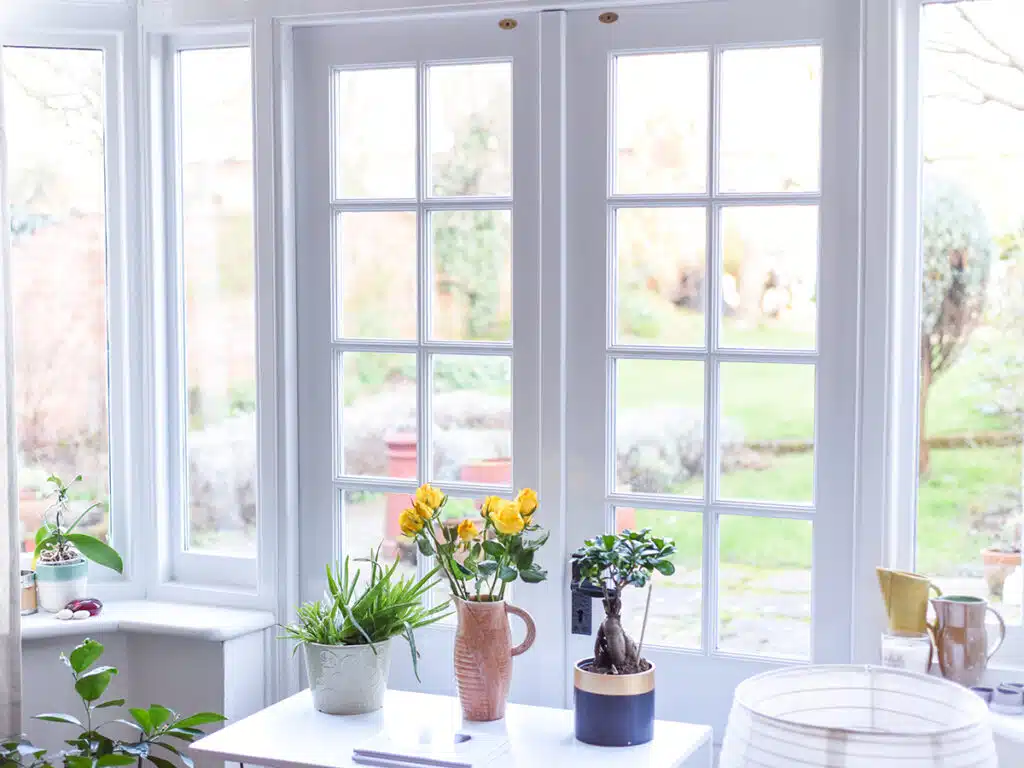 Choosing the right window treatments for French doors can be challenging. They must be carefully selected and installed to ensure they don't interfere with the doors' operation while providing the desired level of privacy, light control, and aesthetics. Luckily, Norman® has lots of trending options to choose from!
Window Treatment Ideas for French Doors
There are several elements you need to consider to choose the right window treatments for your French doors. Each window treatment affects the design differently, so it is important to consider the location and functionality of your French doors, the amount of sunlight they receive, and the overall style aesthetic you wish to achieve.  
Conserving the essence and beauty of the French doors should also be a top priority. For this reason, it's important to select a discrete window treatment option. Clean lines and minimalism are preferable to loud patterns and heavy fabrics of curtains or drapes. Let's explore the best French door window coverings:
Roman shades for elegance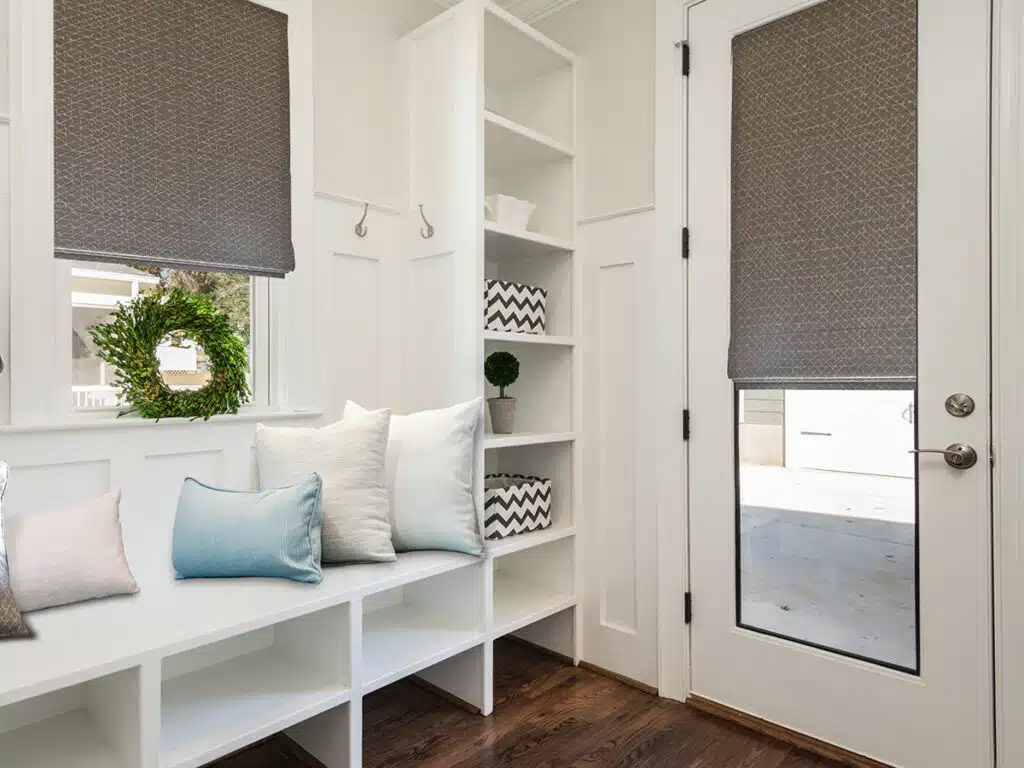 Centerpiece™ Roman shades offer a tailored look and various levels of light control. Choose from different opacity options to balance privacy and natural light. Their soft folds and clean lines add a touch of luxury to the room, enhancing its overall aesthetic appeal.
Cellular shades for insulation and space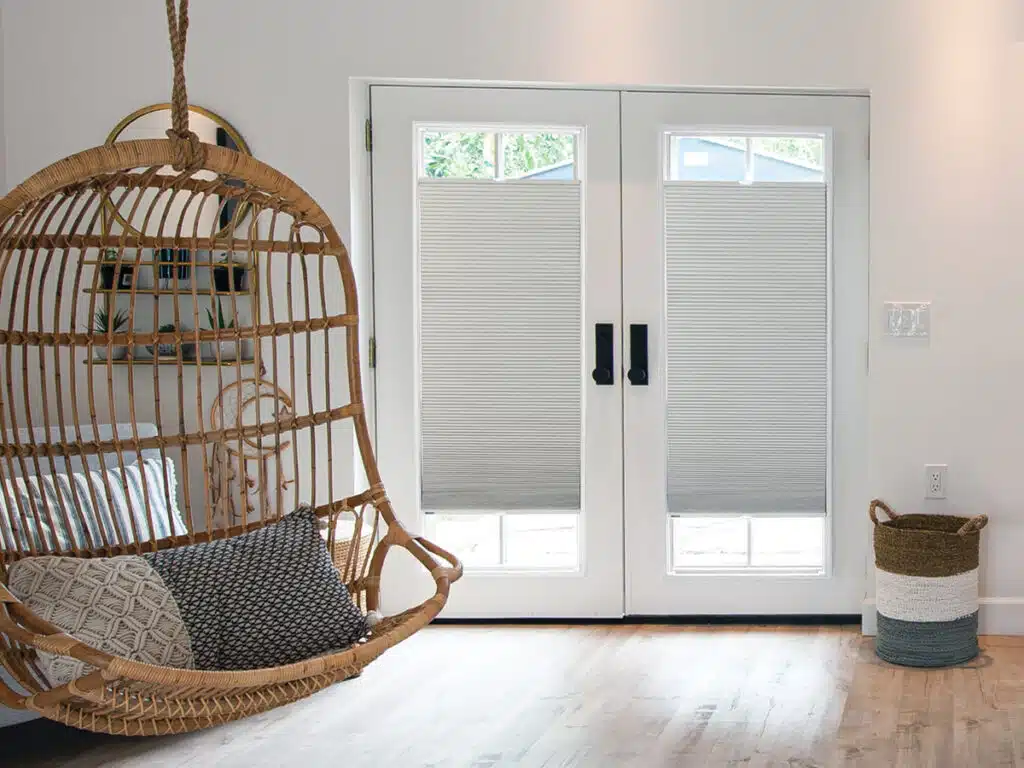 Cellular shades provide energy efficiency and insulation while diffusing light. Portrait™ Honeycomb shades are fully customizable, so you can opt for different cell sizes and opacities to meet your preferences. Unlike bulky drapery, they are one of the best window treatments for a stylish look. 
Traditional plantation shutters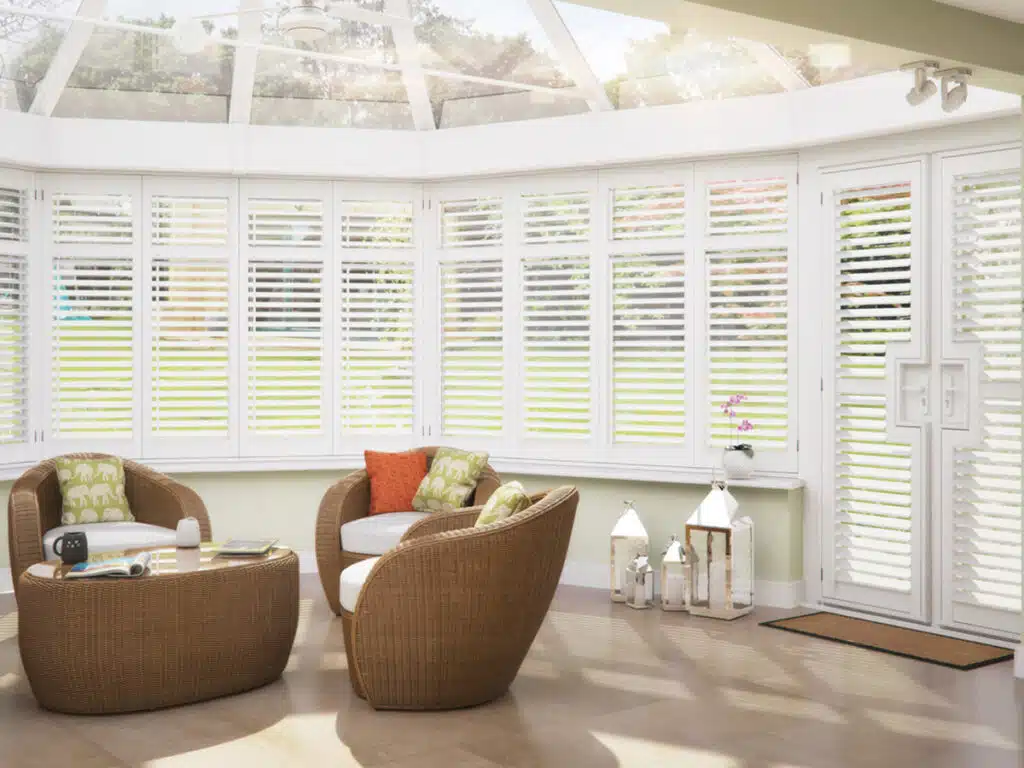 Plantation shutters add a classic touch and allow for versatile light control. Louvers can be tilted to manage sunlight and privacy effectively. Norman® window shutters are a perfect match for French doors, sliding doors, and glass doors. Iconic Woodlore® shutters are extremely durable and great for high-traffic areas. Sophisticated Normandy® hardwood shutters feature rich wood graining that can enhance the refinement of your doors.
Roller shades for style versatility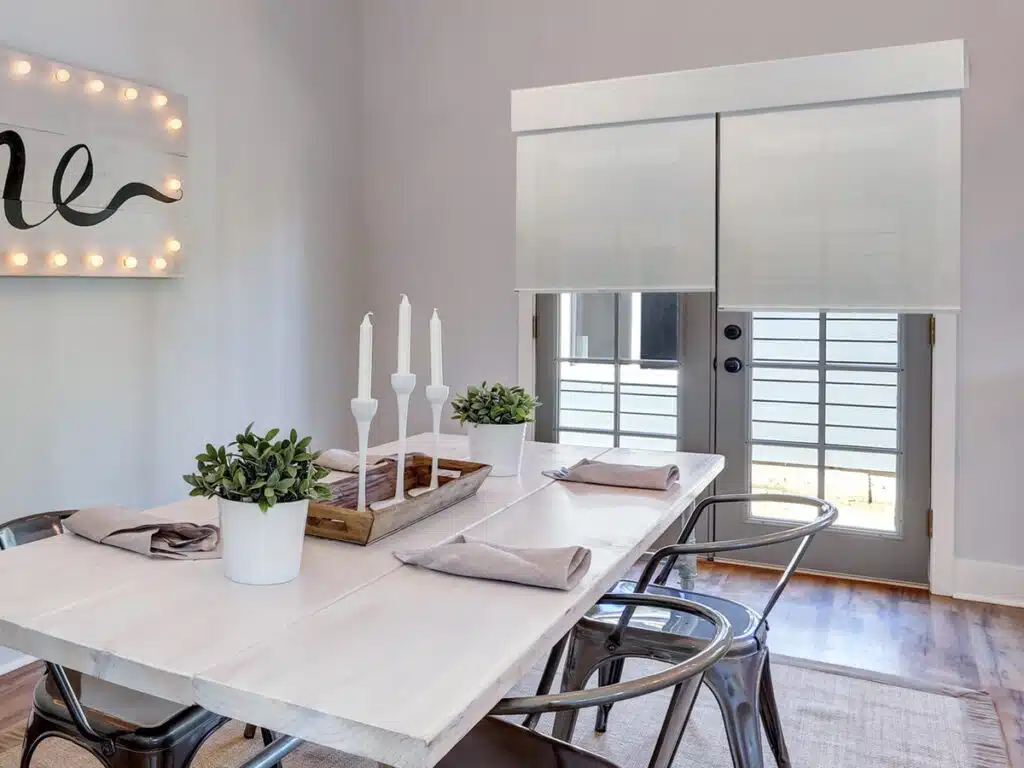 Roller shades provide a clean and uncluttered look that seamlessly integrates with various interior design styles and complements the elegance of French doors. Soluna™ roller shades come in dozens of on-trend fabrics that range from sheer to light-filtering and room-darkening. They are one of the most versatile shade options and can be equipped with an award-winning cordless lift system for child & pet safety.
Aluminum blinds for practicality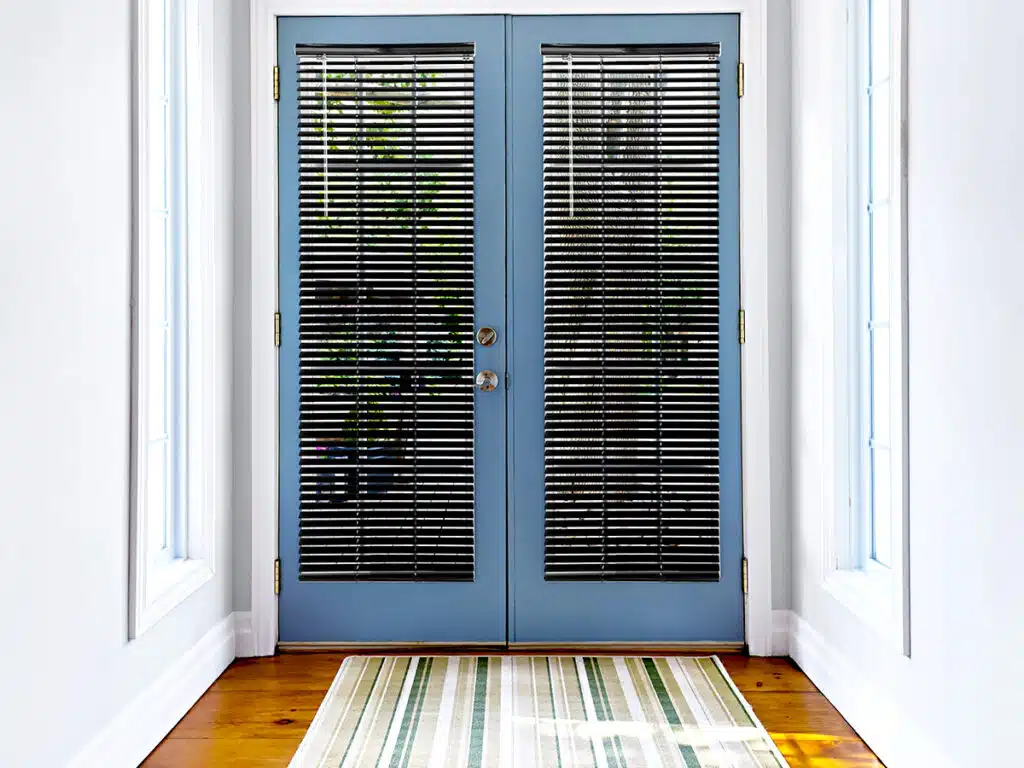 Durable and resilient, aluminum blinds are stylish window treatments that can withstand daily use, making them a reliable choice for French doors that may be opened and closed frequently. Contemporary mini blinds have a slim profile and metallic finish that complement French doors and add a modern touch to the room's decor.
Selecting a Window Treatment for French Doors
Choosing the correct window treatment for French doors involves careful consideration of a few key factors to ensure that you achieve the right balance between aesthetics, functionality, and practicality. Here's a step-by-step guide to help you make an informed decision:
#1 Measure accurately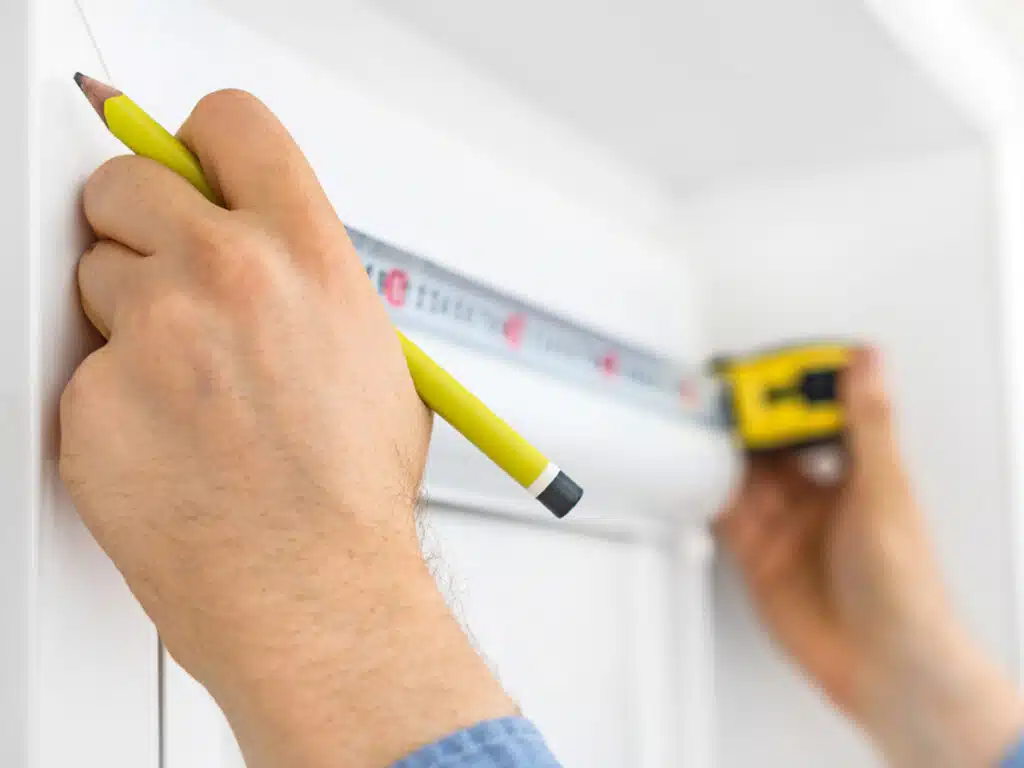 Starting with the width. Take three measurements: one across the top, middle, and bottom of the door opening. Use the largest width and add at least 2 to 4 inches to it, to allow for maximum light coverage. Next, measure door height. Measure top to bottom, starting from where you'll place the headrail, typically 2 to 3 inches above the door to clear the glass. 
#2 Consider door handle clearance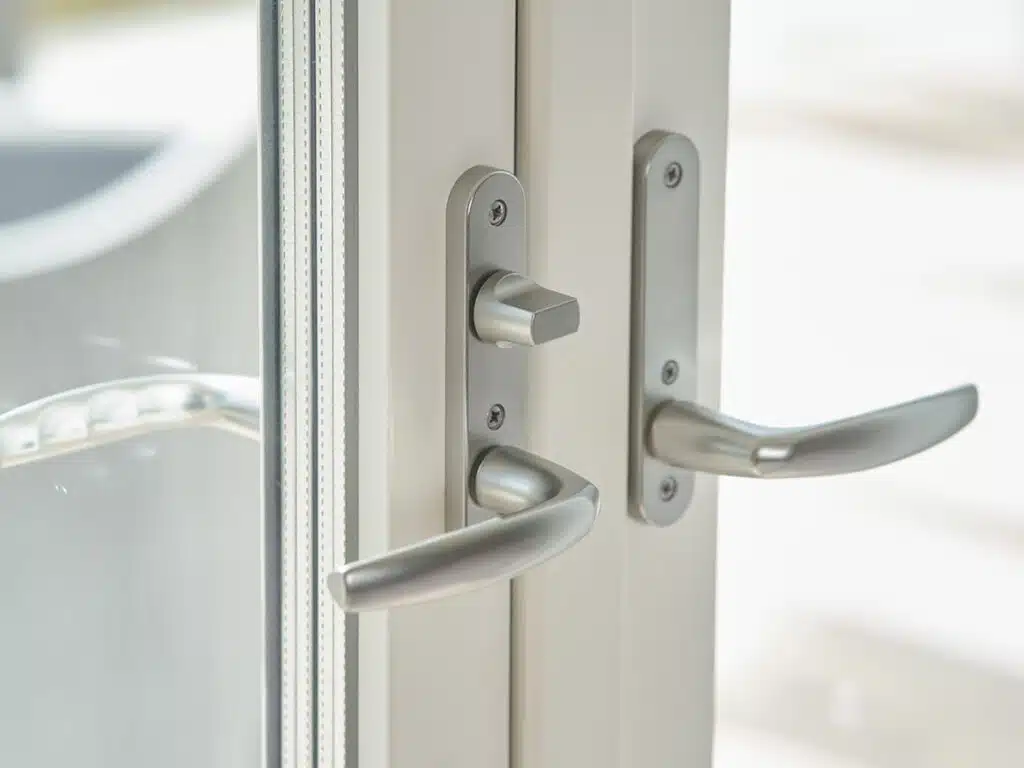 French doors are designed to open and close smoothly. If the window treatment extends too close to the door handle, it can hinder the doors' operation. Adequate clearance ensures that the window treatment does not interfere with the door's movement and will avoid damaging the door handle.
#3 Coordinating with existing decor
If the French doors are located in a room with other windows, consider how the window treatment for the doors will harmonize with the treatments on adjacent windows. Consistency in style and color can create a cohesive look.
#4 Budget-friendly options
At Norman®, we offer luxury styles to fit any budget! Our trending aluminum mini blinds, faux wood blinds, and roller shades are all highly durable, functional, exceptionally stylish, and affordable.
#5 Installation and Maintenance
French door window treatments look elegant when they are a perfect fit. That's why it's important to have a professional to measure and install the window treatments. Norman® retail partners provide superior professional design, measure and installation for all our products.
#6 Cleaning and upkeep guidelines
French door window coverings are fairly simple to clean and maintain. Routinely dust blinds, shutters, or shades with a microfiber cloth or vacuum attachment, and spot clean with a damp cloth using warm water and mild soap.
Norman
®
Is the Best Choice for Window Treatments for French Doors
Quality craftsmanship meets luxury style with Norman®'s collection of beautiful award-winning window treatments. Whether you're seeking a timeless look with traditional hardwood shutters, a contemporary design with sleek mini blinds, or light and airy minimalist shades, Norman® has the right on-trend window treatment for your French doors. Explore our wide range of fully customizable window coverings and get inspired! 
FAQs
Q: Are there treatments specifically designed for French doors?
Yes, custom window treatments are tailored to the unique characteristics of French doors, such as their size, shape, and operation. Plantation shutters with custom cutouts are specifically designed to fit French doors perfectly.
Q: Do French door window treatments offer insulation benefits?
Cellular shades are designed to fit neatly within the frame of the French doors, providing excellent insulation and light control. They can provide benefits like extra UV ray protection, trapping unwanted warm air, and lower energy bills.
Q: Can I customize my treatments to suit my specific needs?
Yes! Norman® offers fully customizable window treatments. Tailor the size, shape, color, and fabric of your window coverings to your unique needs.
Q: Can I install the treatments without damaging the door frame?
Yes, you can install many types of window treatments on French doors without damaging the door frame. Contact your local Norman® retail partners today for more details.