Renowned for their timeless aesthetic appeal and longevity, Plantation shutters are a popular choice for traditional to contemporary design styles. Versatile and energy-efficient, they're easy to care for and can even increase property value. With so many customization options available, it's no wonder plantation shutters remain at the top of homeowners' wish lists.
What Are Plantation Shutters?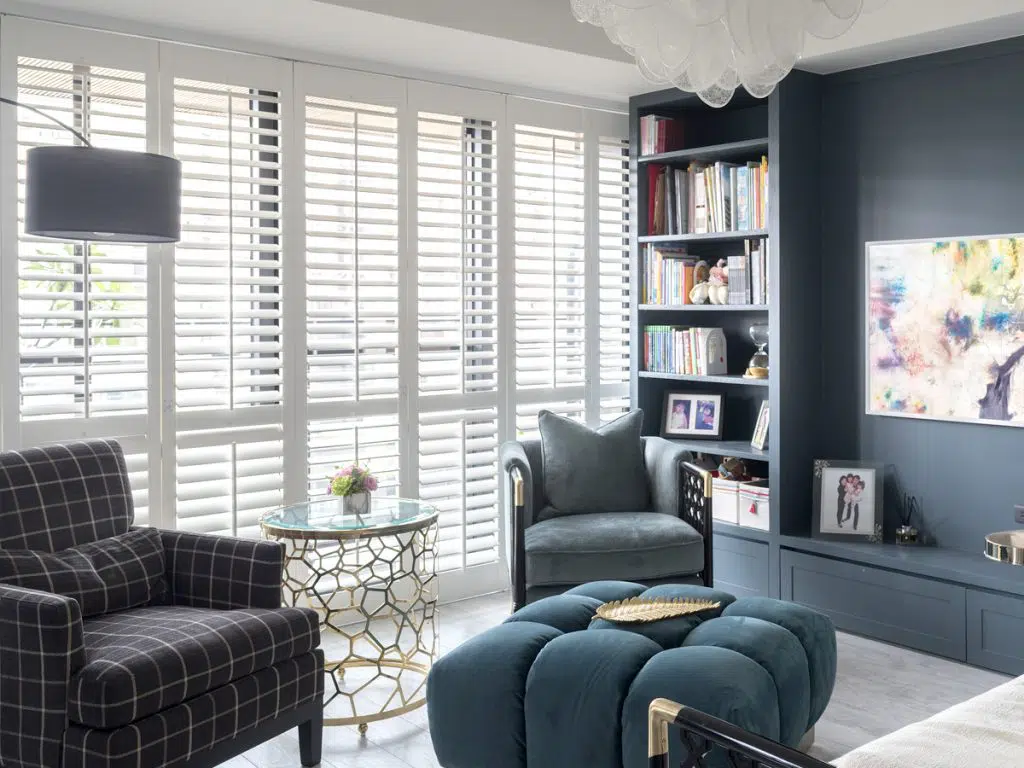 The name Plantation Shutters has its origin from the traditional shutters originally found on large homes in southern U.S. states dating back to the 1800's.  They were constructed from real wood with center tilt rods and small louvers in keeping with the traditional home decor and smaller windows of the time.
Shutters have evolved to fit today's lifestyles and are constructed from materials ranging from PVC/vinyl (see: Why Norman doesn't sell PVC/vinyl shutters) to more durable engineered wood composite to 100% premium hardwoods.
Norman® offers the look and feel of traditional plantation shutters as well as more modern styling options including invisible tilt rods and larger louvers designed to fit today's windows and doors  including sliding glass doors, specialty shapes and french doors.
Main Features of Plantation Shutters
Plantation shutters are an interior design staple for a reason. The are stacked with amazing features, such as:
Adjustable Louvers:

Adjustable louvers are a key feature of plantation shutters that direct the angle and direction of the slats, allowing you to control privacy and light levels, and ventilation and airflow.

Privacy and Light Control:

Closed plantation shutters create a barrier that shields your interior from prying eyes, and partially closing the shutters allows you to strike a balance between

privacy

and natural light, depending on your preferences.

Energy Efficiency:

Properly fitted interior shutters act as insulators, reducing heat transfer through windows, and is one of the best ways to have energy efficiency.

Aesthetic Appeal:

They have a classic and timeless aesthetic, and can be tailored to match your interior decor with various materials, finishes, and louver sizes.

Durability:

Well-made

wood and composite

plantation shutters can last for many years, making them a cost-effective investment in window treatments.
Common Materials for Plantation Shutters
Wood shutters provide a classic and elegant look, making them a popular choice for both traditional and modern interior designs. They can be customized in terms of finish, stain, and paint to match your home's decor. Our high-quality paulina hardwood is treated to ensure a durable and long-lasting product.
Composite materials are made from a combination of wood fibers, synthetic materials, and polymers, making them highly durable and resistant to warping, cracking, and moisture. They typically require minimal maintenance, and are available at a great price point.
Although Vinyl PVC materials are affordable and popular for shutters, there are a few reasons Norman doesn't use them. PVC is a thermo plastic and shifts in temperature may cause larger panels to shrink, expand, bow, and twist. Vinyl shutters are generally heavier and more flexible and will sag and twist under their own weight and become difficult to open and close the shutter panels as well. 
Types of Plantation Shutters
Explore each of our shutter lines in more detail to learn the various features & benefits, color options and specifications crafted to fit any size, shape, color, lifestyle or budget. You're sure to find the right treatment to inspire some new plantation shutter ideas.
Woodlore® – The world's best-selling shutter
An iconic wood composite shutter with renowned durability, strength, and density.  Resists peeling, cracking, chipping and yellowing.  No wonder it's #1 among the world's homeowners.  Woodlore® is more stable, robust, and stronger than solid wood shutters.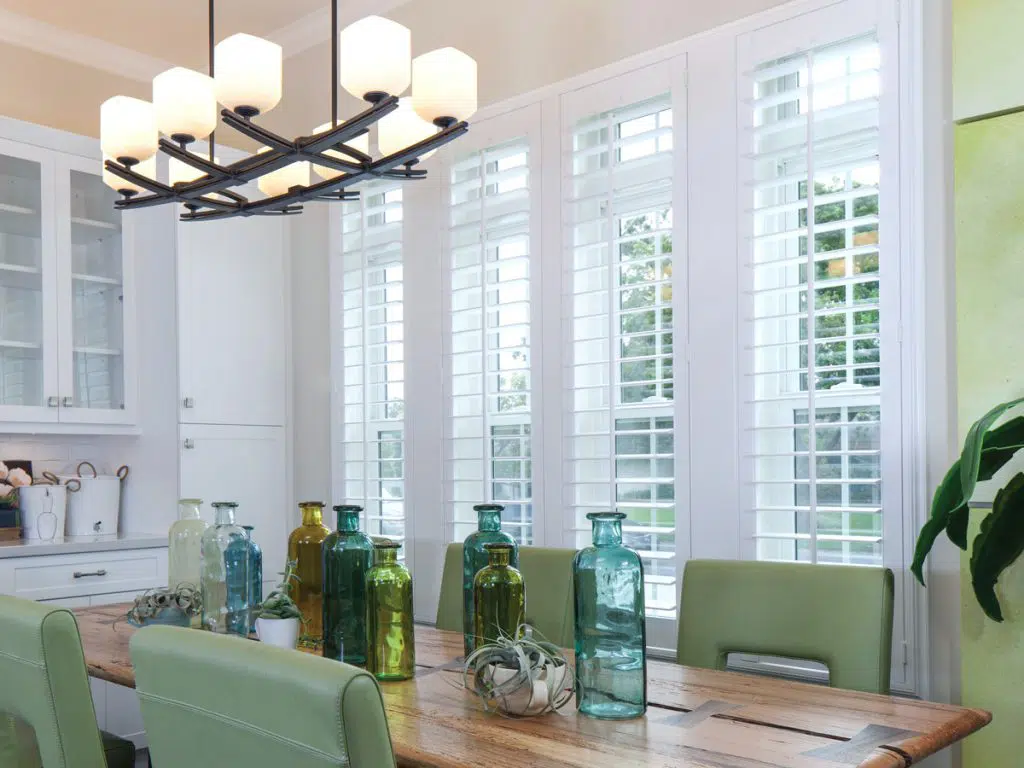 Woodlore® Plus – A new level in quality
A wood composite hybrid shutter utilizing lightweight yet durable ABS for its louver Woodlore® Plus Shutters are truly the future of window treatments. Free of dangerous cords, they're a top pick for families with young children. 
Crafted with wide panel capability and breakthrough InvisibleTilt™ technology, you can enjoy wider and more unobstructed views from your favorite living spaces.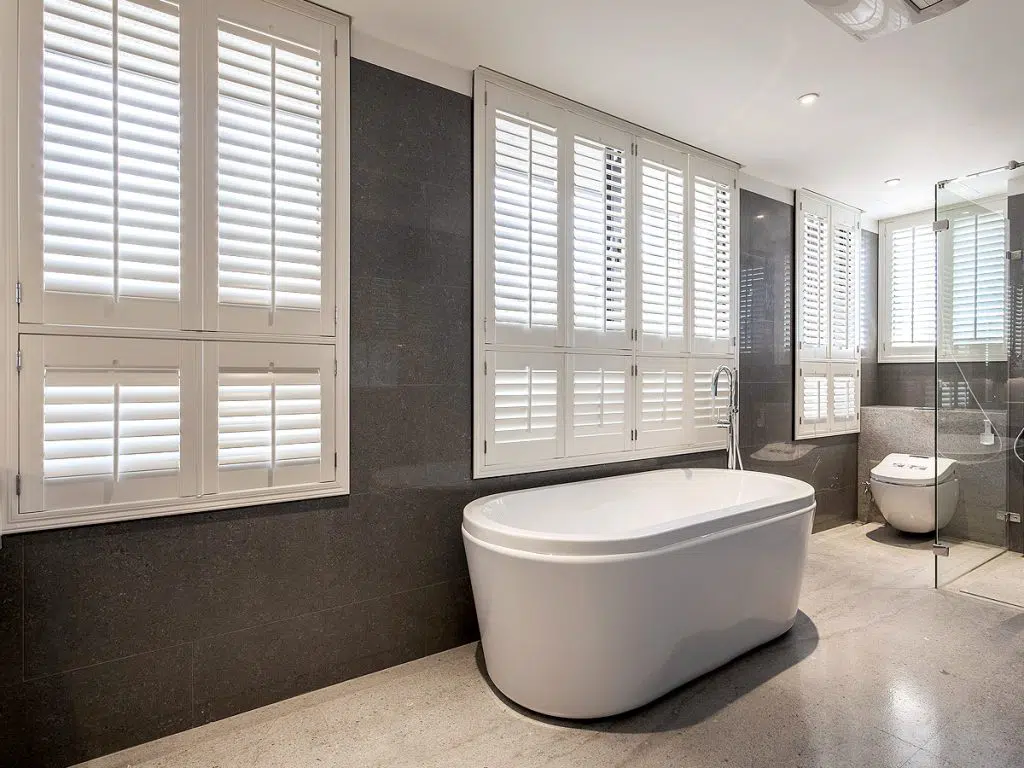 Normandy® – The natural beauty of premium hardwood
Constructed with mortise & tenon joints, uniquely engineered stiles, and an InvisibleTilt™ embedded gear and pinion system, Normandy® shutters are designed to last a lifetime. These stained shutters are proudly crafted from Paulownia hardwood which features handsome wood graining and natural character. 
Prescription wood conditioning is used on all Normandy® Shutters to reduce shrinking and swelling and the wood drying process emulates the environmental conditions of your home.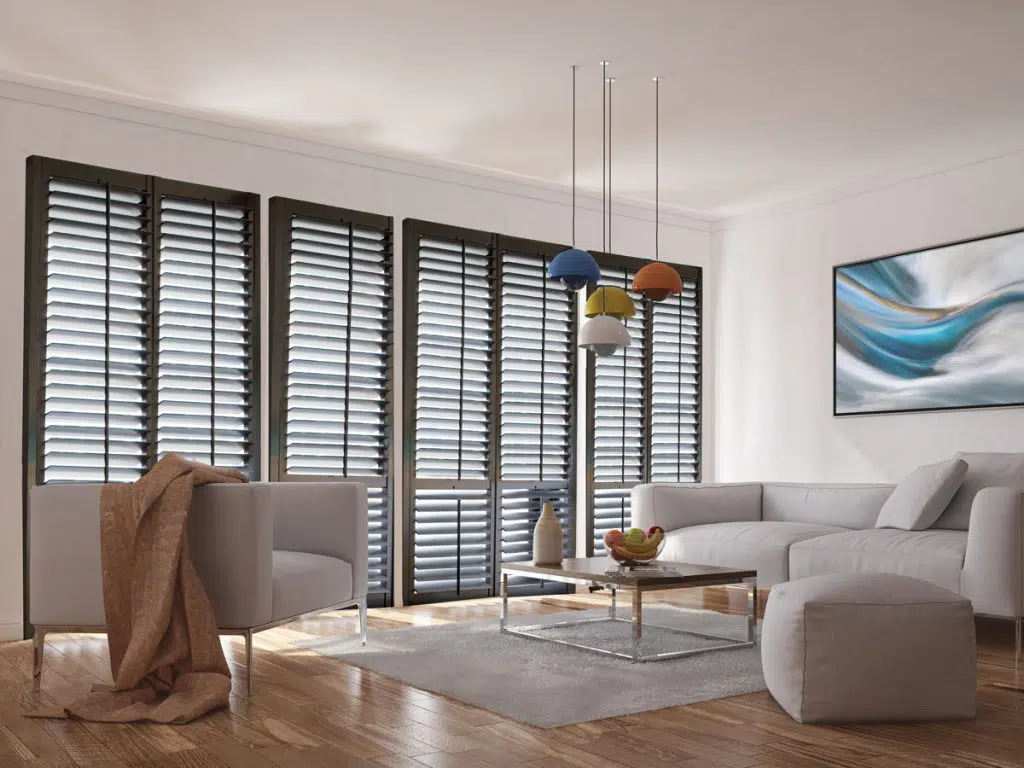 Brightwood™ Shutters Plus – Affordable Luxury
The best parts of Normandy and Woodlore shutters are incorporated in the EcoSmart, stylish Brightwood™ shutter. Wider panels mean sleek modern design and customization options make Brightwood a more affordable way to cover windows in any size, any paint color, and any shape.
Why You Should Get Plantation Shutters
Light Control and Privacy
Plantation shutters offer excellent control over the amount of sunlight entering a room. They can effectively reduce glare in family rooms and home theaters where you want to enjoy TV,  and they even protect furniture and flooring from UV damage.
Ventilation and Insulation
Unlike curtains or drapes, plantation shutters offer better ventilation and do not trap dust and allergens as easily, making them a preferred choice for those with allergies. They create an insulating barrier between the interior of your home and the outdoors. 
This barrier helps regulate indoor temperatures by preventing heat from escaping in cold weather and blocking heat from entering during hot weather. They can help reduce noise from outside, providing a quieter and more comfortable living environment!
Durability and Easy Maintenance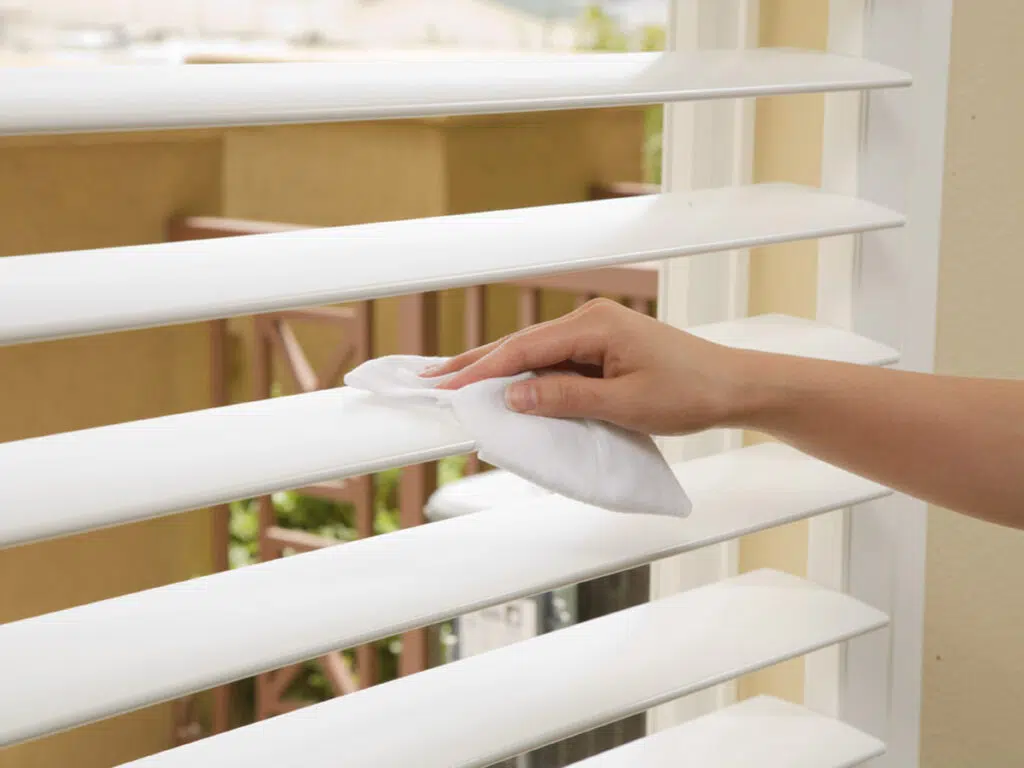 Norman plantation shutters are crafted from premium treated paulina hardwood and sturdy wood composite materials that are highly durable and long-lasting, providing value for your investment.
What to Consider When Buying Plantation Shutters
As you shop for plantation shutters, keep these top factors in mind:
Material
Wood offers a traditional, elegant look but may require more maintenance and can be affected by humidity. Composite combines wood fibers and synthetic materials for a classic look that is durable and moisture resistant. 
Size and Measurements
Always measure your windows accurately to ensure a proper fit. Consider the depth of the window frame and the space available for the shutters when opened. Determine the frame style that suits your preference and window type, such as inside mount or outside mount. Some frames provide a sleek, minimalist look, while others offer decorative features.
Louver Size
The louver size of the shutters affects the overall aesthetics and the amount of light and privacy control available to you. Larger louvers offer a more modern look and better view but may let in more light when open. Smaller louvers give a more traditional appearance and provide a tighter closure for better light control and privacy.
Color and Finish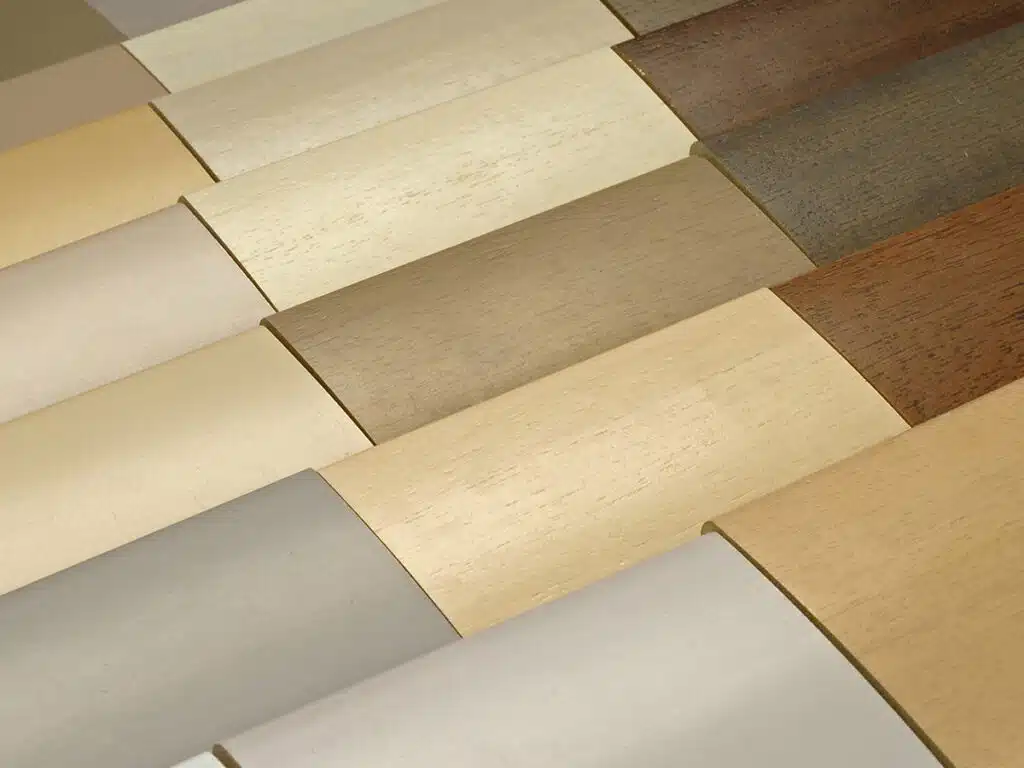 Choose a color and finish that complements your interior decor. White and off-white are popular choices for a classic look, but wood shutters crafted from natural wood like cedar, pine, or basswood look beautiful when complimented with a rich wood stain.
Where They'll Be Used
Consider the room's purpose, the environment, and how the shutters will be used. High-humidity areas like bathrooms will benefit from moisture-resistant materials. Bedrooms may require better light control for privacy and quality sleep. Living rooms might prioritize aesthetics, view, and natural light.
Get Quality Plantation Shutters With Norman USA! 
No one does interior shutters quite like Norman. Whether you're looking for faux wood or real wood shutters, Norman offers the best selection of
custom plantation shutters on the market. Transform your living room or any living space with custom shutters to complement your decor. 
Choose from uniquely sized louvers to fit larger windows, or durable composite materials for bathroom use. All Norman window shutters are hand crafted with care and exceptional quality. Our team of experts is standing by to assist you with an in-home design consultation
FAQs
Q: What Are the Advantages of Plantation Shutters?
Plantation shutters offer timeless elegance, and excellent control over privacy, light, and airflow, and can even increase property value.
Q: How Do I Choose the Right Material for My Plantation Shutters?
Consider your budget, desired aesthetics, durability requirements, and the room's humidity levels, opting for options like real hardwood for traditional charm, or composite shutters for affordability and moisture resistance.
Q: Can I Install Plantation Shutters Myself?
For the best possible results Professional installation is recommended for ensuring a proper fit and functionality, especially for larger or more complex window styles.
Q: Are Plantation Shutters Energy-Efficient?
Yes, they can help regulate indoor temperatures by providing insulation and reducing heat transfer through windows.
Q: What Maintenance Do Plantation Shutters Need?
Regularly dusting with a soft cloth or duster to prevent dust buildup. Wiping with a damp cloth or sponge is necessary if they become dirty or stained.
Find a Specialist