Plantation shutters are not only a hallmark of Southern style but are also an excellent choice for window coverings in modern homes of any style. These deep-louvered wooden shutters provide an elegant alternative to blinds and will give your home a touch of sophistication.
In this article, we'll discuss the different types of plantation shutters available, as well as their benefits and drawbacks. We will also provide some tips on how to choose the right style for your home.
Plantation Shutter Materials
Looking to add or improve your interior window shutters? Plantation wood shutters or wood composite shutters are a beautiful way to add privacy and richness to any room. They also happen to be classic and timeless, so they'll never go out of style.
Plantation shutters can improve the aesthetic of any room in your home. But before you decide on a style, you need to choose the right material for your needs. The three most popular materials for plantation shutters are wood, composite, and vinyl.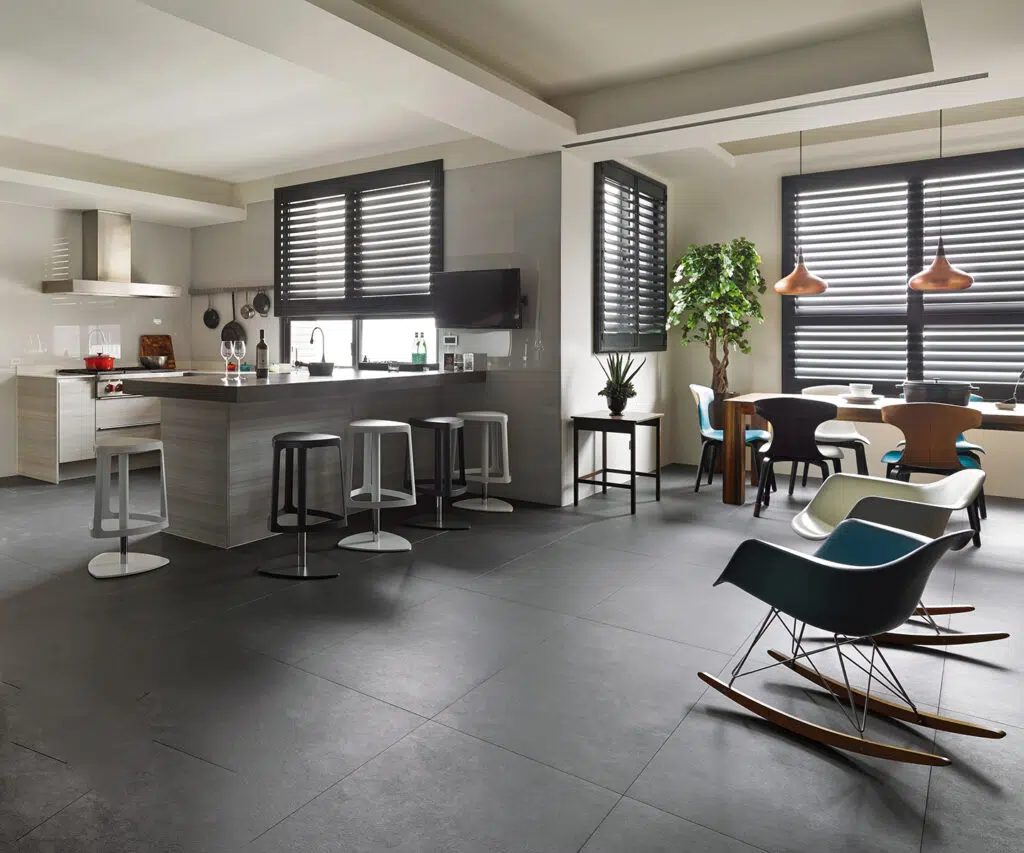 Wood Plantation Shutters
Wood plantation shutters are the most popular type of shutter on the market. They are made from a variety of woods, including cedar, basswood, and mahogany. Similar to tier shutters, wood shutters offer a warm and natural look to any room in the house. They can even be stained or painted to match your décor.
Like a piece of well-crafted wood furniture, wood plantation shutters lend an air of class, permanence, and distinction to your room. Modern plantation louvered shutters are in fact renowned for their craftsmanship and are engineered with precise stile and rail dimensions to ensure clean, elegant lines. They look magnificent on large windows and french doors and can be worked into many creative design elements. Available in a variety of wood-grain textures, colors, and different styles, you can find just the right match for your design vision. 
Composite Plantation Shutters
Composite plantation shutters are made from a mix of wood and synthetic materials. They are a favorite of interior designers because they're available in an array of colors and styles, and they offer the look of wood shutters without a high price tag. Composite louvered shutters are constructed for strength, stability, and resistance to warping. They are usually more durable than wood shutters and a modern design with adjustable louvers makes them less likely to warp or crack. Finally, because these shutters don't have fabric or porous surfaces, they're simple to clean and take care of.
Vinyl Plantation Shutters
Made from a PVC synthetic material, vinyl plantation shutters are one of the most affordable window treatments. This type of material is light and easy to clean, making it a good choice for high-traffic areas or rooms where dust accumulates, like bathrooms. However, in this case, when you save on money you also sacrifice quality. Faux plantation shutters can warp in extreme heat from the sun and are not as durable as wood or composite shutters despite their heavier weight. Vinyl shutters will also eventually sag under their own weight and distort. These significant downsides are why Norman® does not sell any vinyl shutters, and instead focuses on providing high quality wood and wood composite shutters.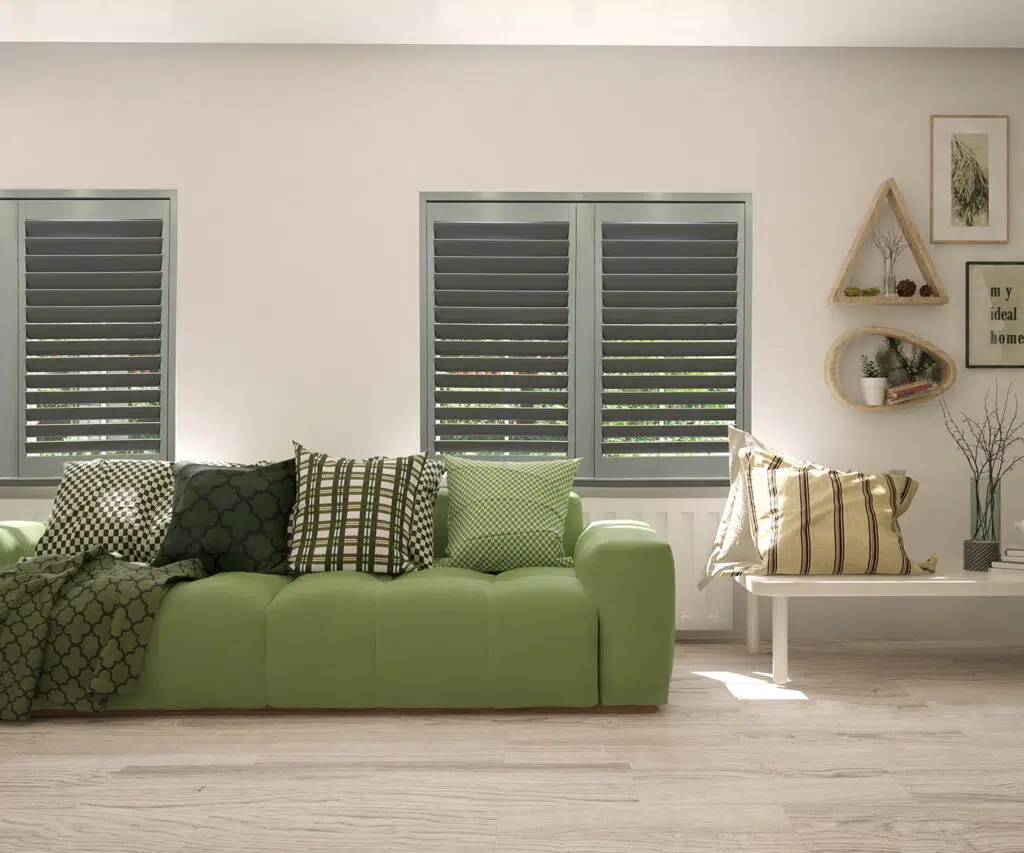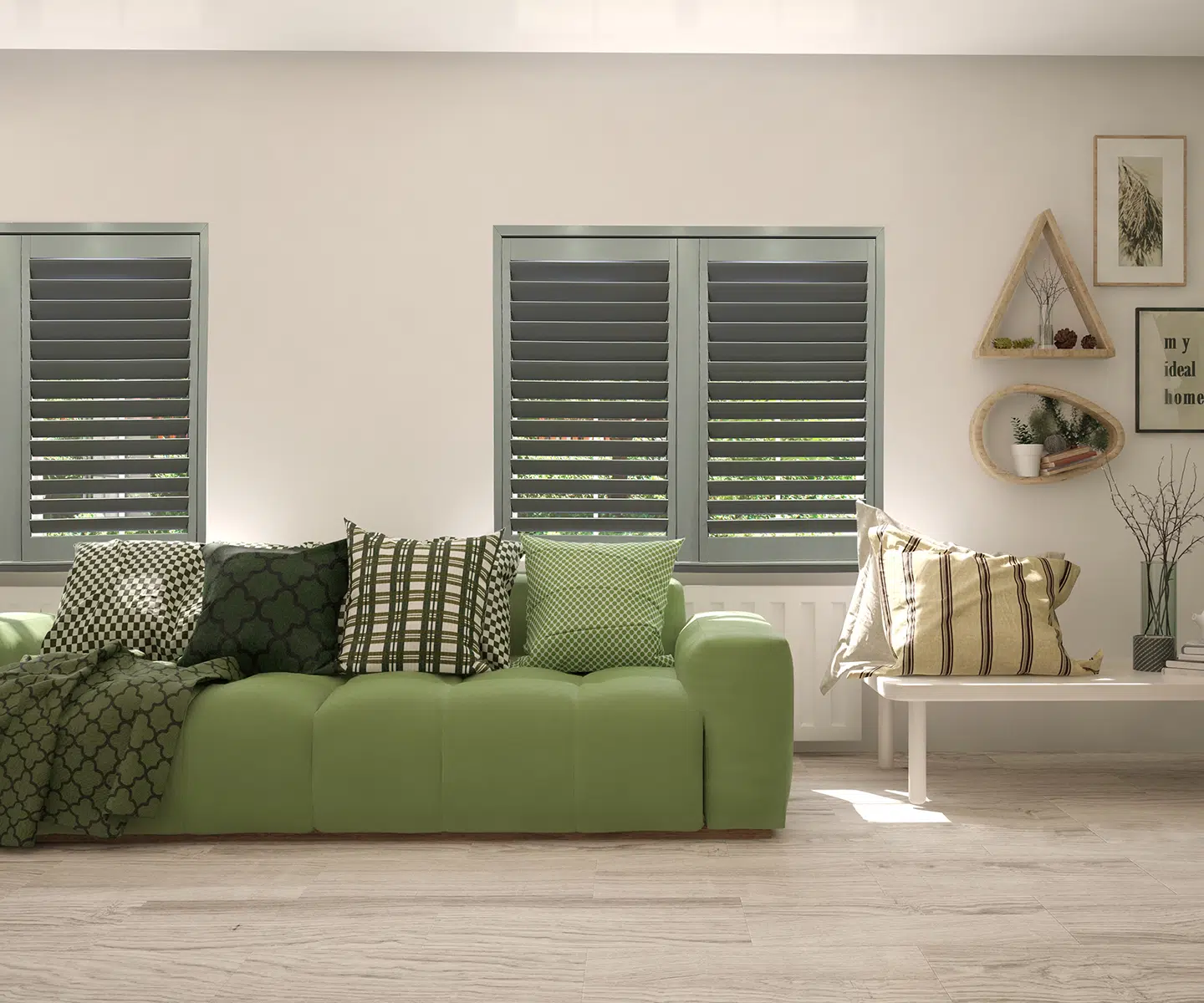 Design Ideas for Living Room Plantation Shutters
Living room spaces often feature unique window shapes, which can be difficult for traditional plantation shutters. Luckily, Norman® offers custom living room plantation shutters options, so you can get creative with your plantation shutter design in order to achieve the look you desire.
Some popular living room plantation shutters design ideas include:
Select a larger louver size with your shutter treatment to gain clearer views to the outside

Plantation shutters with curtains: This is a popular option if you want the ability to block out additional light and create a layered look.
Interior window shutters from Norman® offer a look that is elegant and high-end, for both modern and rustic interior designs. Whether you choose wood or composite shutters, the results are sure to be striking!
Woodlore® Shutters
Same great craftsmanship, Woodlore® Shutters are like the age-old wood shutters but better. Woodlore® Shutters are constructed of a solid composite wood core. They can endure temperatures up to 140°F, and they won't sag when exposed to window heat, unlike hollow vinyl products. To assure tight closure with smooth operation, they resist cupping and warping.
Woodlore®'s UV inhibitors not only prevent color fading and yellowing, but its patented polypropylene coating protects against staining as well. As a result, it guarantees long-term durability in any environment.
When you invest in Woodlore® shutters, you are also being an eco-friendly consumer. Among the most eco-friendly materials available, wood composite production involves very little waste, incorporates a biodegradable wood particle, and enables tree replenishment at an extremely accelerated rate.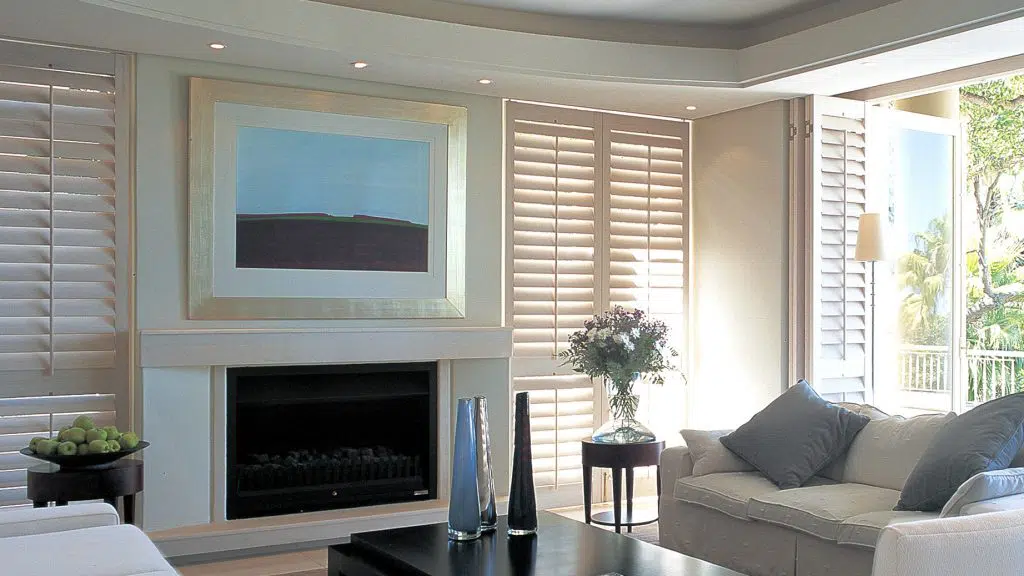 Normandy® Shutters
Experience the beauty of natural hardwood shutters that can stand the test of time. Normandy® stained shutters are proudly crafted from Paulownia hardwood which features handsome wood graining and natural character. Prescription wood conditioning is used on all Normandy® Shutters to reduce shrinking and swelling and the wood drying process emulates the environmental conditions of your living room.
Constructed with mortise & tenon joints, uniquely engineered stiles, and an optional InvisibleTilt™ embedded gear and pinion system, Normandy® shutters are designed to last for decades. Their structural integrity ensures that there'll be no need to replace screws or worry about warped and bowing joints down the road. Make a selection from a number of luxurious and resilient wood finishes, including new OSMO® stains, and customization options to fit any size and shape.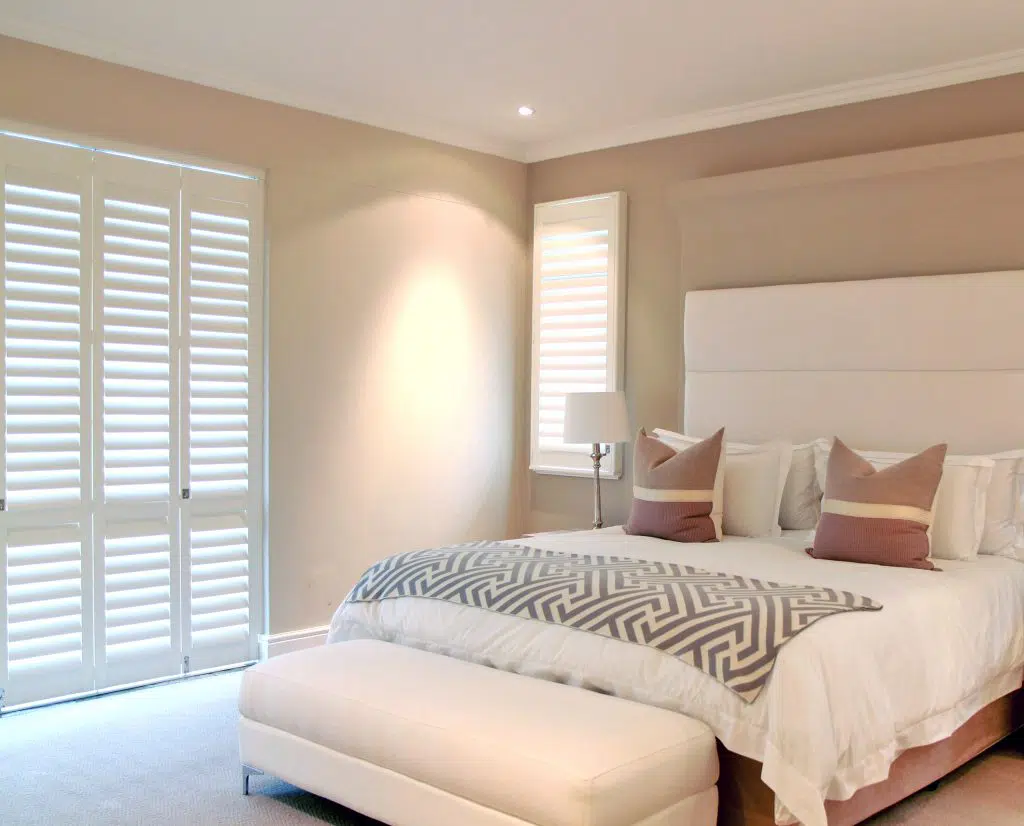 Design Ideas for Bedroom Plantation Shutters 
The bedroom is the most intimate space in your home and should truly reflect your aesthetic. Bring tranquility to your space with the addition of Norman® plantation shutters.
When selecting plantation shutters for your bedroom, consider a material that will provide both privacy and light control. Wood or composite plantation shutters will give you the ability to adjust the amount of natural light entering your space, as well as provide complete privacy when closed. They are more effective at light-blocking than traditional blinds, and custom plantation shutters can accommodate any bedroom window size or shape.
Trending interior design bedroom plantation shutters ideas include:
Pairing plantation shutters with drapes or curtains

Using plantation shutters as a room divider or closet door

Creating a focal point with plantation shutters around a cozy bedroom fireplace
Woodlore® Plus Shutters
Woodlore® Plus is a wood composite hybrid shutter utilizing lightweight yet durable ABS for its louvers. A tough and versatile material, ABS co-polymer is waterproof optional and won't chip, scratch, or dent.
Crafted with wide panel capability and the option of breakthrough InvisibleTilt™ technology, these shutters help you enjoy more unobstructed views. Woodlore® Plus Shutters are truly the shutters of the future and are a favorite pick for young families.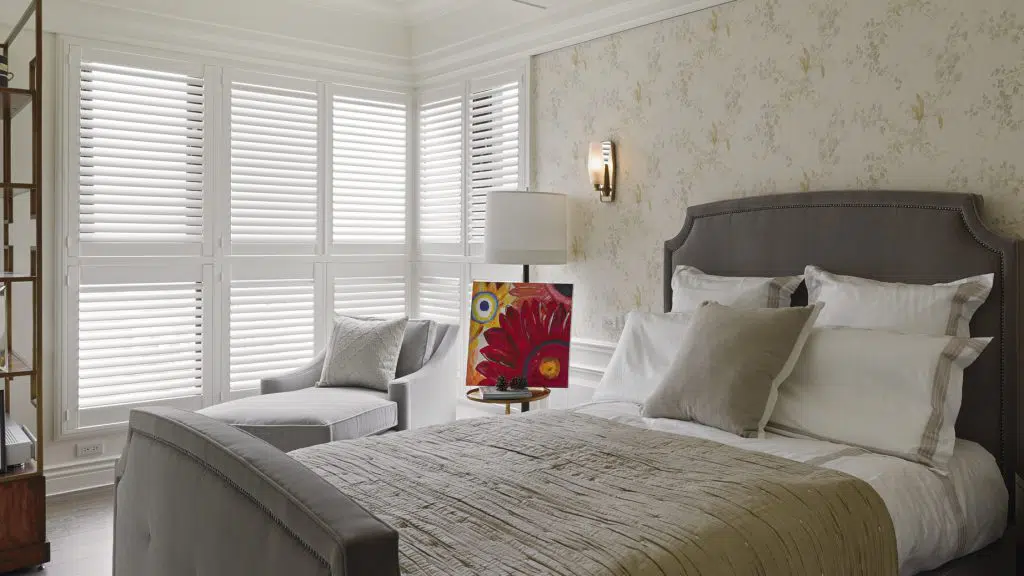 Normandy® Shutters
These natural hardwood shutters will add beauty and elegance to your bedroom. All Normandy® Shutters are treated with prescription wood conditioning to minimize shrinking and swelling. The unique wood drying process emulates the environment of your room to maximize lifetime quality.
Make a selection from nearly 50 gorgeous and long-lasting wood finishes and customizing possibilities to complement any size or shape of a bedroom window. Constructed with an optional InvisibleTilt™ embedded gear and pinion system, Normandy® shutters are designed to last for decades.
For a more robust light-blocking solution, install DayNite™ shutters. DayNite™ shutters combine the tight closure of Normandy®'s hardwood shutters with a room-darkening honeycomb shade to eliminate the potential of any light seeping through the gaps between louvers. With DayNite™ shutters, you can create a more effective room darkening solution that will create a darker and more relaxing sleeping atmosphere.
FAQ Section
Question: Are plantation shutters out of style?
Answer: No, in fact, they grew in popularity. Driving the trend are their optional hidden tilt rods, which take the bar off the shutter's front. They can be conveniently operated directly by tilting the louver with your hand or via remote control for motorized solutions.
Question: How much do plantation shutters cost?
Answer: The cost of plantation shutters will depend on the size, style, and material of the shutter. Wooden plantation shutters are typically the most expensive option, while vinyl plantation shutters are usually the least expensive. Composite plantation shutters fall somewhere in between these two options. 
Question: How do I measure my window for plantation shutters?
Answer: Plantation shutters are custom-made to fit your windows, so you'll need to take accurate measurements. To do this, you'll need to measure the width and height of your window opening in inches. Reach out to a Norman® professional in order to attain the most accurate measurements needed for a custom fit. 
Question: Do plantation shutters block light?
Answer: Plantation shutters actually allow you to control the amount of light that enters the room. By adjusting the louvers, you can open or close the shutters to block as much or as little light as you want.
Question: How do I clean plantation shutters?
Answer: The best way to clean plantation shutters is to dust them with a soft cloth or duster. You can also vacuum them with the brush attachment. If they need deeper cleaning, you can wash them with a mild soap and water solution. Be sure to rinse them well and dry them completely before putting them back up.
Question: What are the benefits of plantation shutters?
Answer: Plantation shutters can help keep your home cooler in the summer and warmer in the winter. They are also easy to clean and maintain. Plantation shutters come in a variety of styles, colors, and materials to match any décor.
Question: Do plantation shutters add value to my home?
Answer: Yes, plantation shutters are actually the only window covering that can add value to your home. They are considered a valuable upgrade by most homebuyers and can increase the resale value of your home.
Question: Can you put plantation shutters on sliding glass doors?
Answer: Yes, you can put plantation shutters on sliding glass doors. In some cases, special hardware may be needed to mount the shutters on the door. Not to worry, professionals can easily install interior shutters on sliding glass doors.