Sliding glass doors present a unique but easily solved window treatment challenge. Modern window treatments can be installed to match the door's side-to-side motion for easy entry and exit. Solutions range from trending and budget-friendly vertical blinds to vertical shades to timeless and elegant shutters.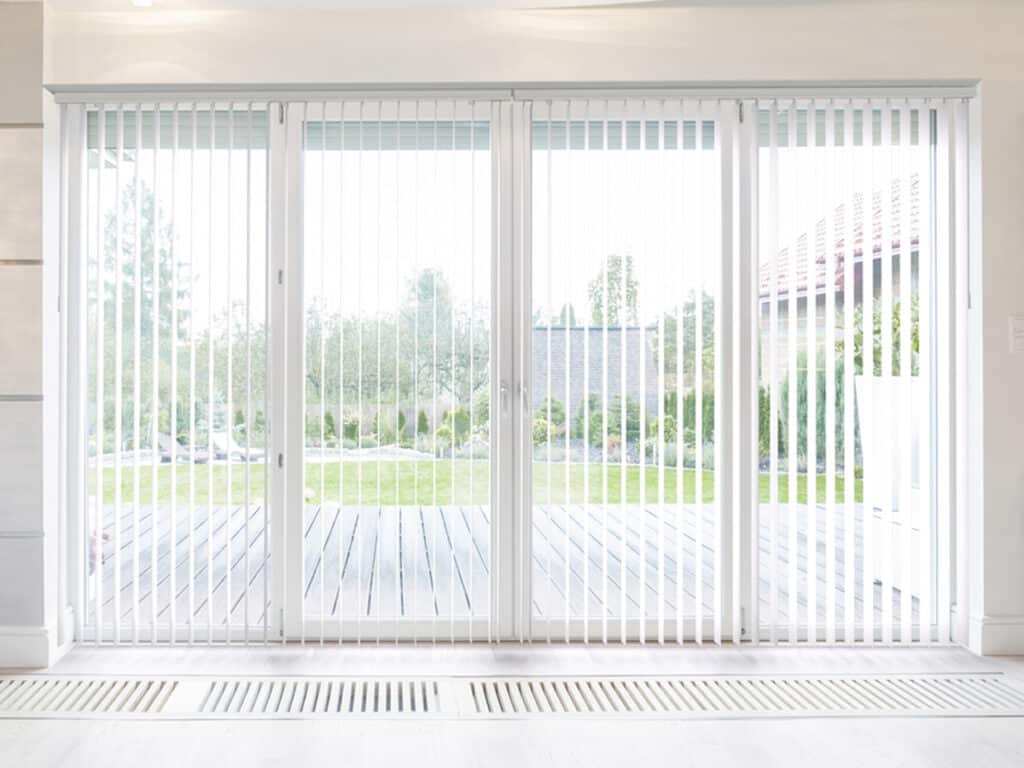 Living rooms and kitchens often feature sliding doors that connect to outdoor entertaining areas. They offer a quick transition from interior to exterior living spaces like patios, sunrooms, and decks. These high-traffic areas require a functional solution for ease of use and light control. 
Factors for decorating sliding doors
Choosing a window treatment for sliding doors can be a challenge. Increasing light control and privacy is a top priority, but you don't want to sacrifice the functionality of your doorway or overall interior style. Keep these considerations top of mind as you begin to narrow down your list of possibilities.
Connecting spaces
Does your sliding door transition from one living space to another or does it lead outdoors? The location and purpose of the door can help you determine which window treatment is best, especially when considering factors like light control and materials used.
Privacy
Are you looking for greater privacy? Certain types of window treatments are better at providing privacy for sliding doors than others. Shutters, for example, provide excellent privacy while still allowing natural light to enter the space.
Light Control
One of the benefits of sliding glass doors is the amount of natural light they allow inside. However, too much light can raise energy bills, cause fading of furniture, and make the room uncomfortable. Blinds, shades, and window film are all excellent options for managing light levels while still maintaining an airy ambiance. 
Key Features of Our Window Treatments
The best window treatments for sliding glass doors won't sacrifice style or function. Norman® window treatments have a reputation for superior craftsmanship, quality materials, and modern technology solutions all in a variety of trendy and timeless designs.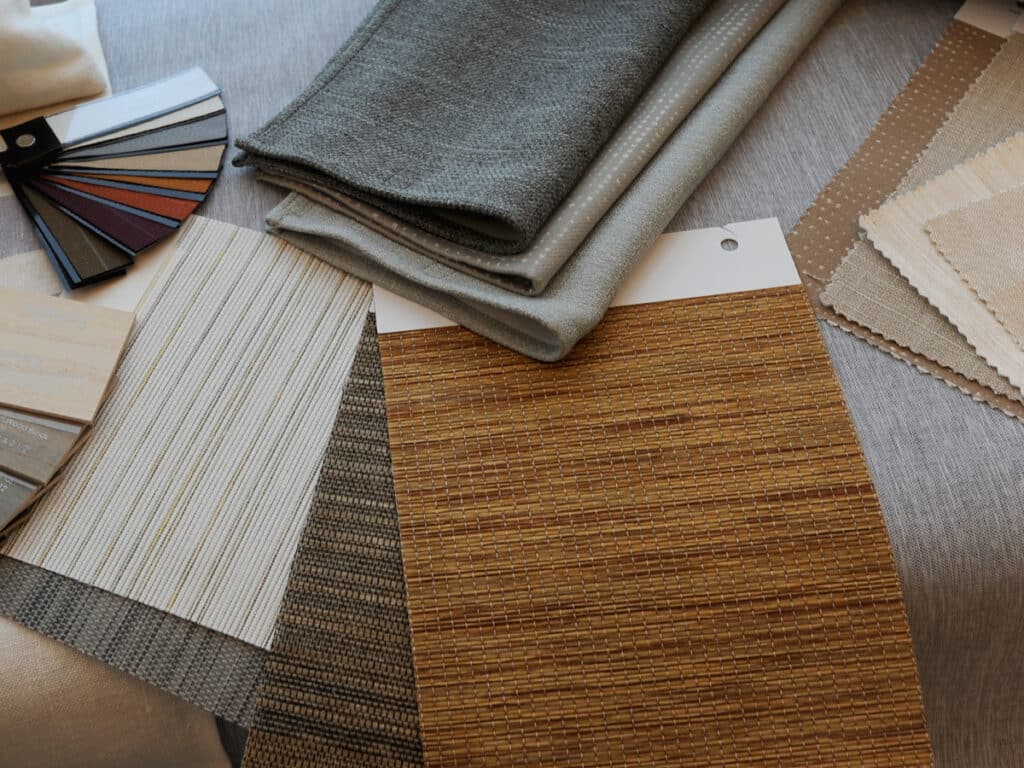 Materials

: Our window treatments are available in a range of materials including premium hardwood, luxury fabrics, faux wood, and more. You can choose from hundreds of colors, stains, and prints to match your home's décor.

Durability and longevity

: All of our window treatments are tested to withstand extreme temperatures and humidity levels. Our materials are also designed to resist fading due to UV exposure. Robust hardware options allow for easy operation while ensuring the window treatment remains secure even under heavy use. 

Customization options

: We've never met a window we couldn't fit!  Our window treatments are designed to fit any size or shape of sliding glass door. You can also customize your window treatment with motorization, integrated home automation systems, and more. 

Cordless technology

: Tangles of cords by a sliding glass door are hazardous.  We offer several

cordless window treatment options

for additional safety and convenience including cordless top-down/bottom-up options for optimal light control. 

Motorization

: Automate your window treatment with the touch of a button, voice control, or even on a timer.

Norman

®

Smart Motorization

allows you to open and close your sliding door blinds with ease while adding an extra layer of safety for households with small children and pets. 
Vertical Blinds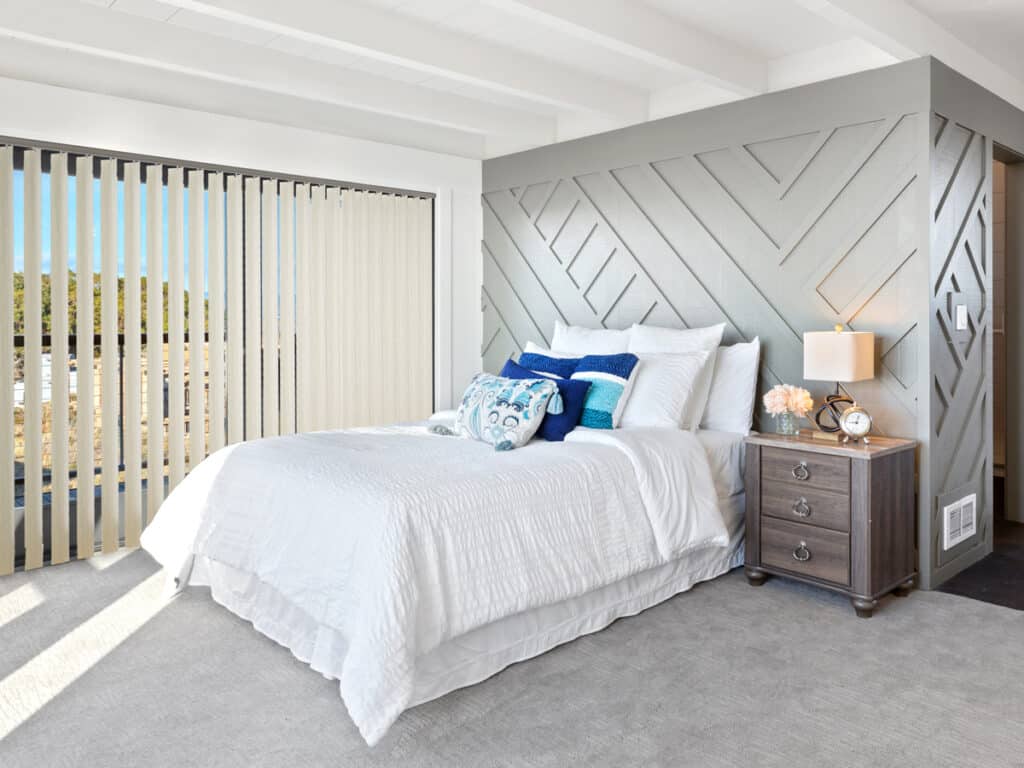 Traditional vertical blinds are a go-to choice for sliding glass doors because of the streamlined appearance and easy operation, they also won't drag or snag like curtains and drapes. These cult classics have received a big upgrade with Synchrony™ Vertical Blinds.
The award-winning decorative headrail design with a unique light block completely eliminates the need for traditional valances that are unsightly and prone to falling off or breaking. In addition to being flame resistant, Synchrony™ Vertical Blinds are "Best for Kids" certified, and free from pull cords that are unsafe for young children and pets.
Vertical Shades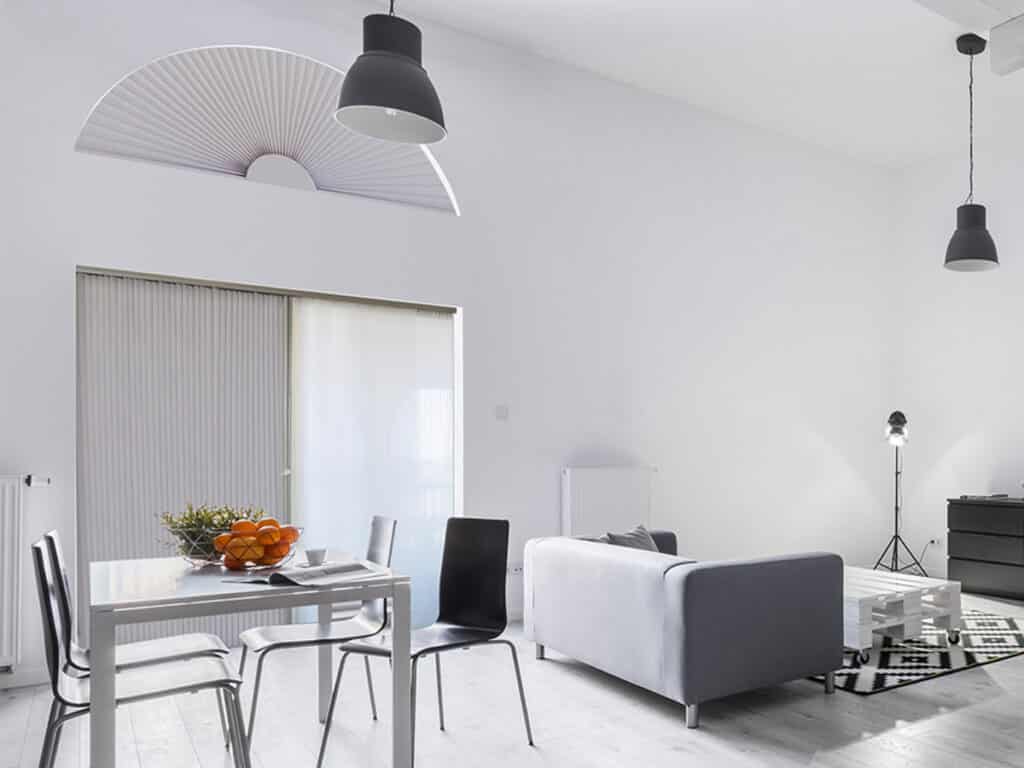 The cordless sliding solution in Portrait™ Honeycomb comes in an array of on-trend materials, color palettes, and prints. A modern and sleek headrail that coordinates the fabric offers a continuous look across multiple doors or large windows.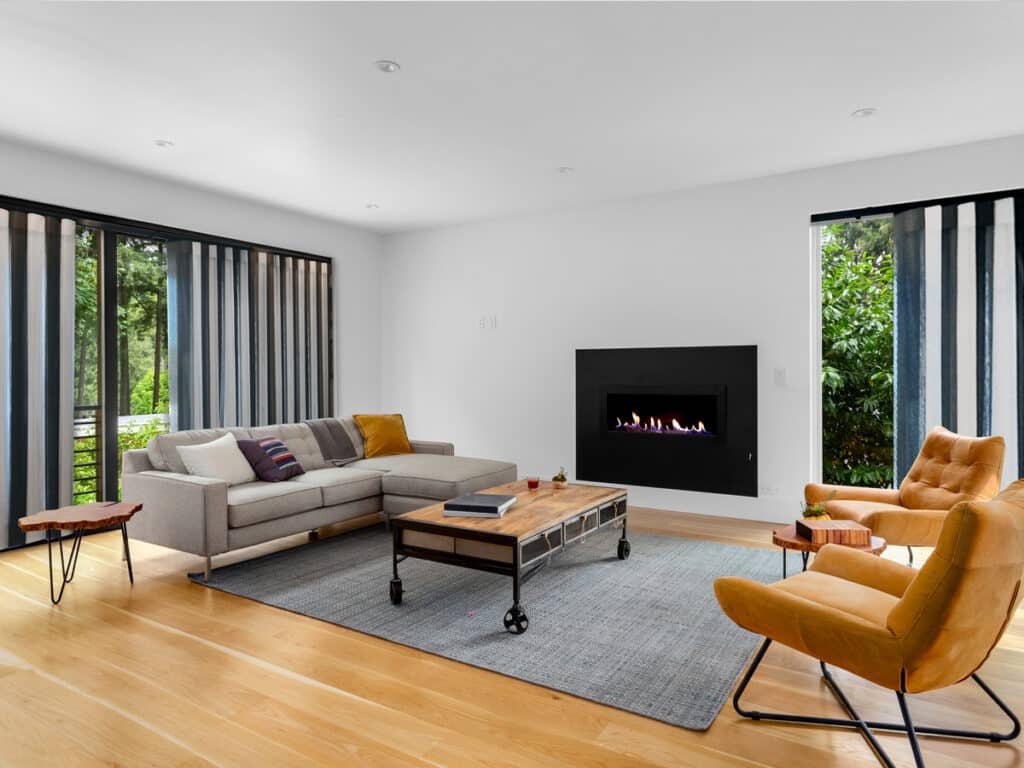 SmartDrape™ Shades feature unique individual vane construction that lets you walk through the shade whether it's opened or closed, helping to better integrate your spaces. They are available in premium light filtering and room darkening fabrics.
Shutters for sliding doors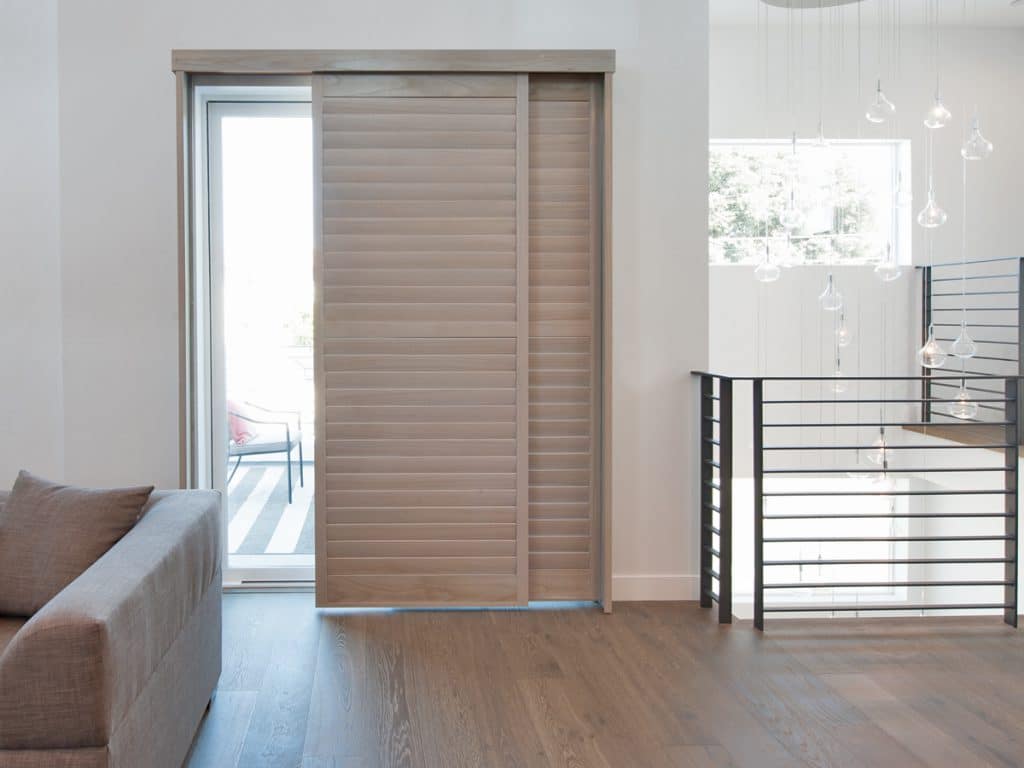 Sliding glass door shutters are an excellent window treatment option that looks great year-round. These solutions come in the form of track shutter systems as either a Bypass or Bi-fold. Norman®'s Brightwood Shutters are great for controlling light and privacy while adding timeless appeal to any space.
Normandy® Shutters are crafted from prescription-conditioned hardwoods for extraordinary durability. They exhibit one of the best strength-to-weight ratios among all wood-type shutters, which is important for high-traffic and transitional areas where sliding glass doors are used. The InvisibleTilt™ system allows for louver tilting without a visible tilt rod, which gives a modern and streamlined look.
Tips for decorating sliding doors
When it comes to decorating your sliding doors, too much sunlight can result in energy inefficiency while reducing light levels can create a space that feels dark and drab. The right window treatment should provide the perfect balance of light and privacy for your sliding glass door, while of course making a style statement.
When selecting window treatments, focus on materials, durability, customization options, and technology features. All of Norman®'s handcrafted luxury blinds, shades, and shutters are fully customizable so that you can get the perfect fit with the convenient features that you desire. With hundreds of colors, stains, and fabrics to choose from, interior decorating has never been easier. 
Find a Specialist Today!
Frequently Asked Questions (FAQs)
Q: What's the best window treatment for sliding doors?
A: The best options will depend on the amount of light and privacy you need. Plantation shutters are a popular option for sliding glass doors as they provide excellent privacy while still allowing natural light to enter the room. Vertical blinds are also great options that are durable, budget friendly and practical.
Q: What type of blinds is suitable for sliding glass doors?
A: Vertical blinds are a better choice than horizontal blinds for patio and sliding glass doors as they're much better proportioned. They offer superior light and privacy control and easy operation with a simple twist of the wand. You can choose how your vertical blinds will stack – to the left, right or parting down the middle, depending on the configuration of your sliding glass doors.
Q: What type of shutter is suitable for sliding glass doors?
A: All types of Norman® shutters are suitable for sliding glass doors. Norman® 's BrightwoodTM and Normandy® Shutters are both great options for extra large sliding glass doors in particular. Both styles offer wide panel capabilities, unmatched craftsmanship, timeless style, and durability for your heavy-traffic areas.
Q: Can you put cellular shades on sliding glass doors?
A: Yes, vertical cellular shades are available for sliding glass doors and offer superior insulation against the elements. Portrait™ Vertical Honeycomb Shades also feature a cord-free design, making it a top choice for families with young children and pets.
Q: Are there special considerations when choosing window treatments for sliding glass doors?
A: Yes, consider the window treatment's light control, insulation, privacy needs, and durability when selecting for sliding glass doors. Also take into account customization options such as motorization, cordless technology, and size and shape requirements. 
Buy with Confidence