Even the most safety-conscious parents may be unaware of the risks that certain window treatments pose to their little ones. At Norman®, we want to help you choose window treatments that will not only add style, convenience, and privacy to your home, but will also keep your entire family safe and give you peace of mind even when you're not in the room.
In this guide, we'll discuss the safest types of window coverings for kids and provide tips on how to choose the right window treatment for your home and your family's safety, including what you can do to make your existing treatments safer if you don't have the option of replacing them entirely.
Cordless Shades & Blinds
Cordless shades and blinds are a kid-friendly option for window treatments. There are no dangling cords that can be wrapped around a child's neck, and the shades can be easily lowered and raised without cords getting in the way. And because they don't have cords, they're also less likely to get tangled up or damaged. Here are some of the best options available.
Cordless Honeycomb Shades
When it comes to kid-friendly window treatments, cordless honeycomb shades are a great option. Not only are they child-safe thanks to their cordless and lightweight design, but they also provide a number of benefits in terms of privacy, light control, and energy efficiency. Honeycomb shades are made from a series of fabric panels arranged in a honeycomb-like pattern. The design helps to create pockets of air that act as an insulator, keeping your home warm in the winter and cool in the summer. In addition, the honeycomb structure helps to diffract light, reducing glare and creating a softer light in the room. And because they can be custom ordered to fit an array of window sizes or shapes, honeycomb shades are a great option for homes with unusual window designs.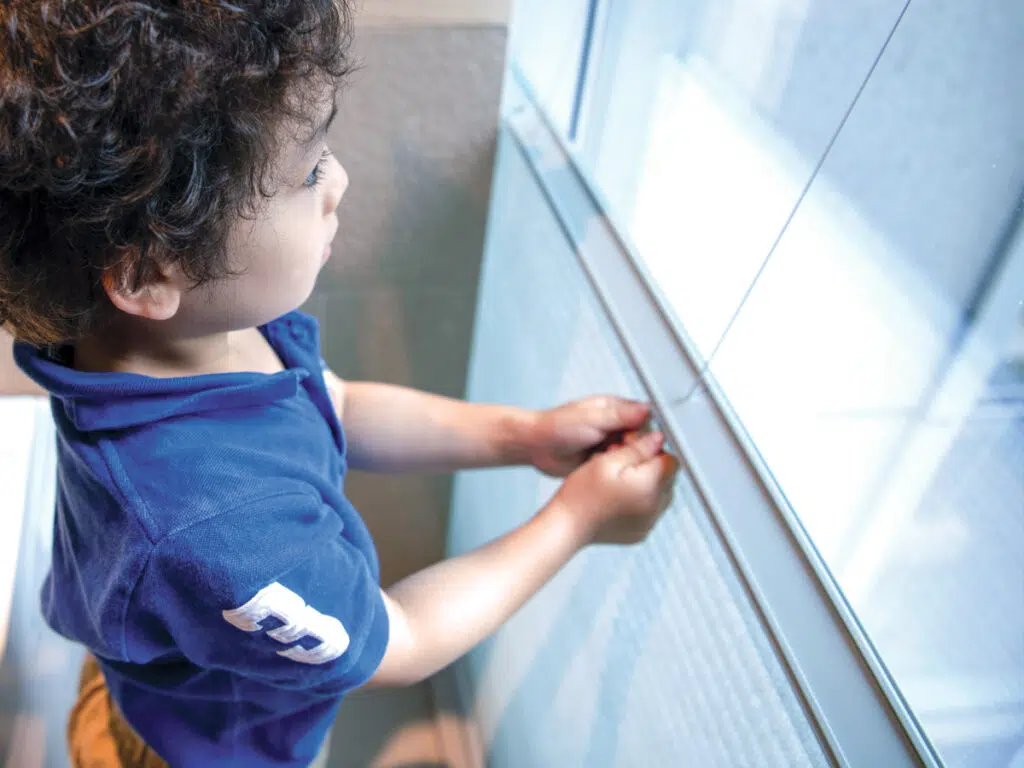 Portrait™ Cordless Honeycomb Shades exhibit all of these qualities and are available in a wide selection of decorative fabrics and cell sizes to choose from.  They are also available in a variety of opacities ranging from sheer to room darkening to meet your light control and privacy demands.
Shutters
Unlike traditional window treatments, shutters do not have any cords or strings that could be a danger to children.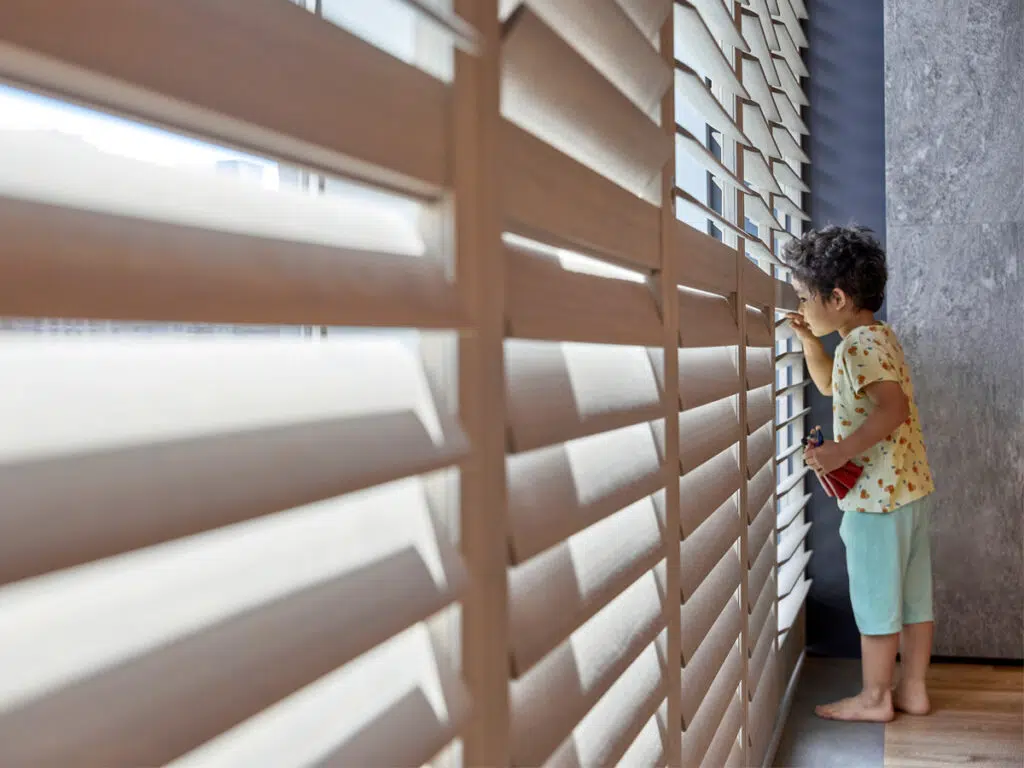 Norman® Shutters are known for high quality and innovative designs including Woodlore®, the World's best-selling shutter.
Cordless Roller Shades
Cordless roller shades are a great option for families with children. They are easy to operate and pose no danger of strangulation.  Roller Shades are also one of the best-selling window treatments given their sleek, modern look.  Soluna™ Roller Shades are available in a wide range of fabrics and safe lift systems including our award-winning PrecisionLift™ cordless and convenient motorized options.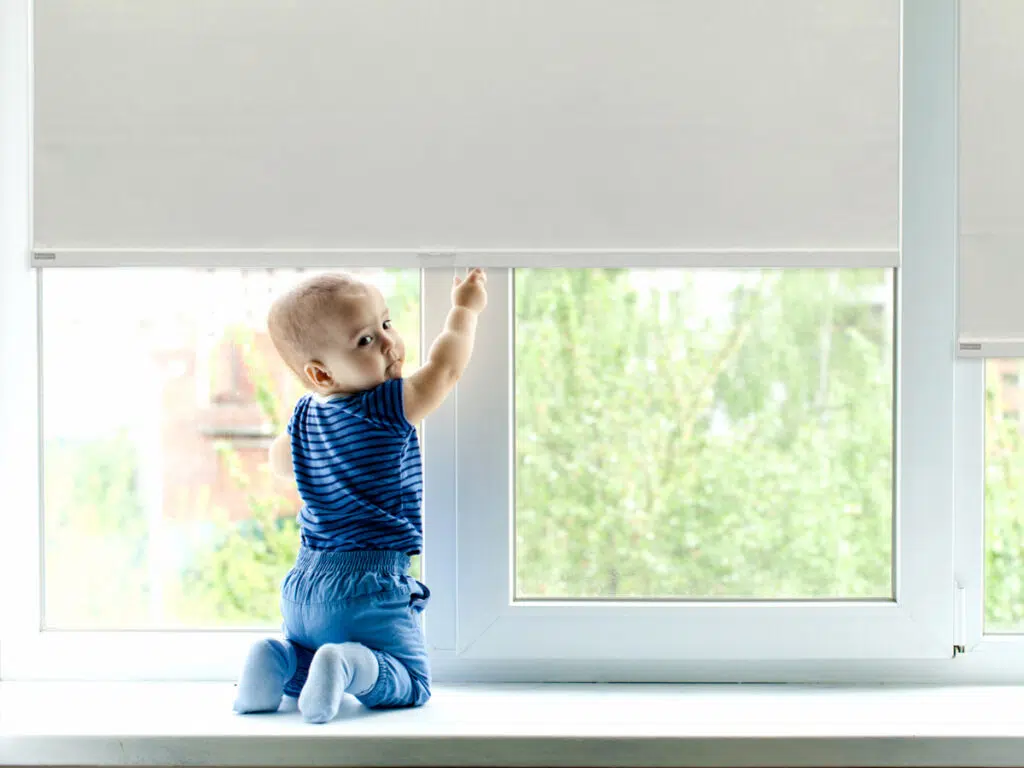 Vertical Honeycomb Shades
Vertical honeycomb shades are a safe and energy-efficient choice for homes with children. They are made with a soft, lightweight fabric that also offers good insulation.  They are particularly ideal for large openings such as sliding or patio doors.  Our Portrait™ Vertical Honeycomb Shades are available in a large selection of fabrics and operating options to fit your opening.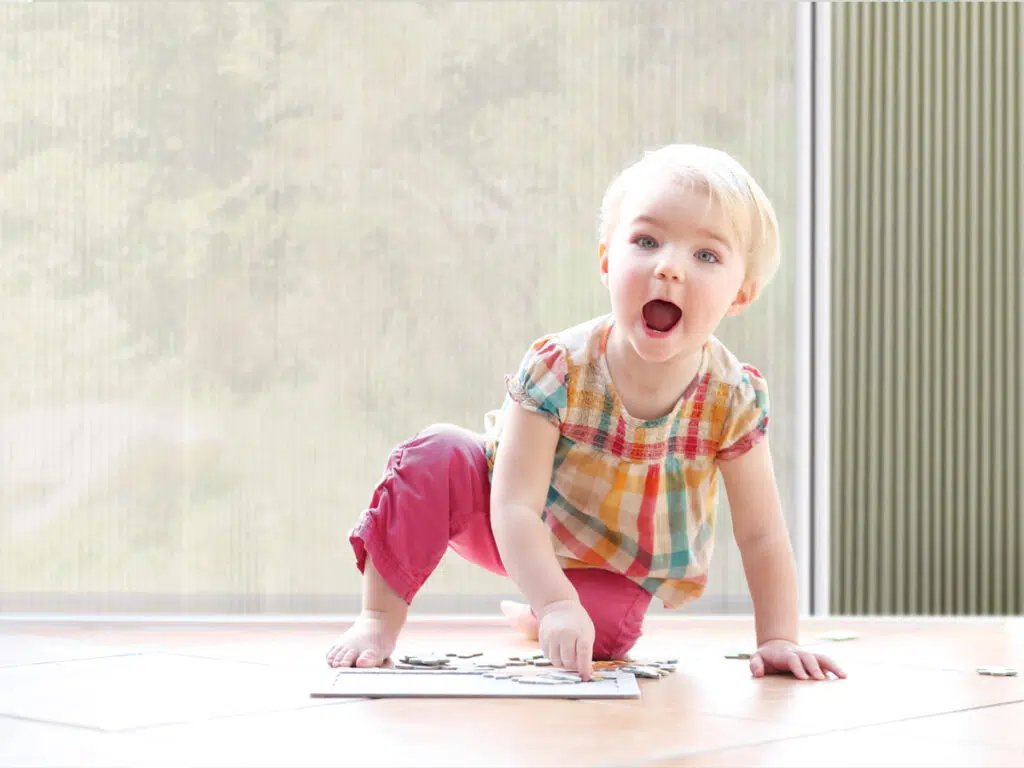 Cordless Roman Shades
Roman shades are a child-safe window covering that can help to create a safe and stylish home. These shades are made from a single piece of fabric that is pleated or gathered into folds. The result is a soft, cascading look that is both elegant and user-friendly. Our Centerpiece™ Roman Shades are also easy to operate, with a cordless design that eliminates the need for dangling cords. This feature not only makes the shades safer for children, but also provides a clean look that can complement any decor.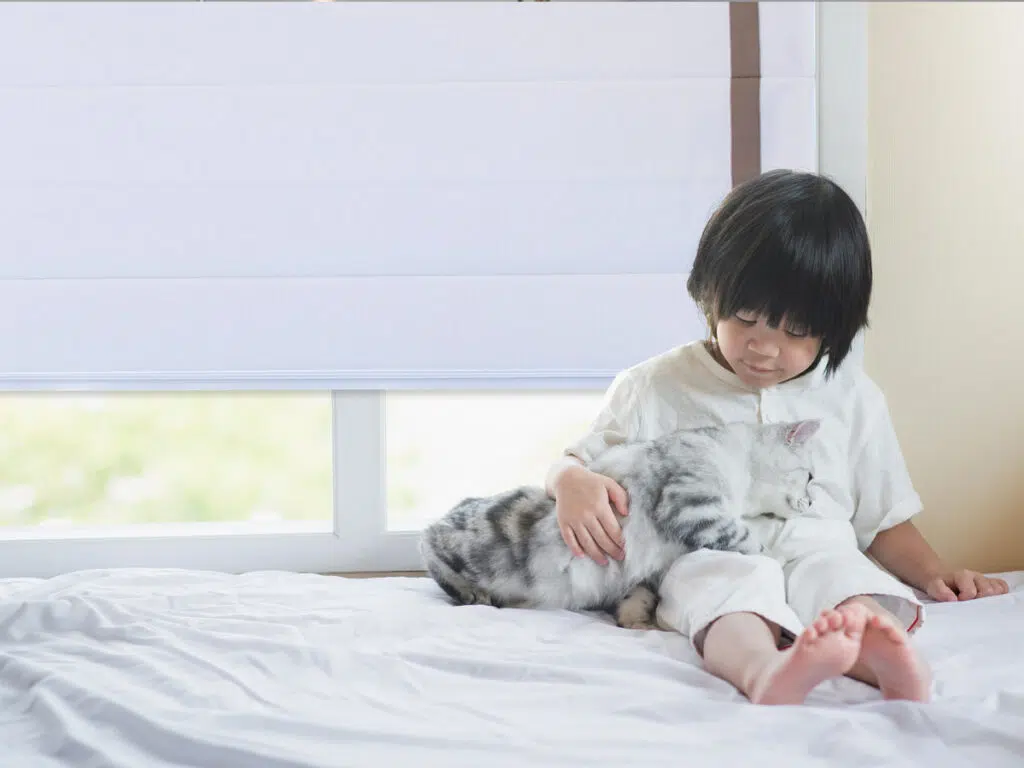 Motorized Window Treatments
Motorized window treatments are an excellent choice for families with young children. Without dangling cords, they create a safe environment where kids can play and explore. Motorized window treatments are also more convenient for parents, who no longer have to worry about constantly readjusting cords or struggling to reach high windows. They can be controlled remotely, making it easy to adjust the amount of light and privacy without having to get up. Motorized window treatments are a safe, practical, and kid-safe option for any home.
Motorized Shades
Motorized shades are a great option for families with young children because they are easy to operate and pose no danger of strangulation. They can be raised and lowered with the touch of a button.  Motorization options are available in our Portrait™ Honeycomb, Soluna™ Roller Shades , PerfectSheer™ and Centerpiece™ Roman Shades.

Motorized Shutters
Motorized shutters are visually impressive, simple to operate via remote control or mobile app, and have no cords that could serve as safety hazards. They're an excellent choice for a range of window styles and homes; and their crisp, clean look is quickly becoming a popular choice in homes with young children. Our PerfectTilt™ G4 Motorized Shutters bring the safety and convenience to our best-selling shutters, and motorization is available on all of our shutter programs.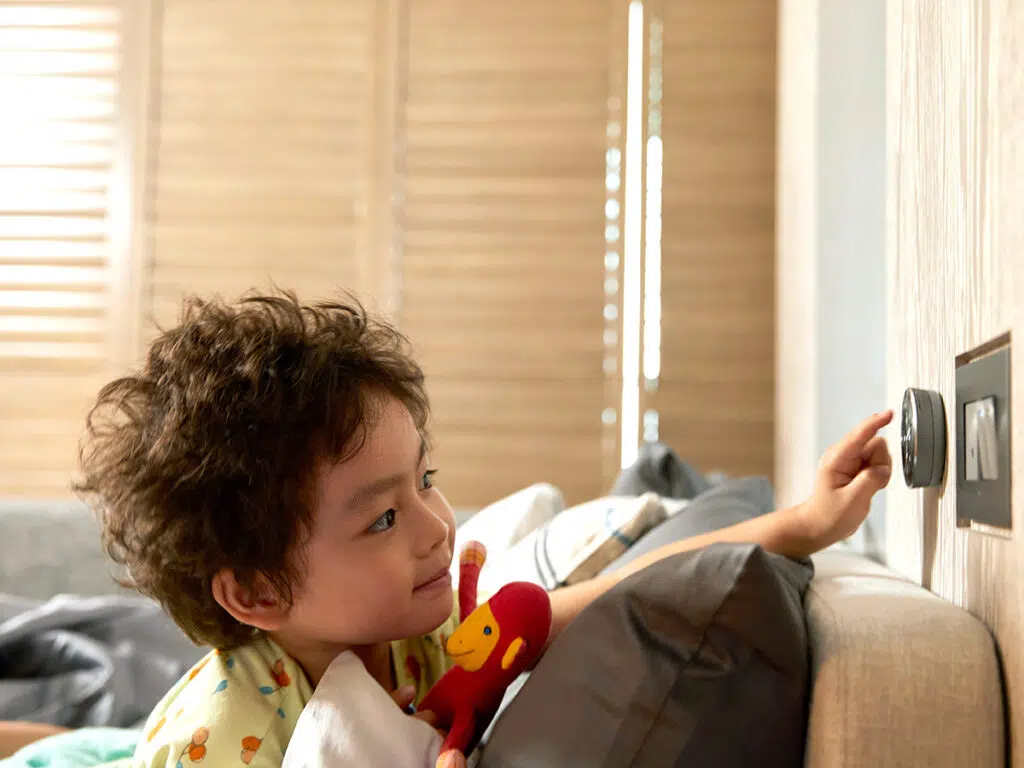 If You Can't Update Your Window Treatments
Whether you live in a rental or your budget simply doesn't allow for a full replacement of your window treatments, don't worry. There are still steps you can take to ensure your home is a safe place for children. Here are our three top tips for what to do if you want kid-friendly window treatments but can't replace the blinds or shades already installed.
Use Cord Cleats and Cord Consolidators
Cord cleats allow you to neatly wrap up excess cords and prevent them from dangling down where kids can reach them. Another option is the existence of child safe cord consolidators that separate when pressure is applied to eliminate dangerous inner cord loops.  While not ideal, both of these kid friendly options provide some measure of safety.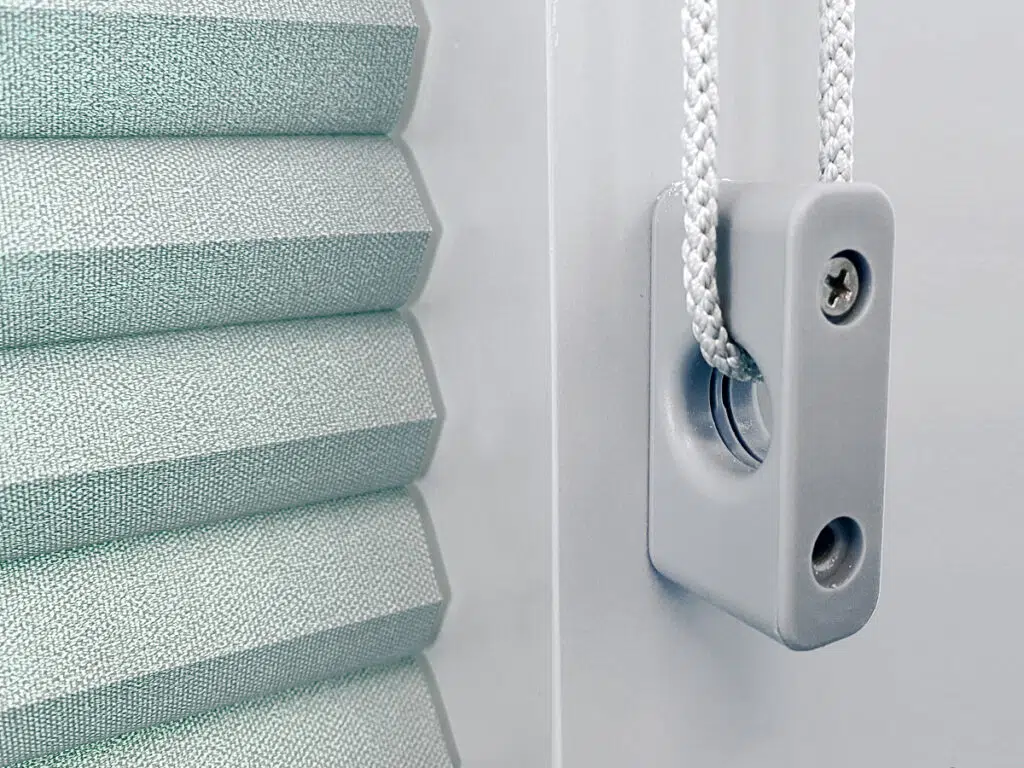 Cord Loop Hold Downs
Any treatments with cord loop operation should be attached securely to a wall or window frame to minimize the width of the resulting cord loop and potential strangulation hazard for young children. There are many easy-to-use and install products available. Some products require no tools for installation and can be finished in minutes. The Window Covering Safety Council offers additional child-proofing tips and resources including free retrofit kits for securing cords and cord loops.  Information on obtaining these products can be found here.
Other Safety Tips
Here are a couple of additional safety tips that can help you keep your children safe as it relates to your window treatments even if you don't have completely child-proof blinds.
Set Rules and Boundaries
If your children are old enough, be sure to talk with them about the rules and boundaries surrounding your window treatments just as you would with the rest of your house. Let them know that any cords or other elements of your blinds or shades are not toys and shouldn't be included in play. Help them understand the potential risks involved, not only in terms of damage to your window treatments, but especially when it comes to their safety and the safety of other siblings or friends.
Avoid Magnetic or Unsecured Pieces
Some budget-friendly blinds and window treatments use magnetic pieces, usually as a visually appealing covering that attaches to the metal housing which attaches the blinds to the top of the window frame. Unfortunately, these pieces are often considerably heavy, and if they're bumped or jostled— for example, while adjusting the blind control wand— they can very easily fall. If a young child is standing underneath the blinds when this happens, it could cause an unsafe situation. Avoid these magnetic vanity pieces or other pieces that are not properly secured whenever possible.
In general, always make sure that your blinds are properly installed. We suggest working with a Norman® certified window treatment professional to ensure that your window treatment is installed properly and safely so that you can have peace of mind.
Choose The Right Kid Friendly Window Treatment For Your Home
Norman® is your go-to source for the full range of window treatment styles, including plenty of options that are designed to be safe and functional in homes with children. Shop our selection of high-quality and child-safe window treatments today.