What is it about crisp custom window coverings, fluffy pillows, soft white linens, and aesthetically pleasing and thematic décor that make hotel rooms so comfortable and welcoming?
There is no clutter, the floors are not strewn with toys or dirty laundry, and what's more, you don't have to make any effort to set your room up – somebody does it for you. And when you choose stylish shutters, blinds or shades from Norman® Window Fashions, you can easily complement your room with the perfect amount of light and privacy, promoting total comfort and style for your guests.
Here are 8 tips to help transform your guest room into a sanctuary, a place of ultimate comfort your family and friends will appreciate:
1.    A Game of Colors and Themes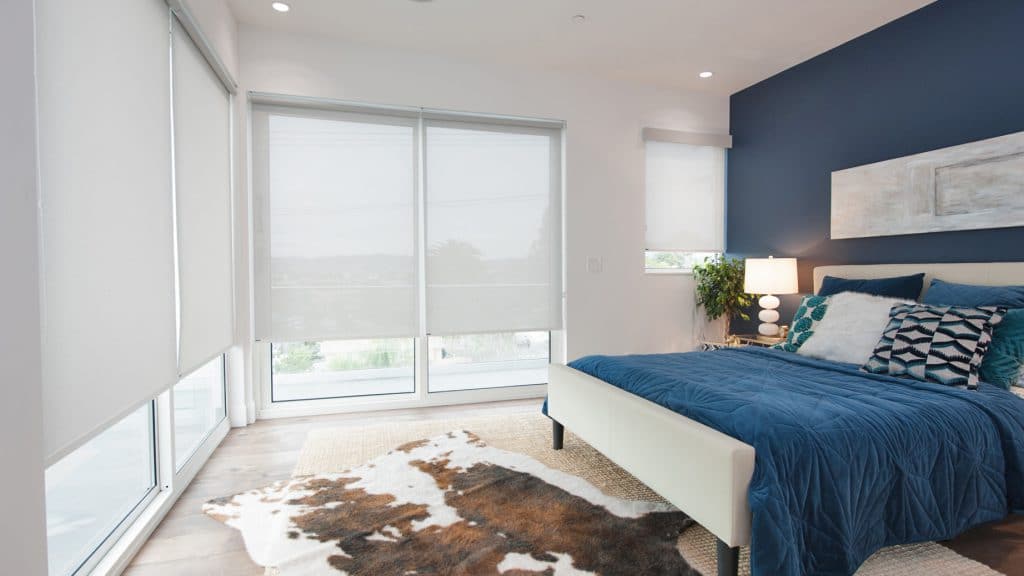 Before you begin rearranging and redoing your guest room, first come up with a color palette or theme. The main idea is to create a place where your guests can relax.  A neutral palette is a great place to start. Blues, beiges, creamy whites, and pastels often make an appearance in hotel décor.
A mix of modern simplicity with a few rustic elements such as wood, plants, and hints of color will help you get started. However, color palettes go beyond the colors of the walls. Bedsheets, window coverings, décor items, and pillows accentuate a neutral palette. Create a space where your guests can escape the chaos of their busy lives and recuperate. Craftsmanship-built window coverings, such as our shutters, not only add comfort and style, but also add value to your home.
2.    Paying Attention to the Windows
Light and privacy control are big considerations in furnishing a guest room. Norman® Window Coverings add style to your room and help create a spa like ambience and comfort for your guest.  Geared for style, versatility and the brightest days, Norman® shutters, blinds and shades offer beautifully engineered and natural materials; a gallery of fabrics and several lift systems including child safe cordless and motorized options.
Choose from the latest color trends, textures, patterns, and opacities as you peruse the Norman® offerings. Norman® puts you in control, and elevates your everyday window covering needs into a sleek expression of style.
Typically, the hotelier's way of covering its windows is by combining a room darkening shade or curtain, designed for keeping the sun out, with a sheer curtain to allow light and add softness to the room. Norman® offers many room darkening and light filtering combinations to choose from. For instance, Norman®'s day & night shades – available for both roller and roman shades – are like two shades in one, with a shade in the front, and a shade in the back, allowing you to select a combination of sheer fabric with room darkening or light filtering, for twice the versatility.  Let your guests sleep in if they like and enjoy their rest.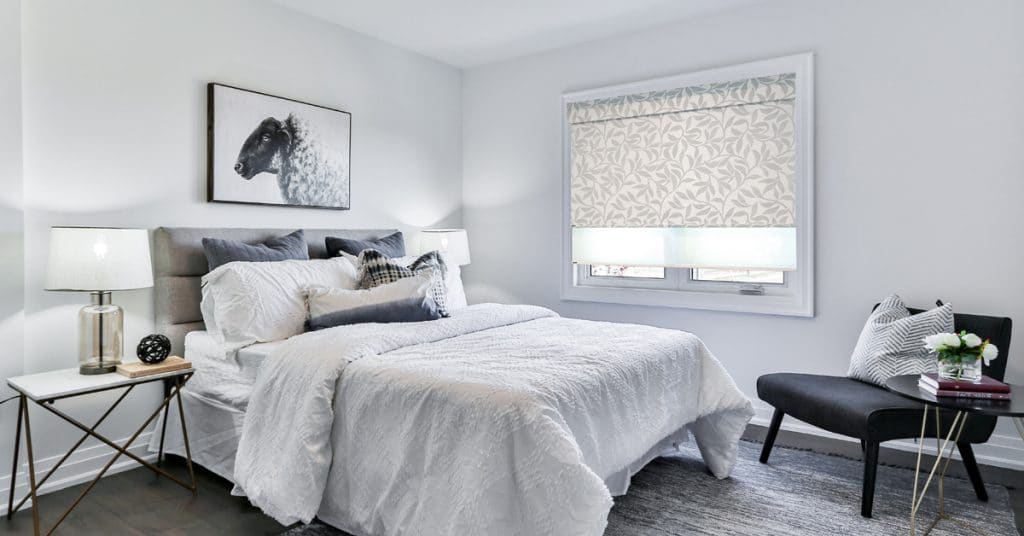 3.    The One that Mattresses the Most – Doing Bedding the Hotelier's Way
The neatly made and luxe-looking bed in boutique hotels, topped with soft linens and a plethora of pillows is the main attraction in the room. One trick to making that perfect bed is triple sheeting.
To achieve this elegance place one luxuriously plump comforter or a soft blanket between two sheets. Not only will it be a welcome sight for your guests, it will also save you the trouble of purchasing and maintaining a duvet cover.
To practice the technique, you first need quality sheets. Plain, cotton percale works wonders. Instead of thread counts, check how the sheets feel against your skin. As far as colors are concerned, white works well but you can also choose according to your décor or theme. You can also mix it up and combine a few colorful pillowcases with crisp, white linen on the bed. A colorful or patterned blanket can tie the room together.
To complete the luxurious look, linen is also a great choice for window coverings. Norman® offers a line of linen roman shades from Libeco™ of Belgium, one of Europe's premier linen artisans. Matching pillow covers are available for most of our roman shade fabrics.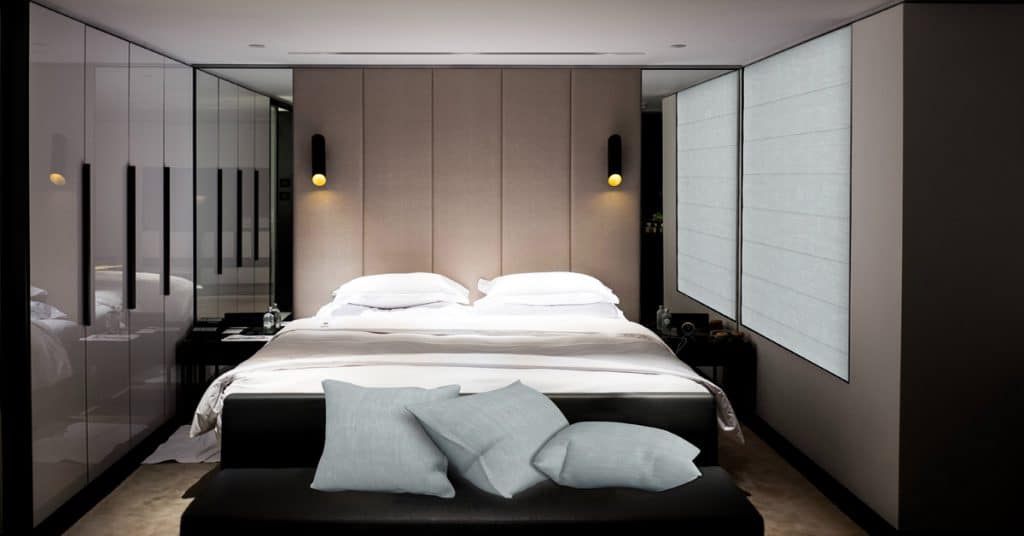 4.    With the Bed Comes the Bedside Table

Adding a few amenities and trinkets to the bedside will make your guests feel comfortable and well taken care of. You don't have to go overboard. For example, simply add a tray with a pitcher of water and glasses along with lamps and a box of tissues.
If space permits, you can add a few magazines or some coffee table books. Fresh flowers in a beautiful vase that goes with the room's décor will lighten the mood and be a nice welcome present for your guest.
5.    Used for Reading or Not, a Comfy Nook is a Guest Room Must!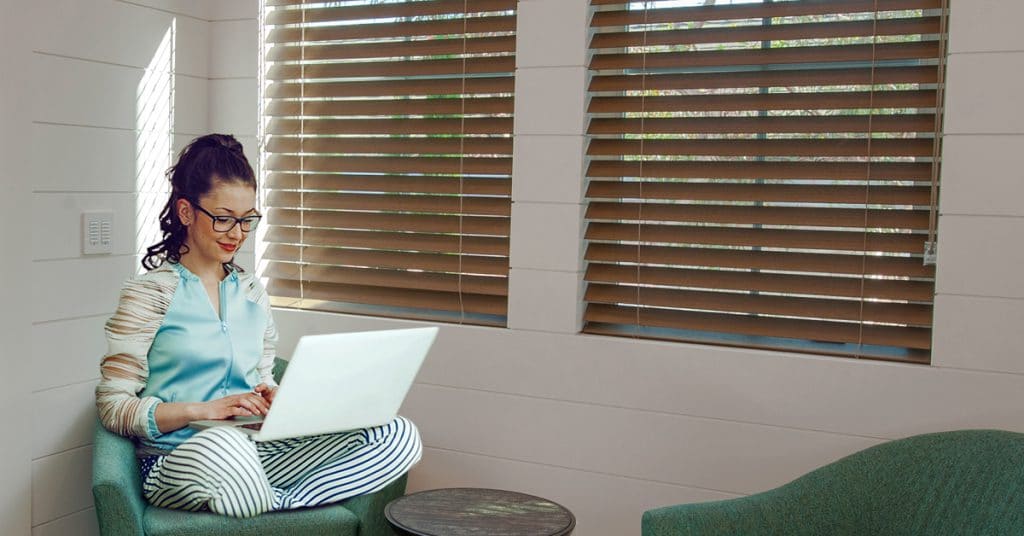 If your guest room has the space, adding a big reading or lounging chair in a corner with a reading light, side table, and ottoman/footrest will be a lovely addition. Easily adjustable faux wood blinds are a practical and cost-effective way to complete the space and provide a variable method to control light creating the ultimate place to read, unwind or relax.
You can also create a small sitting area to bring it to a full, hotel-style circle. Throw down an area rug to create separation and complete the look with a couple of comfortable armchairs and a side table. As for window coverings, select from a gallery of wood stains to match your furniture or flooring perfectly. Introduce your guests to the richness and beauty of natural materials with SmartPrivacy® Normandy® Wood Blinds or Norman® Wood Shutters. They're the perfect way to create the ideal place for your guests to enjoy some tea or coffee in total comfort.
6.    Building a Relaxation Station – Snacks, Toiletries, and More!

When the bedding, storage, and sitting areas are sorted, it's time to think beyond. Having a conversation on how you will manage light control and privacy with window coverings early on helps you to create a unified look and create a more comfortable and livable space.
You don't have to have a mini-fridge in the room, but adding a few of your guests' favorite snacks will be greatly appreciated. You can also add an inexpensive electrical kettle, assorted gourmet teas, sugar and cups.
Whether you have an attached bathroom in the guest bathroom or not, you can never go wrong by adding a few toiletries to your guests' care package. A fragrant soap, a seasonal candle, a few fluffy washcloths, some toothbrushes, toothpaste, body wash, a loofah, etc. will make your guests feel extra special.
7.    Looking for Décor Cues
The window coverings, bedding, and linens, are the main pieces that structure the room. Once you have these amenities down, it's time to think about the finer details. Rugs, bowls, paintings, and other knick-knacks bring it all together.
One great tip is to look around your surroundings for décor ideas. If you room has a door opening to the outside, bring the outside living in.  A perfect way to accomplish this is with Norman®'s exclusive SmartDrape™, the award-winning shade that lets you walk through the shade even while it is closed. Whether it's the beach, the forest, the sprawling city, or somewhere near the countryside, you can take cues from your surroundings for some cohesiveness.
8.    A Personal Touch
Your guest room, much like the rest of your home, reflects your taste and style. Further enhance your guest sanctuary by adding your favorite color, a few photos, or flowers.
Make the experience even more personal by including a few of your guest's favorite items such as snacks, flowers or reading materials.
Making over your guest room is not a one-day project. Begin with what you have and enhance it over time.  Consider what window coverings you will use, taking into account light control and privacy needs and the overall styling of your room. We suggest starting with a deep clean, rearranging the furniture, and purchasing some new sheets.
From there onward, it's about slowly acquiring small décor items, painting the room, and making ongoing improvements to make the room warm and welcoming for your guests, so they leave with a smile – enough to get you five stars on your version of Yelp!