Looking to embrace the contemporary look in your home and, more specifically, your window treatments? Norman is here to help. We've created this primer on all things contemporary— and provided you with three modern window treatment ideas that will help your home shine.
When it comes to modern window treatment ideas, there are a few things to keep in mind. First, contemporary homes often have large windows that let in a lot of natural light. As a result, blinds and shades are often used to control the amount of light entering the room. Second, modern window treatments should complement the overall design of the home. For example, simple and clean lines are often used in contemporary design, so window treatments with intricate patterns or frills would not necessarily be appropriate.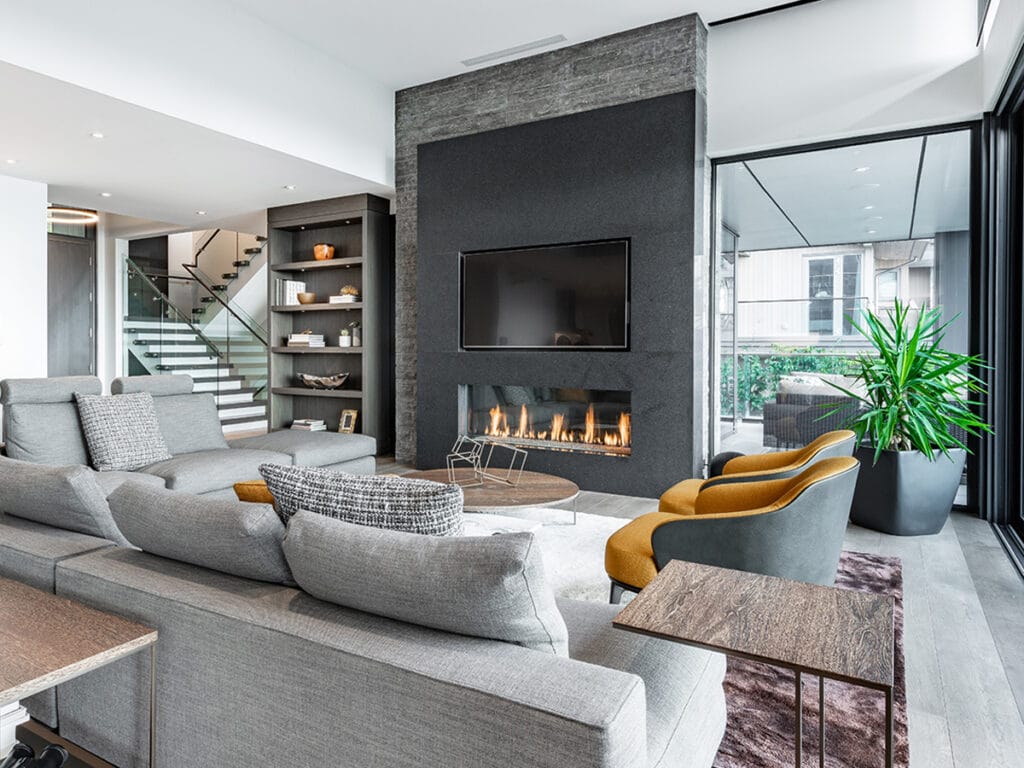 Finally, functionality is also important when choosing modern window treatments. For example, energy-efficient options can help to keep your home cool in the summer and warm in the winter. With these factors in mind, you'll be sure to find the perfect window treatments for your contemporary home. But first, it's important to understand a bit more about what exactly modern & contemporary interior design looks like.
What is Modern Interior Design?
Modern or contemporary interior design is a popular style that emphasizes clean lines, minimalism, and a focus on function. While the style originated in the 1950s, it has undergone a number of iterations in the intervening years and remains a popular choice for both home and office design. Contemporary interior design is characterized by its simplicity and streamlined appearance. Furnishings are often sleek and sparing, with an emphasis on functionality. Colors are typically neutral, with accents of black, white, or another color used to add visual interest. The goal of contemporary interior design is to create a space that is both stylish and comfortable to live in. When done well, contemporary interiors can be warm and inviting, providing a haven from the hustle and bustle of everyday life.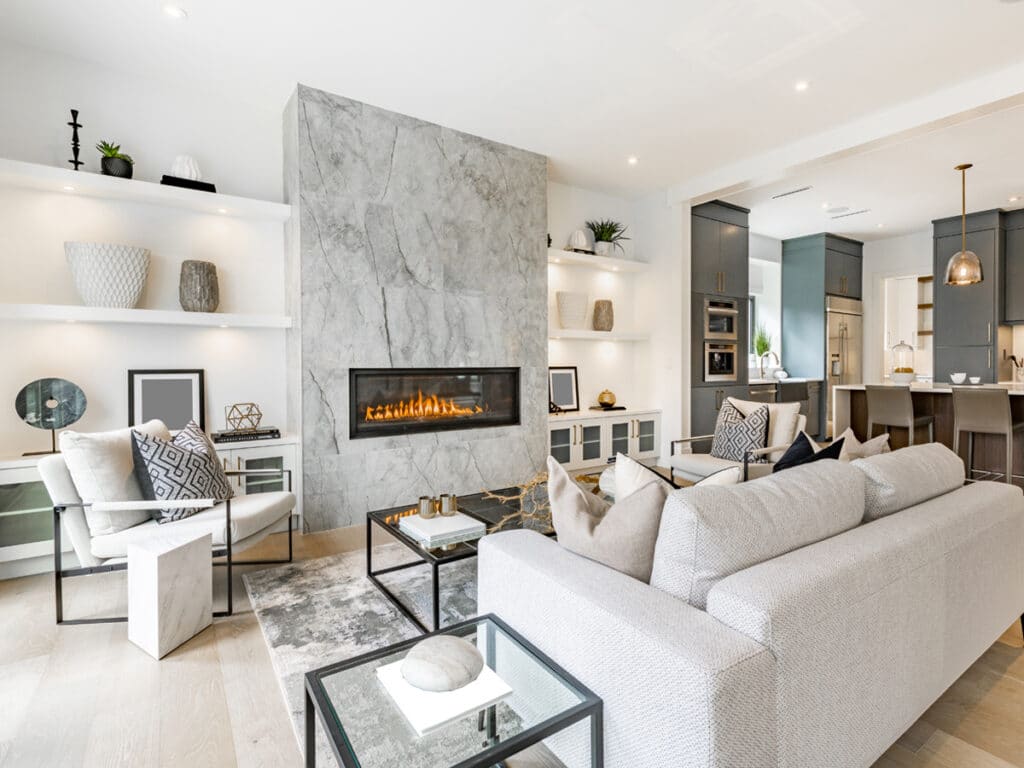 Here are some of the areas where contemporary design can impact your home.
Color
In contemporary interior design, color is used to create both mood and style. Bold and vibrant colors can be used to create an energetic and exciting space, while softer shades can be used to create a more calming and relaxing atmosphere. Color can also be used to highlight specific architectural features or to visually separate different areas of a room. When selecting colors for a new space, it's important to consider both the overall aesthetic goals of the space and the effect that the colors will have on the people who live and spend time there— you and your family! By carefully choosing colors that complement the existing décor and create the desired mood, designers or homeowners can help to create a perfectly balanced and stylish interior. For more color ideas check out our 2022 home design color trends to find out how to choose the right color window treatment.

Lines & Shapes
One of the most striking elements of contemporary interior design is the use of lines and shapes. By incorporating geometric shapes into your home, you can create a sense of visual interest and add an element of playfulness. Lines can be used to define spaces and direct the eye towards certain focal points. In a well-designed room, lines and shapes work together to create a cohesive and stylish overall look.
Designers often use lines to create a sense of movement and flow within a space. For example, sweeping curved lines can give the illusion of more space, while zig-zag patterns can add energy and vibrancy. In addition to their aesthetic value, lines can also be used to delineate different areas within a room or home.

Lighting
In recent years, lighting has become an increasingly important element of interior design. By carefully selecting and positioning light fixtures, designers can create a unique atmosphere for any space. In the living room, for example, warm and inviting lighting can encourage conversation and relaxation. In addition to its aesthetic value, lighting can also serve a practical purpose, such as providing extra illumination for reading or working. The kitchen is an ideal area of the home to include more functional task lighting.

Decor
Decor plays a central role in contemporary interior design. By carefully selecting pieces that reflect the homeowner's taste and style, designers can create spaces that are both beautiful and functional. Contemporary decor often features clean lines and minimal embellishments, making it a popular choice for homeowners who prefer a sleek, modern look. However, decor can also be used to add a touch of personality to a space. By incorporating unique pieces that have special meaning to the homeowner, designers can create one-of-a-kind interiors that are truly reflective of the owner's individual style. Whether you are looking for a simple update or a complete makeover, consider using decor to give your home the personal touch you've been searching for.

Window Treatments and Contemporary Design
In contemporary interior design, window treatments play an important role in creating a cohesive and stylish space. By carefully selecting the right curtains, blinds, or shutters, designers can control the amount of light and privacy in a room, as well as create a focal point or add visual interest. When choosing modern window coverings, you should take into account the overall style of the room as well as the function of the space. 
For example, in a bedroom, privacy and light control are usually more important than aesthetic considerations. In a living room or dining room, on the other hand, the window treatments might be chosen to complement the furniture or set up a dramatic view. With so many options available, choosing the right window treatment can be a challenge. But with a little knowledge and creativity, any space can be transformed into a stylish and inviting retreat.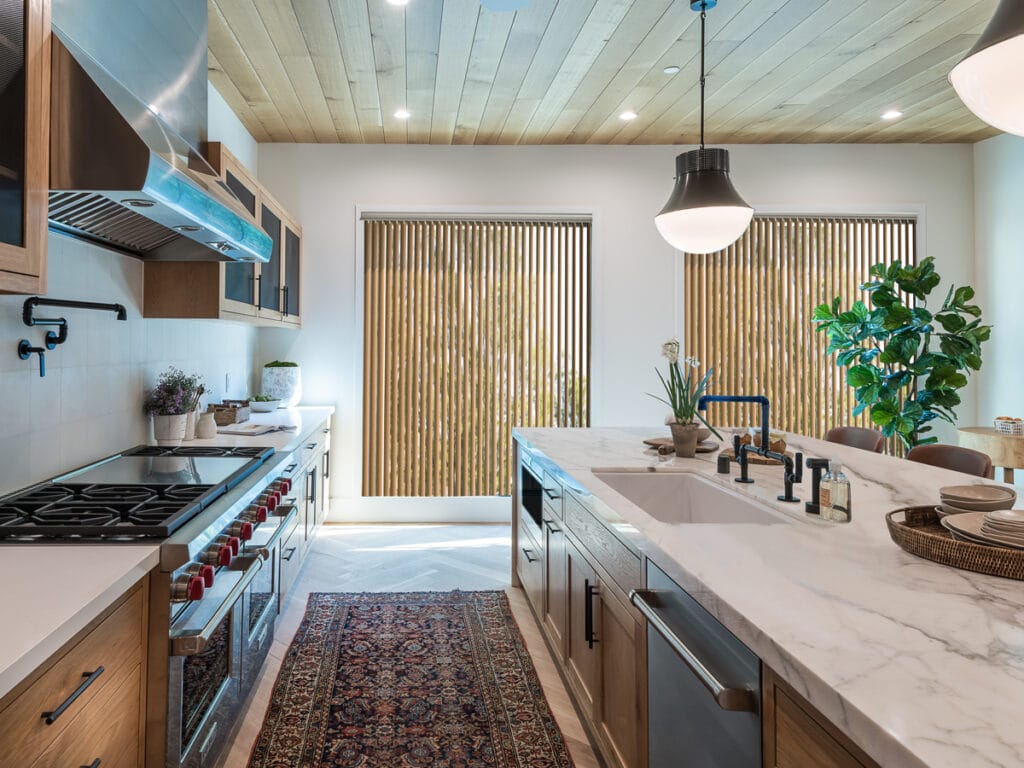 There are a variety of different types of modern window treatment ideas today, from traditional drapes to modern blinds and everything in between. The window treatment you select for your contemporary home depends on a number of factors, including the style of the room, the amount of light you want to let in, and your budget. Regardless of what your needs are, Norman has a solution.
Top Modern Home Window Treatments for 2022
There are a variety of modern window treatments available on the market, and each has its own advantages and disadvantages. Here is a brief introduction to some of our top window treatment options for 2022.
Contemporary Blinds
Contemporary blinds come in a variety of styles and colors, so you can find the perfect ones to match your home's existing look. Additionally, contemporary blinds are made from a variety of materials to suit your needs and budget.
In a home with modern design touches, clean lines and a focus on simplicity, contemporary blinds are the perfect window treatment option. They can provide privacy and light control while still allowing you to enjoy the view outside.
Whether you're looking for something simple and understated or something bolder and more eye-catching, contemporary blinds are a great way to add style and personality to your home. Feel free to shop through Norman's blind offerings now.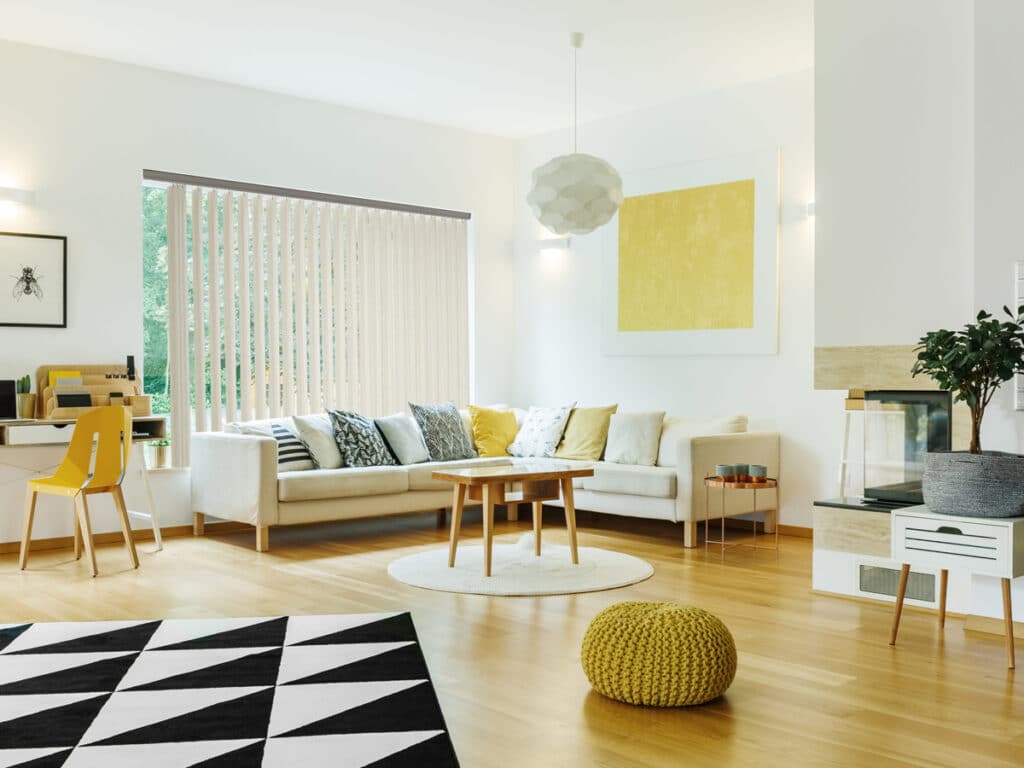 Here are some other things to keep in mind when shopping for blinds:
The size of the window. Make sure to measure the width and height of the window before you start shopping so you know what size blinds you need. Our

Synchrony

™

Vertical blinds

are adept at covering any oversized windows with extra length on the sides or extra height.

The type of opening

. If your windows open from the side, top or bottom, make sure to get blinds that are designed for that type of opening.

The style of your home. Choose blinds that complement the overall style of your home. For a more traditional look, wooden blinds are a great option. Check out SmartPrivacy™ Normandy™ Wood Blinds.
Your budget

. Blinds can range in price from very affordable to quite expensive, so it's important to set a budget before you start shopping. For those looking to keep things affordable and reasonably priced, our

Ultimate™

Faux Wood blinds

are the perfect candidate.
Contemporary Drapes
Contemporary drapes are also an increasingly popular modern window covering in 2022.  Homeowners are attracted to their sleek lines and elegant look. Contemporary drapes can be made of many different materials, including silk, linen, or cotton. They come in a variety of colors and patterns, so you can find the perfect style to complement your home's décor.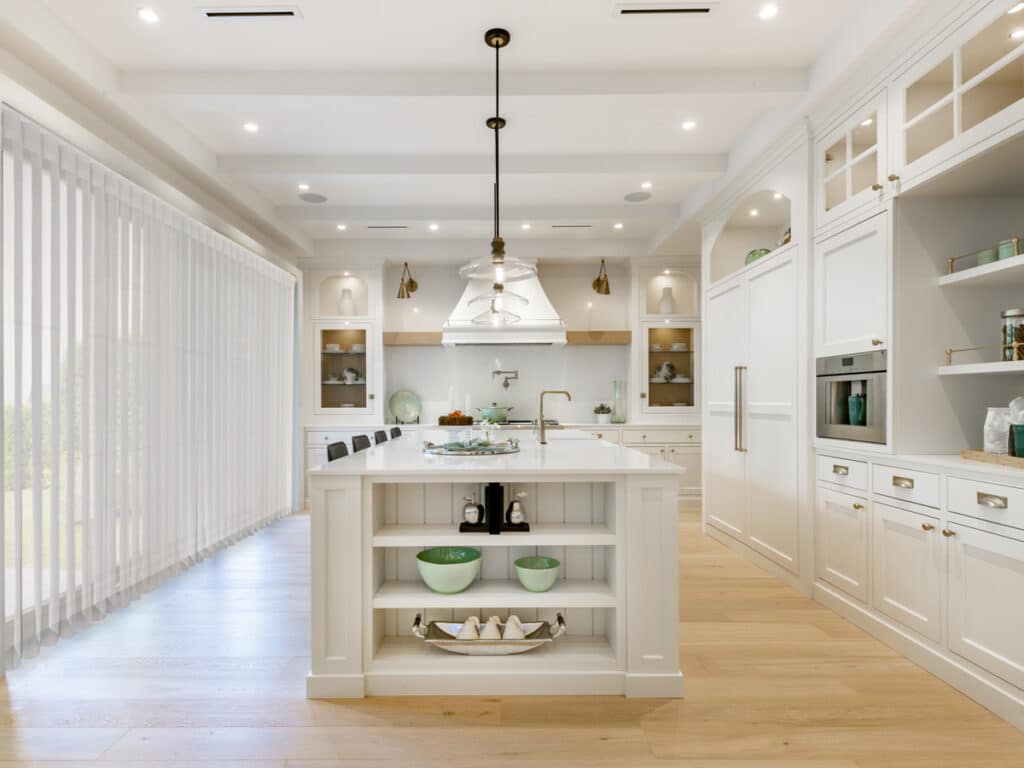 Here are a few things to keep in mind when shopping for contemporary drapes:
Consider the material

. Silk is a popular choice for contemporary drapes because it has a luxurious feel and look. Linen and cotton are also good options if you're looking for something that's more durable.

Think about the color

. Black and white are classic choices, but you can also find contemporary drapes in a variety of colors and patterns.

Choose the right size

. Contemporary drapes should be long enough to reach the floor and wide enough to cover the entire window.
When it comes to decorating your home, there are endless possibilities with contemporary drapes. With so many different styles, materials, and colors to choose from, you're sure to find the perfect window treatment for your home. Please consider our SmartDrape™ shades line, which offers a wide selection of vanes and sheer options that beautifully play with natural light. 
Contemporary Shades
Finally, contemporary shades are one of the most popular modern window treatments ideas for 2022— and it's not hard to see why.  These sleek, clean-lined window coverings can add both privacy and style to any space.
Contemporary shades can be made from a range of materials, and can be customized to fit nearly any size or shape window. Contemporary shades are available in a variety of colors and styles, making them a versatile option for any home décor scheme. Consider our Portrait™ Honeycomb shades with energy saving architecture that prevents energy loss during the winter months. Or our Soluna™ Roller shades with PrecisionLift™ Cordless technology that eliminates additional pulling or tugging and boasts flame resistant fabric & UV protection.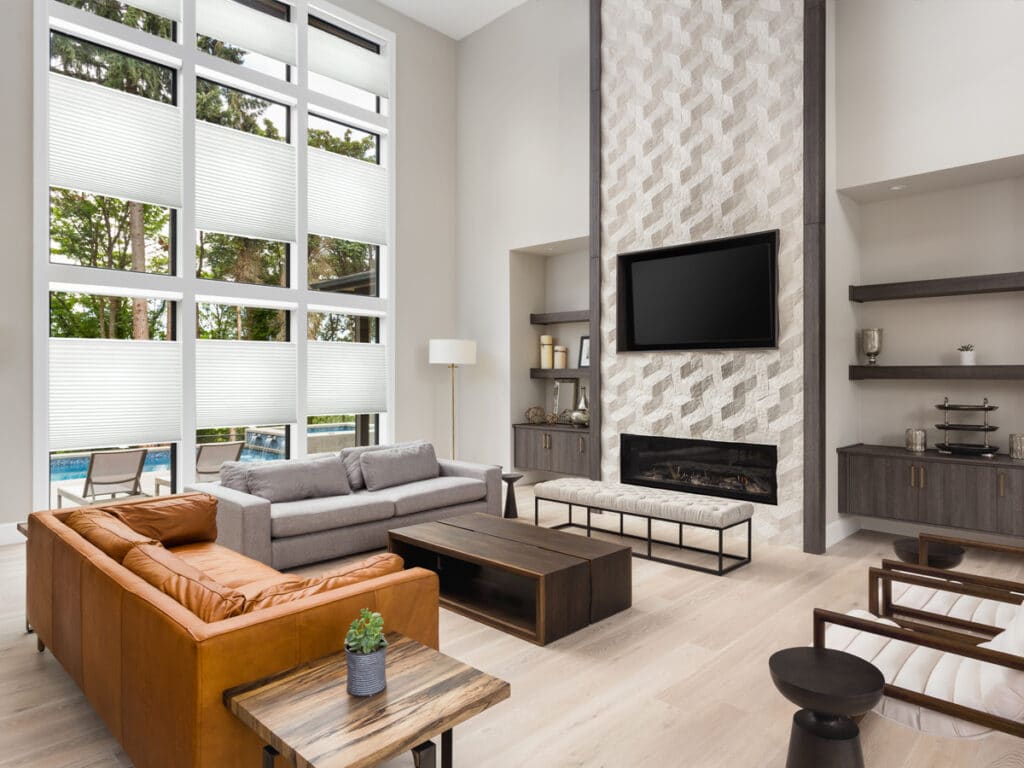 One of the benefits of shades is that they offer complete privacy when closed. When opened, however, these shades allow natural light to filter into the room— making them an ideal choice for bedrooms, bathrooms, and home offices.
Choosing a Modern Window Treatment for Your Home
When it comes to choosing the right modern window treatment for your contemporary home, there are several factors to consider.  The most important factor is the purpose of the window treatment. Are you looking for privacy? Do you need to block out light? Or are you simply trying to add a decorative touch to your space?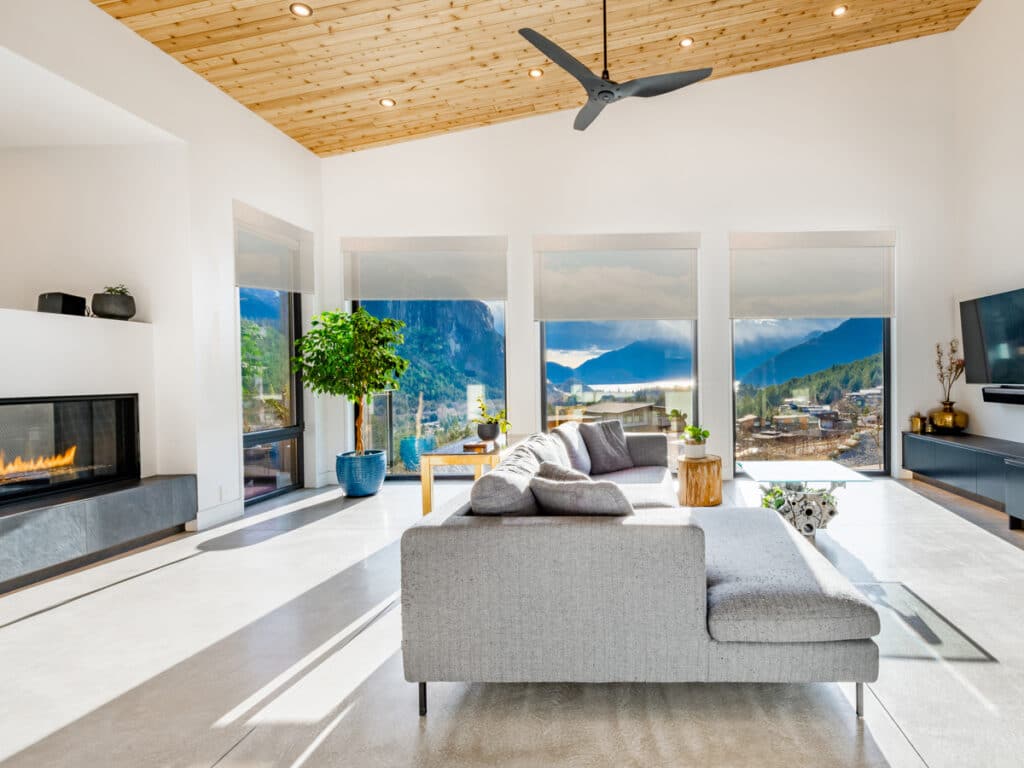 Once you know what function you need your window treatment to serve, then you can start narrowing down your options. If privacy is your main concern, then blinds or shades are a good option. If you need to block out light, then heavier drapes might be the best choice. And if you're just looking for a way to add some style to your space, then your options are wide open.
Whatever route you decide to take, make sure that your modern window treatment complements the overall style of your home. After all, the last thing you want is for your window treatment to stick out like a sore thumb! With so many great options available, there's no reason why your window treatment can't be both stylish and functional. So start browsing Norman's wide selection of window treatments and see what catches your eye. Soon enough, you'll find the perfect modern window treatment for your home.