A little one on the way? Congratulations!
Don't know yet how to go about decorating the nursery? Make it something special with the help of our baby room ideas.
Baby room ideas: from the jungle to the moon and stars
Decorating a baby room starts with choosing a theme or style and colors.  Jungle themes are increasingly popular.  Surround your child with fun animal-themed accessories and (fake) plants. Include a beautiful feature wall with cute jungle themed accents. You can also use wallpaper or wall stickers or have a beautiful mural made.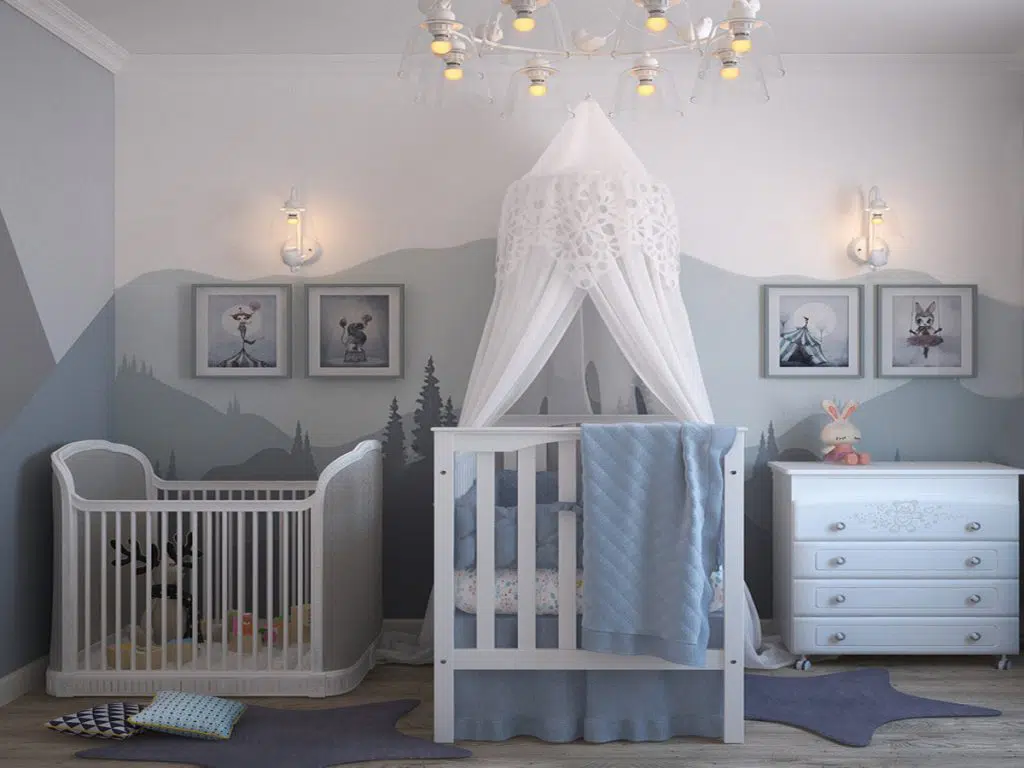 Space exploration is also a perennial favorite and will do well in a baby's room. It's a great way to nurture your baby's curiosity in science and technology. The theme often includes liberal use of rich cool colors such as blue, light blue, lavender, gray, and black. Accents colors could include muted yellows for the stars, along with fun pops of color. Because what would be nicer than falling asleep next to a wall of stars? You can make the room extra fun with accessories such as a lamp that resembles the moon. Or perhaps a small moon-themed nightlight.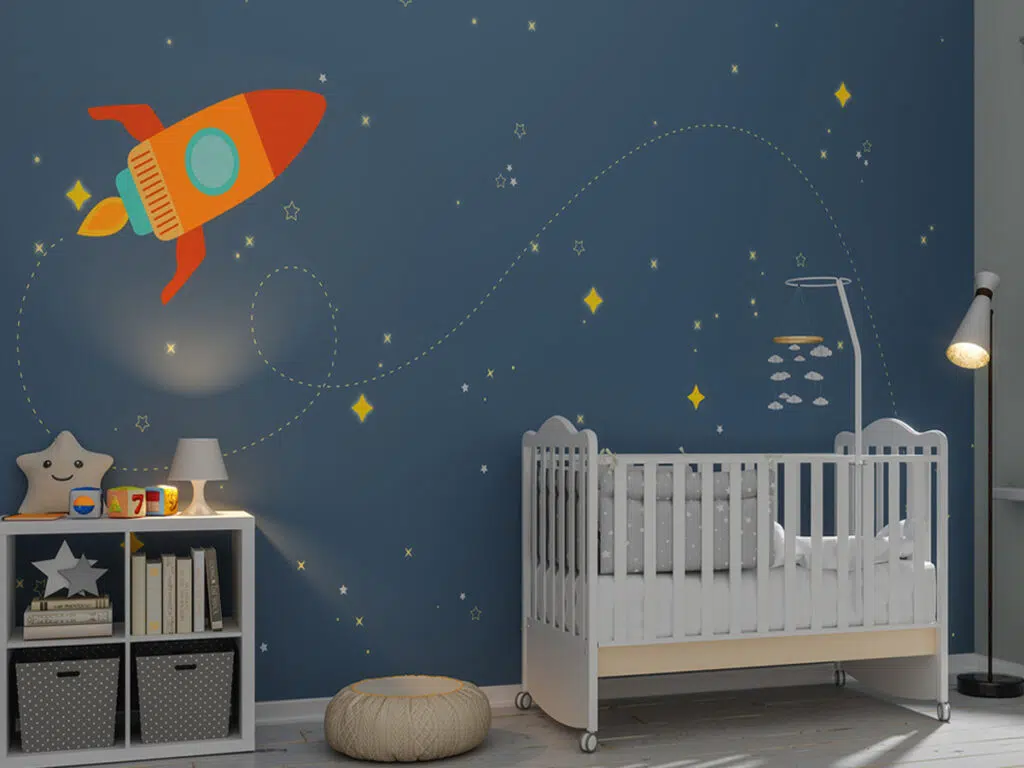 Colors that soothe
Or would you prefer to keep the baby's room a little bit calmer? Cool colors are a popular choice and provide a soothing effect. Grayish blues, purples or seafoam greens create a somber effect and are also modern and stylish, perfect for either a son or daughter. Choosing soft baby room colors such as off-whites, mint greens, taupes and a variety of lighter grays with undertones from pink to green to blue are all good options. Plus, the colors coordinate beautifully with accessories made of wood, jute, rattan or wicker, and help you create a fresh and modern vibe. Good for your baby, but also soothing for you.
Another way to think about your nursery décor colors is through color blocking. It doesn't mean you have to paint the whole room a single color to get the "pop" effect – doing so can actually start to look really garish quickly. You only have to paint a single wall or part of the wall for a surprising effect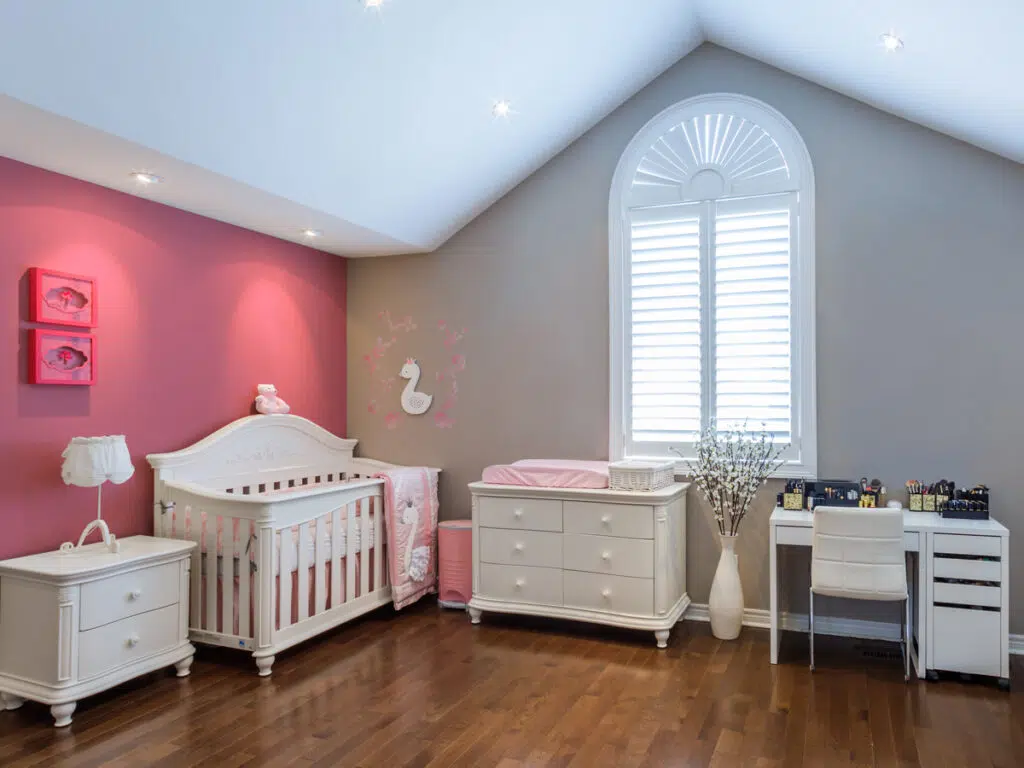 The practical side
Now that you've chosen the theme and color palette for your home, you're ready to decorate. Start with the basics: a crib, changing table and a closet or dresser for all your carefully selected clothes. A bit of storage is needed for assorted toys or books.
Proper lighting should also be considered. Light control – or the ability to dim and adjust light – is especially important in a nursery – so choosing the right lamps, dimming hardware and window coverings will make a world of difference when it comes to getting your baby ready for bed.  We've devoted a whole section to this, so read on below.
Develop a logical layout and think carefully about the location of furniture. You want to be able to easily move your little one from changing table to crib and vice versa both easily and safely. You'll also want to have a logical location for all your supplies including diapers, baby personal care items, and sanitizing products – so you can grab them easily when your baby gives you a sudden surprise!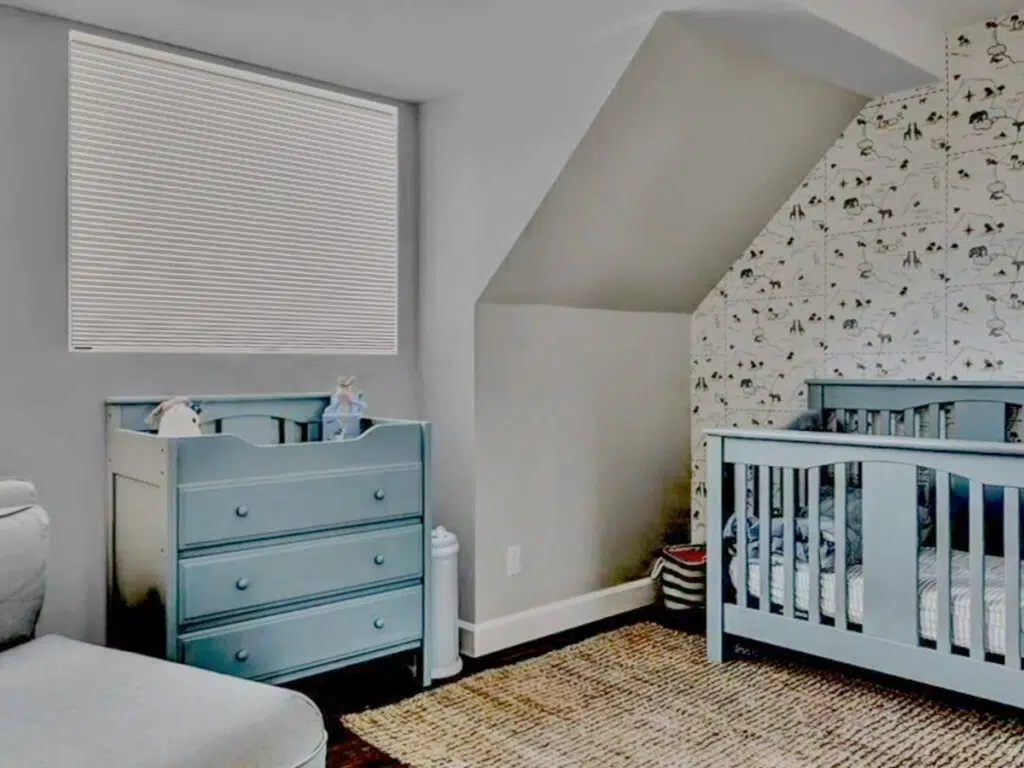 Place for mom (or dad)
In addition to the basic furnishings, it is also important to have a place for you as mom or dad. Essential for this so-called mama zone is a relaxed chair on which you can feed your baby in peace.
Does your child have trouble falling asleep, and you do not feel like having to constantly walk around the room to get them to sleep?  Then choose a rocking chair. Chairs with arm rests are a good idea so you can give your arms a bit more support while holding the baby. Oh, and don't forget to go for an easily washable fabric, you probably know why!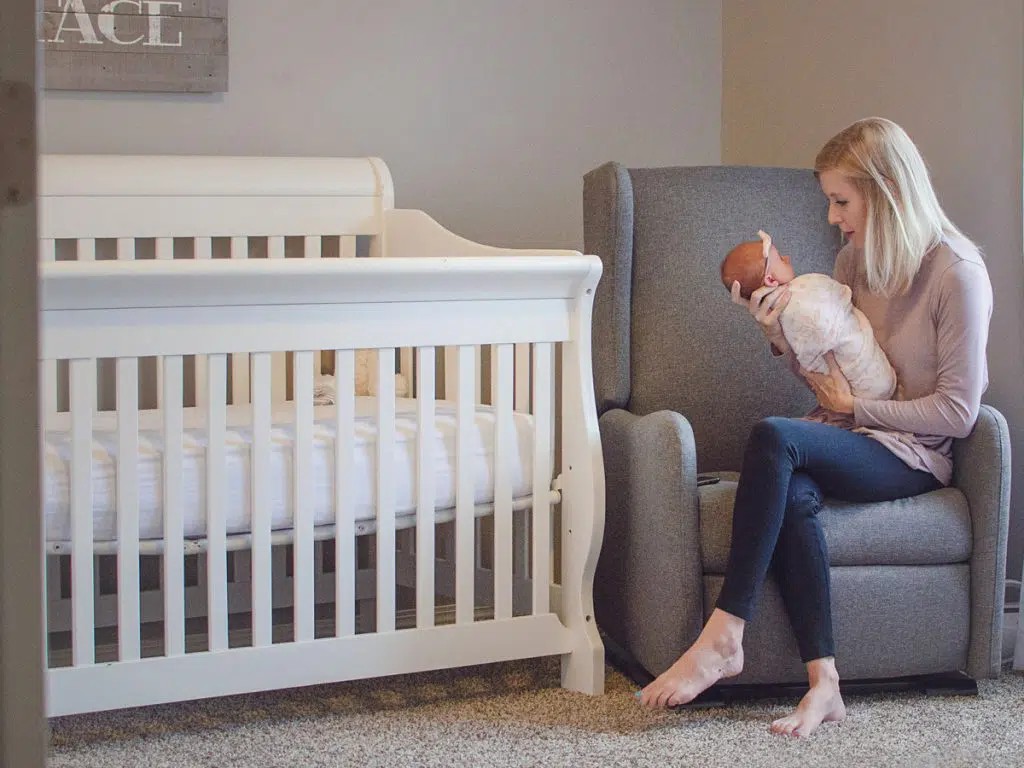 Light in the dark
The most important thing about a baby room is that your baby can sleep peacefully and have a calm, pleasing environment should they awaken in the middle of the night.  Provide soft lighting with a night light, so you do not stumble around the room when summoned and your baby can easily fall back asleep.
Also pay attention to the window coverings in the baby's room. If your little one has trouble falling asleep, adequate light control may be a solution for promoting better sleep. Choose a room darkening fabric from our roller shades, honeycomb shades and roman shades collections. Shutters offer timeless beauty and prevent the vast majority of light from entering a room.  For shades, LightGuard 360™ offers the utmost room darkening capability when coupled with blackout roller shades.  It includes a seamless window mounted design with integrated light control channels and shade housing.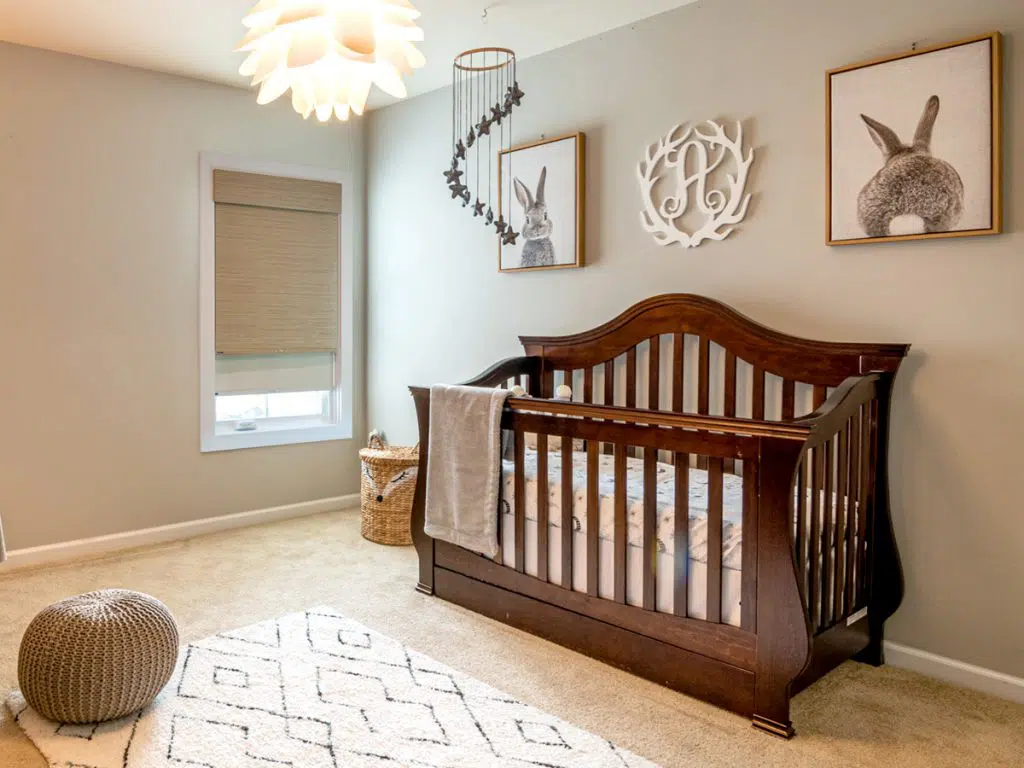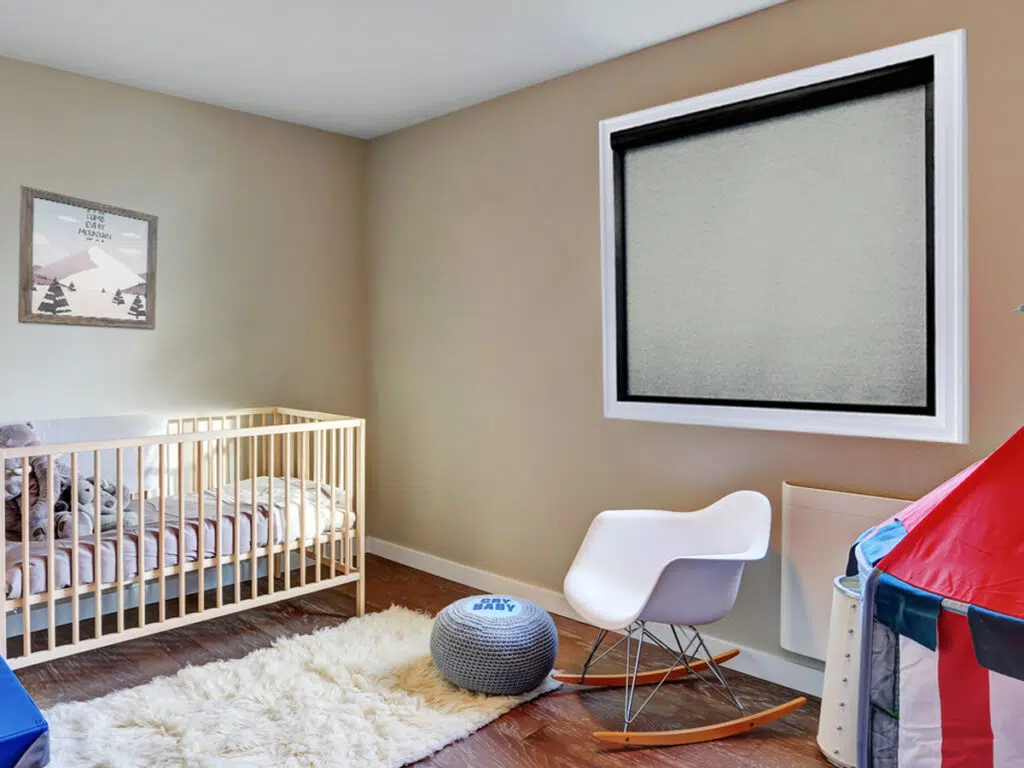 Look ahead
Your baby will be big before you know it! Therefore, think carefully about the furniture you purchase. For example, choose a bed that grows with your child so that your child can enjoy it for time to come. It is also smart to select furniture, such as a chest of drawers, that can be used in another room or for another purpose should the baby outgrow it, or prefer a style more suited to kids.