Faux wood blinds are a popular window treatment choice for many homeowners because they are durable and easy to clean. However, cleaning faux wood blinds can be a bit of a challenge if you don't know how to do it properly. In this article, we'll give you a guide on how to clean your faux wood blinds so that they look like new again. We'll also cover common reasons blinds get dirty, how to treat specific problems like grime or stains, and how to give your blinds an occasional deep clean to have them looking pristine in no time.
If you're ready to order faux wood blinds for yourself, Norman® is the perfect partner for getting started. We're here to assist in every step of the way, from choosing the right option for you, to ordering your new blinds and having them installed perfectly in your home.
If you already have blinds you love, here's everything you need to know about how to clean window treatments the right way.
Why It's Important to Clean Your Faux Wood Blinds Frequently
It's important to clean your blinds regularly to prevent the build-up of dust and dirt. Faux wood blinds are especially prone to attracting dust and dirt, as the textured surface provides a perfect landing spot for particles. This dust can lead to allergy problems and lower air quality in your home, as well as the obvious visual downside of having dusty, grimy blinds.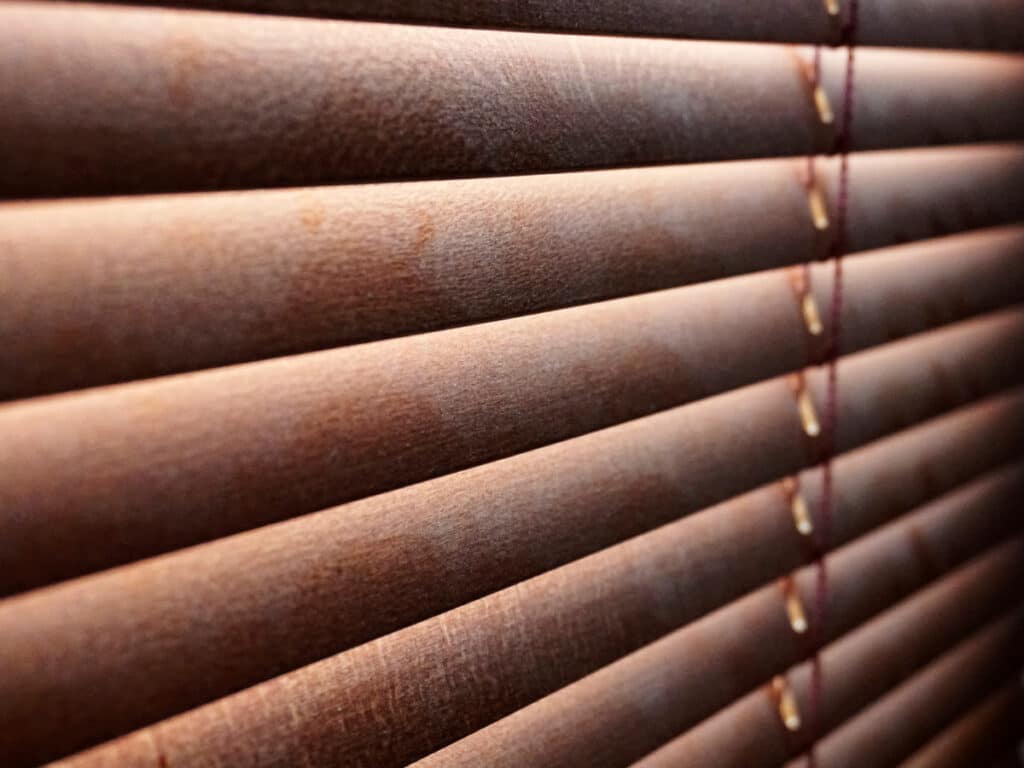 In addition, faux wood blinds can become stained over time if they are not cleaned frequently. Dirty blinds can give your home an outdated look, so it's important to clean them on a regular basis. And while we'll offer tips for cleaning grime and stains from blinds in this article, it's much easier and more effective to keep blinds clean than it is to return them to a clean state after they've been allowed to collect grime. However, since blinds are not one of the most high-touch points in the home, what causes them to get dirty in the first place?
Common Reasons Blinds Get Dirty
While there are a variety of different types of blinds on the market, they all tend to get dirty in similar ways. Here are some of the most common reasons your blinds might be looking a bit lackluster:
Dust
It's no secret that dust collects on surfaces throughout your home. However, because blinds are often located near windows, they can be particularly susceptible to dust buildup. To remove dust from your blinds, use a soft cloth or microfiber duster to gently wipe them down. For tougher areas, you may need to use a vacuum with an attachment designed for blinds.
Pets
If you have pets, chances are their fur will end up on your blinds at some point. To remove pet hair, simply use a lint roller or a damp sponge. Again, you may need to vacuum if the buildup is particularly severe.
Stains
Stains can happen for a variety of reasons, from food and drink spills to crayon marks left by little ones. If you have faux wood blinds, you'll likely be able to remove stains with damp cloth and a bit of effort.
Cleaning Dust Off Your Faux Wood Blinds
Many people choose faux wood blinds for their homes or businesses because they are attractive and easy to care for. Unlike real wood blinds, faux wood blinds can be dusted with a feather duster or wiped with a damp cloth. However, over time, dust can build up on the slats, making the blinds look dull. To clean your faux wood blinds, start by using a vacuum cleaner with a soft brush attachment to remove any loose dust. Next, use a slightly damp cloth to wipe down each slat, taking care not to overcrowd the cloth and create streaks. Finally, use a dry cloth to buff the slats until they shine. With just a little bit of effort, you can keep your faux wood blinds looking like new.
Cleaning Grime and Stains Off Your Faux Wood Blinds
Over time, your blinds may become covered in grime or stains. Fortunately, cleaning faux wood blinds is a relatively simple process. Here are a few tips to help you get your blinds looking like new again: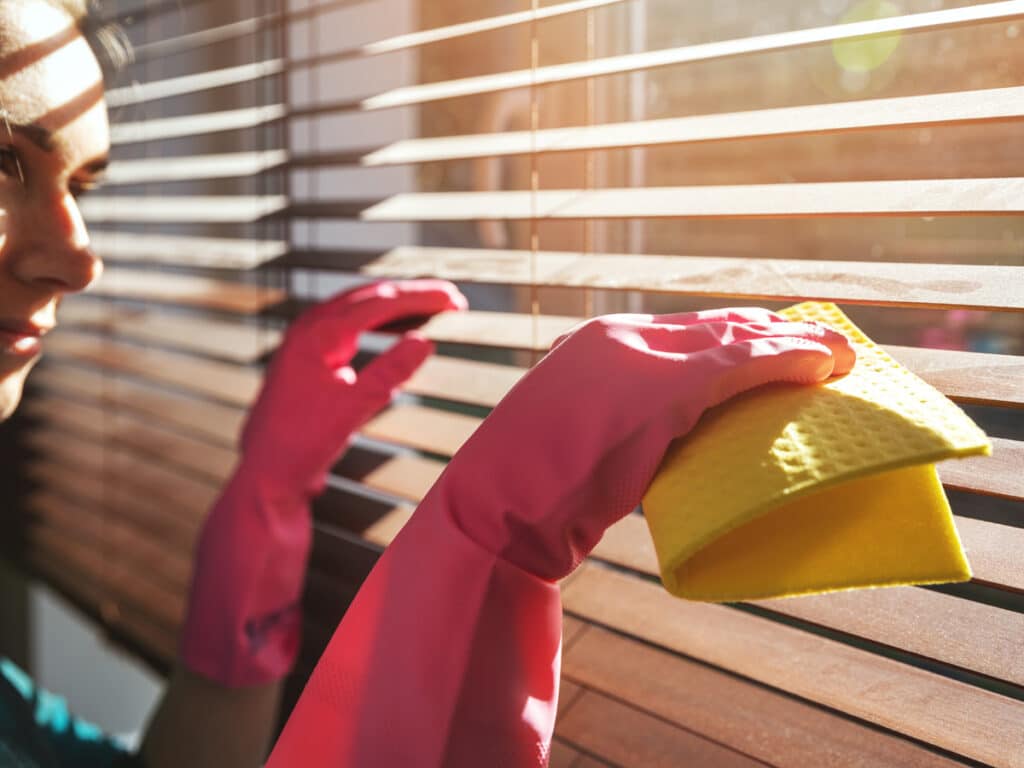 Start by dusting your blinds with a soft cloth or feather duster. This will remove any surface dirt or debris.

If your blinds are particularly dirty, you may need to give them a more thorough cleaning. In this case, fill a bowl with warm water and add a mild detergent. Dip a cloth into the mixture and scrub away any stubborn dirt or stains. Rinse the blinds thoroughly with clean water and allow them to air dry.

For hard-to-remove stains, you can try using a vinegar solution. Simply mix equal parts white vinegar and water in a spray bottle and spritz the stained areas of the blinds. Let the solution sit for several minutes before wiping it away with a clean cloth.
By following these simple tips, you can keep your faux wood blinds looking like new for years to come.
How to Deep Clean Your Faux Wood Blinds
If your faux wood blinds are looking a bit worse for wear, it might be time to give them a deep clean. The process is similar to a standard cleaning, but with a bit more effort. Here's how to do it:
First, start by dusting the blinds with a soft cloth or brush. This will help remove any surface dirt and grime.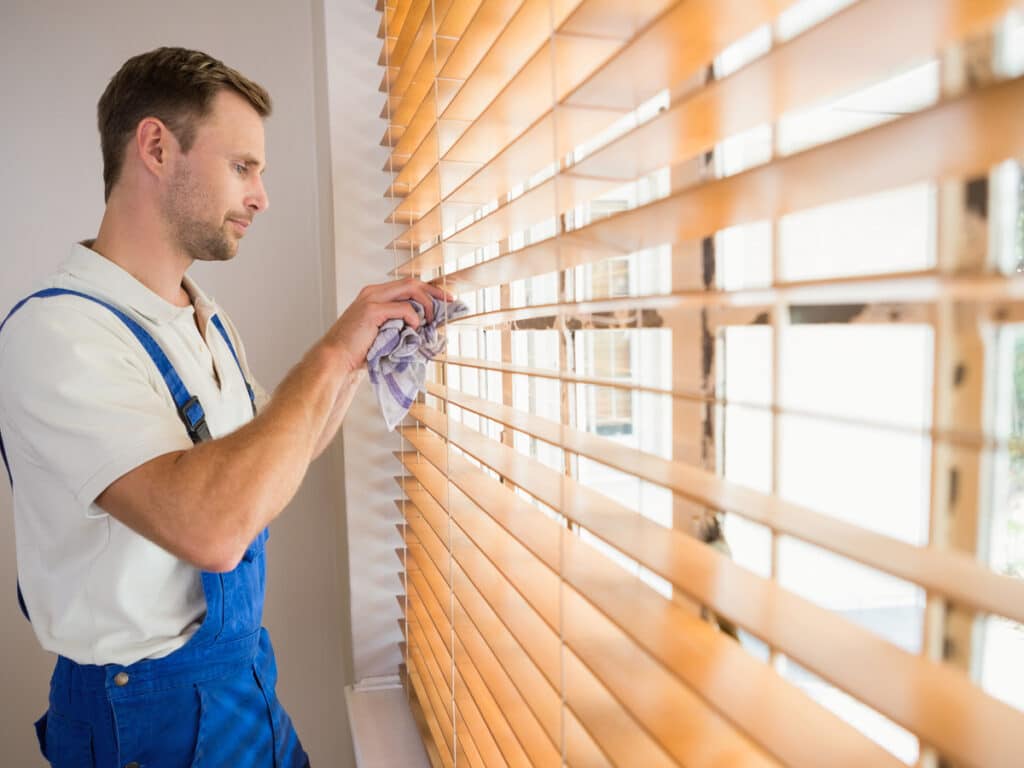 Next, fill a bucket with warm water and add a mild cleaning solution. Dip a clean cloth into the bucket and wring it out so that it's damp, but not dripping wet. Wipe down each blind, taking care to get into all the nooks and crannies. Repeat this process a second or even third time to remove all the grime and stains you can.
Finally, dry the blinds with a soft cloth or let them air dry.
Maintaining Your Faux Wood Blinds
If you want to keep your faux wood blinds in top condition, some basic maintenance will do the trick.
Regularly dust the blinds with a soft cloth or feather duster. Keeping dust from accumulating can keep the blinds in good condition and prevent the need to give them a more intense scrub down the road.

Vacuum the blinds occasionally with the soft brush attachment on your vacuum.

Spot clean spills and fingerprints as soon as they happen with a damp cloth. This will keep them from setting on the blinds.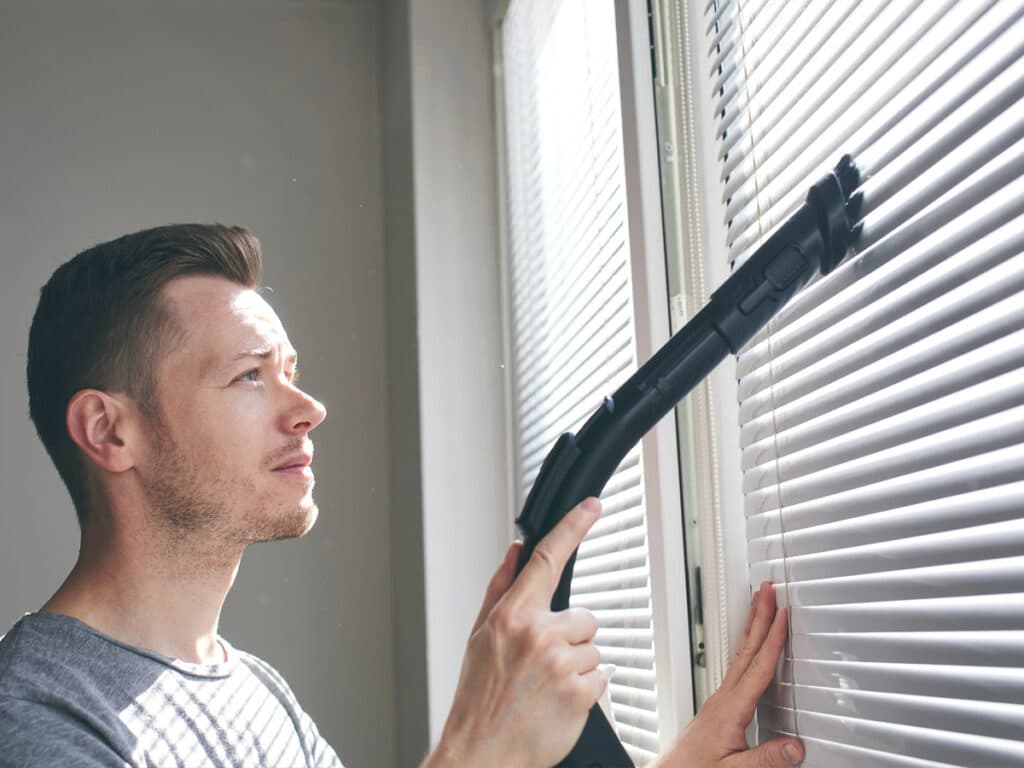 Choosing Where to Buy Faux Wood Blinds
If you're on the search for quality faux wood blinds for your home, Norman® is your most trusted source of the widest range of options and styles. From classic styles to contemporary & modern blinds, our Ultimate™ or SmartPrivacy® faux wood blinds have something for every style and personal taste. And with unmatched service, you have everything you need to refresh your home with faux wood blinds that will make an impact— while ensuring privacy and light control in your home.
Browse our blinds today and find out why Norman® is one of the most trusted window treatment brands in the nation.