Pinterest has become a mecca for every type of aesthetic under the sun. From a completely rural, cottage aesthetic to ultra-modern and industrial themes that look straight out of a post-apocalyptic, sci-fi movie, there is something for everyone.
The modern-rustic aesthetic, with its thoughtfully curated modern and rustic interior design elements, helps to build a worldly eclecticism, a look that's relaxed and modern, but also soft, warm and inviting at the same time.  The aesthetic embraces modern technology, but is also grounded in the charm of a bygone era – a simpler time when handiwork and craftsmanship were celebrated, and natural materials such as wood and quality textiles were front and center.
Norman® Window Coverings – including shutters, blinds and shades – are the perfect accompaniment to enhance this look.
Here are some tips for catching the spirit of rustic and modern interior décor aesthetics to create your home sanctuary:
Picking the Right Neutral Color Palette
One good thing about mixing rustic and modern design themes is that a neutral color palette works with both. It's all a matter of choosing the right tone for the color palette. The walls, window coverings, big furniture pieces, and rugs are some of the main elements to display your color theme.
For modern and rustic themes, neutral, earthy colors with a mixture of warm undertones work beautifully together. If you're starting from a blank slate, a good way to begin is by choosing a wall color. For the rural rustic look, warm whites such as Silk White or Swiss Coffee are a popular choice, loved not just for their ability to brighten up interiors, but also for their versatility and ability to create a modern feel.
On the other hand, walls of warm gray and sage green have been all the rage of modern farmhouse enthusiasts both in real life and on TV, and they have a serene and calming effect. They also go great with rustic or reclaimed elements.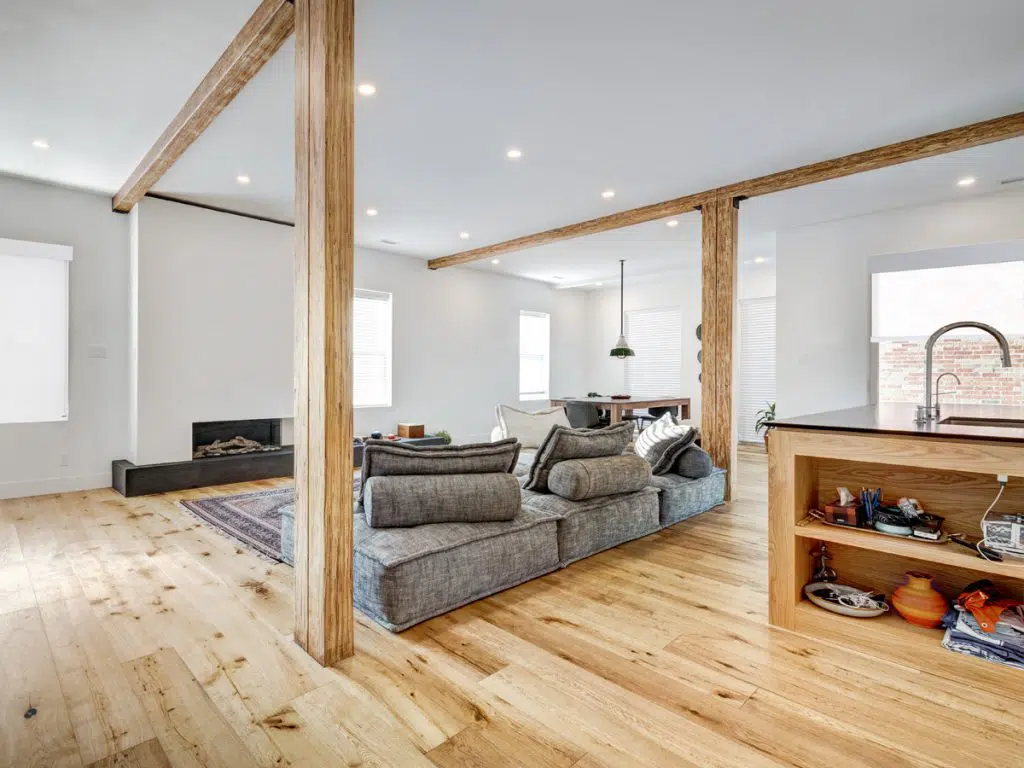 It's All About Nature – Natural Materials
After the color selection, the materials you use in your home will tie in the modern rustic theme. Modern aesthetics are enhanced with materials such as metal, marble, granite, etc. You can incorporate rustic elements easily with wood and wood-like textures such as wicker or jute.
Reclaimed wood especially, looks great and warms up an otherwise modern or contemporary room. There are entire furniture lines with reclaimed wood that manufacturers have created for this very purpose. Weathered wood, wicker, and hardwood furniture such as tables, shelves, and décor items have unlimited design possibilities you can explore.
Fabrics are also a critical element of the modern rustic look. Neutral or light gray fabrics, often punctuated with a deep, earthy colors, are also a great choice for everything from rugs, to accent pillows, to wall hangings, to furniture. And as we will further explore, they can really help add a softness, comfort and luxury to your room, tying elements together.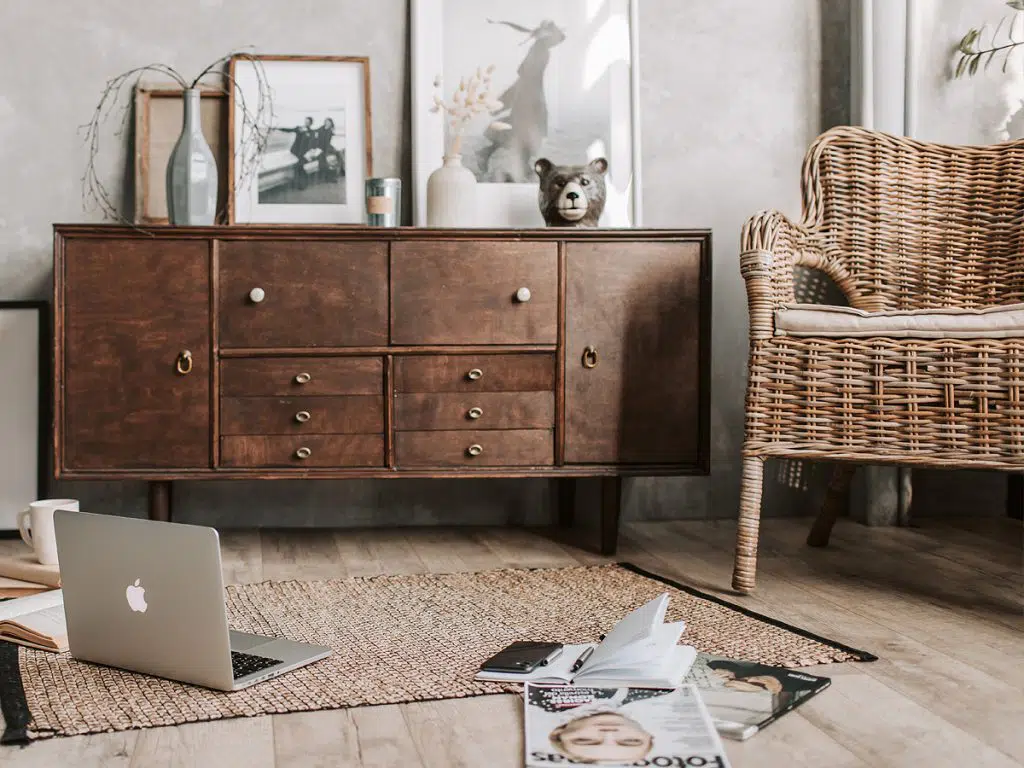 Making Your Window Coverings Stand Out
As mentioned earlier, your choice of wall color helps create the backdrop for making a modern rustic sanctuary. One that has the feeling of not just balance and harmony, but craftsmanship and quality. Norman® window coverings, including shutters and shades, will help you achieve just that. For instance, a lightly stained wood shutter in Natural, Driftwood, Limed White, along with many paint choices in light gray or taupe, can give you the contrast and craftsmanship you're looking for, and work great with the modern rustic aesthetic.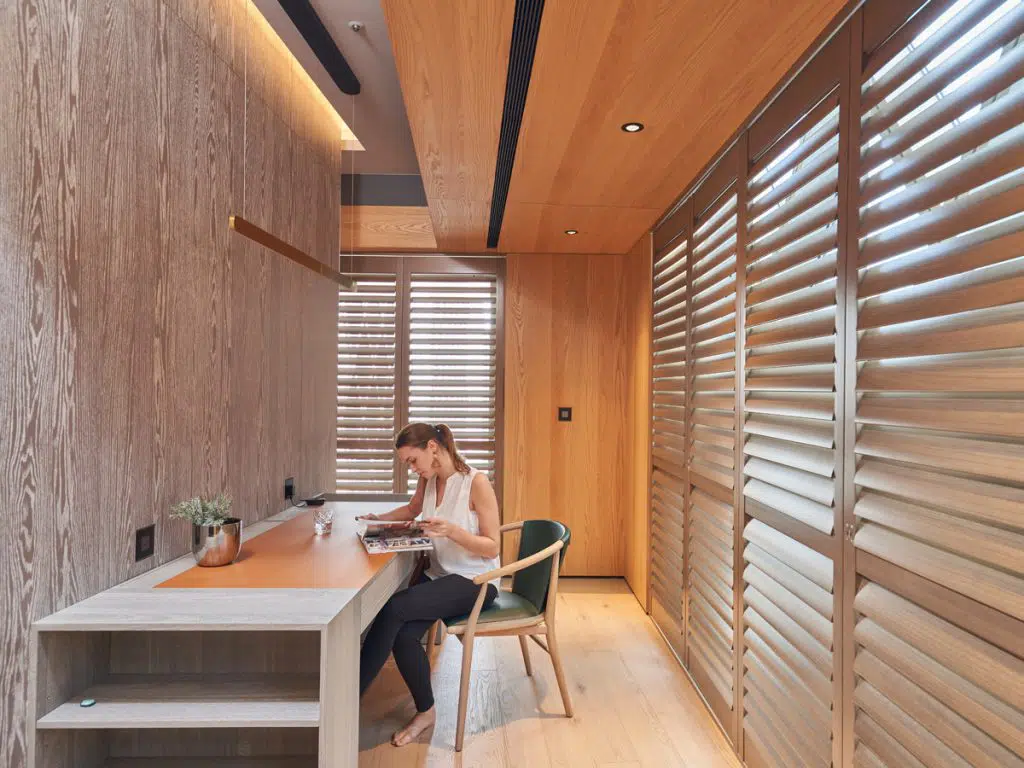 White shutters are also a great complement. Their clean lines and iconic look are the perfect way to create a rustic but modern look. In fact, Norman® shutters in a warm white such as our Silk White, look absolutely stunning in a room with light gray or sage green walls, both of which are considered quintessential wall colors for that modern farmhouse look.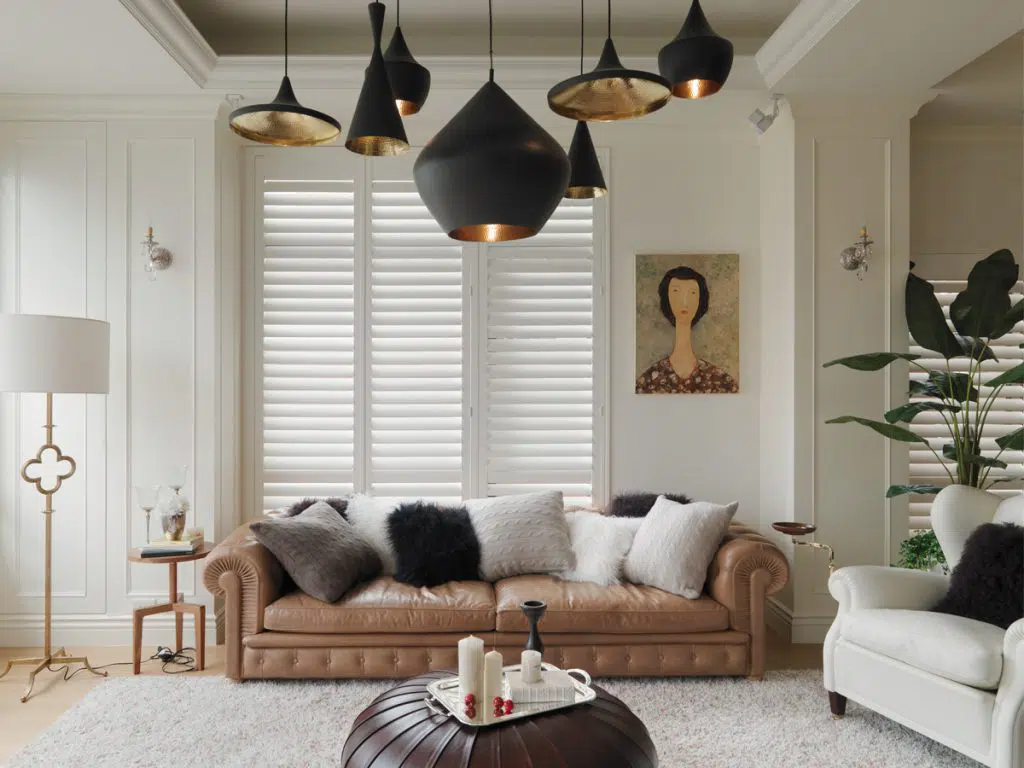 Centerpiece™ Roman Shades and Soluna™ Roller Shades are a great way to introduce softness and warmth to a room. And through details such as textures, luxury materials and opacities, they give your room the feeling of comfort, luxury, and effortless style. For roman shades, our Libeco™ linens from Belgium are a perennial favorite, famous for their quality, softness and selection.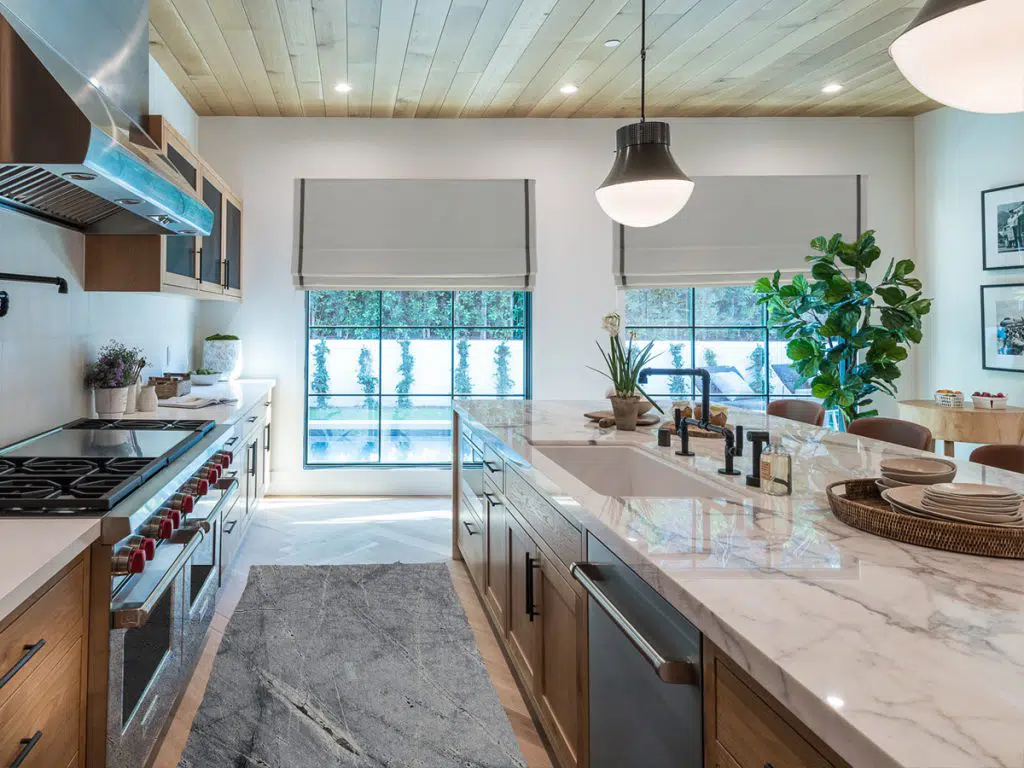 If you like the convenience and modern look of roller shades, several linen-look fabrics are also available, giving you the best of both worlds. Our roller and roman shades come in countless fabrics and colors that are constantly updated and include beautiful woven fabrics with a homespun look, pastoral inspired prints, natural materials, and much more.