Cleaning your mini blinds is an essential part of regular maintenance and upkeep. Fortunately, this task can be completed quickly and easily with the right supplies. Norman® provides a no-fail cleaning guide to get your mini blinds looking like new in no time! And if you're looking for ways to clean other window treatments, we have your back.
Importance of Regular Cleaning for Mini Blinds
Aluminum mini blinds offer a modern and elegant look if cared for correctly. When neglected, dust, grime, and grease can build up quickly. This can lead to irreparable damage. Regular cleaning helps extend the life of your mini blinds and is essential to keeping them looking like new.
Prep Time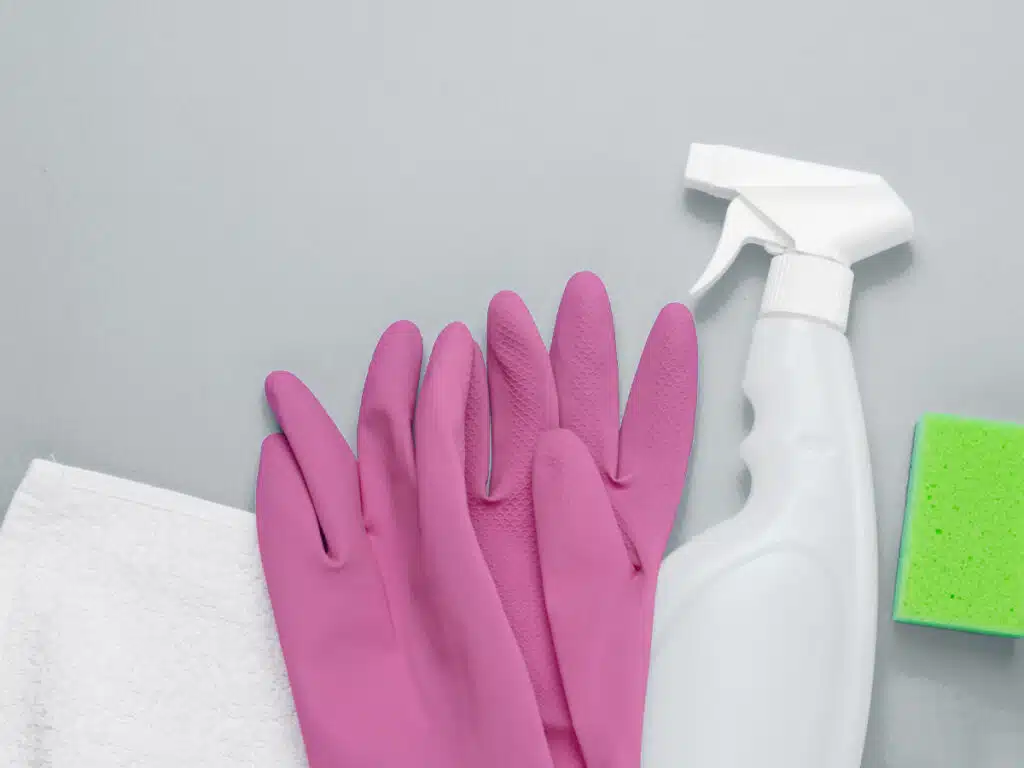 Cleaning your mini blinds requires minimal prep time and materials. First, gather the necessary items:
Mild laundry detergent or white vinegar

Bucket, basin, or bathtub

Microfiber cloth and a clean sock

Vacuum cleaner or soft brush attachment

Soft cloths for drying 
Prepare your cleaning area by laying a towel in the bathtub or basin, and you're ready to begin!
First Step: Dusting! 
Generally speaking, the best method for cleaning your mini blinds is simple dusting. You should start by using a soft brush vacuum attachment or microfiber cloth to remove the dust on the mini blinds. 
Step 1: Dusting the Blinds
Start by removing the dust from the slats of your blinds with a dry cloth, a vacuum cleaner with a brush attachment, feather duster, or even canned air. This will eliminate dust buildup on both sides of the blinds.
Step 2: Close the Blinds
Begin by fully lowering the blind carefully. To make the cleaning process easier, you need to close the blinds by tilting the slats forward.
Step 3: Use a microfiber cloth or duster 
Take a microfiber cloth or duster and wipe in a circular motion down each slat of the blinds, both sides if they are double-sided, to remove any dust or debris that is left behind from the first step. 
Step 4: Gently wipe each slat
For best results, begin dusting at the top of the window coverings and work your way down in a gentle manner. This will provide the most thorough dust removal.
Cleaning Your Aluminum Blinds While Hanging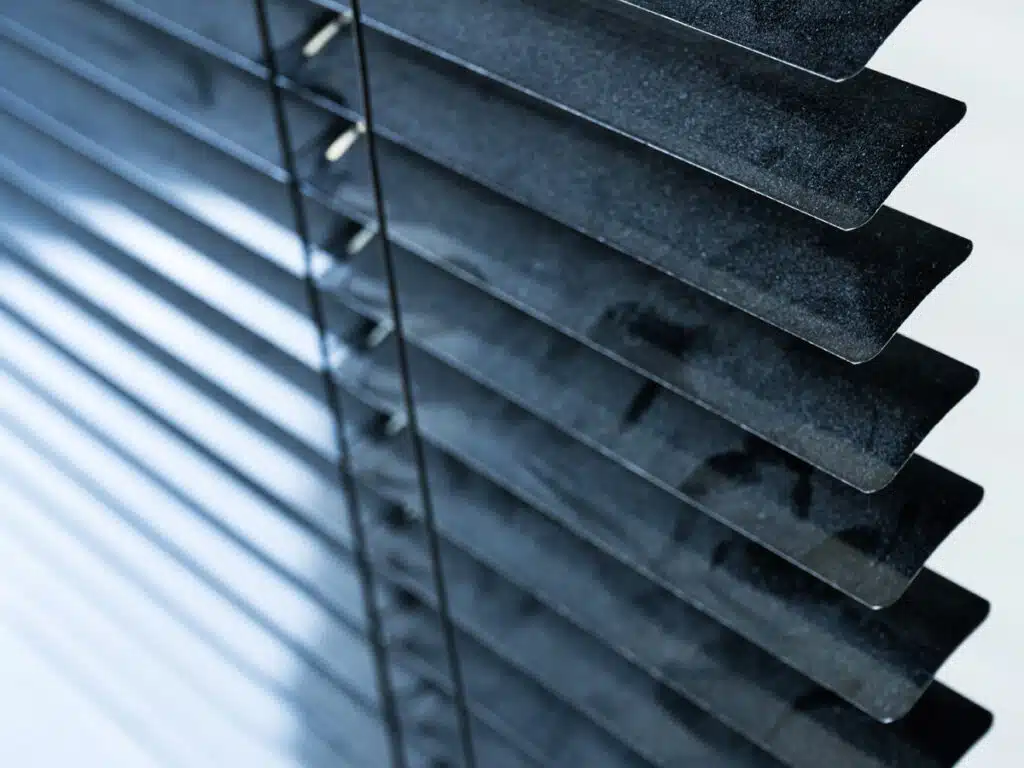 If you are cleaning aluminum mini blinds while they are hanging, remember that you don't use water to eliminate dust. Follow our dusting protocol first, then move on to the following steps:
Step 1: Fill a bucket with warm water and a few drops of mild cleaning solution
Mix equal parts white vinegar and warm water in a bowl or basin. Be sure to use only a mild cleaning solution designed for window treatments to avoid damage.
Step 2: Close the blinds and secure them again
Close the mini blinds and secure them in place with plastic ties once again. 
Step 3: Dip a clean microfiber cloth or sponge into the soapy water
To apply the cleaning agent, cover your hand with a clean sock and dip it into the solution. Squeeze the sock firmly until it stops dripping water. You can also use a microfiber or sponge. 
Step 4: Gently wipe each slat
Starting from the top down, use your sock-covered hand and fingers, running them over each blind blade tightly. Do this in a side-to-side motion to clean every inch of each blade.
Step 5: Applying a bit more pressure if needed for stubborn stains
Got tough stains? Use a bit more pressure with your damp cloth for any stubborn dirt or stains. But don't be tempted to scrape them, as this could cause damage to the surface of the blinds. 
Step 6: Dry blinds with a clean cloth.
Once you have finished cleaning the blinds, use a clean cloth to gently wipe them dry. This will help prevent any water spots or streaks. 
Thorough Washing of Mini Blinds: Use a Tub!
For a satisfying deep clean, use a bathtub or other large basin to submerge your aluminum mini blinds and give them a good soaking. This method is not intended for cloth or wood blinds, as it can result in irreparable damage. 
Here's how it works:
Step 1: Take off your blinds
Remove the blinds by disengaging the headrail from the mounting brackets. 
Step 2: Prepare a tub
Fill the tub with warm water and add a few drops of liquid dish soap. Swish it around to make a soapy bath for your blinds.
Step 3: Use towels or cloth to protect your tub from scratching
Metal mini blinds can damage the inside of a bathtub if not careful. To protect your tub, lay down towels or a cloth on the bottom before you put in the blinds. 
Step 4: Keep slats open, extend and submerge
Submerge your blinds in the tub, keeping the slats open so the water can get to every corner. Leave them there for a few minutes then extend and repeat if needed. 
Step 5: Soak for 30 minutes
Let the blinds soak for about 30 minutes, then lay them on a towel. For any remaining stains, you can use a cloth to gently rub them away. 
Step 6: Use a sponge or cloth to rub out remaining stains
Extra dirty blinds may require a bit more elbow grease. Use a sponge to rub out any tough spots, being careful not to damage the slats while you work. 
Step 7: Dry gently with towels before hanging again.
Once you have soaked and cleaned the blinds, lay them on a towel and use another one to pat dry. Don't wring or twist them—this could cause damage. Then hang your clean mini blinds back up. 
Additional Tips for Maintenance and Care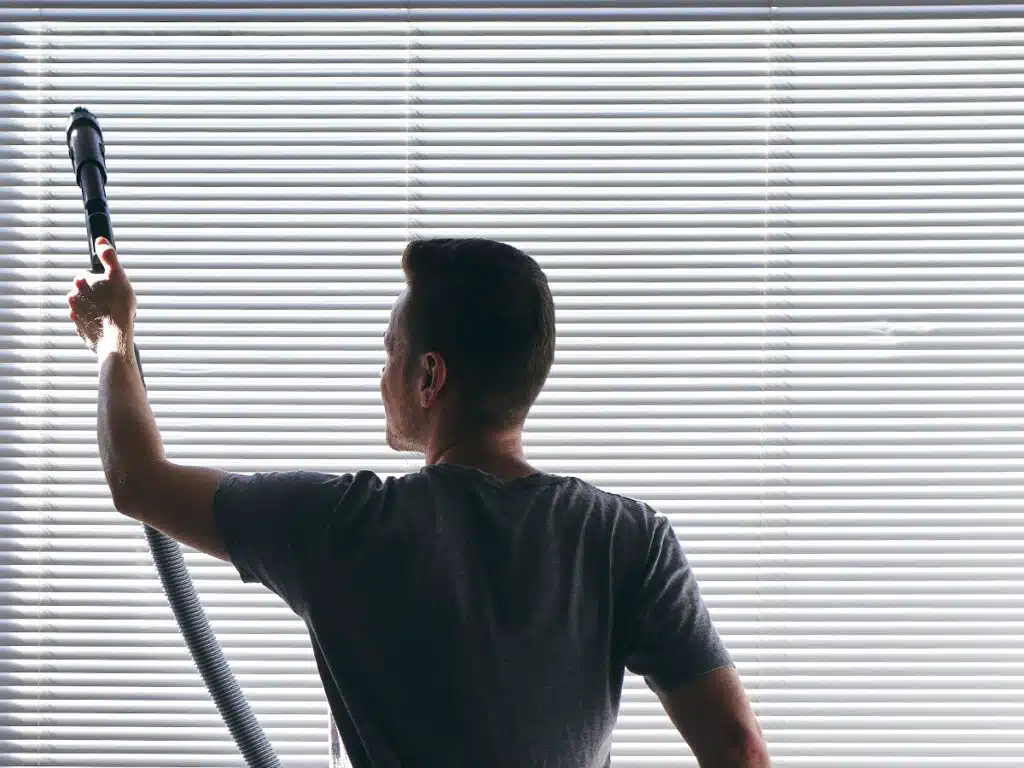 Caring for mini blinds doesn't have to be complicated. Regular maintenance practices are the secret to extending their use. Best be proactive and keep them looking as beautiful as the first day they were purchased. Happy cleaning!
Dusting or vacuuming vertical blinds at least once a week: This will keep dust and dirt buildup at bay.

Spot cleaning stains promptly: If something spills, clean blinds immediately to prevent permanent staining. 

Handling delicate or specialty blinds:  If you have fabric blinds, venetian blinds, or wood blinds, be sure to use the proper cleaning methods and products specific to that material. 
FAQs 
Q: What tools and materials do I need to clean mini blinds? 
A:  All you'll need for a standard cleaning is a bucket or basin, warm water, mild cleaning solution, a soft cloth, and clean towels to clean mini blinds.
Q: How often should I clean my mini blinds? 
A:  To keep your blinds looking their best, aim to dust or vacuum them once a week and give them a deep clean every few months.
Q: Can I clean mini blinds without removing them from the window? 
A: Yes, the easiest way is to use a vacuum with an upholstery brush attachment to clean your mini blinds while they are still installed. Just be sure not to press too hard—this could cause damage. 
Want more cleaning tips? Contact one of our experts!