Venetian blinds are a popular and versatile window treatment known for their timeless appeal and practicality in interior design. These blinds are characterized by horizontal slats, typically made of wood, metal, or PVC, that can be tilted to control the amount of light and privacy in a room. Venetian blinds have been a staple in home design for decades, and their enduring popularity is a testament to their aesthetic and functional value.
What are Venetian Blinds?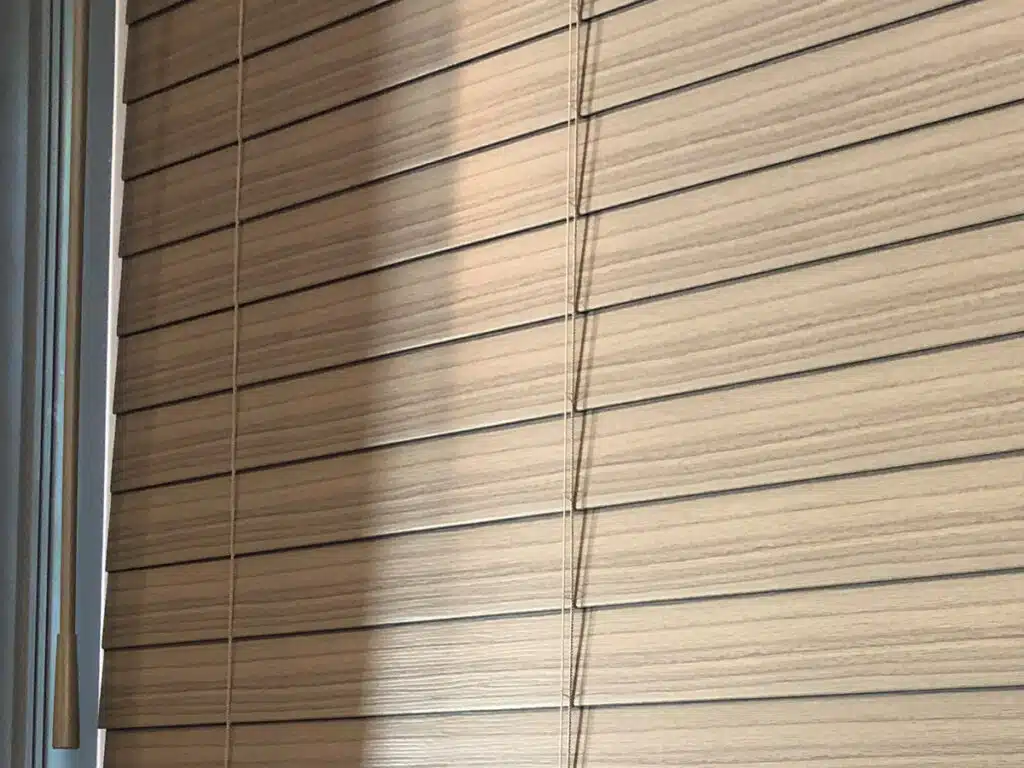 Unlike roller blinds that are made from compact material that roll up or down to control the amount of light that enters the room, Venetian blinds are horizontal blinds engineered with adjustable slats for greater precision over privacy, airflow, and light control. 
Why Venetian?
These wooden blinds have an illustrious past. Originating in ancient Persia, they were originally made of small, overlapping wooden slats and were used to regulate light and ventilation. Wooden Venetian Blinds made their way to Venice, Italy, where their design was refined and popularized. In the 18th century, Venetian traders brought the concept to Europe, where real wood blinds became a symbol of elegance and practicality in window coverings. Since then, they have continued to evolve and remain a versatile and timeless choice for homes and offices worldwide.
How Do They Work?
Venetian blinds are a family favorite because they are easy to operate using a simple yet effective mechanism. The key components include: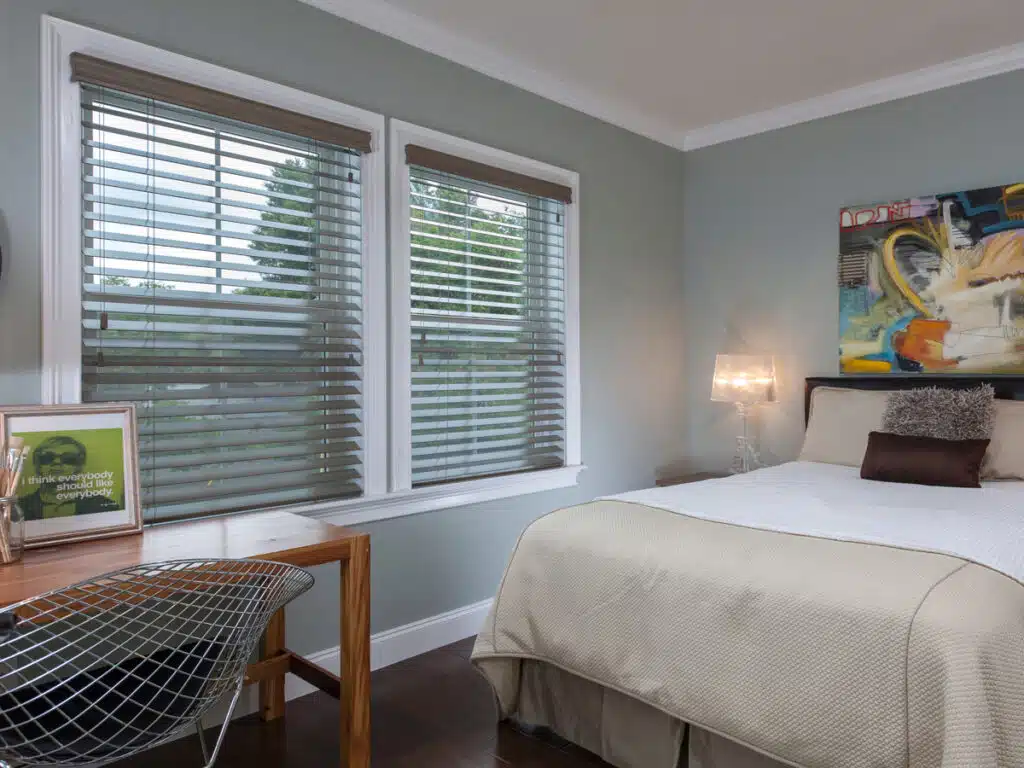 Slats

: These are the horizontal, individual strips that make up the body of the blind. They can be made of various materials such as wood, metal, or PVC.

Headrail

: The headrail is the horizontal bar at the top of the blinds where the slats are attached. It holds and supports the entire blind structure.

Tilt Mechanism

: Typically, a tilt wand or cord is used to adjust the angle of the slats. Turning the wand or pulling the cord tilts the slats, controlling the amount of light and privacy.

Lift Cord

: The lift cord is used to raise and lower the blinds. By pulling the cord, the blinds are lifted, and releasing it allows them to lower. Some newer designs feature a cordless lift system.
What are Venetian Blinds Made Of?
Wooden Venetian Blinds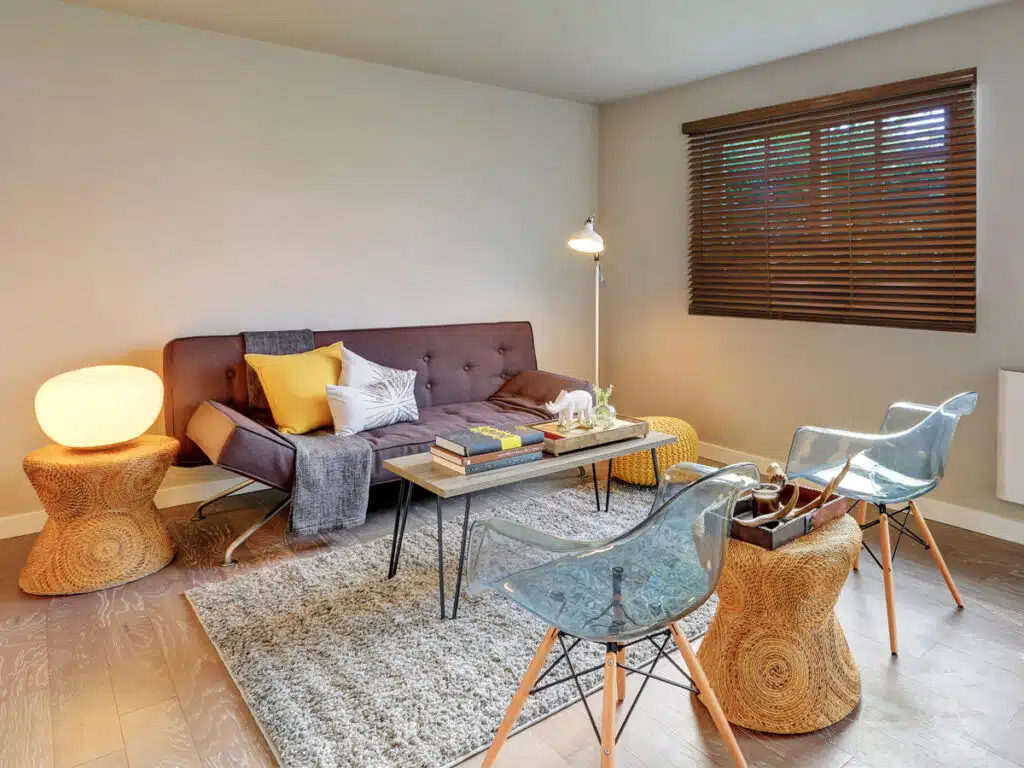 Made from real wood, such as basswood or cedar, they are known for their natural, warm appearance and are a great fit for classic and traditional interiors. Wood blinds are timeless and can be stained or painted to match various decor styles. They can even add value to your home!
Faux Wood Venetian Blinds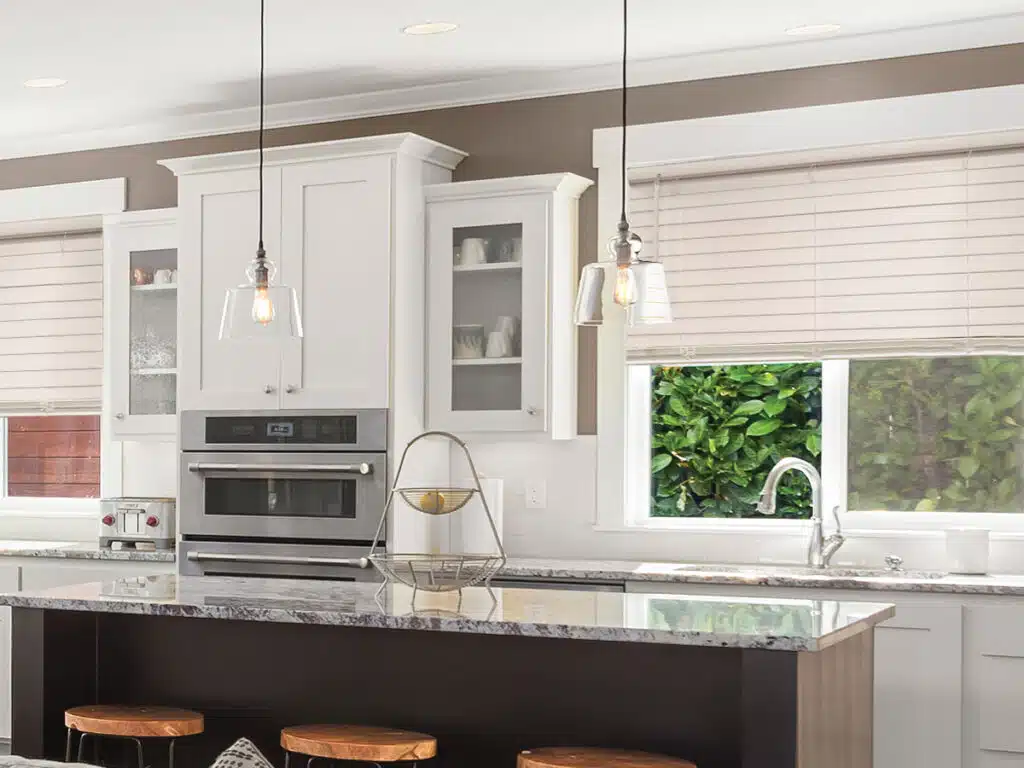 Crafted from composite materials or PVC, these durable blinds mimic the look of real wood but offer increased scratch and moisture resistance. Faux wood blinds are suitable for high-humidity areas like bathrooms and kitchens where they won't warp or crack and are often more budget-friendly too. Due to its color-fastness property, they also do not yellow or fade overtime.
Aluminum Venetian Blinds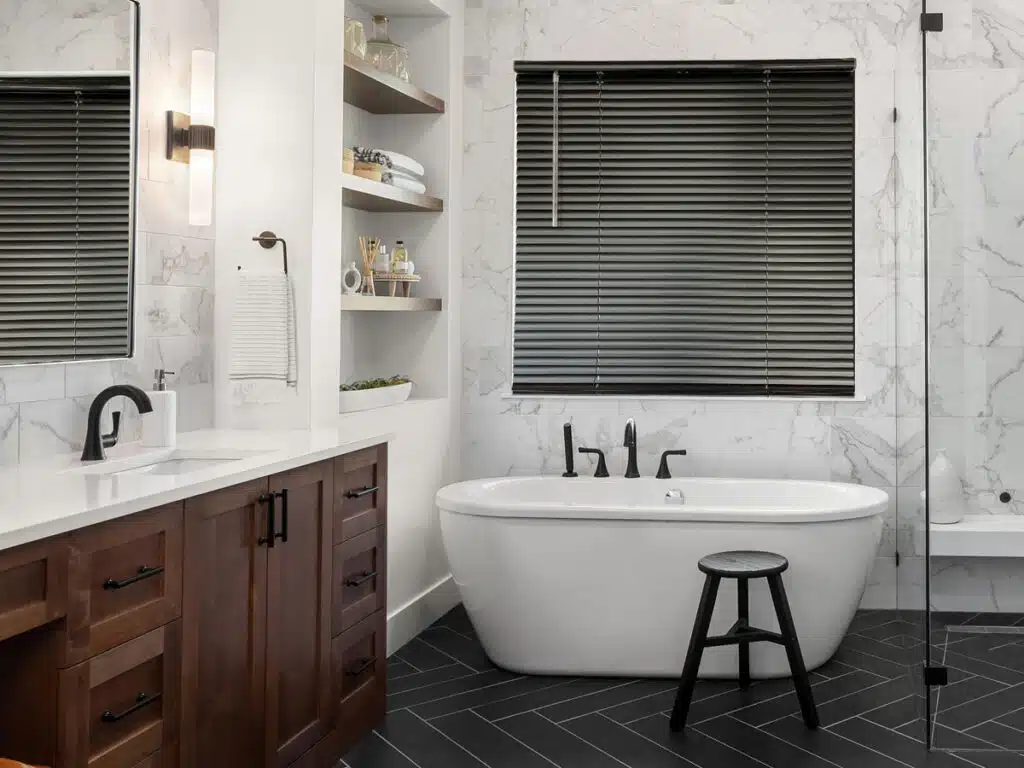 These mini blinds feature slats made of lightweight aluminum. They have a modern, sleek appearance and are extra sturdy. They are often used in contemporary or industrial-style interiors. In addition to being fashion-forward, they are also heat and moisture resistant making them an interior designer's go-to pick for kitchens and bathrooms. 
PVC Venetian Blinds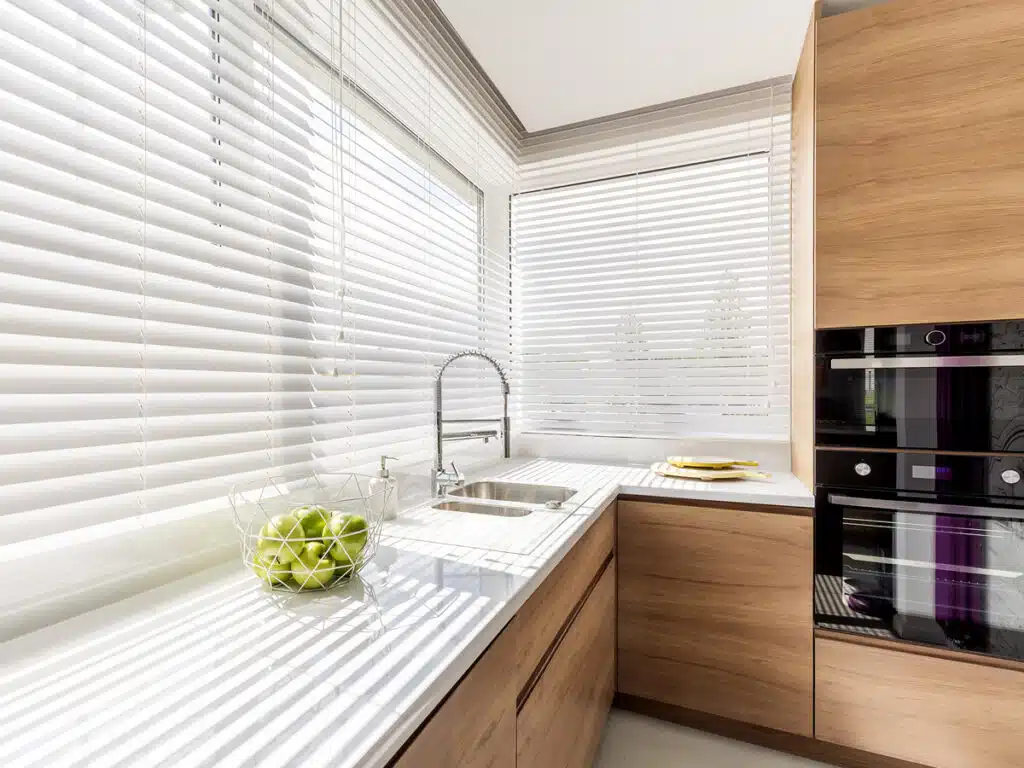 PVC Venetian blinds are made from polyvinyl chloride, a type of plastic. They are known for being affordable and easy to clean, but lack the style and staying power of other materials.
Characteristics of Venetian Blinds
Versatility in Style
Venetian blinds are an iconic window treatment that has evolved through centuries of style because they are so versatile. These blinds come in an array of luxury materials, colors, and slat sizes, making them adaptable to a wide range of interior design styles, from traditional to modern.
Privacy Control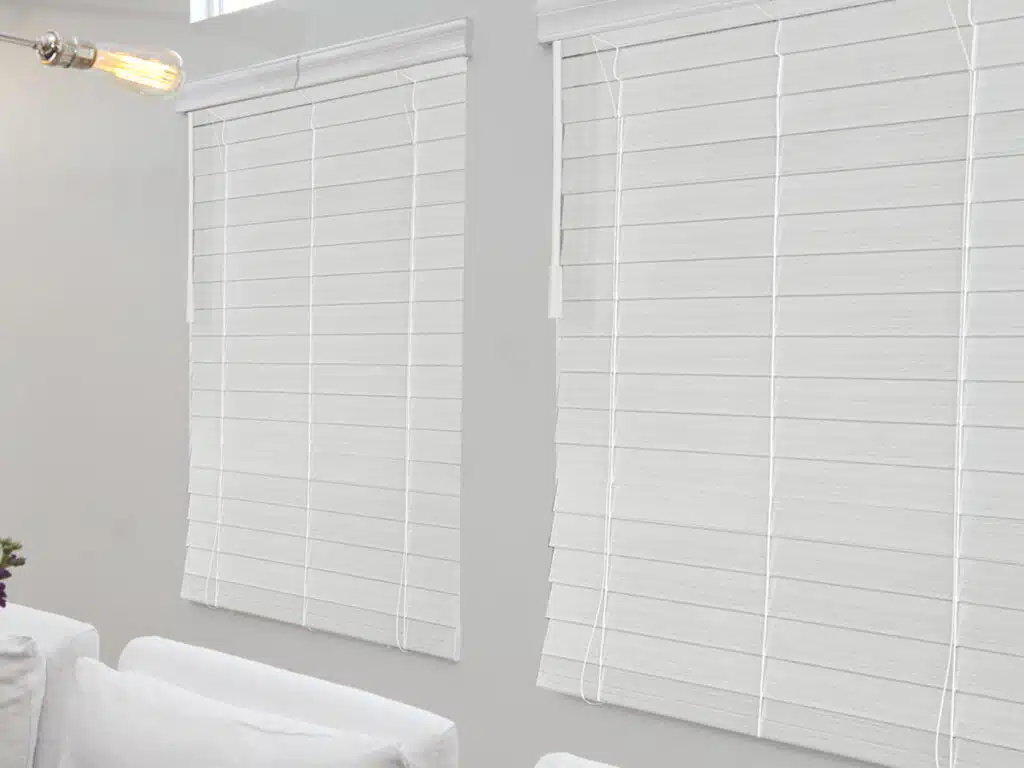 Enjoy dinner around the dining table away from prying eyes, or set the ambiance in the living room and unwind in peace. The adjustable slats allow precise control over light and privacy, making Venetian blinds an excellent choice for spaces where you need flexible privacy options like the living room, bedroom, and dining room. 
Easy to Maintain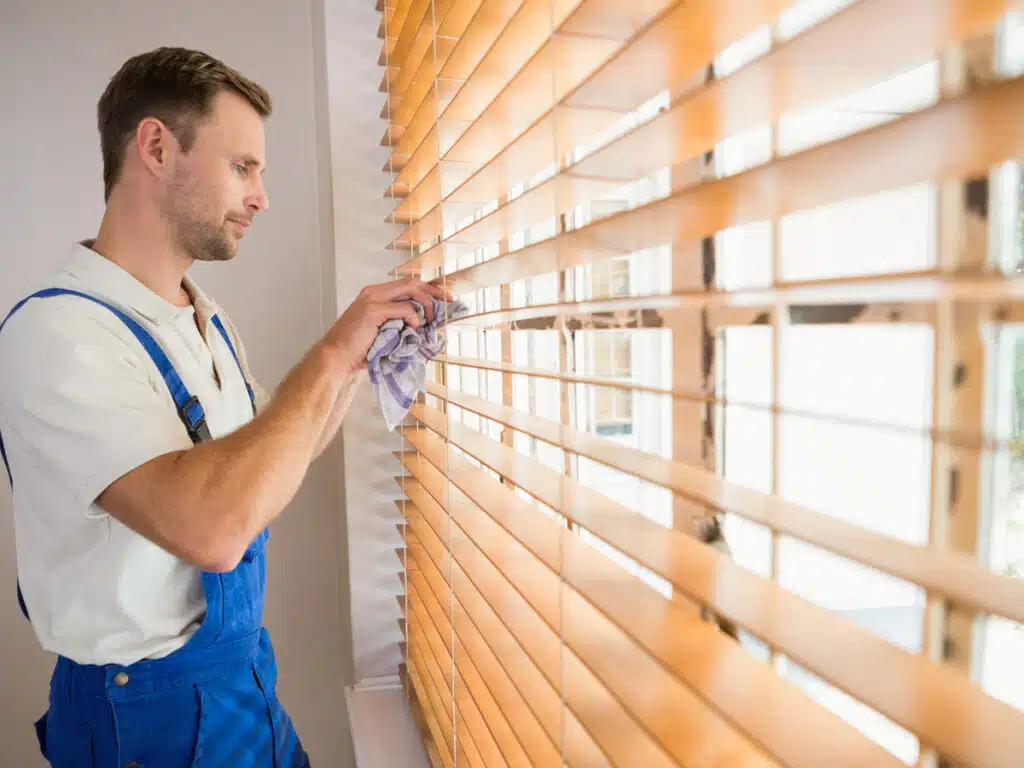 Venetian blinds are relatively easy to clean and maintain with regular dusting or light cleaning, keeping your space looking fresh and well-kept. Simply use a clean microfiber cloth for dusting and a mild soap and warm water to clean off grime or stains.
Budget Friendly
Venetian blinds can be a cost-effective window covering solution, especially with faux wood options available to fit various budgets. Shopping standard sized blinds vs. custom made-to-order shape sand sizes can also be a great way to save money.
Customization to Your Space
Whether you've got large windows, tall windows, arched windows, or specialty shapes that pose a challenge, at Norman® we've never met a window we couldn't fit. Venetian blinds can be tailored to fit your windows perfectly, ensuring a seamless and polished look in your home. Compliment your blinds with a modern window valence to complete the look.
Motorized Options
Modern blinds can be equipped with motorized systems for convenience, allowing you to control them with the touch of a button or through a smart home system. Raise, lower, or adjust your blinds from anywhere in your home to completely control light levels, privacy, and desired ambiance.
Corded vs Cordless: Which Is Better?
The choice between corded and cordless Venetian blinds comes down to a balance between functionality, cost, and safety. Corded blinds have route holes that run through the slats, which can compromise privacy and light control. They are often more affordable but come with safety concerns, especially in homes with children or pets.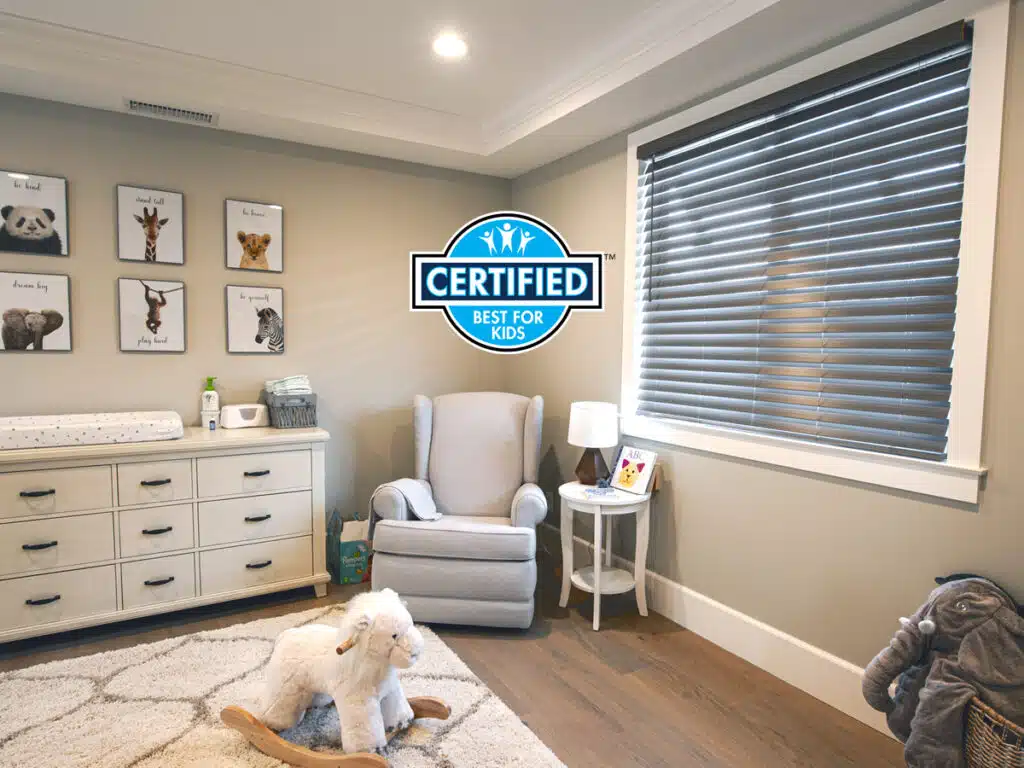 On the other hand, cordless Venetian blinds provide a sleek, modern appearance, eliminate safety hazards associated with cords, and are easier to use. They may be slightly pricier due to their cordless design, which offer added convenience. The decision between the two ultimately hinges on your priorities, whether it's enhanced functionality, price point, or safety.
Picking The Ideal Venetian Blind
Consider the following factors into account when choosing your blinds:
Privacy

: Different rooms require different levels of privacy; wider slats allow more light and visibility when tilted open, while narrower slats provide greater privacy when closed.

Light Control:

Think about your preference for natural light. Larger slats can maximize light when open making them perfect for living rooms, while smaller slats block glare and more light when closed and are preferable for the bedroom or home office.

Purpose:

Consider the function of the space; rooms like bedrooms may require more privacy, while living areas may benefit from adjustable light levels.

Window Size:

The size and shape of your windows should match the scale and design of the blinds; larger windows may require wider slats for a balanced look.

Budget:

Venetian blinds come in various materials and price ranges, so consider long-term value and durability as well.
Quick Maintenance Tips
Follow these steps to have long lasting blinds at home:
Routine Dusting:

Use a microfiber cloth to remove dust from the slats weekly.

Vacuuming:

Gently run a brush attachment or a handheld vacuum over the slats to capture loose debris and dirt.

Spot Cleaning:

For stains, use a mild detergent or a mixture of warm water and vinegar applied with a soft cloth or sponge. Be careful not to apply too much pressure or you could scratch the blinds!

Soaking Method:

If blinds are heavily soiled, remove them and soak them in a bathtub with warm, soapy water, then rinse and dry thoroughly before reinstallation.

Preventative Maintenance:

Regularly inspect and tighten any screws or brackets to ensure the blinds are secure.
Norman® Has The Best Window Treatment Options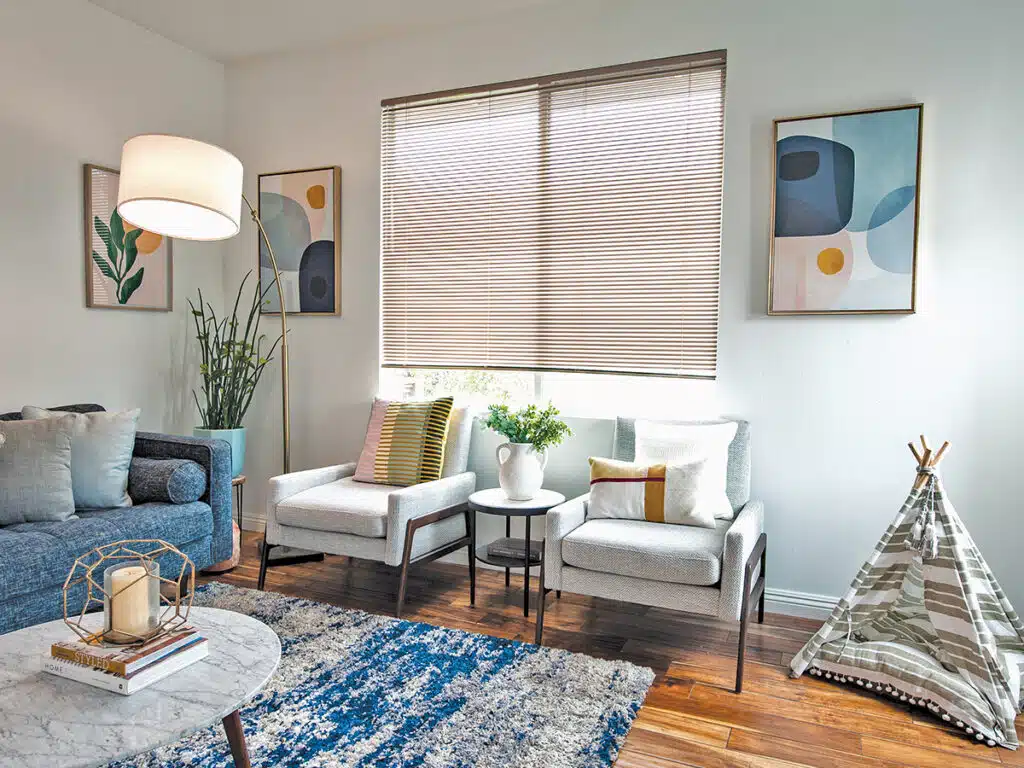 Norman® Venetian blinds are a popular and trusted choice for homeowners looking to enhance their interior design and upgrade their window treatments. Crafted from high-quality materials, including wood, faux wood, and aluminum, our blinds are durable and long lasting. We have stylish venetian blinds for every budget, explore our collection today!
FAQs
Are Venetian blinds suitable for all window sizes?
Venetian blinds can be customized to fit various window sizes, making them suitable for many different window dimensions.
Can Venetian blinds be cut to fit my window?
Yes, Venetian blinds can often be cut to fit your window, but it's essential to have this done by a professional to get a proper fit and maximize functionality.
Are Venetian blinds suitable for high-humidity areas like bathrooms and kitchens?
Venetian blinds made from materials designed to withstand moisture, such as aluminum or faux wood composite, are less prone to warping and paint cracking, due to humidity in the air and can be used in bathrooms and kitchens.
How do I replace a broken slat on Venetian blinds?
Most Venetian blinds have a removable plug at the bottom rail. Take down the blinds, slide the plug out, exposing the knot that holds the slats in place. Untie or cut the knot to release the damaged slat and replace with a new one. Then retie the knot, replace the plug, and rehang the blinds.