Ready to renovate your drab bathroom? We've got just the inspiration you need to freshen up your space. Whether you're working with a small or generous-sized bathroom, here are some 2023 trends that you'll want to try:
Opt for a bold color palette

Spring for high-tech accessories

Swap out old hardware for modern replacements

Natural stone for surfaces 

Nature-inspired elements for a spa-like vibe

Streamline with sleek silhouettes
Even if a full renovation isn't in your budget, you can still make a major impact on your redesign by addressing key elements like your bathroom windows. Investing in quality bathroom window treatments can instantly update and upgrade the look of your bathroom, adding much-needed style and privacy.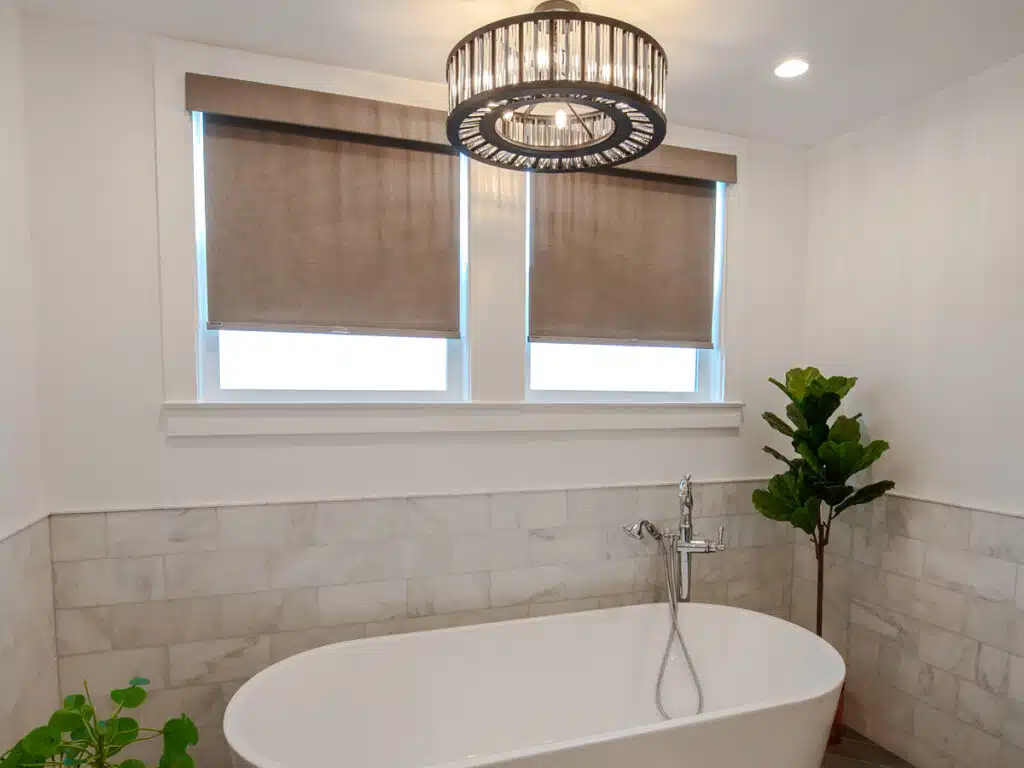 Norman®'s selection of stylish and functional bathroom window treatments comes in a variety of on-trend colors and prints that will help pull your whole new look together! 
How to Choose Window Treatments for Your Bathroom
Many homeowners are dismayed to find bathrooms woefully outdated when they first move in. Plenty of bathrooms lack window coverings altogether! Whether you're starting from square one or simply ready for an update, we're here to help you determine how to choose the right window treatments for your bathroom. 
Why are bathroom window treatments important? They provide both aesthetic & practical benefits and add a touch of style to your decor while also providing much-needed privacy and ventilation for your space. Create the perfect ambiance in the room where you spent time each and every day! 
Here are our top tips for selecting the ideal bathroom window coverings: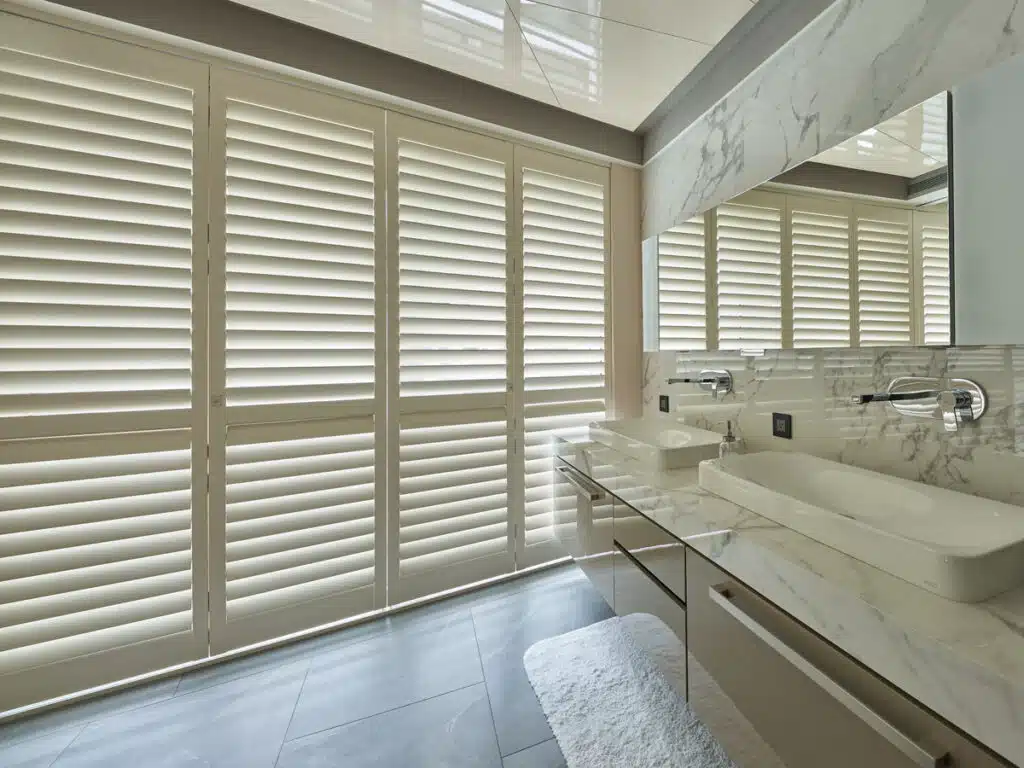 Privacy
A common concern for a bathroom is privacy issues, so it's important that the window treatments you select for your bathroom provide adequate protection from prying eyes. Opt for window treatments that allow for complete coverage. Shutters and blinds can provide extra privacy, while also allowing natural light to filter through. 
Natural light
Does your small bathroom feel cramped or dark? If you're looking to open up the space and make it feel larger, look for window treatments that allow plenty of natural light to enter. Light colors will also help freshen up your bathroom's vibe while making it appear more airy and spacious.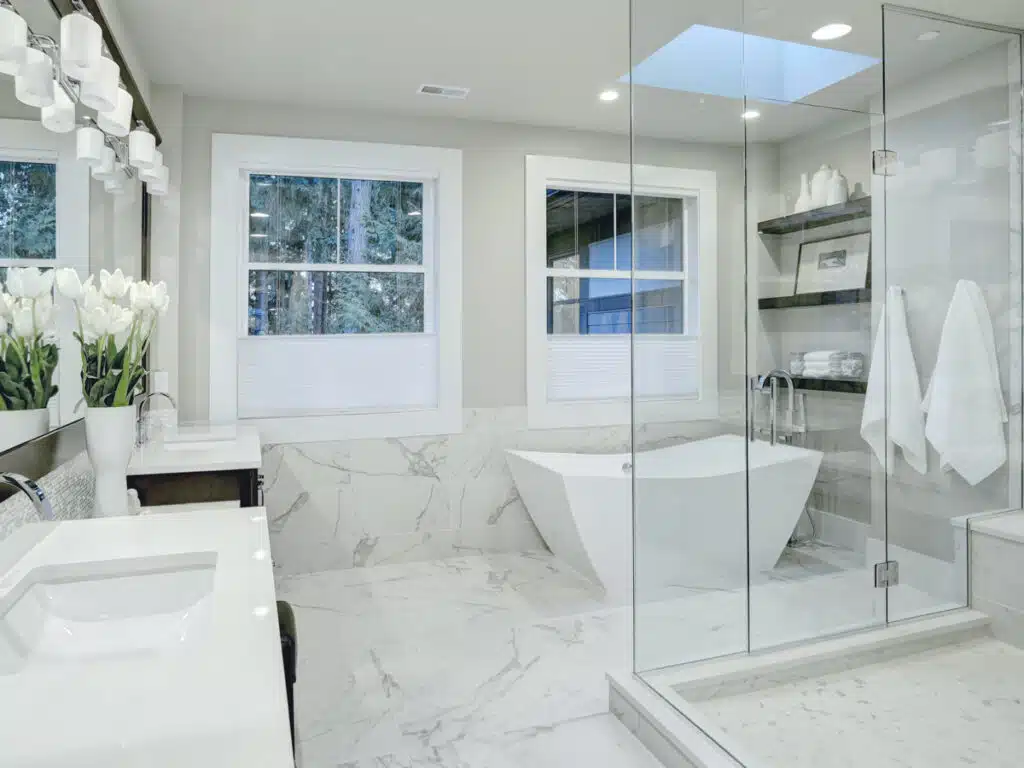 Light-filtering blinds or louvered shutters are great options that let in natural light without sacrificing privacy. Stay away from heavy alternatives like bathroom curtains, drapes, and curtain panels, which can make your bathroom feel smaller.
Design
New bathroom window treatments are a great way to elevate your overall interior design. Whether you're into the rustic farmhouse look, sleek Scandinavian design, or mid-century modern decor, Norman® has the right window treatment to complement your aesthetic vision.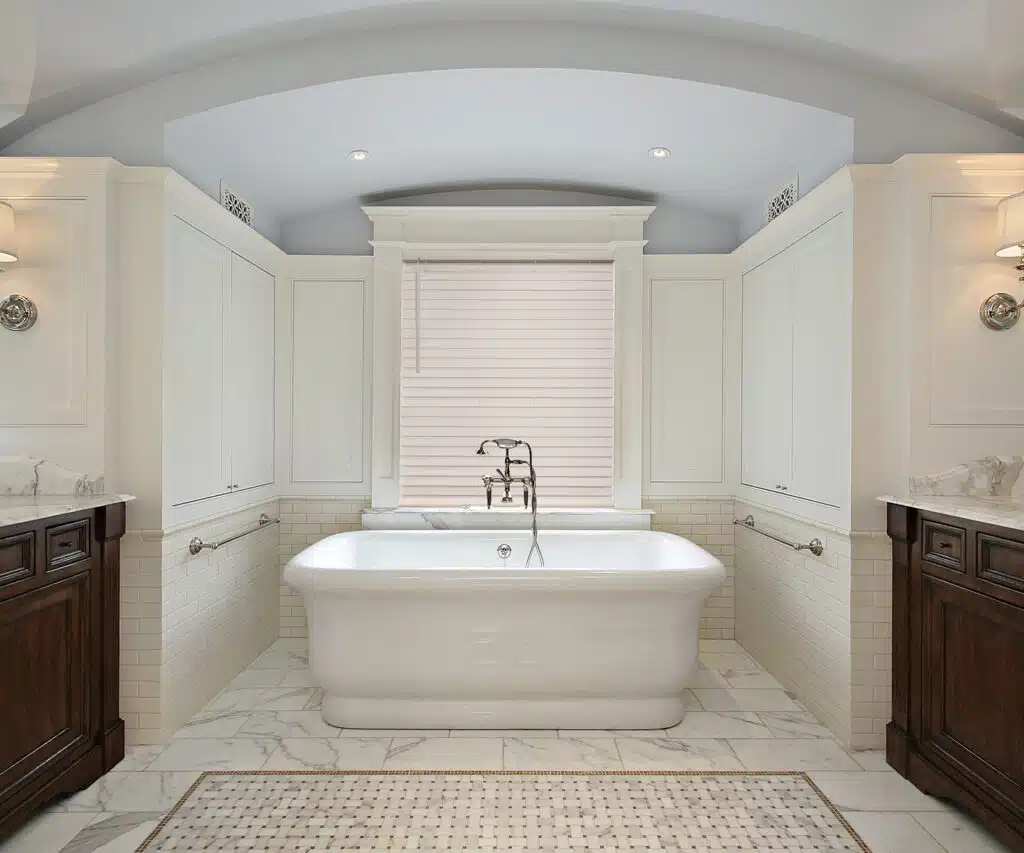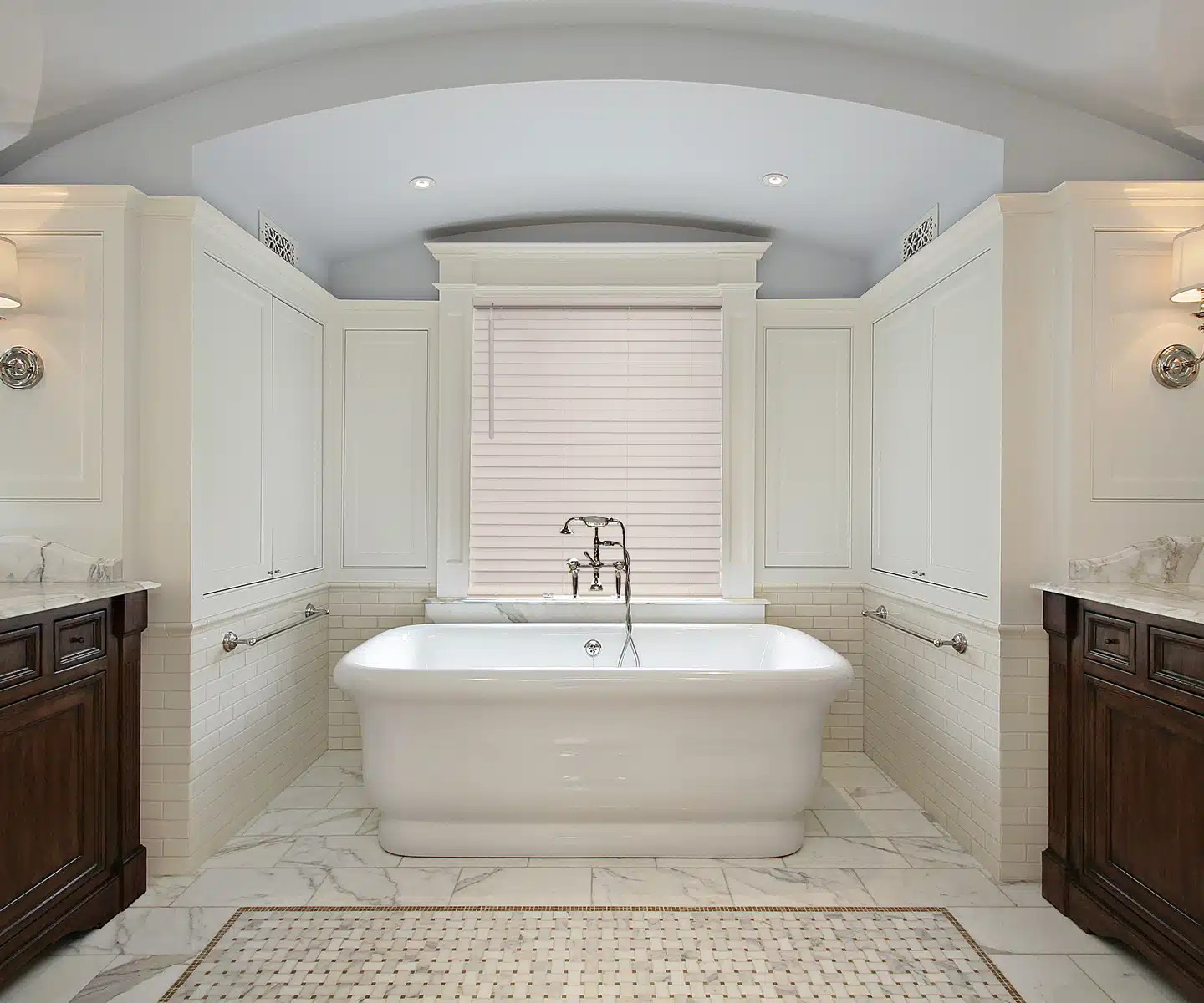 Materials
To get a true return on your investment, it's a good idea to choose window treatments that are designed to hold up against moisture and humidity, similar to outdoor fabrics. Your bathroom will likely come into contact with more than its fair share of steam, so it's important to invest in materials that can stand the test of time in humid conditions! 
When faced with repeated moisture, cheap blinds and shades will eventually warp and discolor making them unsightly and dysfunctional. Drapery may mold and mildew if it collects moisture regularly, and real wood blinds can be damaged too. High quality shutters and faux wood blinds offer the best protection against moisture and humidity damage. When it comes to bathroom window covering solutions, high-quality materials matter!
Economize air intake and ventilation
For bathrooms with large windows, consider window treatments that help you economize air intake and ventilation. Choices that allow you to open portions of the covering while leaving other parts closed are great for air circulation while maintaining a level of privacy. This helps keep prying eyes out while allowing ventilation through the exposed portion.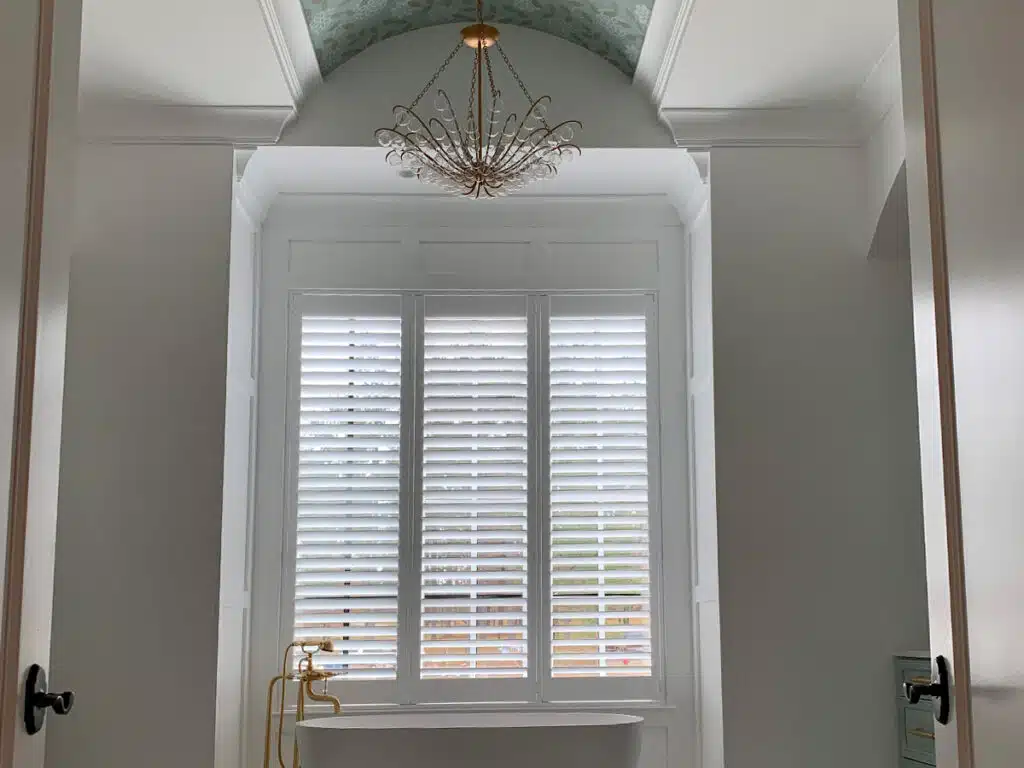 Woodlore® Plus Shutters with Waterproof Option
Woodlore® Plus Shutters are beautifully crafted with sleek outlines and gorgeous louvers that provide privacy when you need it and light control when you don't. They offer a classic timeless look that will never go out of style. With the option of incorporating Split Tilt, you can leave one section of the louvers open to welcome outside light, while leaving the other louver section closed for necessary privacy.
The special waterproof option offers up moisture-resistant technology, making Woodlore® Plus Shutters the perfect solution for bathroom windows. Their classic look and feel add a touch of sophistication while providing complete coverage and protection from humidity damage.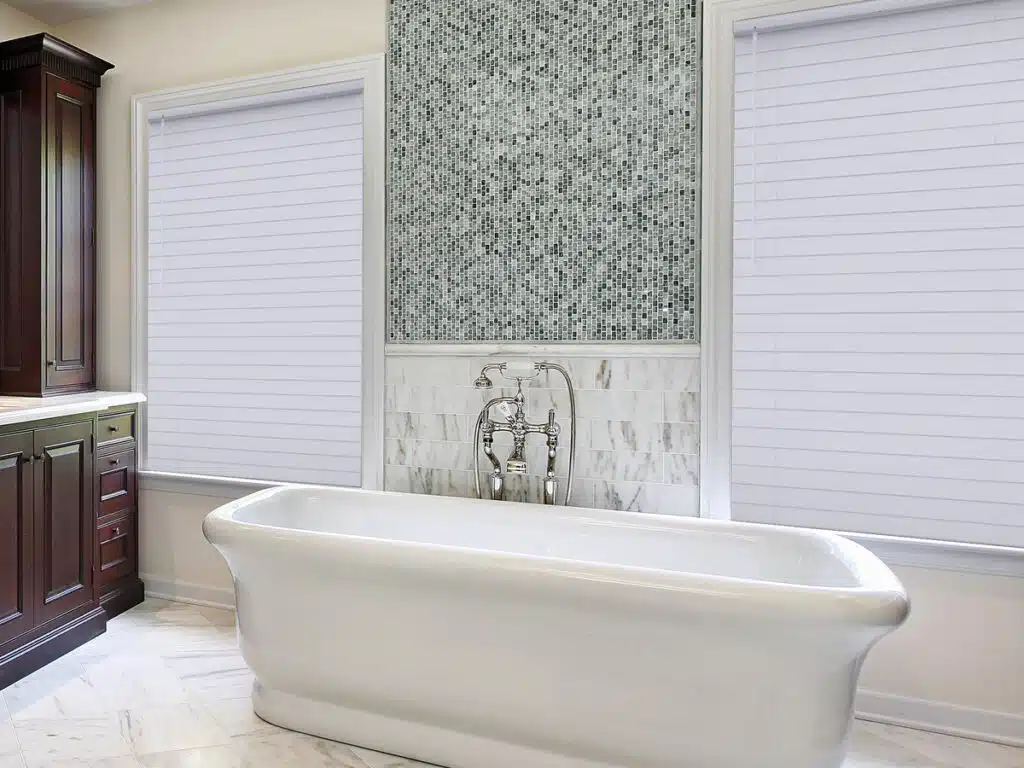 Ultimate™ Faux Wood Blinds
Premium blinds are a go-to option for bathrooms because of their ability to provide both privacy and light control. Norman's Ultimate™ Faux Wood Blinds are no exception. Equipped with a next-gen SmartPrivacy® technology that provides tighter closure than any other blind on the market, these blinds are perfect for adjusting the amount of light entering your bathroom. Its bottom rail pivots when closed so it aligns with the slats, providing even more light blocking capability.
Norman® faux wood blinds are expertly engineered to withstand heat, moisture, and UV light. This means that they won't warp or fade over time, making them the perfect solution for your bathroom window treatments. This option is the perfect combination of practicality and convenience for an important space like your bathroom. It provides you with privacy, cordless technology, and extreme durability – all in one! Plus, they come in a variety of color options so you can find the perfect match for your color palette.  
Choose Perfect Bathroom Window Treatments
When it comes to updating your bathroom window treatments, no one has more experience than Norman®. With an expansive selection of materials, on-trend colors, and elegant styles, there's a perfect solution for any bathroom. Our experienced Norman® retail partners are here to help you through the whole process from selection to installation.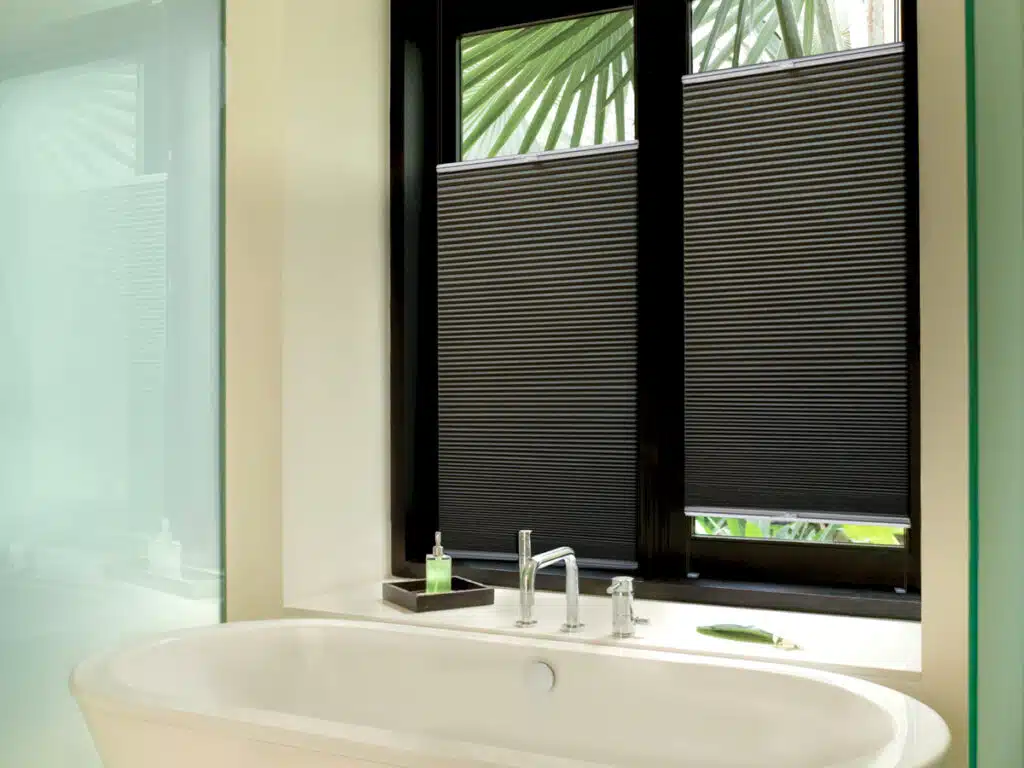 FAQs
Here's a recap on all the basics you need to know about bathroom window treatments.
What is the best window treatment for a bathroom?
The best window treatment for a bathroom depends on the size and the type of your window, as well as the amount of light and privacy desired. For larger windows, shutters or faux wood blinds provide excellent coverage and privacy protection. Shutters are especially a great choice when working with popular tilt-out windows or windows where only partial privacy are needed. The best window covering solutions will also need to be moisture resistance, as well.
What can I use to cover bathroom windows?
For the best coverage, look for window coverings that are moisture-resistant and provide light control. Popular options include shutters with waterproof capabilities or faux wood blinds. 
How do I treat my bathroom window for privacy?
Window treatments such as shutters or blinds can provide excellent privacy for bathroom windows. If you're looking for complete coverage and extra privacy protection, consider opting for DayNite™ shutters or SmartPrivacy® blinds. DayNite™ shutters combine both plantation shutters and a room darkening honeycomb shade to create a more effective privacy solution. SmartPrivacy® blinds place route holes in the back of each slat, unlike traditional blinds which place them in the middle where small glimpses of the interior can still be seen. This change seals off any potential gaps, ensuring that your home remains as open or private as you want. These window treatments will ensure that no one is able to get a glimpse of the inside of your bathroom! 
How should I dress my small bathroom window?
Small bathroom windows can be dressed up with chic window coverings such as aluminum blinds. This excellent choice offers the perfect amount of light and privacy for small windows, plus they won't overpower your bathroom's design. For added convenience, look for cordless options that are easy to operate and require no cords or strings.