One of the most popular styles in interior decor right now is the farmhouse style, characterized by its rustic, country feel. Often, farmhouse-style homes will feature exposed wooden beams, natural stone floors, and cozy fireplaces. Furniture is typically made from solid wood, with pieces that are both functional and stylish. Meanwhile, farmhouse-style decor is often accented with metal details, such as wrought iron planters and industrial-style light fixtures. Overall, the farmhouse style creates a warm and inviting space that is perfect for both relaxing and entertaining— not to mention it helps boost the value of any home.
When it comes to farmhouse window treatments that complement the overall farmhouse aesthetic, there are a few different options available to you— but nailing the look isn't always easy. We're here to help! Here are nine farmhouse window treatments across three central rooms in your home to give you the perfect place to start.
Farmhouse Dining Room Window Treatments
The farmhouse dining room design is a classic yet trendy style that can be incorporated into any home. This design is typically characterized by modern farmhouse-style shades, as well as distressed furniture and décor. Exposed beams, hardwood floors, and earth tones are also common features of farmhouse dining rooms. The goal of this design is to create a warm and inviting space where family and friends can gather to enjoy good food and conversation. Thanks to its charming appeal and comfortable aesthetic, the farmhouse dining room is once again a popular choice for homeowners— and here are three of the best options for the perfect dining room farmhouse window treatments.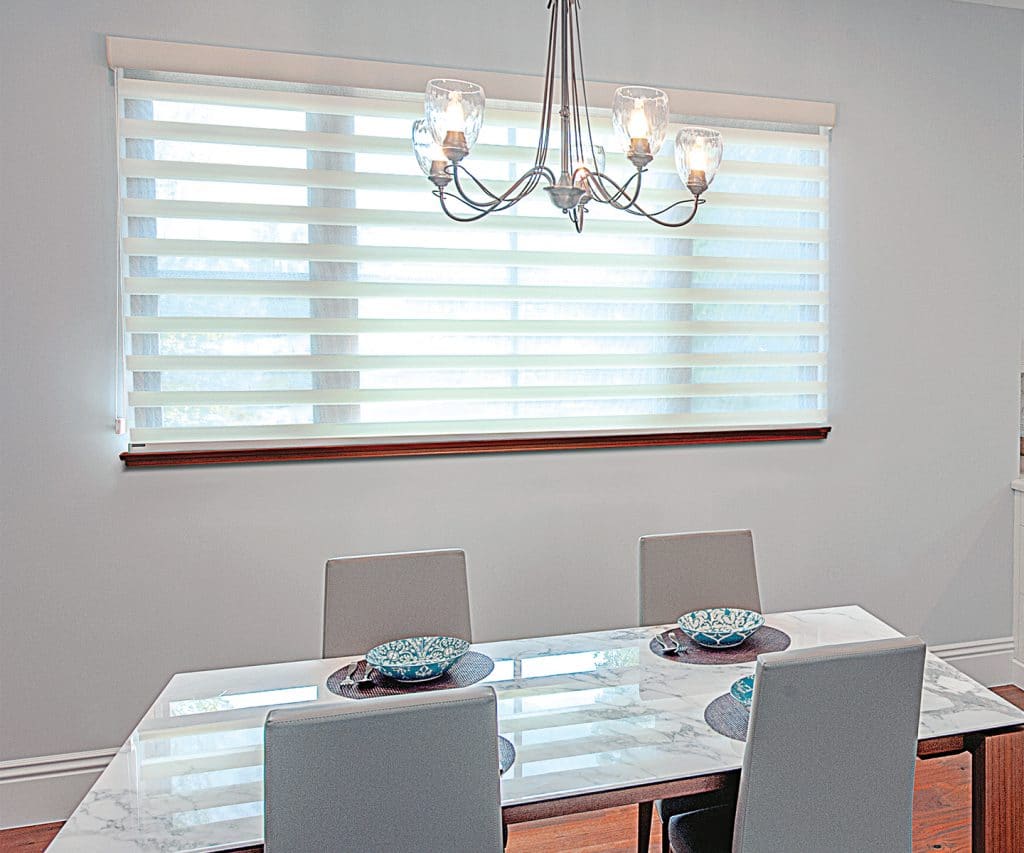 PerfectSheer™ Shades
If you're looking for farmhouse window treatments with a bit of personality, Norman® PerfectSheer™ shades might be just what you're after. These shades feature a light and airy look that is perfect for cottage-style décor. Despite their delicate appearance, PerfectSheer™ shades are made from high-quality materials and are easy to maintain.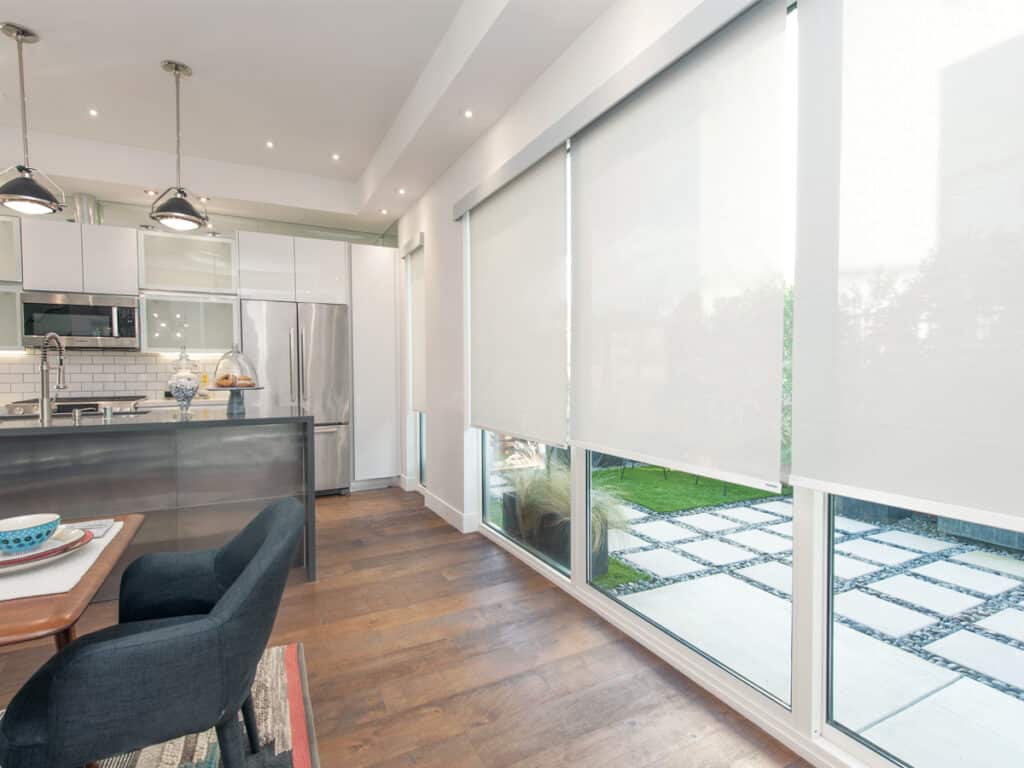 Soluna™ Roller Shades
There are few farmhouse window treatments that are as innovative and effective as Norman® Soluna™ roller shades. These shades have helped countless homeowners to keep their homes cool in the summer and illuminate their interiors. The shades' clean lines and variety of colors and textures from its wide range of light filtering and room darkening fabrics make it suitable to match any farmhouse décor. Best of all, Norman® Soluna™ roller shades utilize a cordless lifting system that is easy to operate and child-safe, making them a great choice for any home.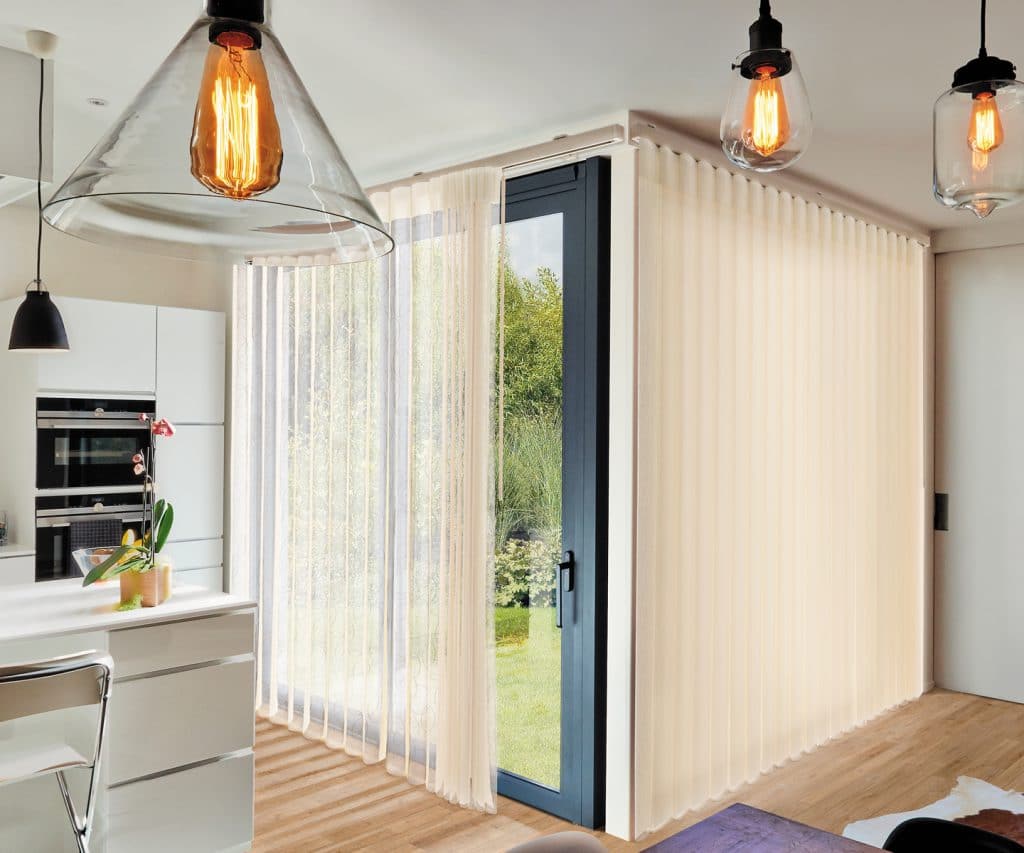 SmartDrape™ Shades
Norman® SmartDrape™ shades are a type of window treatment that can be used in both the farmhouse style and other settings. They are available in a variety of colors & patterns and can be customized to fit almost any window size. The shades give the windows an airy appearance and can help to create a cozy, inviting atmosphere. However, they are also an excellent choice for those who need to provide privacy at dinnertime. Whatever your unique reason for choosing them, Norman® SmartDrape™ shades are an effective way to improve the appearance of any dining room window.
Farmhouse Living Room Window Treatments
Farmhouse window treatments are a great way to add style and character to your living room. There are many different types of farmhouse window treatments available, from shades to shutters. Farmhouse window treatments can also be made from a variety of materials, including wood or fabric. When choosing farmhouse window treatments for your living room, it is important to consider the overall style of your farmhouse and the specific needs of your living room. For example, if you have a large farmhouse living room with high ceilings, you may want to choose shades that are long and flowy. Regardless of the size or style of your farmhouse living room, there is sure to be a farmhouse window treatment that will suit your needs.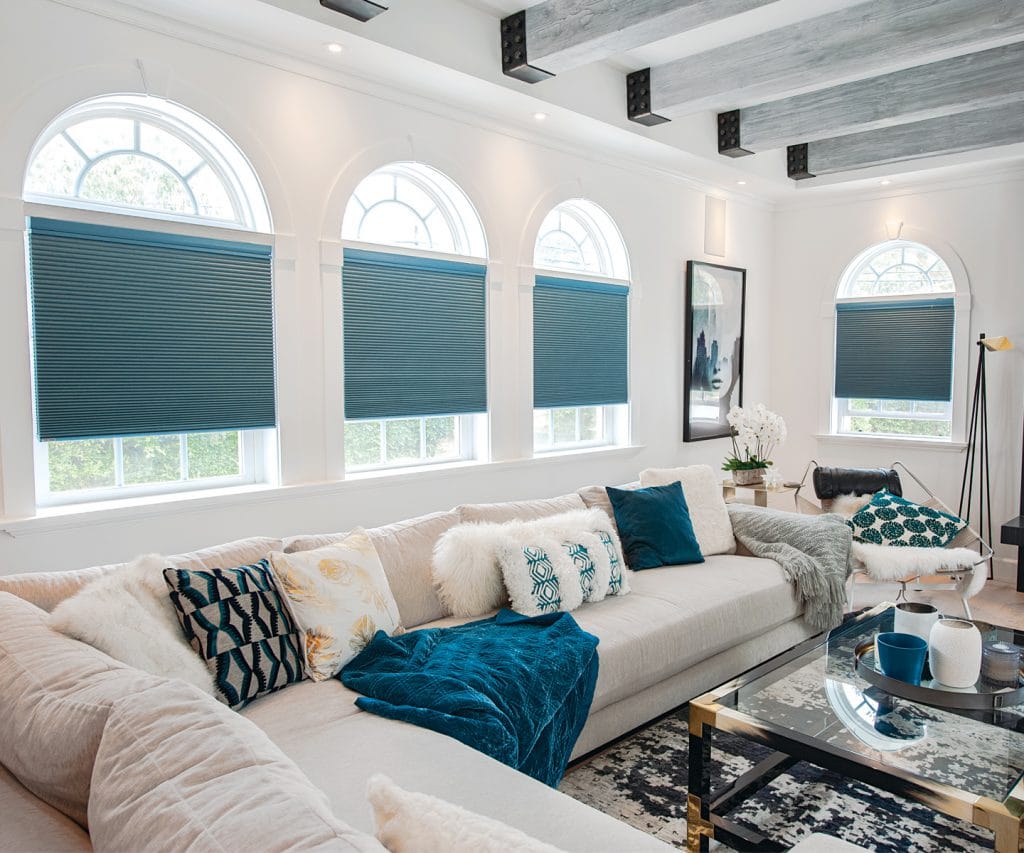 Portrait™ Honeycomb Shades
Honeycomb shades are a type of window treatment that helps to provide privacy and insulation. The honeycomb shaped design traps air that travels through the windows in between each of the cells, providing warmth in the winter and obstructing heat from entering the home during the summer. Honeycomb shades are available in a variety of colors and styles, to match your existing furniture and decor. 
Norman®'s Portrait™ Honeycomb shades are a popular choice for farmhouse window treatments because they add both style and function to a room. They can be used to block out sunlight and insulate against heat and cold. Honeycomb shades are also highly customizable from their wide range of light filtering or room darkening fabrics and designer prints, providing a shade that matches the specific farmhouse inspired style you're looking for.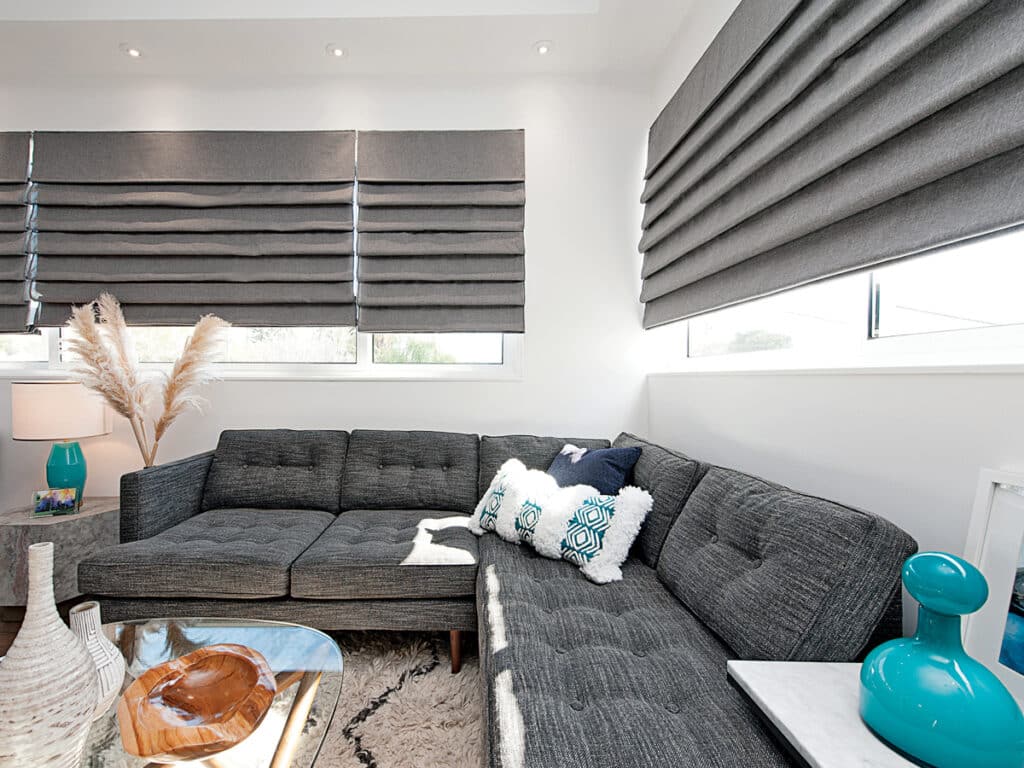 Centerpiece™ Roman Shades
Roman shades are a popular farmhouse window treatment because they add a touch of elegance to any room. The Norman® Centerpiece™ Roman Shade is a beautiful example of this type of window treatment. It features a traditional roman shade design made somewhat contemporary in its design and technology— which includes child-safe cordless lifting technology. The shade is available in a collection of linen fabrics so you can find the perfect one to match your farmhouse style look.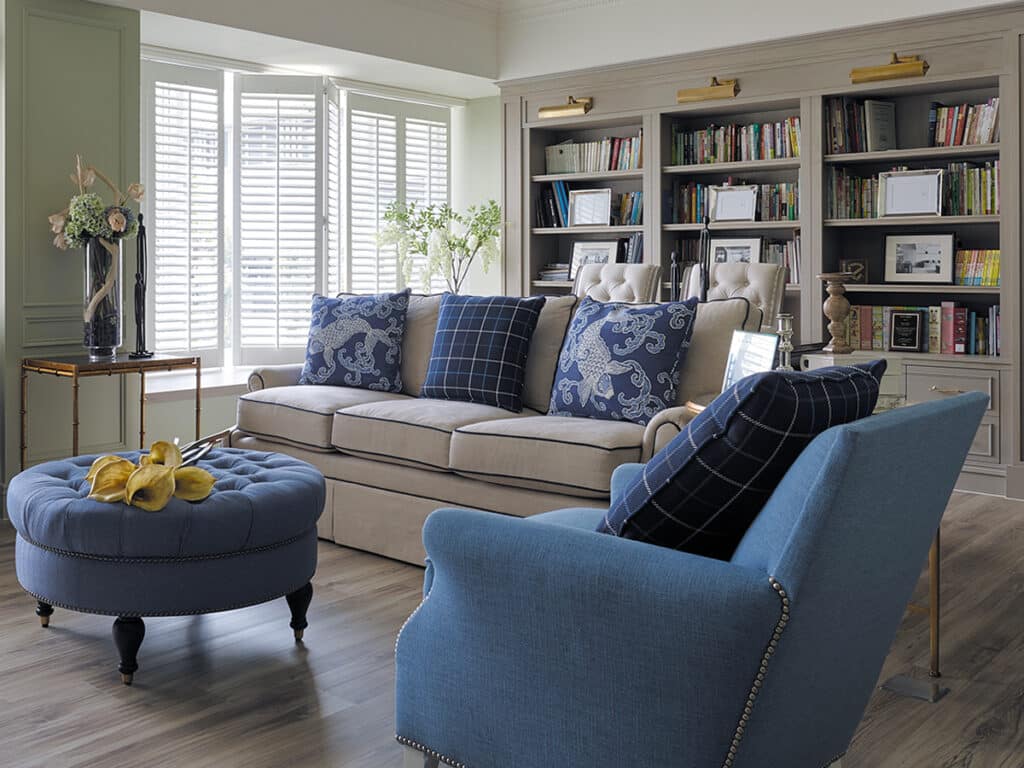 Normandy® Shutters
For a farmhouse look, Norman® Normandy® shutters are a popular choice in window treatments. These shutters are available in a variety of stained finishes such as Rustic Gray, French Oak, and many more which are evocative of the innate splendor of nature. These wood stained colors make Normandy® shutters an exquisite selection for window treatments that perfectly align with the classic farmhouse style and its rustic attractions. These luxurious shutters are also incredibly resilient, crafted to last a lifetime, meaning that their rural charm are sure to impress for years to come.
Farmhouse Kitchen Window Treatments
When it comes to farmhouse kitchen window treatments, there are a few things to keep in mind. The first is that the farmhouse style is all about simplicity and functionality. That means that your window treatments should be straightforward and easy to use. Second, farmhouse kitchen window treatments should provide excellent light control. Since the farmhouse style emphasizes natural light, you'll want to make sure that your window treatments can help you regulate the amount of light coming into your kitchen. Finally, farmhouse kitchen window treatments should be durable and easy to clean. By keeping these things in mind, you can choose the perfect farmhouse kitchen window treatments for your home.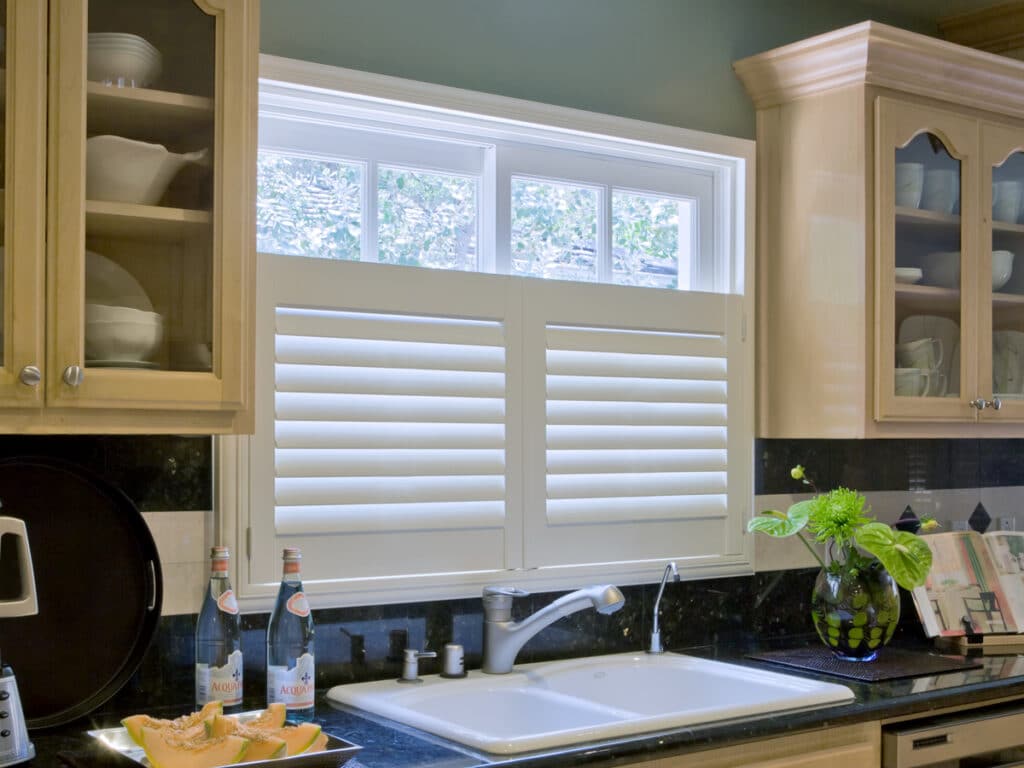 Woodlore® Plus Shutters
Our  Woodlore® Plus shutters are one of our best-selling shutters, handcrafted from a high-quality ABS co-polymer and available in a variety of colors to suit any farmhouse decor. The shutter's quality crafting and durable material give it an endurance that is built to last a lifetime. Not to mention, the optional waterproof finish and stainless steel hinges make it a tough window covering for high moisture areas of the home, such as the kitchen. If you're looking for the perfect farmhouse shutter, look no further than Norman® Woodlore® Plus.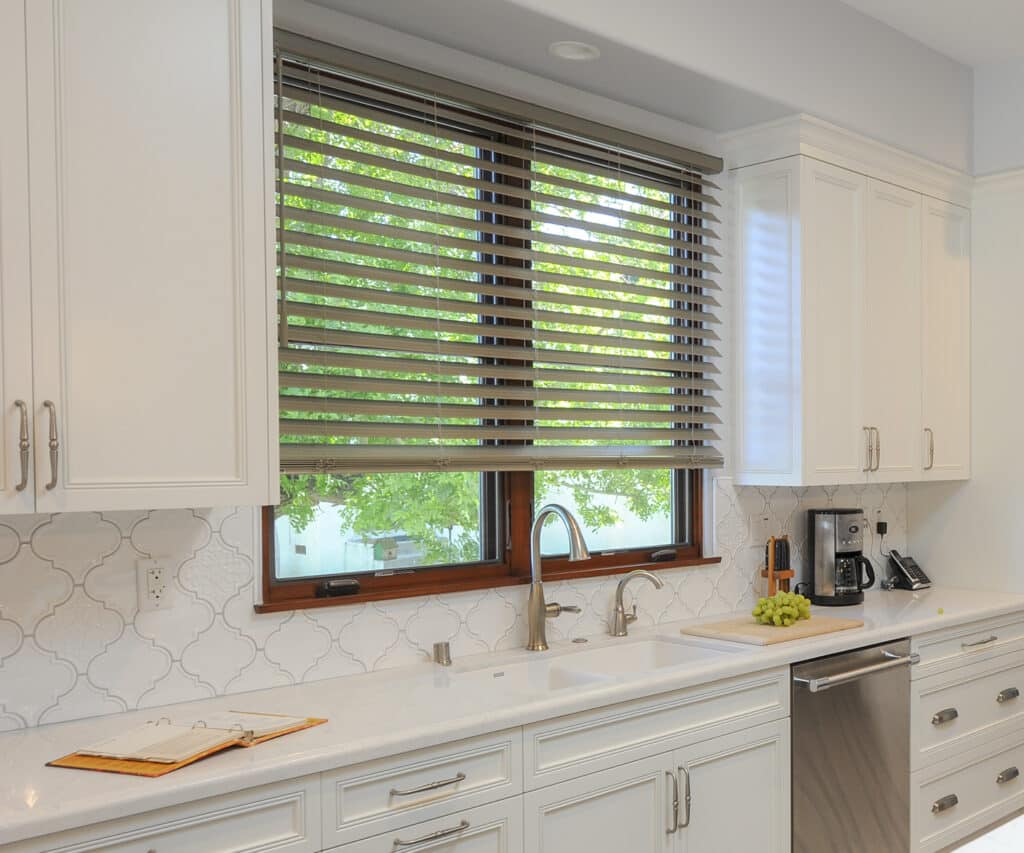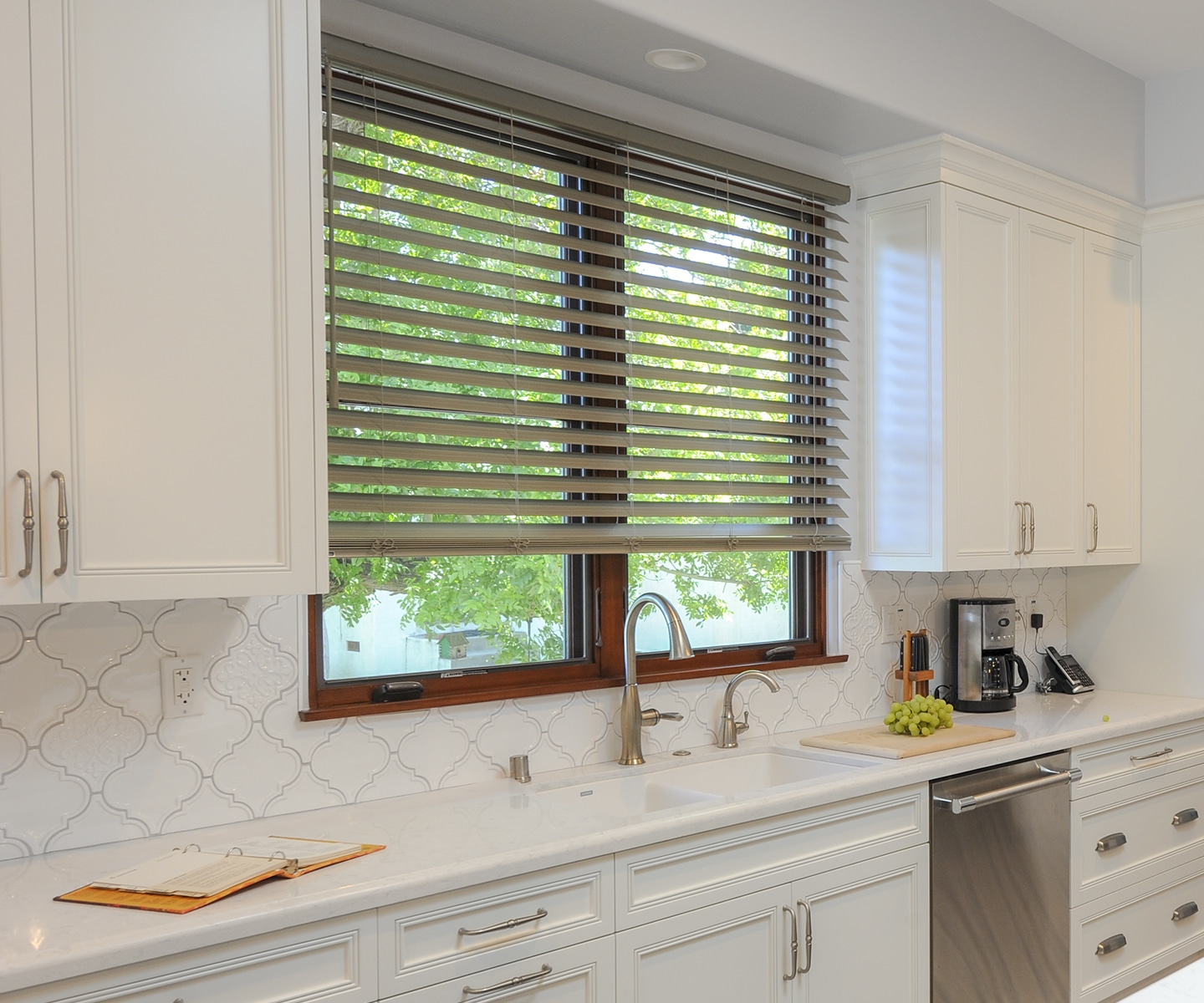 Ultimate™ Faux Wood Blinds
There are many reasons to choose Norman® Ultimate™ faux wood blinds for your farmhouse window treatments. The most important reason is that they are made from high-quality materials that will last for years. The blinds' embossed finish gives off a rustic feel, perfectly in line with the farmhouse interior style. In addition, the blinds come in a variety of colors to suit your décor, such as the embossed print in Mist, which perfectly syncs up with a farmhouse style look. Whether you are looking for a classic look or something more in line with the modern farmhouse style, Norman® Ultimate™ faux wood blinds will give you the perfect window treatments for your home.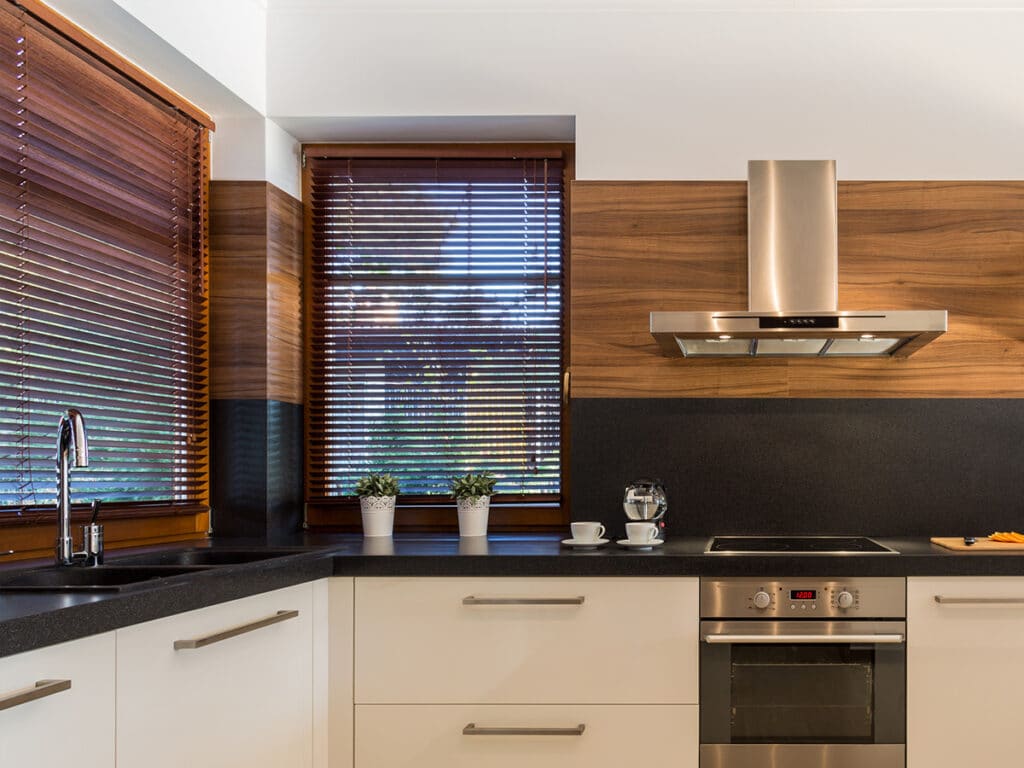 Normandy® Wood Blinds
Normandy® wood blinds host a large selection of painted and stained colors, but the dedicated OSMO® stained finishes are an exemplary complement to the modern farmhouse style of décor. These finishes are harvested from natural vegetable oils and hard waxes, making them an environmentally friendly treatment that perfectly encapsulates the rustic appeal inherent to the farmhouse look. OSMO® stained finishes like White Matte, Ebony, or Silk Gray capture the simplicity and homely charm of rural living.
FAQs
What are the best materials to use for modern farmhouse window treatments?
There are a variety of farmhouse window treatment options available on the market today. Wood blinds, shutters, and Roman shades are all popular choices among homeowners. When selecting farmhouse window treatments, it is important to consider the overall style of the home. For example, if the farmhouse has a more rustic aesthetic, wood blinds or wood shutters would be a good choice. If the farmhouse is more modern in design, roller shades might be a better option. Ultimately, the best farmhouse window treatments are those that complement the overall style of the home.
Are the same options available for rustic farmhouse window treatments?
While all of our products are sold new and don't have built-in 'rustic' touches such as artificial wear, they are well-suited to complement rustic farmhouse decor.
Are there
motorized farmhouse window treatments available?
Yes, many Norman® window treatments feature motorized controls for ease of use and convenience such as PerfectTilt™ motorized shutters or our motorized Portrait™ honeycomb shades. Motorized window treatments allow for precise adjustments to illumination and privacy, without having to interrupt your relaxation.
Are farmhouse style window treatments easy to maintain?
Farmhouse style window treatments are easy to maintain. Because they tend to be made from natural materials like cotton, linen, or wood, they can be easily spot-cleaned as needed. And since they often come in neutral colors, they won't show dirt or stains as easily as lighter-colored fabrics. As a result, farmhouse style window treatments are a great choice for busy families who want to enjoy the look of stylish window treatments without the hassle of constant cleaning.