Tall windows are prized for the abundance of natural light and the airy feel they bring to a room. They are aesthetically pleasing and add energy & beauty to your living space. 
But window treatments for tall windows can be challenging because of their unique shape, size, and design. Whether your window is arched or simply taller than average, you'll want to find window treatments that offer optimal coverage while still letting in plenty of natural light. 
Norman® USA has a variety of stylish window covering solutions, including trending window shades, shutters, and blinds for tall windows. Read on for our top window treatment ideas and tips for tall windows!
Blinds for Tall Windows
Blinds are a great solution for tall windows, preferable over curtains or drapes due to the window's size and shape. They can be easily adjusted to let in as much light as desired while still providing privacy when needed in your bedroom, bathroom, or kitchen.
Norman® window blinds are available in a range of styles, including wood blinds, faux wood blinds, and vertical window blinds.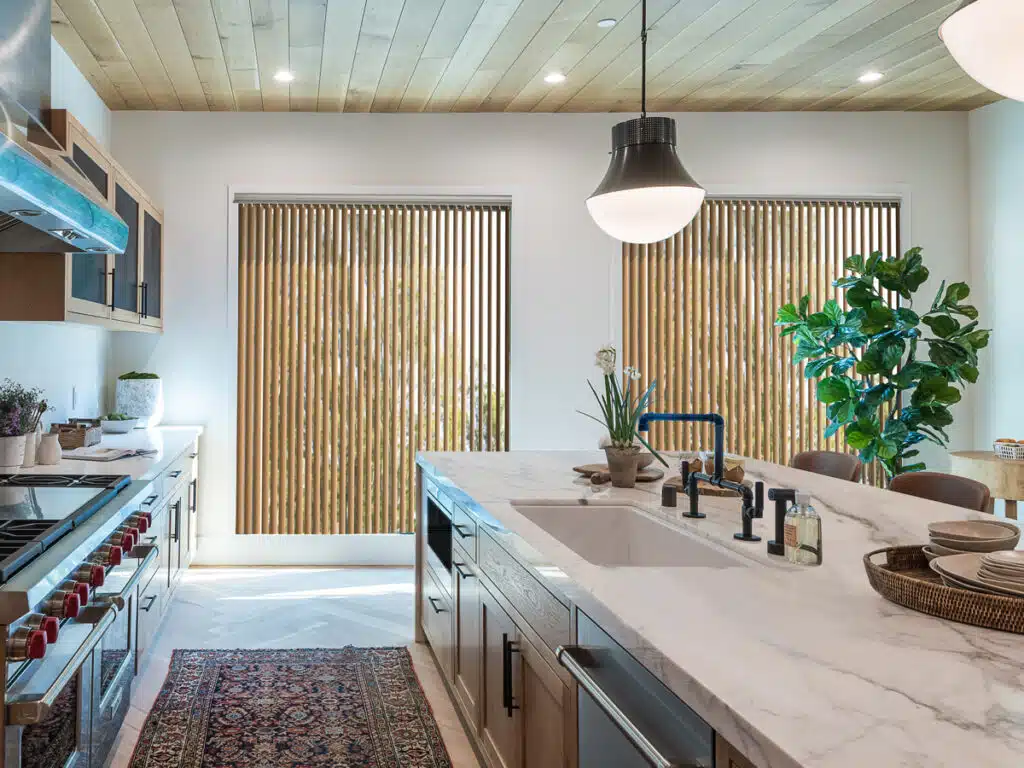 Synchrony™ Vertical Blinds
Need a cordless practical solution that looks modern? Look no further than Synchrony™ Vertical Blinds. These premium vertical blinds are a good option for light control and privacy, which can be a big issue for tall windows. Unlike drapes, vertical blinds feature adjustable panels that increase openness and control over the amount of light in your space. Accentuate this sleek design with your choice from a rainbow of on-trend color options to complete your look.  
Shades for Tall Windows
With an ever-growing selection, we offer something for everyone when it comes to window shades. From the modern appearance of roller shades to energy-efficient honeycomb shades, you're sure to find the innovative and versatile window covering perfect for your home.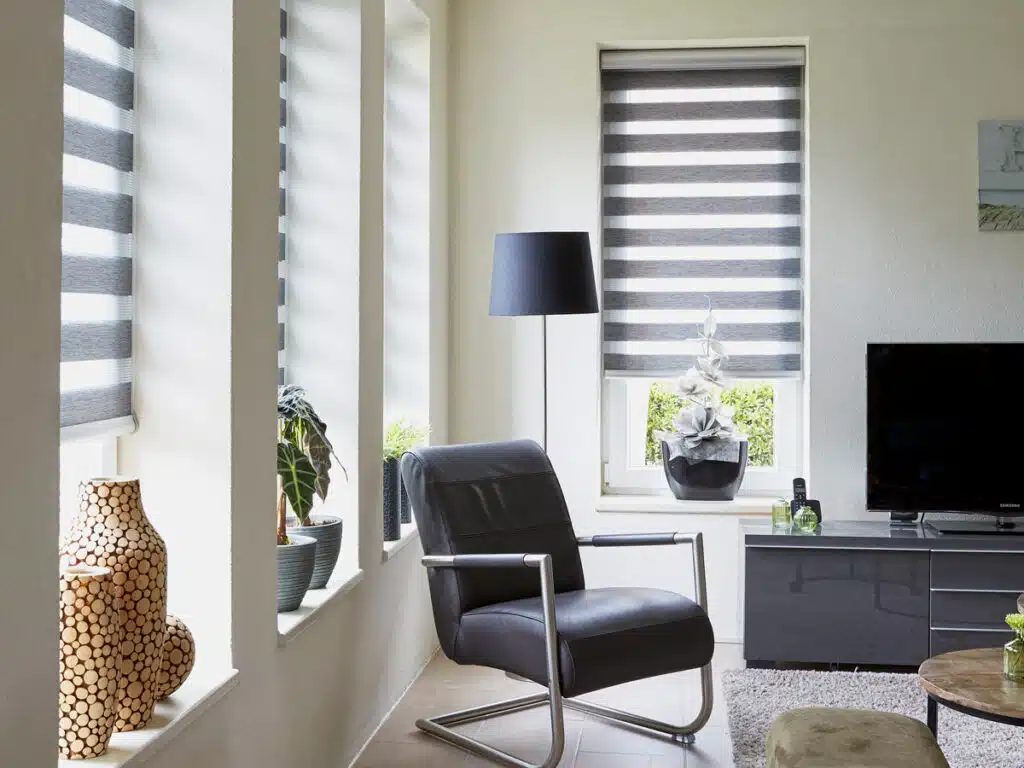 PerfectSheer™ Shades
PerfectSheer™ Shades are a stylish, practical choice for tall windows because they provide you with the perfect level of light control in your space. Their elegant and functional design combines a banded, layered shade with a sheer fabric vane shade for a clean and modern effect.
Privacy can also be a concern for large windows, but PerfectSheer™ Shades have got you covered! Fabric layers allow you to easily adjust and ensure optimal privacy in your living room, and they even block damaging UV rays in select room darkening fabrics. These high-quality shades come in both light filtering and room-darkening options, and the addition of Norman® Smart Motorization can offer additional convenience capabilities.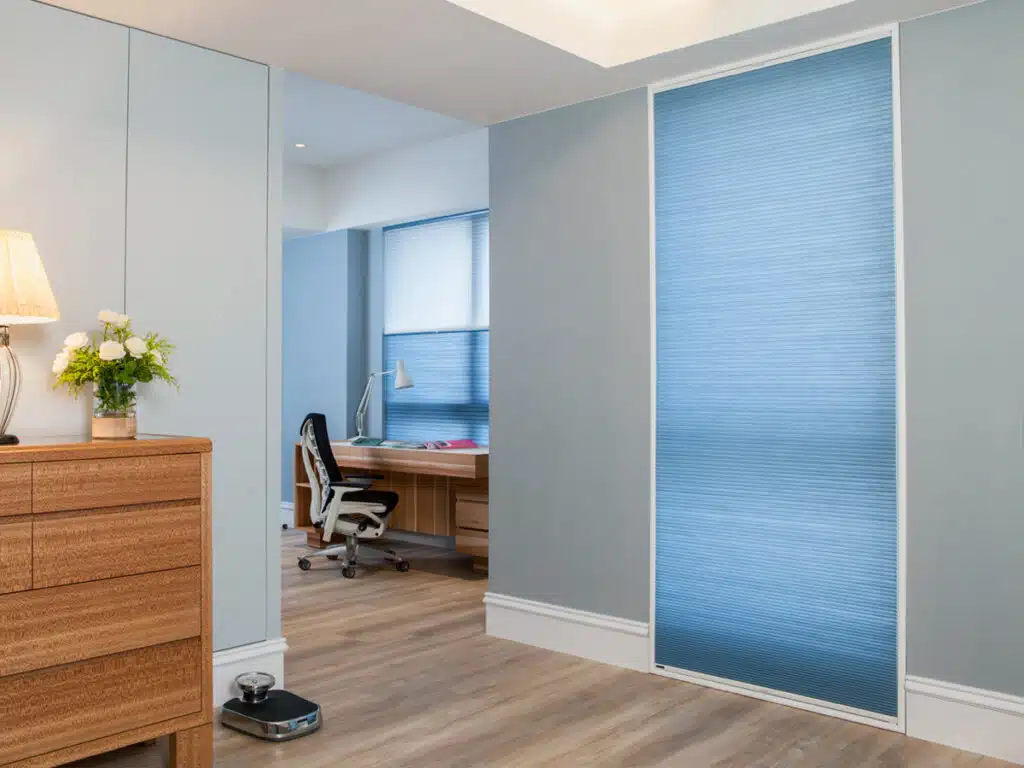 Honeycomb Shades
Honeycomb shades have become a favored window treatment because of their beauty, energy efficiency, and style. Their cellular construction, which resembles honeycombs, traps warm air to create an energy-efficient barrier that keeps your home cooler in the summer and warmer in the winter.
Norman®'s Portrait™ Honeycomb shades are also a popular choice for tall arched windows because they can add interest without detracting from the natural beauty of the design. The optional top-down/bottom-up design is a great way to dress tall windows with simplicity while offering up versatile light adjustment. Portrait™ Honeycomb materials offer 3 different opacities from sheer to light filtering to room darkening, so you can customize your level of light and privacy control.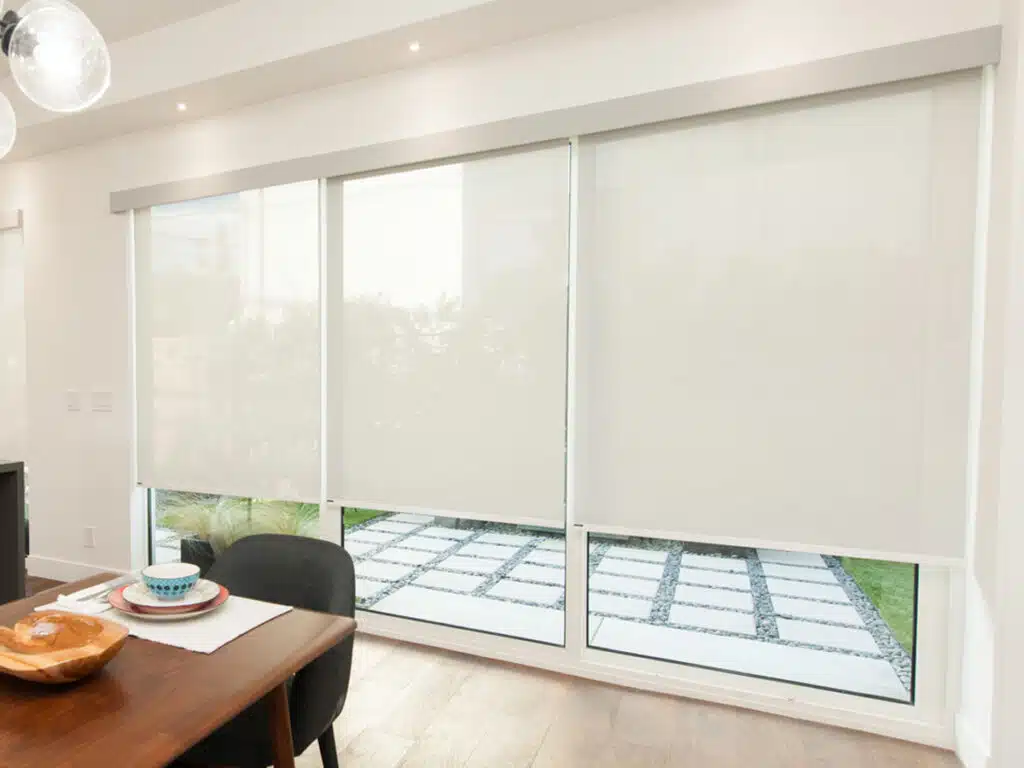 Soluna™ Roller Shades
Cordless technology and motorization make Soluna™ Roller Shades a very comfortable and convenient option for tall windows, without sacrificing style. Choose from over 200 delicately crafted fabrics in an array of textures and colors to suit your personal interior design aesthetic. Soluna™ offer various unique benefits, such as solar roller shades which effectively protect against UV rays and reduce heat gain and glare or room darkening roller shades which help block light and create a more effective privacy environment.
These elegant shades feature next-generation PrecisionLift™ cordless technology or Norman® Smart Motorization for convenient lifting systems. Soluna™ Roller Shades also offer LightGuard 360™ as an optional blackout solution. This innovative system incorporates bottom and side channels that wrap around the edge of the shade to take care of any light that might seep through your tall windows. Perfect for your bedroom or nursery to achieve the perfect night's sleep!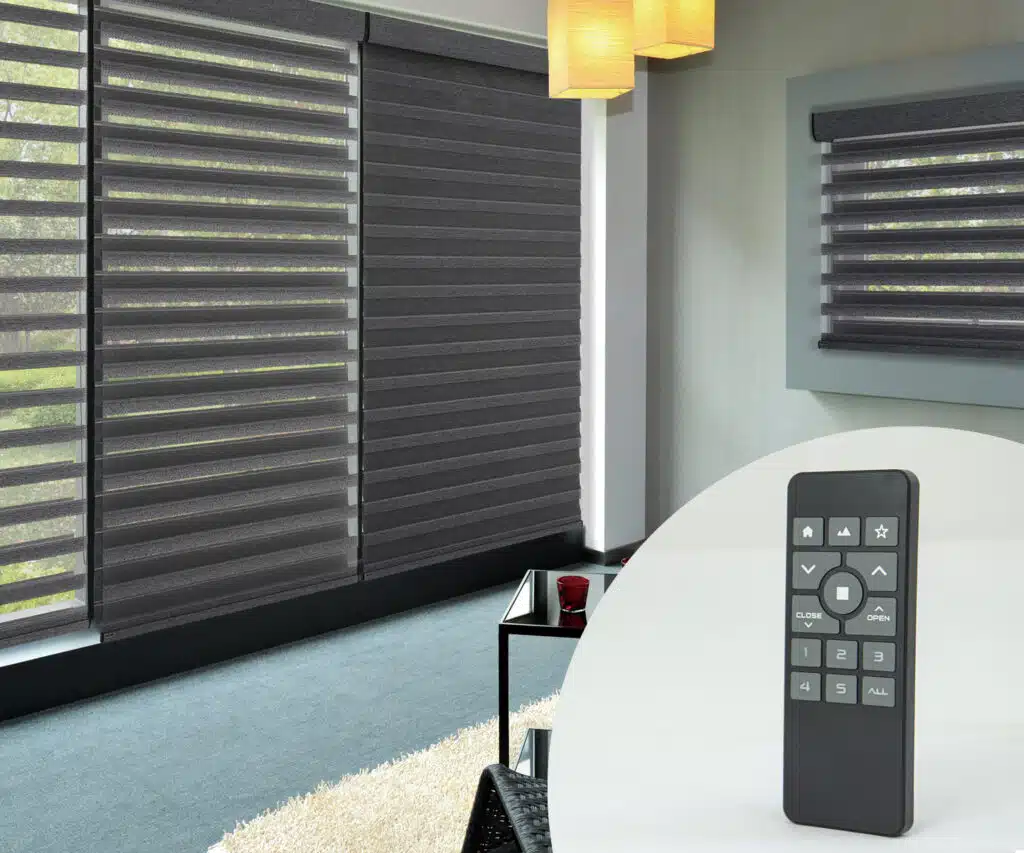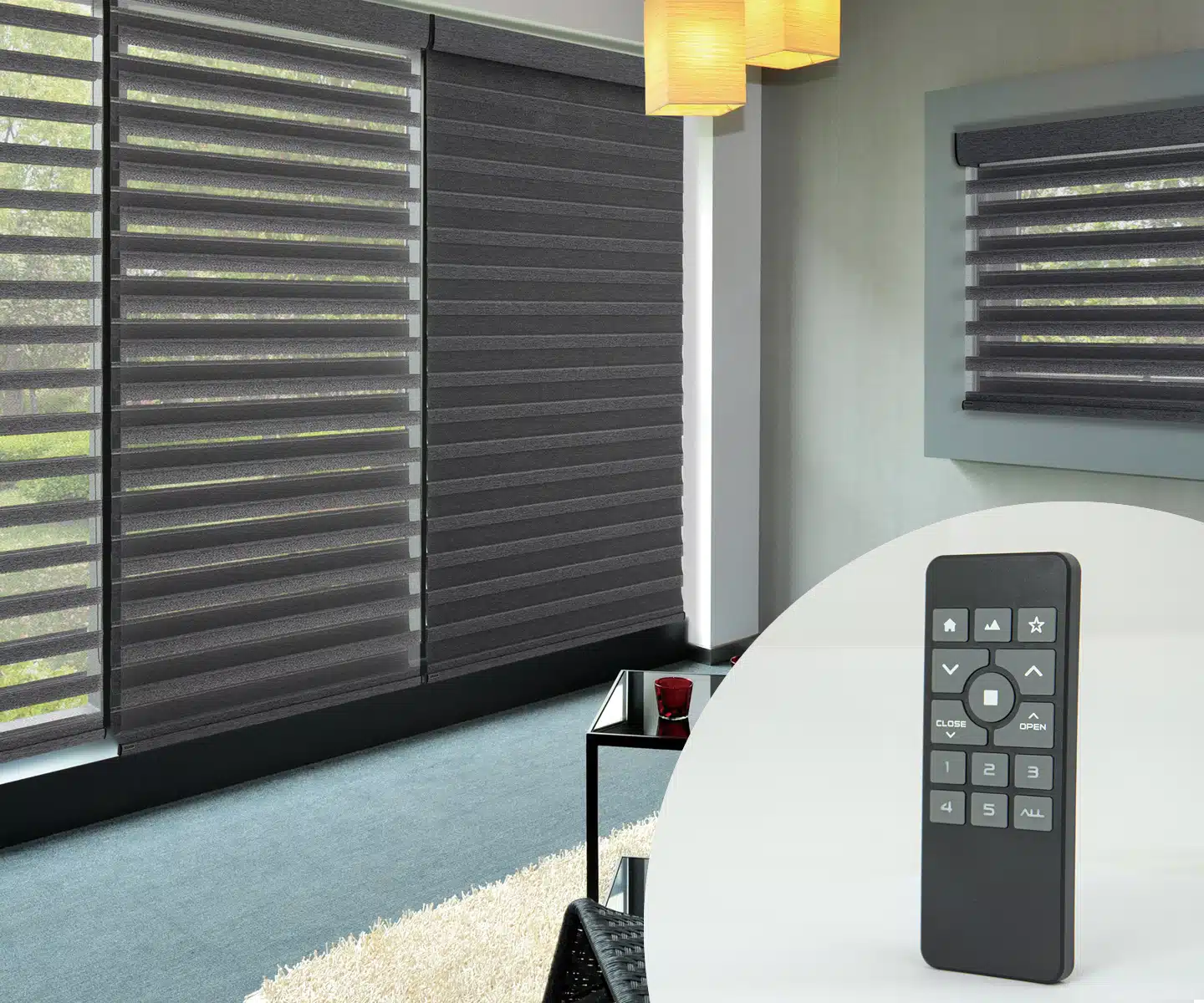 Motorized Shades
Norman® specializes in the art of convenience. Our motorized shades deliver effortless and consistent performance, and come with an intuitive remote control, along with quiet, energy-efficient motors. For those extra tall and hard to reach windows, Norman® motorized shades are the perfect solution.
Technology for your window treatments doesn't have to be complicated. There's no need to climb a ladder or mess with confusing power cords to recharge your motorized shades with Norman® Smart Motorization. The innovative wireless charging wand eliminates all hassles and recharges your shades safely and easily.
An unlimited number of shades can be programmed to interact with the remote control at a single time, allowing you to control multiple shades within the home with just a press of a button. Norman® Smart Motorization is available for Soluna™ roller shades, Centerpiece™ Roman shades, and PerfectSheer™ shades, as well as Portrait™ honeycomb shades!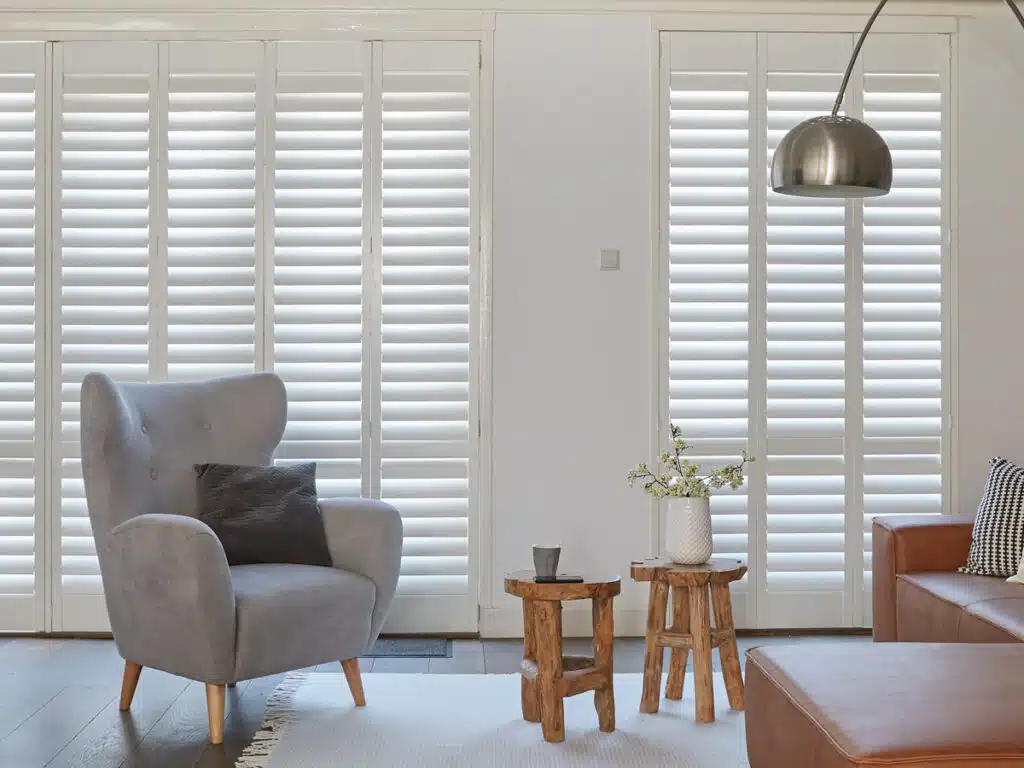 Custom Normandy® Shutters for Tall Windows
Our Normandy® Shutters can adapt to any window regardless of the size. Crafted from sustainably-sourced hardwoods, these custom-made shutters are a practical and robust product. Built to last, they'll stand up to humidity, heat from UV rays, weathering, and more.
The addition of our PerfectTilt™ G4 motorization ensures smooth and effortless movement at every angle with the touch of a button without sacrificing your comfort. This is ideal for any tall windows that are just out of your reach.
Our premium shutters provide superior light control, privacy, and style. Depending on your window shape, there are a wide array of shutter styles to choose from. This modern look is perfect for tall windows in any room of the house, and is available in many paint or stain finishes to suit your individual style.
Find The Best Window Treatments at Norman®
No one does custom window treatments like Norman®.  Whether you have tall windows or other unique shapes, Norman® has the perfect treatments and coverings for your home. 
We pride ourselves on offering top-of-the-line products backed by an industry-leading warranty. Contact a Norman® retailer today to get started on finding the best choice for your needs! Our experienced partners can guide you through the process and answer any questions you may have. We look forward to bringing your window treatment dream to life!