Roof windows and skylights are an interior design staple, utilized to increase natural lighting indoors. We admire them for their ability to open up a cramped space with vaulted views of the sky and warm up a room with their luminous quality. But with similar functions, what makes roof windows and skylights different? We'll review the advantages and disadvantages of each, and discuss which option is best suited for different rooms in your home. 
The main difference between the terms is that roof windows have an outward opening that extends from a roof, generally installed on sloped plane surfaces. Whereas a skylight is a fixed window installed on flat surfaces, and typically doesn't open. Although, a venting skylight can open slightly to release air pressure.
Advantages of skylights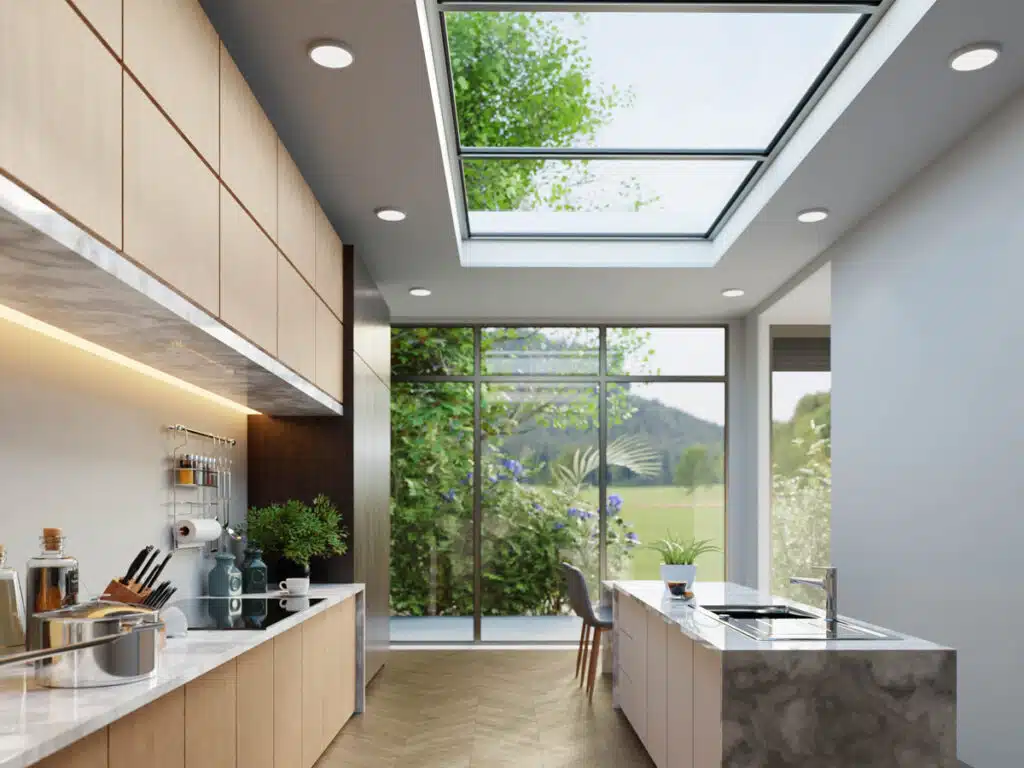 From custom shapes and sizes to sleek modern frames, rooflights offer plenty of creative freedom for architects and interior designers. Here are the pros of these timeless windows:
Unobstructed view
Skylights give you an unobstructed view of the sky, so you can access and admire the stars, moon, or sun as they move overhead. They are a great addition to condo units, small rooms, and bedrooms.
Increased natural light
Skylight windows bring in more natural light than other windows. Being bigger and higher up, they can capture both direct and indirect sunlight, flooding your living space with a brighter glow. 
Energy efficient & budget friendly
Skylights are more energy efficient than other windows, as they keep your home cooler in the summer and warmer in the winter due to their natural insulation. Skylights are also generally inexpensive, which makes them a better option for those on a budget. Installing skylights requires minimal effort when compared to the installation of roof windows. 
Advantages of roof windows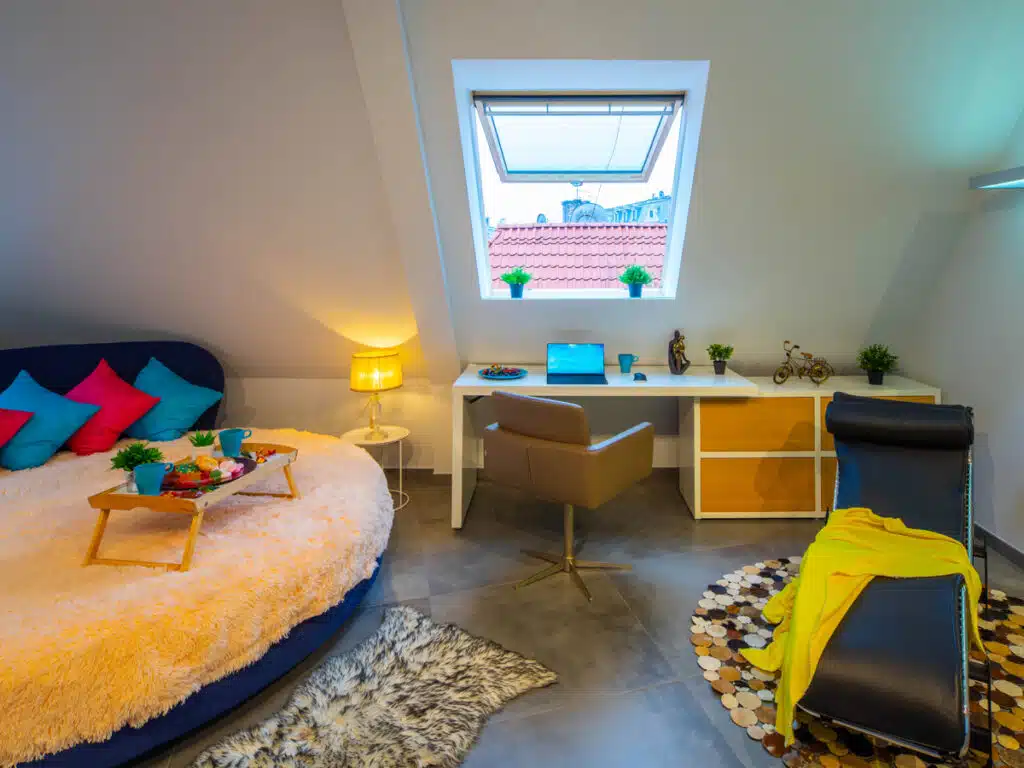 Although they're limited to roofs with a minimum 15˚ pitch, roof windows have their own unique advantages. 
Improved ventilation
The good news is roof windows allow you to let fresh air in – even when it rains! They open up to a full 90˚, improving air circulation throughout your home. Better ventilation means a healthier, more comfortable internal space. 
Natural light source
Roof windows offer abundant natural light, creating a warm and inviting atmosphere. They can also be adjusted to provide direct sunlight into specific areas of the room for the purpose of reading or studying. 
Differences between roof windows and skylights
Roof windows open but skylights do not. Seems simple, but the differences do not stop there. There are actually two different kinds of roof windows. Roof windows also come with two different types of glazing: single or double pane glass. A single pane has a clear view of the outdoors, while a double pane increases its insulation capabilities. 
Roof windows must also adhere to very strict specifications and building regulations. They need to be installed 'in plane', or in the same orientation, as the surrounding roof. This typically means at a minimum 15° pitch. They should also be weatherproofed using a skirt or flashing upon installation.
Skylights also come in two varieties, fixed skylights, and vented skylights. Vented skylights can be opened for increased airflow. A vented skylight is not quite the same as a roof window because it does not incorporate a pivoting awning-style mechanism for opening.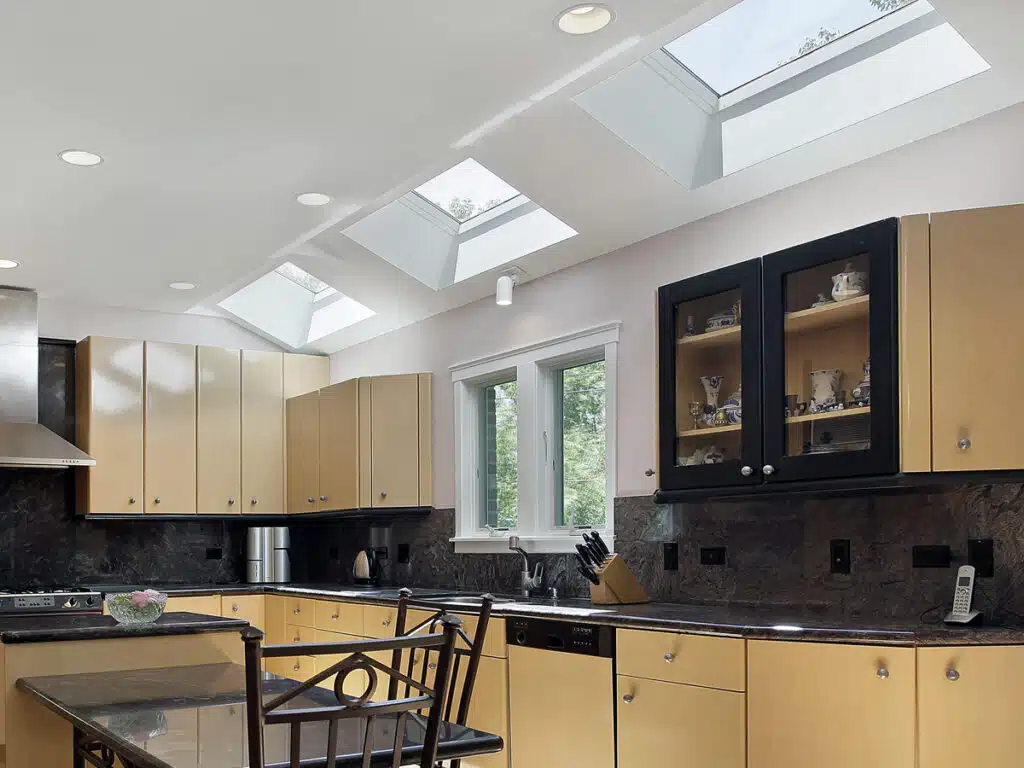 So, which option is better for different rooms? Generally speaking, if it's going on a pitched roof, you'll want a roof window; if it's for a flat roof, you'll want a skylight. A skylight in the bedroom is a great idea because natural light can help regulate the body's internal clock. Skylights are also perfect for homes with close neighbors that block natural sunlight, and in open-floor plan concepts, they add much-needed light to the living room and dining room spaces. Homeowners can use glazing products to tint a roof light.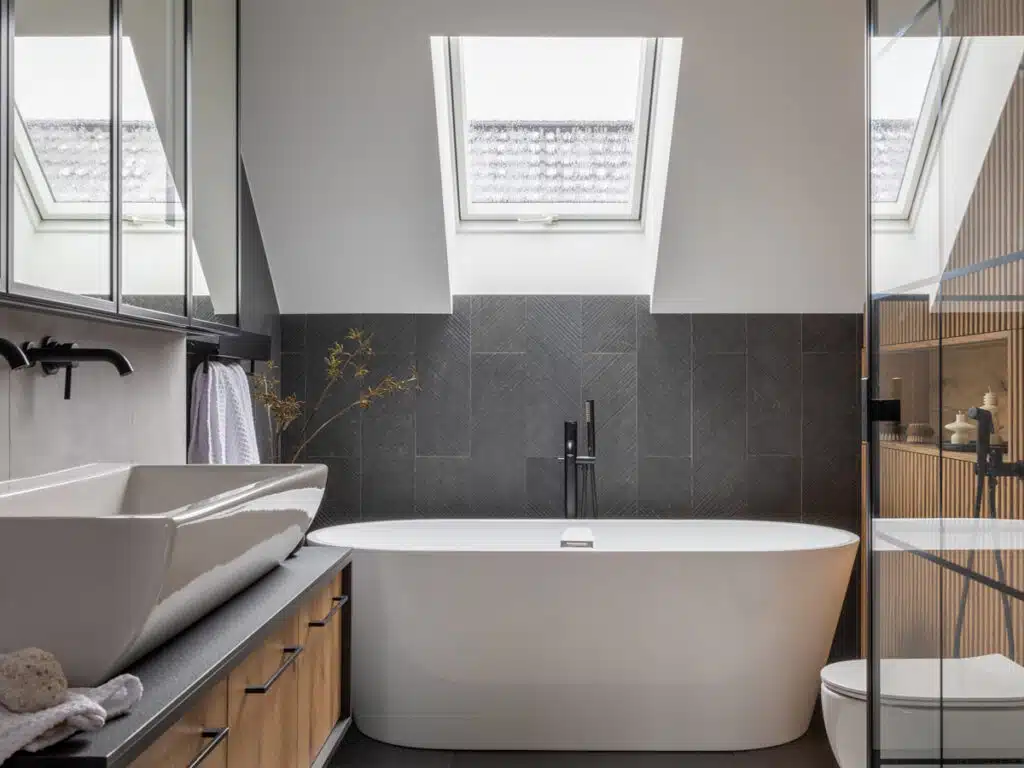 Using roof windows in your bathroom can improve ventilation and prevent mold growth caused by moisture buildup. Proper ventilation through windows helps to reduce condensation. At the end of the day, it's important to choose an option that works for your needs. Consider Norman® for your window treatment needs and bring natural light into your home all year round.
Options available for you at Norman®
Norman® is a leader in the window treatment industry, providing customers with an expansive collection of on-trend premium custom products to cover skylights while allowing their natural beauty to shine. 
Honeycomb Shades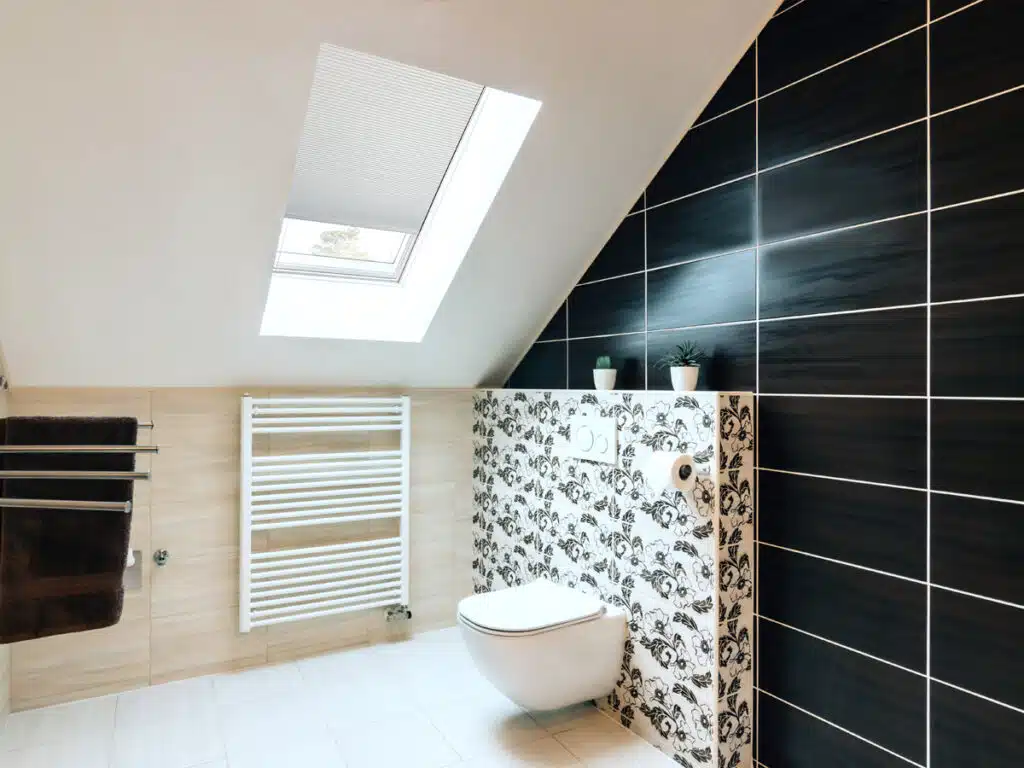 Our best-selling cellular shades are energy efficient, and offer superior insulation. PortraitTM Honeycomb Shades are available in an array of colors, prints and patterns, and feature a SmartFitTM with Frame option meaning you can easily find the perfect style and fit for any wide window. 
Woodlore® Plus Shutters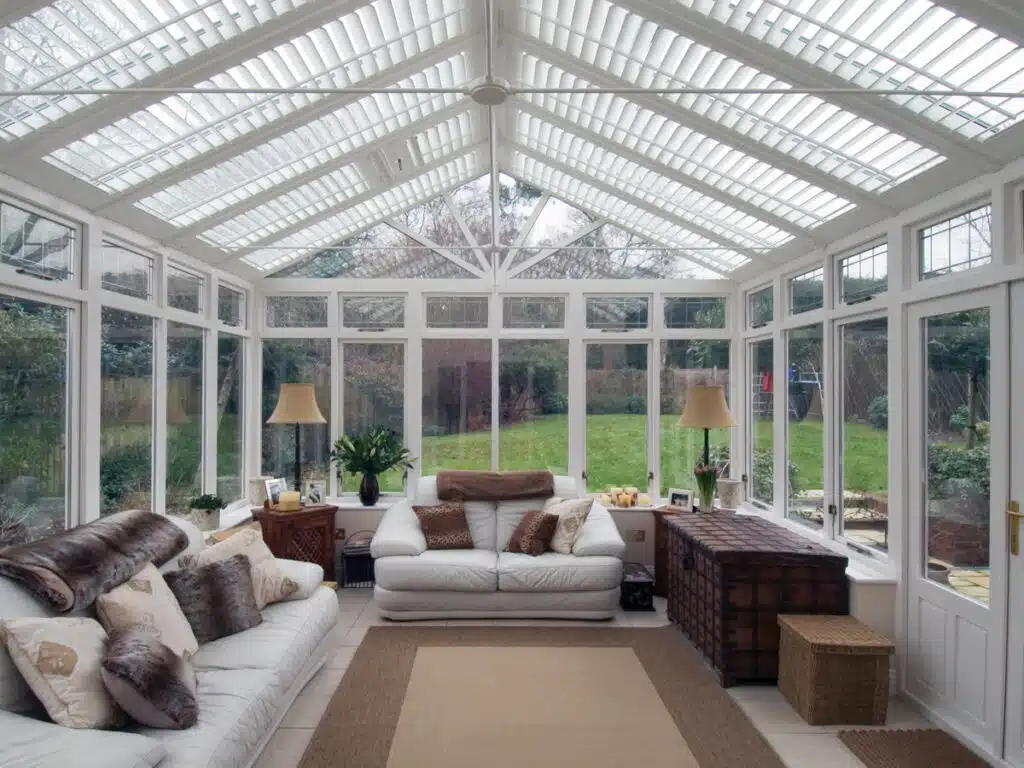 Durable Woodlore® Plus Shutters are a hybrid shutter utilizing lightweight yet sturdy ABS for its louvers to maintain high performance over time. Their revolutionary design allows for single panels up to 36″ wide, so you can enjoy more unobstructed views from your skylight. They come in a variety of on-trend colors and stains to match your decor and can be motorized for easy adjustment with the touch of a button.
Normandy® Shutters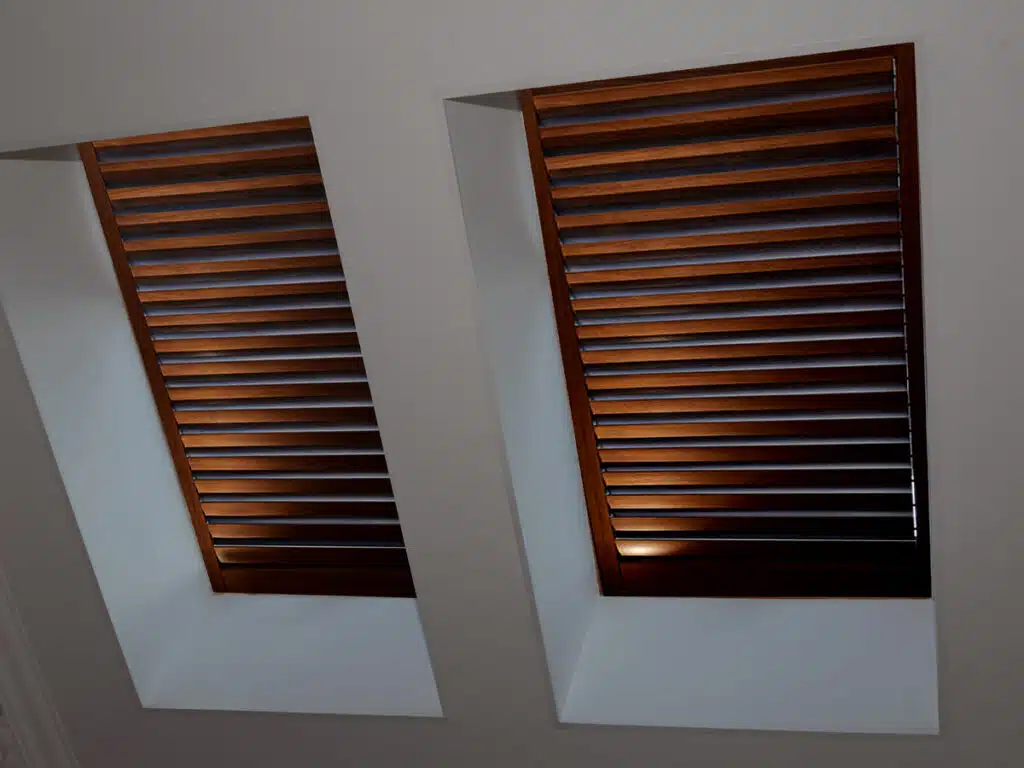 For an elegant and timeless look, Normandy® Shutters are handcrafted with sustainable premium hardwoods that are built to last. With Norman®'s unique tilt system, you can easily adjust your shutters to any desired position while still maintaining their classy aesthetic. 
Choosing a Skylight or Roof Window
In the end, it depends on your style and if ventilation is a must in your space. If you opt for Skylights, Norman® is your ally. When it comes to skylights, the location of your skylights can make or break the amount of light let in and how it benefits the space. You can enjoy incredible views while also protecting your privacy with these on-trend window coverings.
No matter your budget, we've got an incredible selection of stylish shutters, blinds, and shades you need to enhance the aesthetic of your skylights. Contact our team to learn more today!
Contact our experts today!