The confusion between roller shades and Roman shades typically arises because both are made from fabric and serve similar purposes. However, the key differences lie in their design and how they operate. 
Roller shades have a simpler, utilitarian appearance and roll up tightly, while Roman shades have a more decorative and layered look with folds of fabric when raised. Understanding these distinctions can help you choose the right window treatment for your decor and functionality preferences.
What are Roller Shades?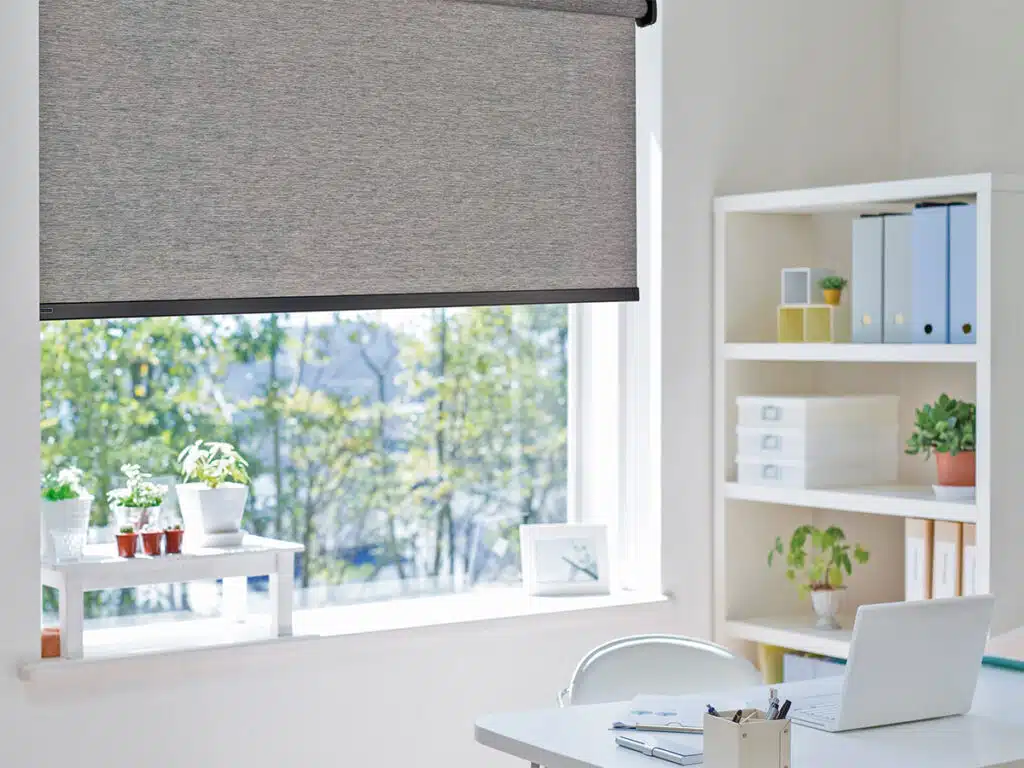 Roller shades are a simple, streamlined window treatment consisting of a single piece of fabric that rolls up and down around a roller mechanism. 
Advantages of Roller Shades
Clean Design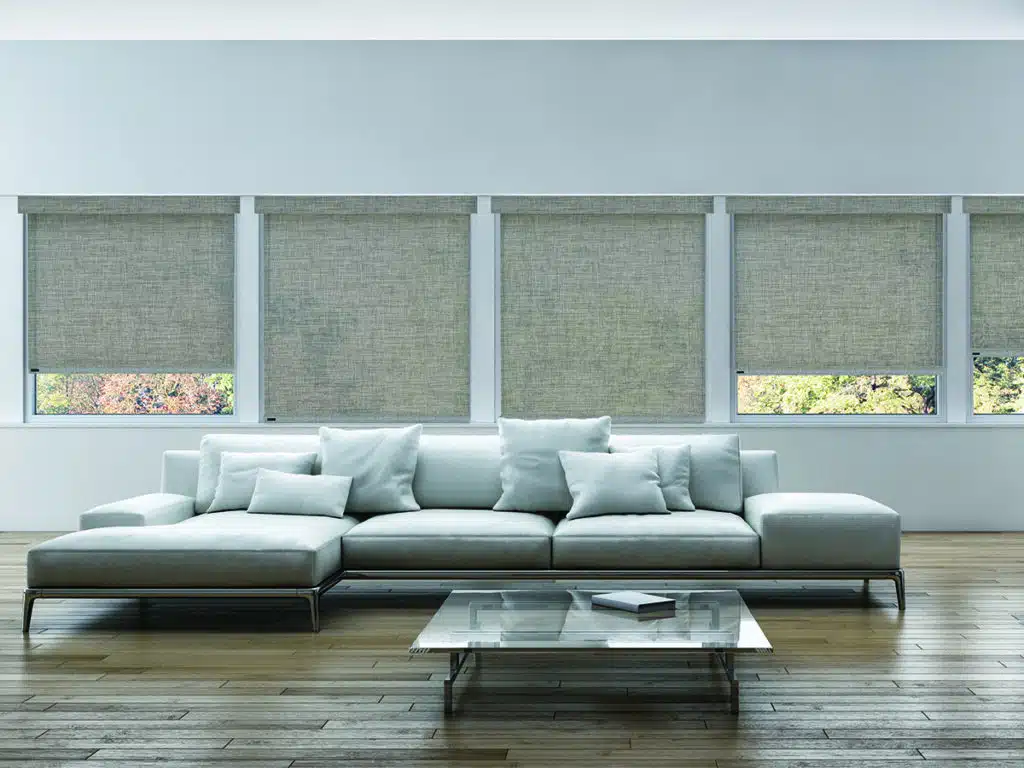 Roller shades are sought after for their clean, contemporary look and are often used for a minimalist aesthetic. They're a perfect complement to statement windows or any interior design where you need a simple window dressing that won't steal the show.
Light control
Roller shades provide varying levels of light filtration and privacy according to the fabric used. Depending on the fabric chosen, they can provide various levels of light filtration, from sheer to blackout, allowing you to create the desired ambiance in a room.
Budget
Roller shades are a stylish and affordable window treatment option. Upgrades such as motorization or special liners can bump up the price point, but the base price is very budget-friendly.
Motorized Options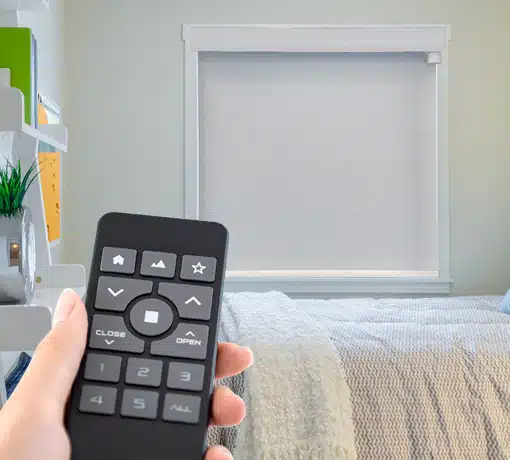 For increased safety and convenience, Norman® Soluna™ roller shades feature exclusive child-safe and pet-safe PrecisionLift™ cordless technology and motorization. Take the tangle of cords out of the equation and raise your shades with the click of a button.
Challenges of Roller Shades
Cleaning
Cleaning roller shades can be more challenging compared to some other window treatments. Dust and dirt may accumulate on the fabric, and the cleaning process may require more effort.
Variety in Design vs Roman Shades
Customizing roller shades to fit non-standard window sizes or shapes can be more complex and may result in higher costs compared to off-the-shelf options. They also lack the design and style diversity offered by Roman shades.
Insulation
Roller shades, especially those made from thin or sheer materials, offer limited insulation properties. They may not be as effective at blocking heat or cold as cellular shades designed for insulation.
What are Roman Shades?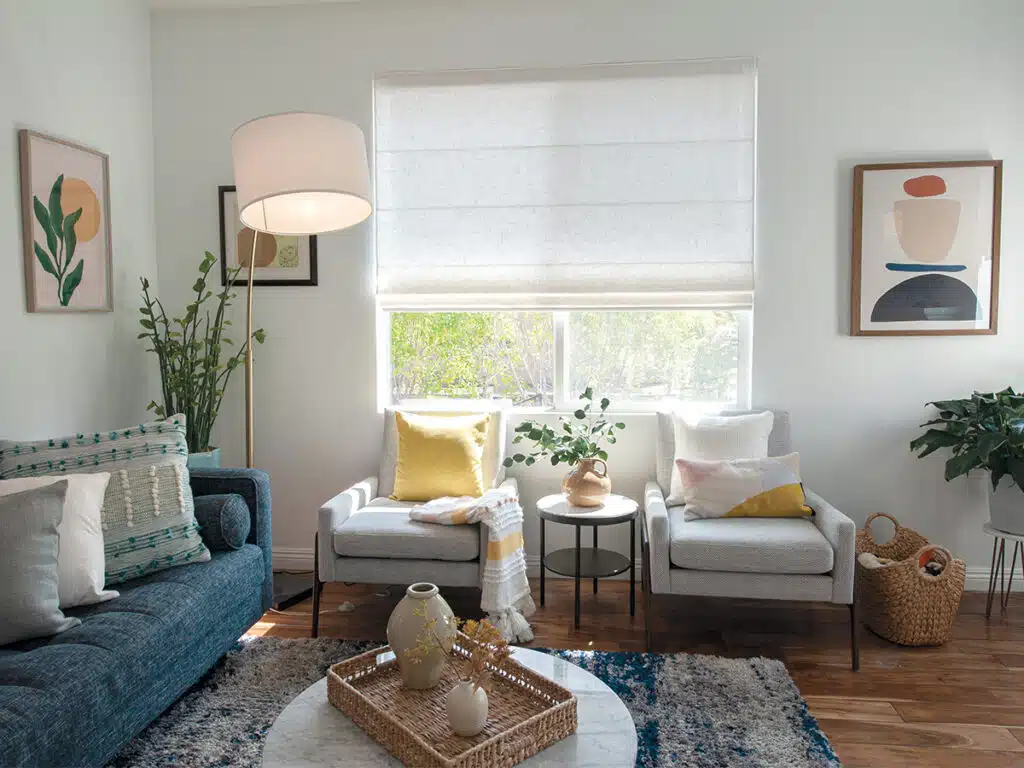 Roman shades are timeless and classic in appearance and are often chosen for a more layered look in traditional interior styles. They operate using a cord system that allows you to raise and lower them to control light and privacy levels.
Advantages of Roman Shades
Elegant design
Roman shades are a more decorative window treatment with a fabric panel that forms soft, elegant folds when raised. They are an interior designer favorite for formal dining rooms, foyer, and living room areas. 
Multiple design options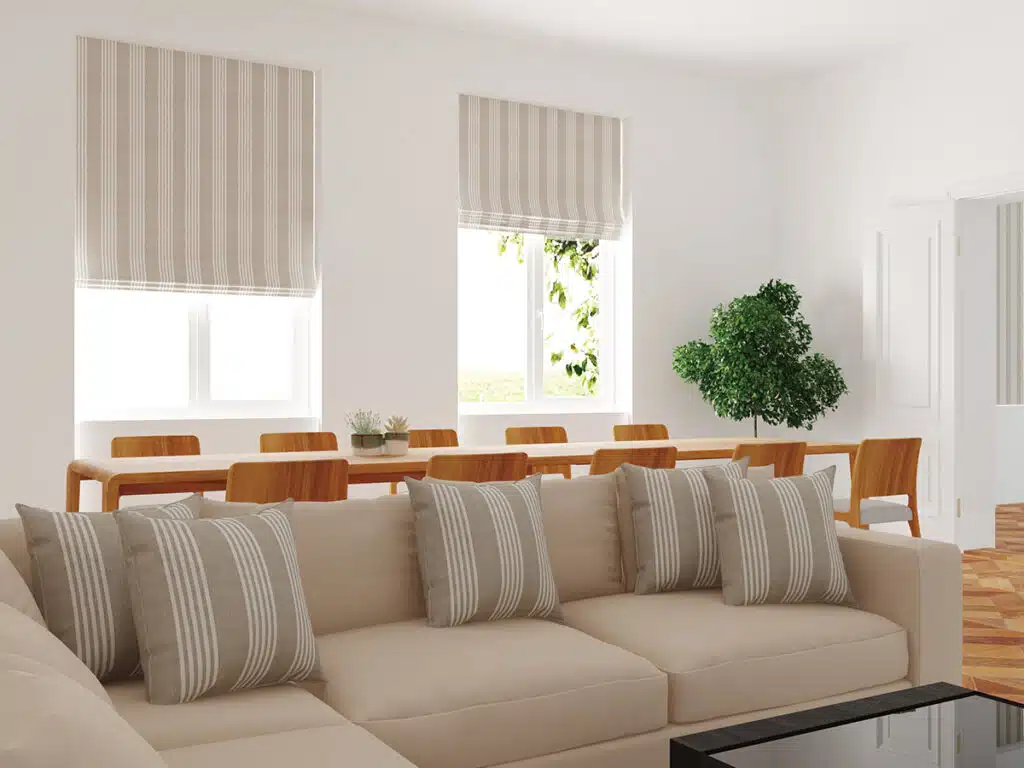 Roman shades come in different styles and design options, from high drama to modern chic. Combining different design elements, such as using a patterned fabric with a specific fold style, to create a unique and tailored window treatment. Popular fold styles include: flat, hobbled, ballooned, pleated, and waterfall. 
Privacy
Roller shades come in different fabrics and the level of privacy provided is dependent on the opacity of the fabric you choose. Adding a lining to your Roman shades can enhance both privacy and provide excellent light control. A privacy lining, such as a blackout or privacy liner, can help block light, increase the level of privacy, and prevent outside visibility.
Insulation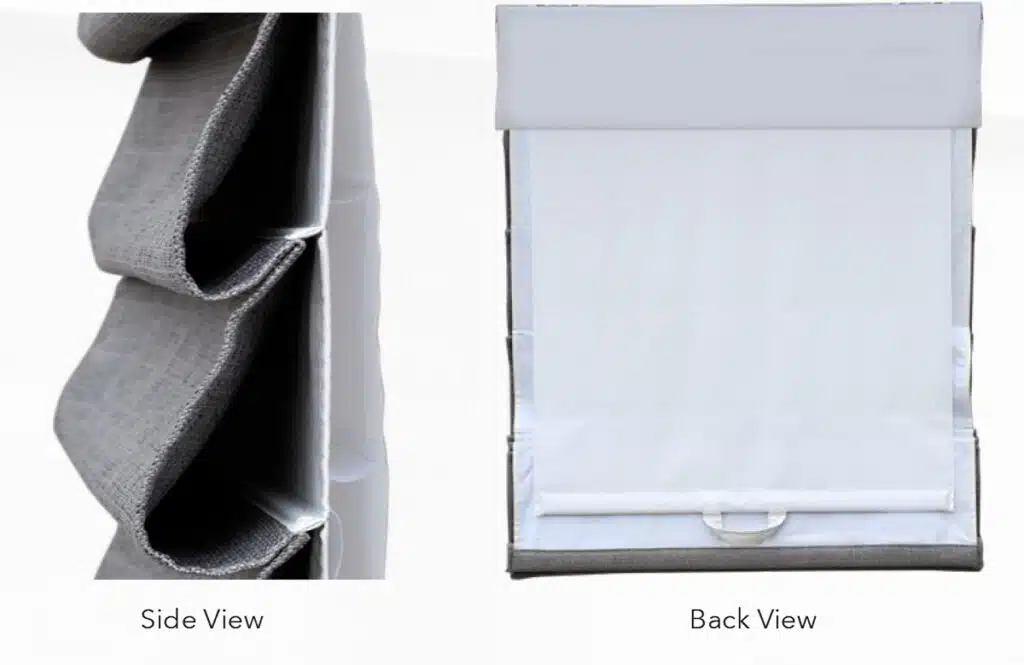 One major advantage of Roman shades is their energy efficiency. They contribute to insulation by regulating heat transfer, reducing drafts, and controlling the impact of direct sunlight. Properly fitted Roman shades, especially when installed as an inside mount, can help reduce drafts by sealing the window opening and maintaining a comfortable indoor environment year-round.
Challenges of Roman Shades
Less flexibility
Unlike roller blinds, window blinds, or shutters with adjustable slats, Roman shades offer limited flexibility in controlling the amount of light that enters the room. They are typically either fully raised or lowered and this can make it challenging to fine-tune the level of natural light desired.
Maintenance
Roman shades can require more maintenance compared to simpler window treatments like roller shades. Similar to curtains and drapes, dust and dirt can accumulate in the folds or creases, necessitating regular cleaning that can be more involved due to the layered fabric design.
Bulkiness
When raised, the shade fabric forms multiple folds that can be bulky and take up space at the top of the window. This can obstruct part of the view and may not be ideal for windows with limited clearance.
Child Safety
Like the challenge in roller shades, the continuous cord loop which is commonly seen in these two products is not child-safe unless there's a tension device to tie the free-hanging cord loop to the wall. The best way to mitigate this safety risk is with a cordless wand or motorization option.
Let's compare!
Design & Aesthetic Options
With Roman shades, you can pile on the drama and make a statement in the room. Or choose the ultimate effortlessly chic design of roller shades for a modern look. It will all depend on your personal style and overall aesthetic.
Materials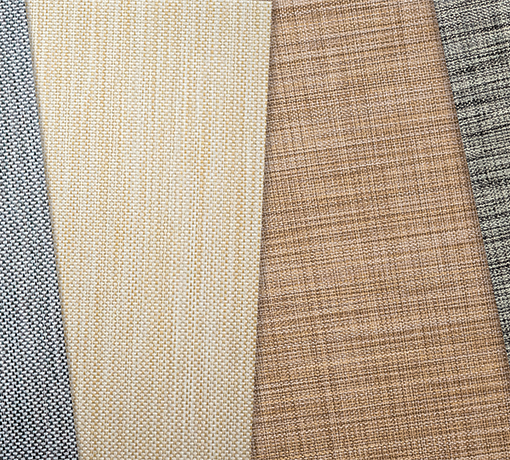 Quality material matters. Durability, touch, and texture all depend on material. Solar shades can block UV rays, while light-filtering fabric can allow natural light to enhance your space. Heavier fabrics used for Roman shades are effective insulators and lighter cotton fabrics offer an airy and elegant look. Both types of shades have many customization options when it comes to materials.
Operation Requirements
Generally speaking, roller shades are simpler to operate than Roman shades. The single piece of fabric rolls up or down. But both shades use a continuous loop cord or chain, and pulling the cord or chain raises the shade, and releasing it allows it to lower. For safety and convenience, both shades can be customized with cordless options.
Space Considerations
Both roller shades and Roman shades require adequate space at the top of the window frame. Typically, roller shades require 2 to 3 inches of clearance to accommodate the rolling mechanism. Roman shades also require space above the window for the fabric to stack when the shade is raised, styles with horizontal folds stack in a more compact manner.
Rooms They're Best Suited For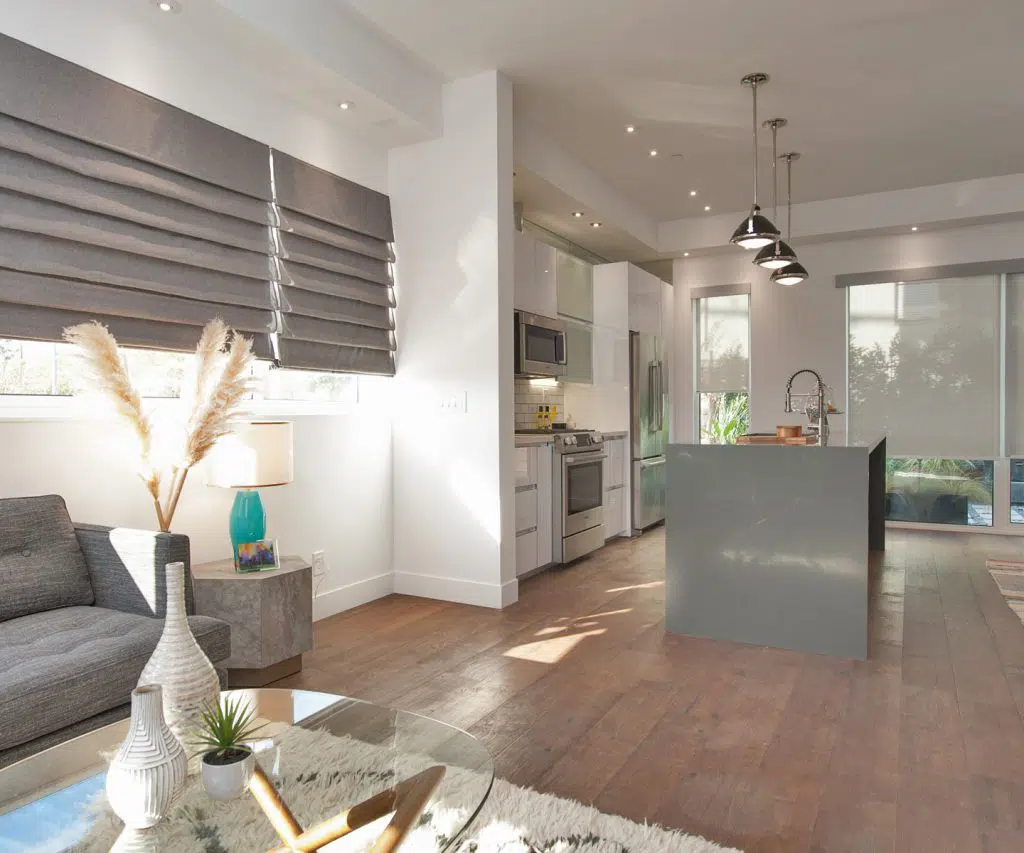 Soft fold roman shades are the best option for formal living room and entertaining areas. Relaxed roman shades work well in guest rooms and master bedrooms. Roller shades are a great option for bathrooms and bedrooms too, especially if equipped with blackout liners or privacy liners. 
Budget
Although roller shades are known to be less expensive, there are great options for each style of shade made to fit any budget!
Maintenance and Cleaning Preferences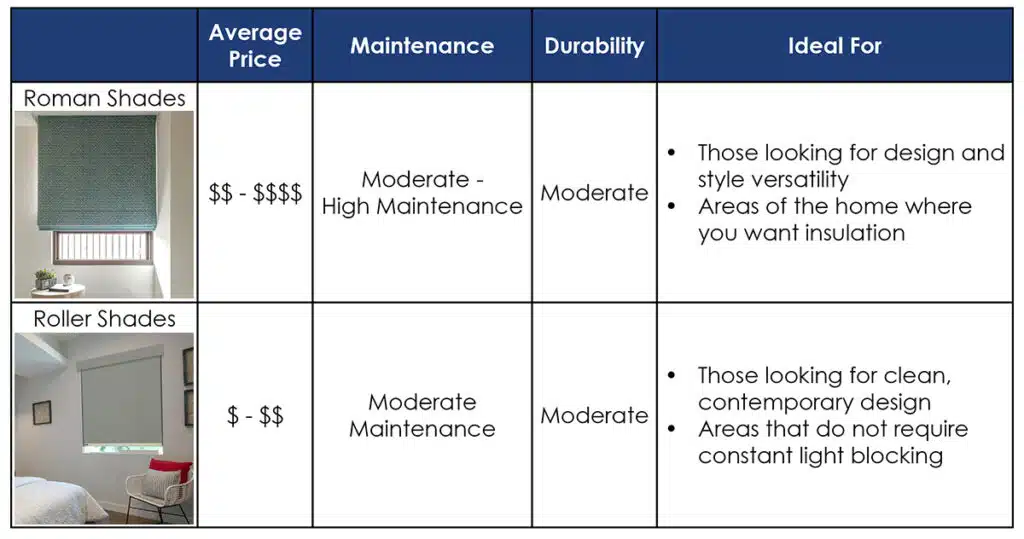 Find the best option here at Norman® USA 
Whether you're leaning toward sleek and modern roller shades or dramatic and elegant roman shades, you can't go wrong with Norman®'s unparalleled selection of luxury fabrics and practical liners for a high-end, durable, and functional window treatment solution.
FAQS 
What's the difference between roman and roller shades?
A: The biggest difference is how they operate. Roller shades have a single piece of fabric that rolls up and down around a roller mechanism, while Roman shades raise multiple layers of fabric with a cord.
Which option is more budget friendly?
A: Roller shades are typically a more affordable option, but it will depend on the material and style.
Which one is better for my windows?
A: The better choice will depend on your aesthetic and style preferences. Consider the space you have available, the privacy you need and ease of operation.