Your doors function to section off space, transition from interior to exterior areas, and create a clean look. But doors with windows can compromise your privacy. Luckily, window treatments are the perfect way to add a protective panel that increases your privacy and light control. They can add texture, color, and depth to your room all while showcasing your signature style.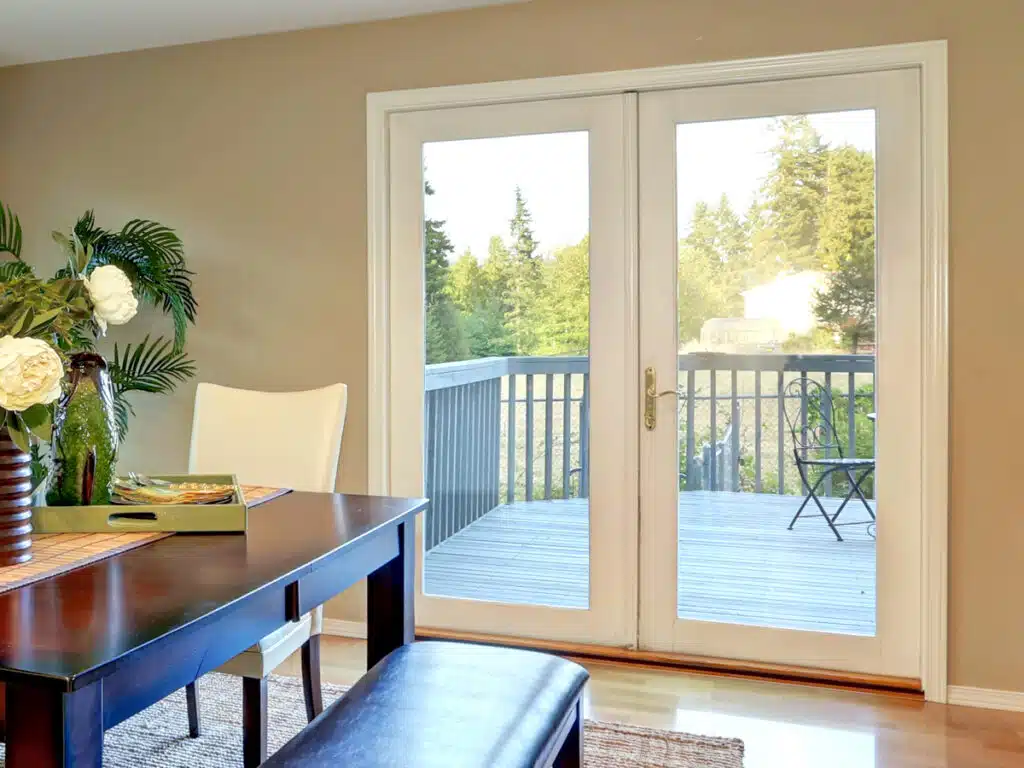 But what type of window treatment is best for doors and how do you choose? Follow our guide to learn more about the pros and cons of dressing doors with window treatments and how to do it right!
Why Window Treatments for Doors Can Be Tricky
Doors certainly pose a unique challenge for window coverings, but with a little research, you can avoid common pitfalls and pick an appropriate window treatment.
Measuring and installation for these window treatments can be daunting. First, measure the exact height and width of your door. Next, consider the window depth, and don't forget to take into account any molding that may interfere with the mounting. Norman offers complimentary installation, so you can leave the measuring and mounting to the pros! Plus, our unique Smart Fit® products are designed to fit perfectly, including on French doors.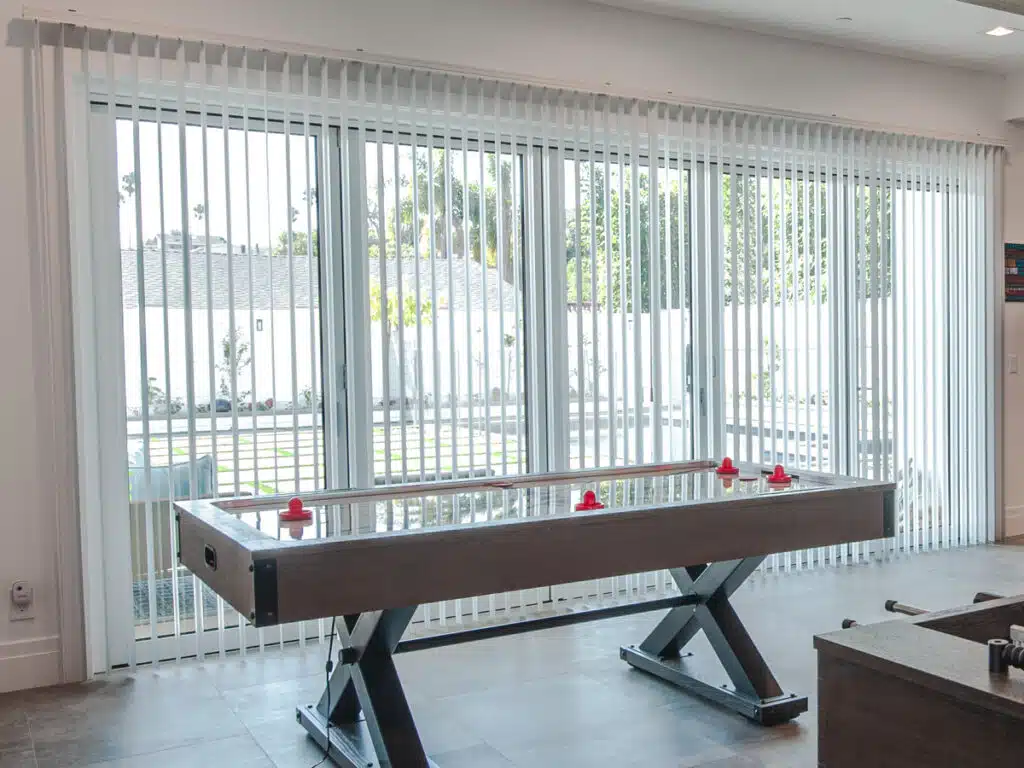 Even sliding glass doors are compatible with modern window coverings. Norman's customizable vertical blinds are specially designed to fit any kind of door. The vanes can be adjusted to control the amount of light, and they come in an array of sophisticated colors and hues. 
Coordinating window treatments for front doors with existing decor and style can be a challenge too. Your best bet is to accessorize with a timeless style that complements rather than competes. We love the chic but versatile look of Norman's range of vertical blinds. 
Design Considerations
Here are the key design factors to consider to outfit your door with an appropriate window treatment:
Importance of privacy and light control
Consider the amount of privacy and light control you need. Norman® offers a variety of sheer, semi-sheer, and blackout fabrics that help to regulate the amount of sun that enters your space. 
Complementing function
What type of door do you need to cover? Interior doors need something functional and fashionable. Opt for a sheer fabric to maintain privacy while still allowing some natural light to enter the space. Sliding glass doors require a durable and light-controlling window covering. Vertical blinds and vertical sheers are the ideal solution as they are adjustable and move with the door.
Energy efficiency and insulation benefits
Insulated window treatments are a great way to reduce energy loss. Whether you need to keep heat in or out, Norman's wide selection of energy-efficient shades, shutters, and blinds will do the trick. 
Best Compatible Window Coverings For Doors
The truth is, some window treatments just aren't suitable for this. Curtains with heavy fabrics, for example, drag and snag making it hard to use your door. Plus, these window treatments have to look good from both sides; inside and out!
So what's right to use for your door windows? The best window treatments for this are blinds, shades, and wood shutters. These popular choices come in a variety of luxury materials, colors, and textures that will instantly add flair to any room. Fortunately, there are lots of trending options available with Norman®!
Roller Shades for Versatility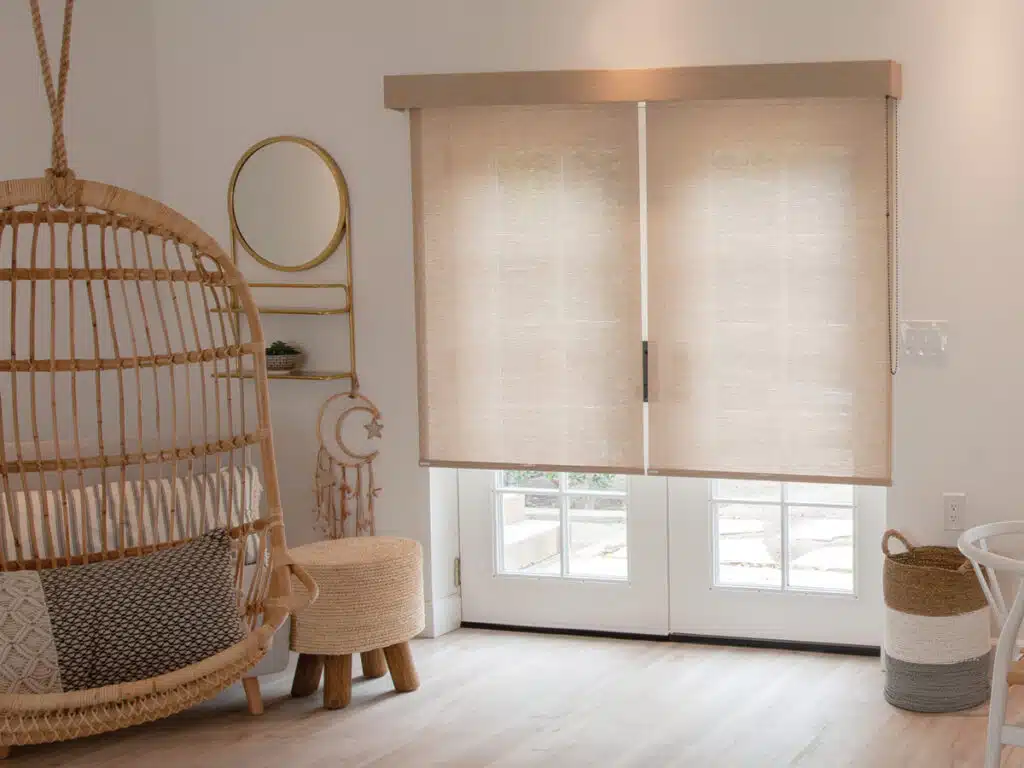 Soluna™ roller shades come in stylish light filtering and light-blocking fabrics that you can customize with decorative hems, tapes, and trims. They are available in one-inch increments to fit any door size! These are also perfect sliding glass door roller shades, considering that they require frequent use or have an irregular shape. 
Elegant Roman Shades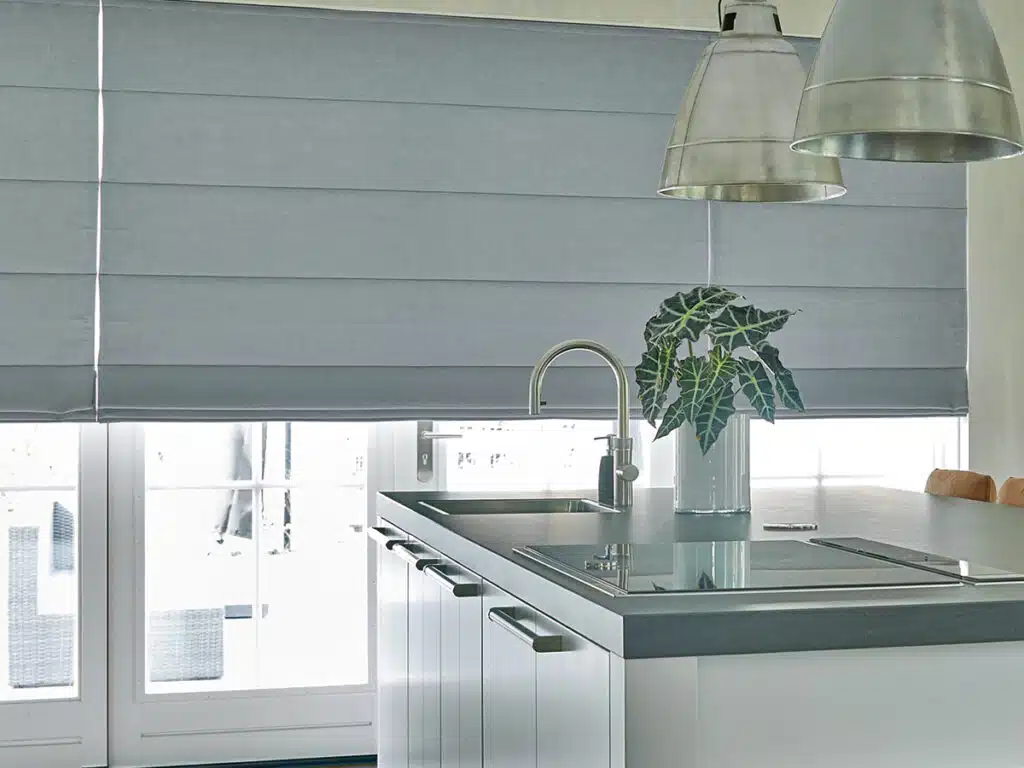 Traditional style meets modern practicality with our Centerpiece™ Roman Shades. The soft folds elegantly cascade down the windows creating a cozy atmosphere. Plus, they are lightweight and can be raised or lowered with ease!
Cellular Shades for a Slick Design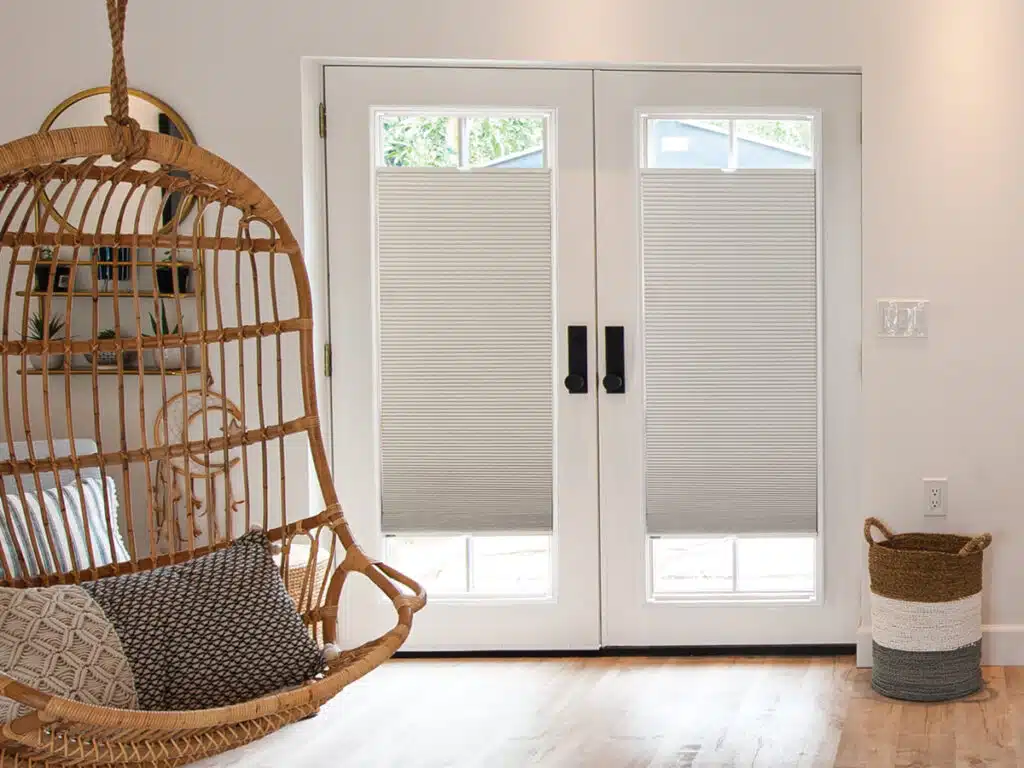 The innovative honeycomb design allows for increased insulation, improved light control, and year-round energy efficiency. Plus they look stunning on any door!
Style and Customization with Wood Shutters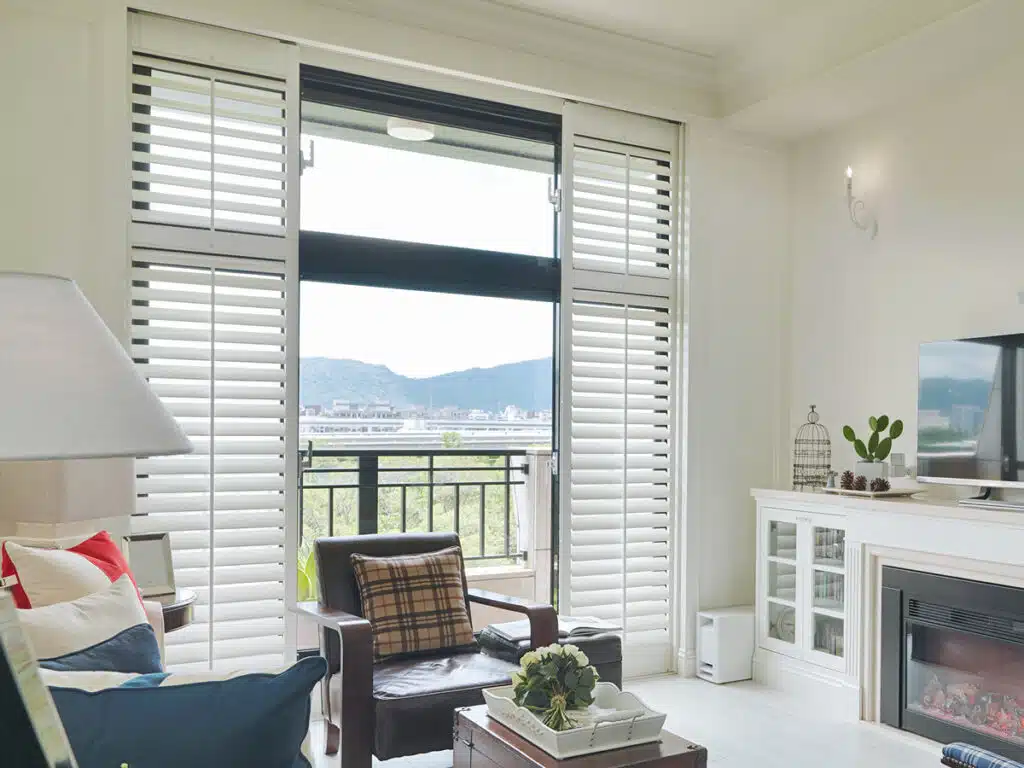 Wood shutters like Norman's Normandy® Shutters provide light control, privacy, and a stylish look at the same time. The beautifully grained Paulina hardwood slats come in a range of stains and sizes, so you can customize according to your preferences. 
Brightwood™ Shutters are an excellent choice for patio door shutters. Hand-crafted with premium materials for durability, they are built to stand the test of time and can hold up against harmful UV rays.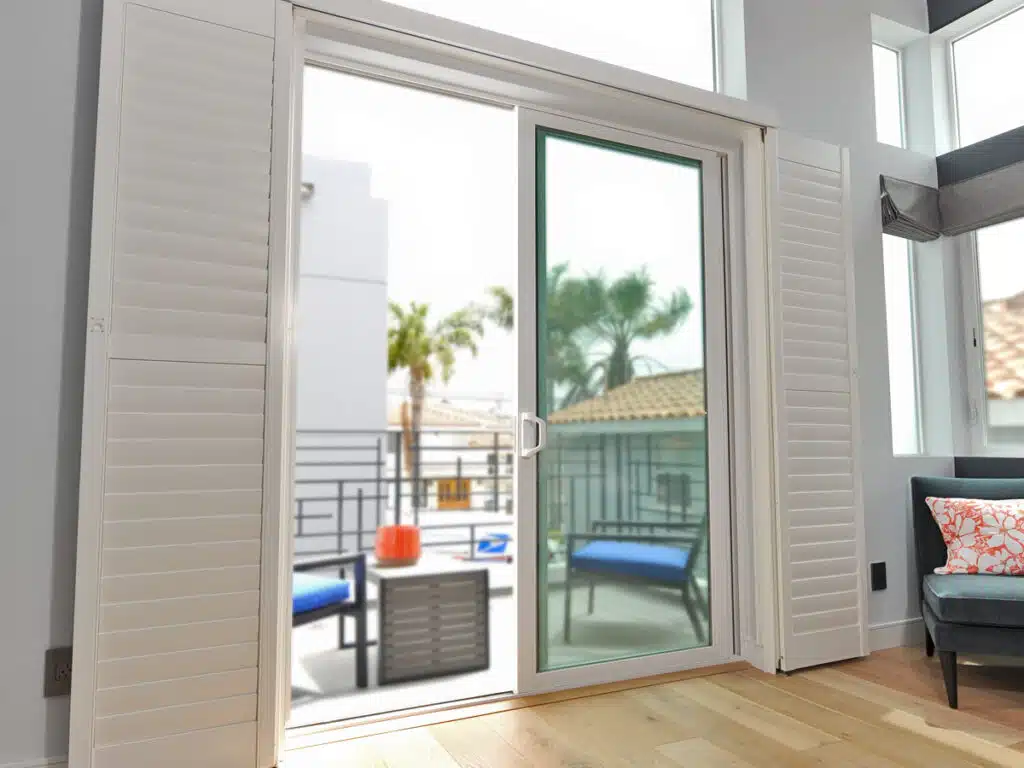 High-quality window treatments like bi-fold 180 Shutters are essential for UV ray protection and controlling temperature loss. Woodlore® Shutters provide exceptional insulation, and their adjustable louvers ensure maximum light control while providing superior privacy. 
Budget Friendly Faux Wood
Faux wood blinds feature composite slats that are resistant to humidity and can be used in extreme climates. Available in various sizes and cordless options, they are an economical and safe choice for households with young children. 
Aluminum Blinds for Top Practicality 
The major benefit of sleek aluminum mini blinds is that they are highly cost-effective. They come in a variety of slat sizes and on-trend colors, making them the ultimate practical window treatment for doors. Plus, they are light enough to be operated with ease!
Consider Drapes!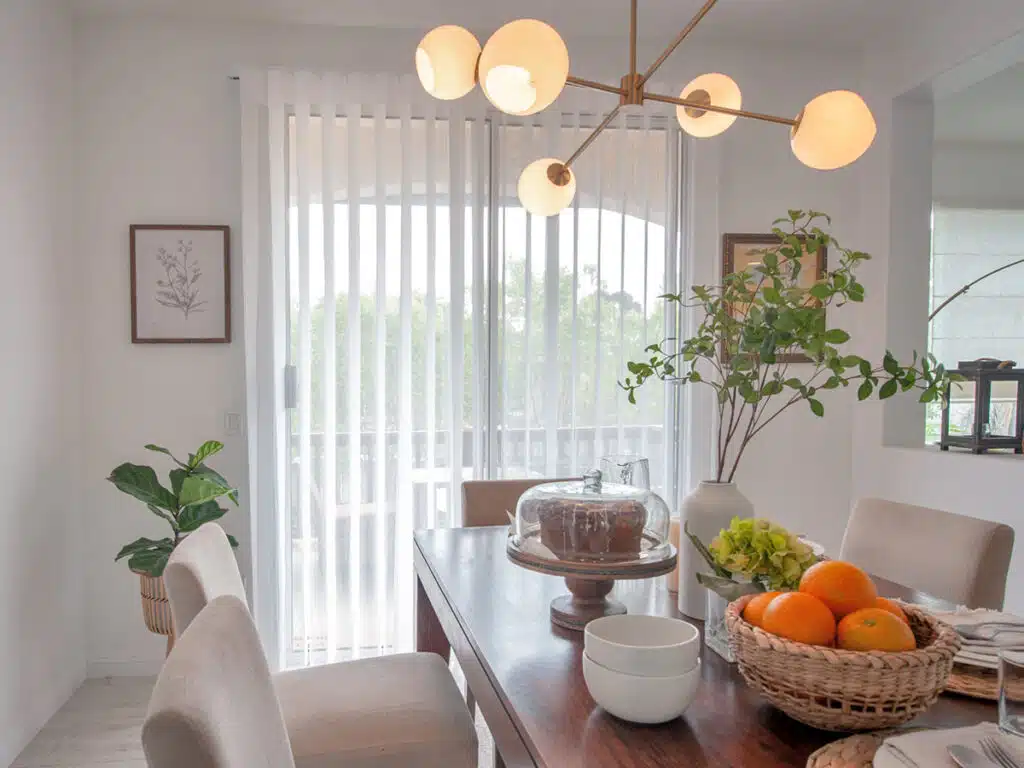 Drapes are an excellent way to add a touch of elegance, texture, and character to your doors. SmartDrape™'s innovative flowing sheer and fabric vane construction provide a spacious, relaxed ambience, while still offering the versatility to control privacy and temperature. Both elegant and functional, SmartDrape™ provides seamless indoor-outdoor living.

Adapt Seamlessly to French Doors
French door window treatments such as vertical and roller blinds adapt perfectly to the unique design and add the finishing touch to your space. They also help you save energy, as French doors are usually big and can let a lot of cold air in during the winter months. 
FAQs 
Q: What types of window treatments are best for doors? 
A: Blinds, shutters, and honeycomb shades are the best options for doors. They provide easy access with ample light control, insulation benefits, and privacy. 
Q: Can window treatments for doors be customized to fit different sizes and shapes? 
A: Yes! At Norman®, all our window treatments for doors are made to order and can be customized to fit any size or shape. 
Q: Do window treatments for doors provide privacy and light control?
A: Yes, depending on the fabric and material chosen, window treatments for doors can provide varying levels of privacy and light control. 
Q: Are window coverings for doors expensive?
A: No, at Norman we offer a wide variety of window coverings for doors that are both affordable and stylish. 
Ready to dress your door window? Contact an expert!