2023 is in full swing, and what better way to start the new year than with a fresh remodel? If you've been stuck in a rut or uninspired, a home redecorating project may be just the thing to give you purpose and a new perspective. 
Remodeling your space has many benefits beyond basic aesthetics. Updating your window treatments can make a major impact on the lighting in your space. More natural light can boost your mood and energy, while darker blinds can help you relax. The right window treatments can also enhance your control over privacy, adding security and intimacy to desired areas of your home.
In this guide, we'll help you select the perfect on-trend window coverings for your sliding doors to complete your home remodel project.
What Should You Take Into Account?
Sliding doors are a popular interior design choice due to their ease of access and the fact that they don't take up much space. They are often featured in spaces like patios, bedrooms, and living rooms. But these are all very different spaces with varying needs, and a window covering that works for one room might not necessarily be a good fit for another.
Before you settle on any one window treatment, consider the following questions:
How much natural light do you want to let in? 

Do you need to control your privacy? 

Is there a particular look or appeal you're after? 

Are there any unique measurements or oddities in the space that must be taken into account?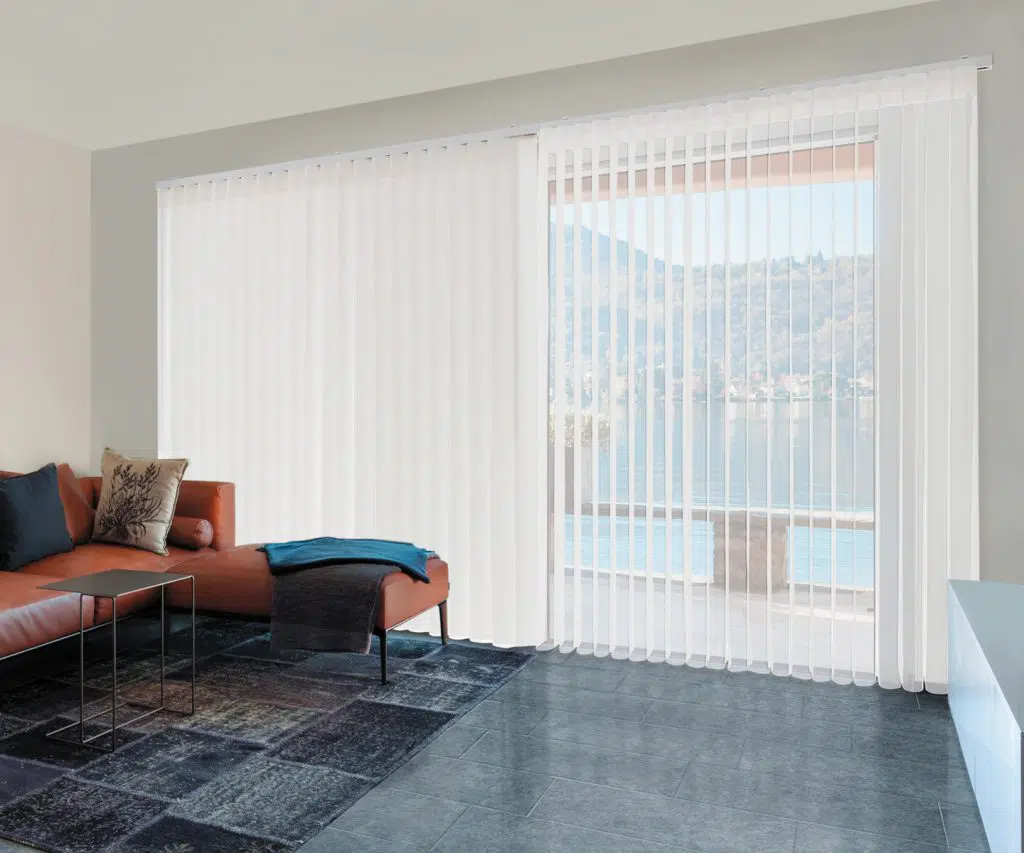 Versatility and Benefits
When was the last time you shopped around for new window coverings? Products have come so far from your basic curtains, drapes, and blinds. In today's market, there are hundreds, even thousands of options to choose from- it can be overwhelming! Should you choose roller shades, plantation shutters, roman shades, or vertical honeycomb shades? No worries, just follow our expert advice. Start your search by identifying any particular specific benefits you'd like to have. For example:
Room darkening or blackout 

Advanced privacy control

Cordless lift technology

Eco-friendly 
Materials They Are Commonly Made Of
20 years ago, standard blinds were all constructed from the same material- aluminum or PVC. Now, the options have expanded. Depending on your needs and design principles, you can select window coverings made of wood, faux wood, vinyl or plastic, premium fabric, or cloth.
Sliding doors are typically located in high-traffic areas and window treatments on these doors are subject to quite a bit of wear and tear. As you make your selection, look for the best options that are well-constructed from durable materials that are easy to clean.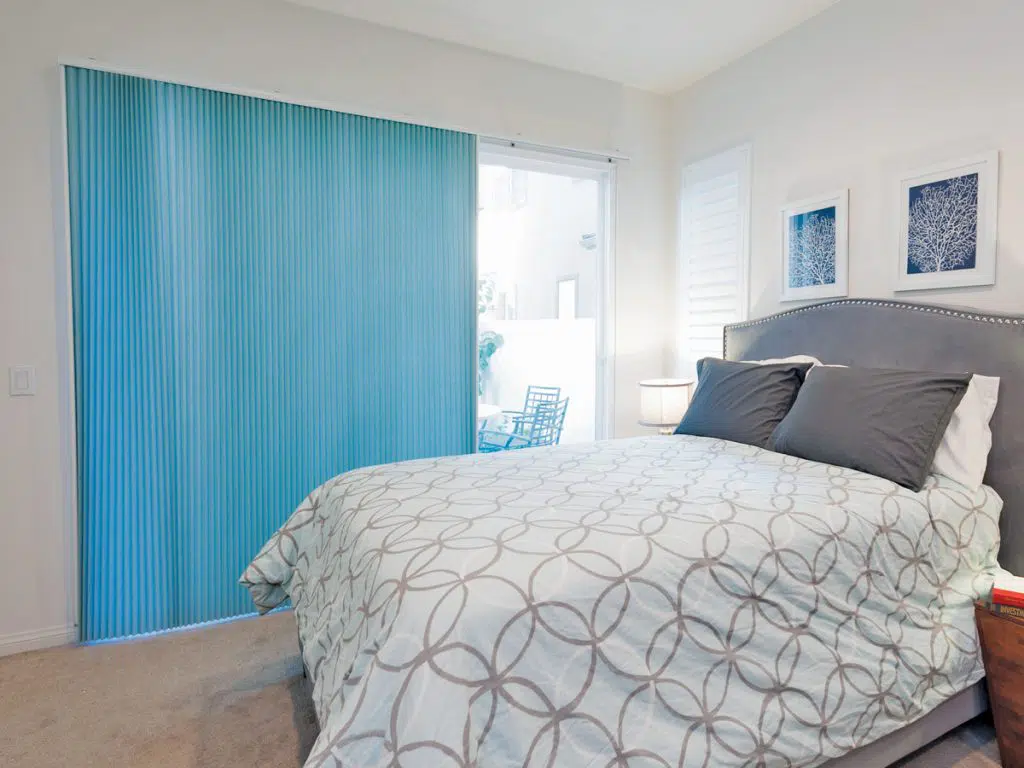 Care
Keeping up with maintenance and cleaning around the house is a hassle! That's why it pays to invest in stylish window treatments that are sleek, functional, and easy to clean. For the most part, blinds, shades, and shutters are fairly low-maintenance and a good option for high traffic areas. Curtains and drapes collect dust quickly and are the most labor-intensive to clean. You can spot-clean and dust your sliding door window treatments every few weeks to remove any accumulated debris such as dust and dirt, keeping them in mint condition.
Ideas for Sliding Glass Door Window Treatments
When you put time and energy into remodeling, hastily shopping for new pieces or settling for ones you don't love is a big mistake. You want to buy with confidence and know your investment will last. Norman® USA custom window treatments are a must-have and preferred product of interior designers and window treatments retailers.
For stylish window treatments that are as unique as you are, choose from Norman®'s extensive collection of shades, blinds, and shutters. Customizable window coverings allow you to control the natural light and privacy in your space conveniently with innovative smart technology. 
Norman® has emerged as a leader in on-trend and functional window treatments. The award-winning products are known for their craftsmanship, premium quality materials, and innovative functionality. Check out our absolute favorite Norman® products for sliding doors below!
Synchrony™ Vertical Blinds
Engineered for improved durability and performance, Synchrony™ Vertical blinds are a modern update for the favored sliding door standard window covering. Typical vertical blind valances and vane carriers fall and break easily, so vanes are not able to stay intact over time. Synchrony™'s extra durability against dents and scuffs were designed to overcome these issues even in high traffic areas, while also remaining simple to operate and effective at blocking light leakage from the top. And with almost 50 colors and texture styles to choose from, you're sure to find a perfect match for your sliding doors.
Vertical blinds offer greater light-blocking capabilities, which is ideal for intimate spaces like living rooms and bedrooms. With a simple turn of the wand, you can easily adjust your vanes for optimized light levels, UV protection, and privacy. And the S-shaped curve of the vanes allow for more light blocking potential, each piece overlapping to create a tighter closure around any potential light seepage. You can even have a convenient cordless wand operation, which is certified "Best for Kids™", making it a child and pet friendly option.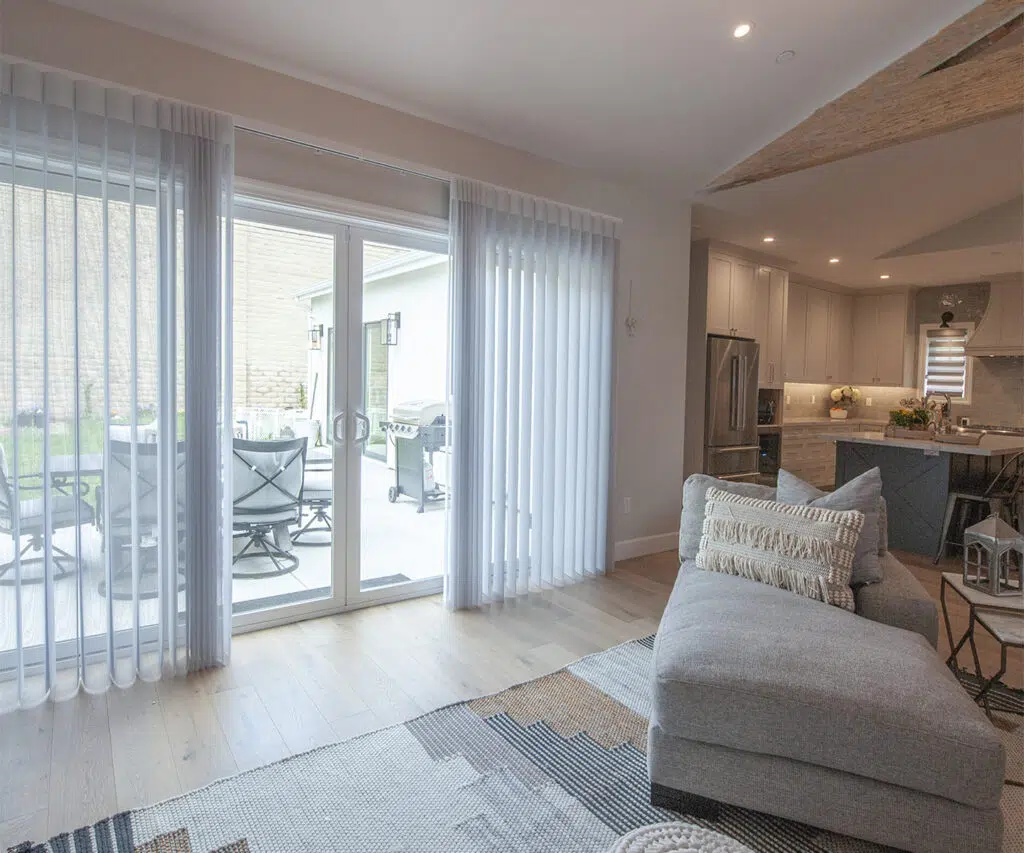 SmartDrape™ Shades
Unlike other shades or window coverings, SmartDrape™ Shades are created specifically for transitional indoor-outdoor spaces. The elegant individual sheer and fabric vane construction allows you to walk through the shade without opening or closing, making SmartDrape™ Shades a fashionable and functional solution for sliding doors that still give the utmost privacy and light control.
SmartDrape™ Shades come in a variety of on-trend whites and off-whites, so you can cultivate a slick look in a modern space. Easy to operate, you can simply twist the wand to transition from sheer to solid fabric and still retain your ability to pass through the shade easily, even when the shade is covering your sliding door.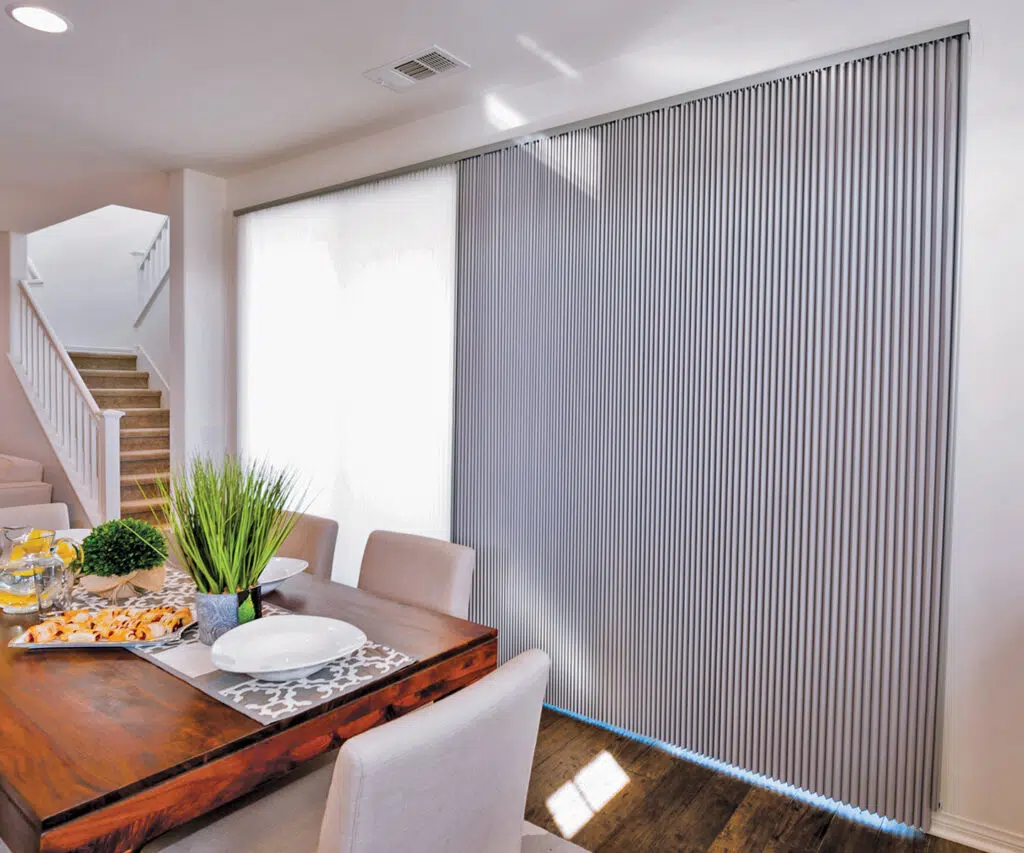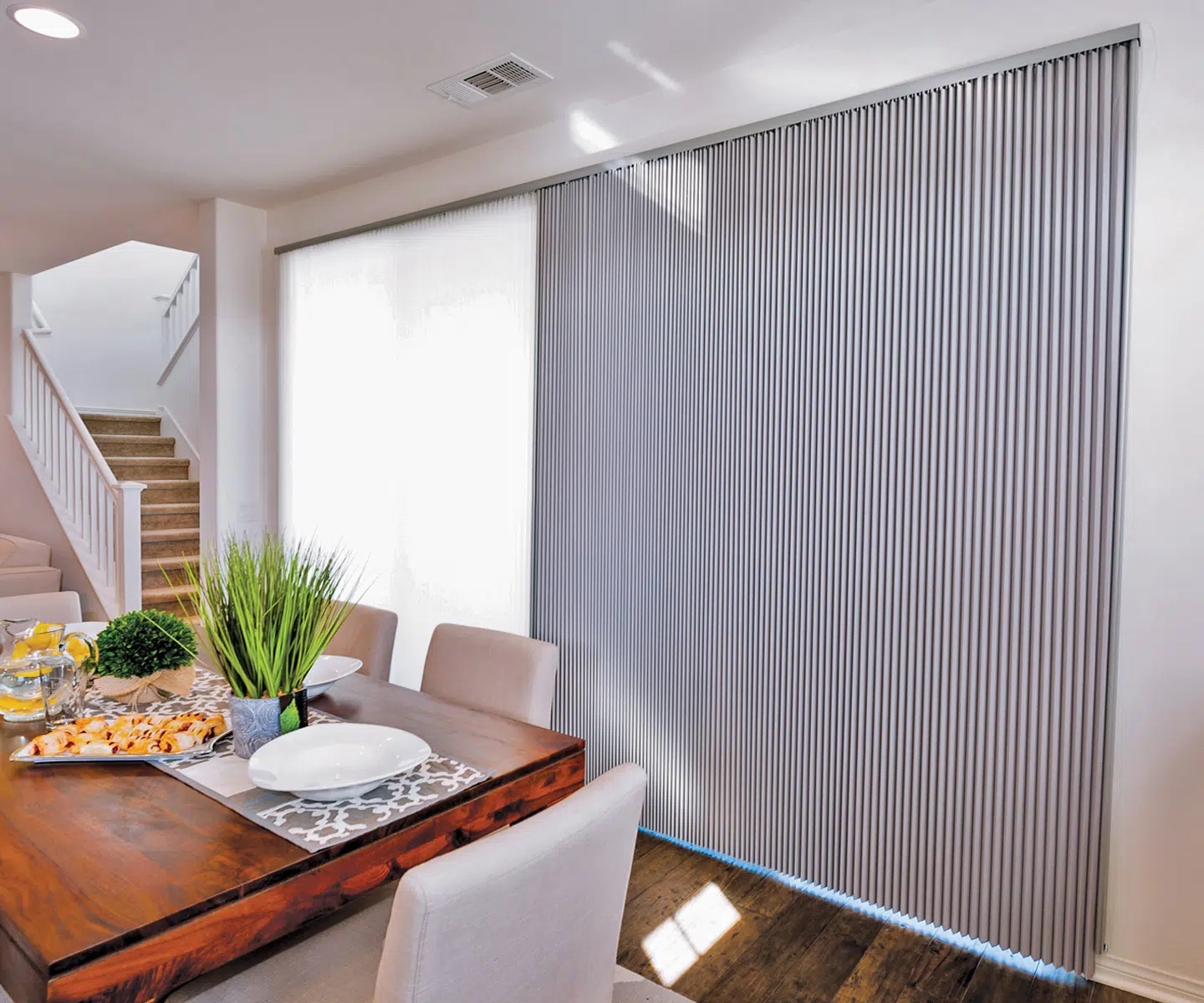 Vertical Portrait™ Honeycomb Shades
Vertical Portrait™ Honeycomb Shades are the best choice for sliding patio doors. With a stacking height of less than 10", this makes them perfect treatments for large windows, so you can still enjoy terrific views. This product is also unparalleled in energy efficiency due to the built-in pockets that trap warm air, keeping homes warm in the winter and cool in the summer. Its advanced materials and cellular construction provide better insulation than other shade options like roller shades, which is a major advantage for large windows like sliding doors and patio doors. 
Equipped with 3 opacity options for light filtering and privacy, these cellular shades use innovative D-cell structure to achieve a crisp modern look as well as dimensional stability. By trapping warm air between the pocket architecture, these shades help create a more comfortable living environment year-round, especially for windows that receive a lot of sunlight like sliding and patio doors. With more than 140 color and pattern options, this cord-free, handle-free sliding solution is a polished way to add color and style to your patio doors.
Norman® Patio Door Shutters
Shutters are a remarkably versatile product, as they can fit any window size and shape. Privacy, energy efficiency, and control come hand in hand with Norman®'s shutters – allowing you to benefit from multiple advantages! These are our favorite trending Norman® shutter systems for sliding doors: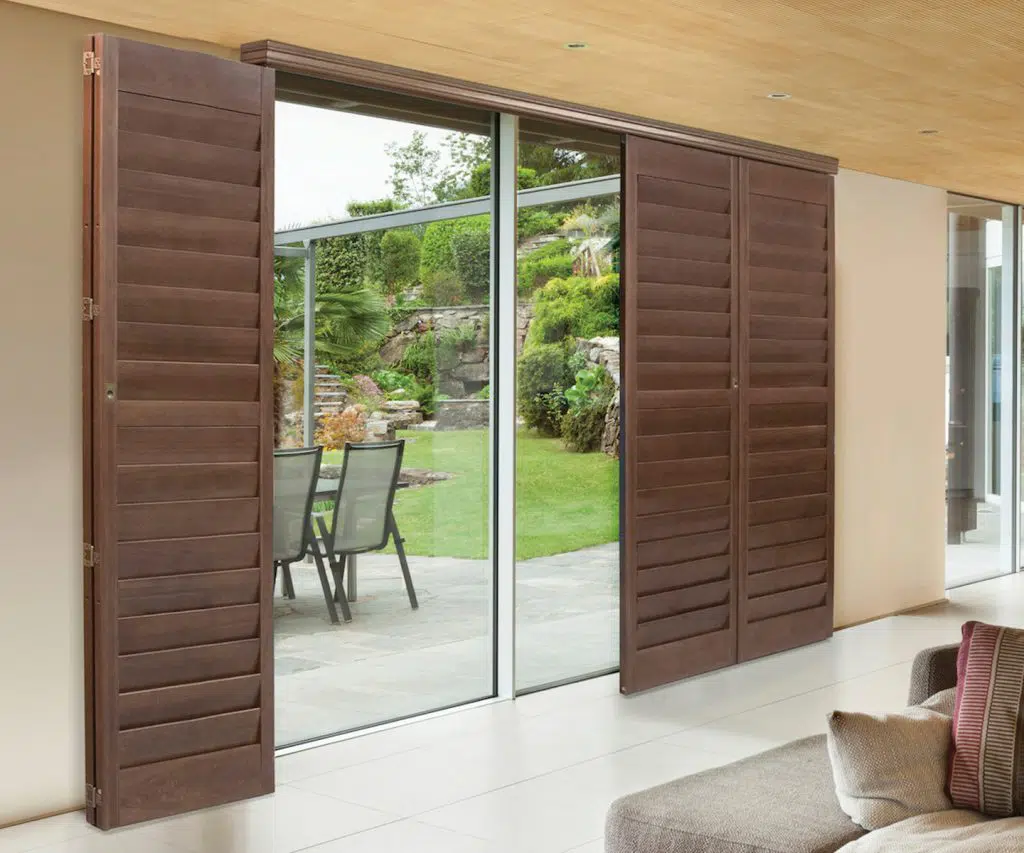 Bi-fold 180™ shutters

: Similar to the traditional bi-fold shutter you may be familiar with, but improved in a number of ways. The panels in Bi-fold 180™ stack tightly against each other to create a space-saving solution that also provides a more streamlined look, and adjusts without the need for a tilt rod. The unique AutoTilt™ option tilts louvers closed automatically when panels are stacked to the side, a refinement offering exclusive to Norman® that makes for even simpler and more convenient daily operation.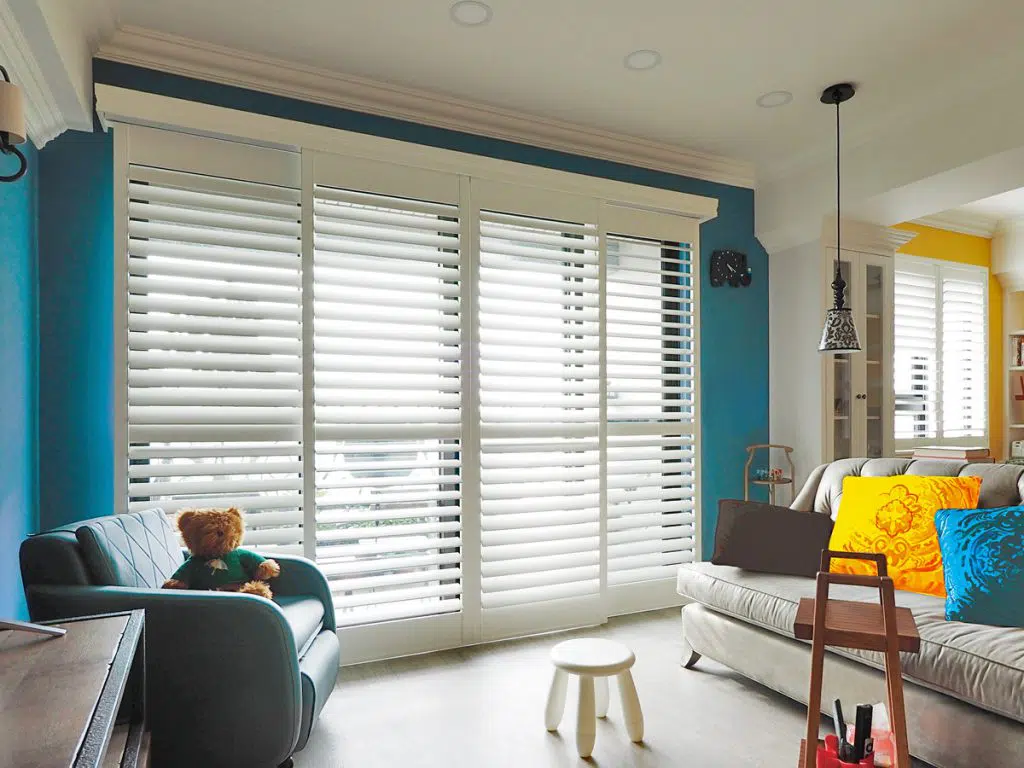 Open and closed bypass shutters

: This system is perfect for patio doors, as it keeps each side of the shutter connected, allowing you to slide them easily back and forth. Choose from either open or closed bypass shutters. Open bypass shutters feature lovers that can remain open even when the doors are stacked right in front of each other, allowing you to enjoy unobstructed views. Closed bypass shutters have louvers that remain closed when the doors are stacked in front of each other, creating a more private home environment.
Our experience and quality back us up!
Excellence is in the details. A well-executed home renovation requires not only careful planning and quality materials, but also the right tools. Norman® provides a vast selection of window treatments that can be tailored to meet your exact needs. From energy-efficient honeycomb shades to beautiful shutters in multiple styles, you can trust us to provide durable solutions for your windows and doors.
Norman® has a reputation for providing safety and security, as well as impeccable style. Our team of seasoned dedicated experts is trained to ensure you get the best quality product for your money. Window coverings don't have to be bland or boring. At Norman®, we are constantly innovating with new-generation technologies, more eco-friendly materials, and forward-thinking construction to deliver top-tier products. So when you invest in Norman® you can create a cozy space that's both functional and fashionable for years to come!