Interior or indoor shutters are one of the most versatile, timeless, and elegant window treatments available. Unlike exterior shutters which are made from PVC or vinyl to protect against the elements, interior shutters can be made from materials ranging from PVC/vinyl (see Why Norman® doesn't sell PVC/Vinyl shutters) to 100% hardwood.
Norman® shutters are designed to fit any size or shape including sliding glass doors, specialty shapes, and french doors.  Shutters offer the ultimate in light control, privacy, and insulating value.
Explore our range of shutters crafted to fit any size, shape, color, lifestyle or budget.
Types of Indoor Shutters
Indoor shutters are a popular and stylish window covering option that come in various types to suit different interior styles and functional preferences. Here are the top trending styles:
Plantation Shutters
Plantation shutters consist of adjustable horizontal slats, or louvers, mounted within a sturdy frame. Characterized by their wide slats, typically ranging from 2.5 to 4.5 inches in width, they are designed and hinged so that they can be opened or closed to control the amount of natural light and privacy in a room.
Crafted from premium hardwood and faux wood durable composite materials, these window coverings are timelessly elegant and when closed, provide insulation that helps to regulate indoor temperature and reduce energy costs. They can be custom-made to fit different window shapes and sizes, including standard rectangular windows, arched windows, bay windows, and more.
Traditional Shutters
Traditional shutters are designed to provide light control, privacy, and aesthetic appeal in any space. Known for their natural warmth and beauty, these shutters consist of solid panels without louvers. They are effective at blocking out light and providing privacy when fully closed. Solid shutters are often used in bedrooms to create a dark sleeping environment. Regular maintenance, such as dusting or cleaning, is required to keep traditional shutters looking their best. Wood shutters may require periodic refinishing or repainting.
Browse Our Interior Shutter Selection
Woodlore®

An iconic wood composite shutter with renowned durability, strength, and density.  Resists peeling, cracking, chipping and yellowing.  No wonder it's #1 among the world's homeowners.  Woodlore® is more stable, robust, and stronger than solid wood shutters.
Woodlore® Plus

Woodlore® Plus is a wood composite hybrid shutter utilizing lightweight yet durable ABS for its louvers, a material often used in high-end endurance applications such as appliances, car parts, and helmets while utilizing structured wood composite frames and rails.
Normandy®

Sophisticated and unique, with real hardwood's unmistakable natural beauty and luxury.  The Paulownia hardwood in Normandy® stained shutters offers luxurious wood graining with elegant natural characteristics exhibiting both depth and character.
Brightwood™
The best parts of Normandy and Woodlore shutters are incorporated in the EcoSmart, stylish Brightwood™ shutter. Wider panels mean sleek modern design and customization options make Brightwood a more affordable way to cover windows in any size, any paint color, and any shape.
Café Style Shutters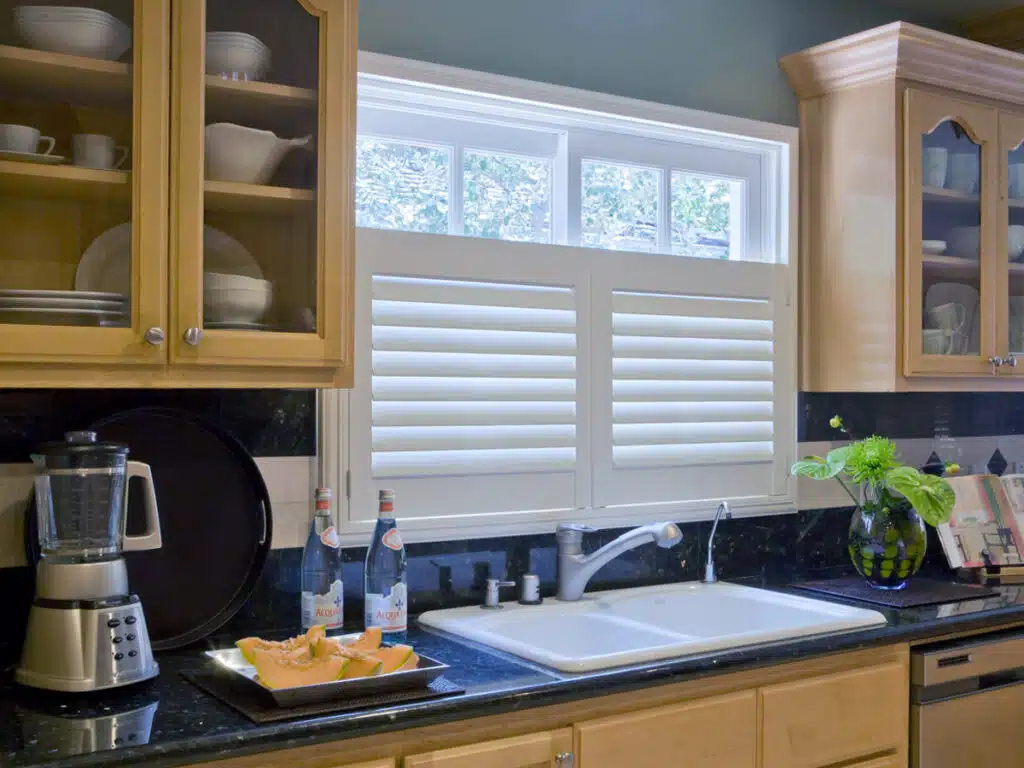 Café style shutters typically cover the bottom half or two-thirds of a window. This design allows for privacy at eye level while leaving the upper portion of the window open. They're perfect for spaces where you want to maintain privacy while still enjoying outside views and natural light, such as kitchens and dining rooms. 
Benefits of Indoor Shutters
Light Control:

They provide precise control over the amount of natural light entering a room. You can easily adjust the slats to create the desired ambiance, from bright and airy to softly diffused lighting.

Privacy Enhancement:

When fully closed, they create a barrier that prevents outsiders from peering into your living spaces, enhancing privacy and security.

Energy Efficiency:

They help regulate indoor temperatures keeping rooms cooler in the summer and warmer in the winter resulting in energy savings.

Improved Insulation:

Shutters, especially those with solid panels, act as insulators and reduce heat transfer and can help save money on utilities.

Aesthetic Appeal:

Indoor shutters are known for their timeless and elegant appearance. They can enhance the aesthetic appeal of any room.

Property Value Boost:

High-quality can even

increase the resale value

of a property due to their durability, functionality, and aesthetic appeal.
Choosing the Right Interior Shutters
Window Size and Shape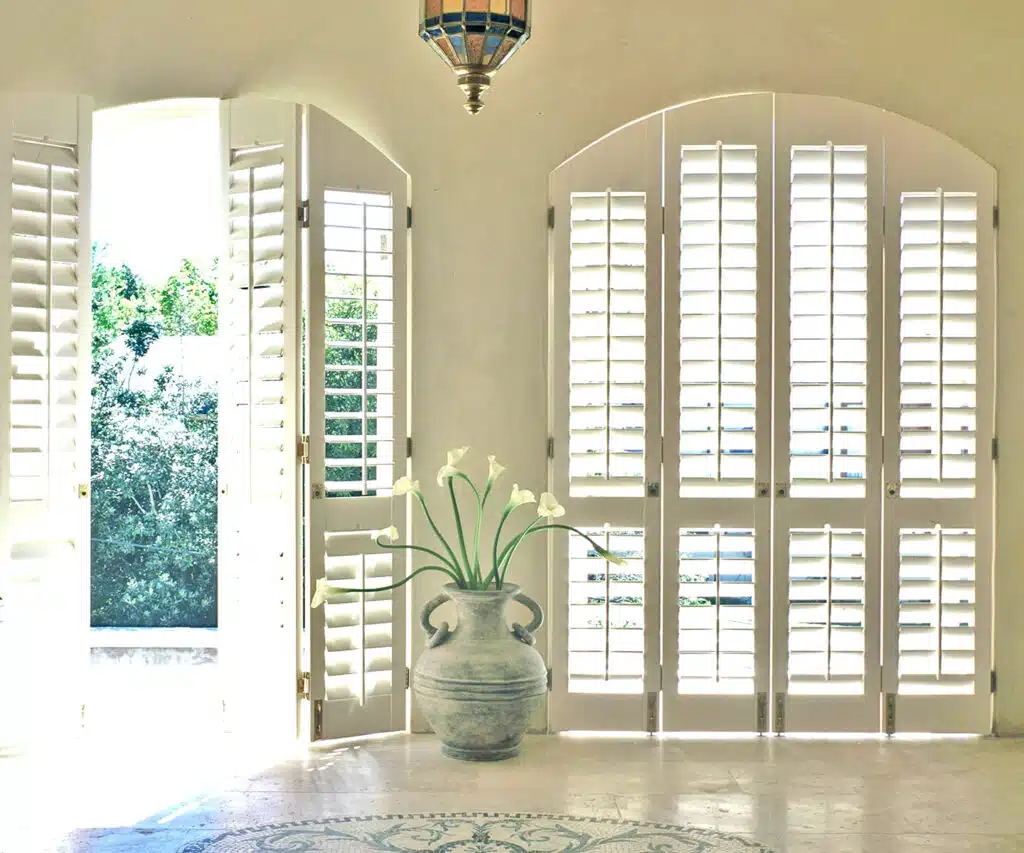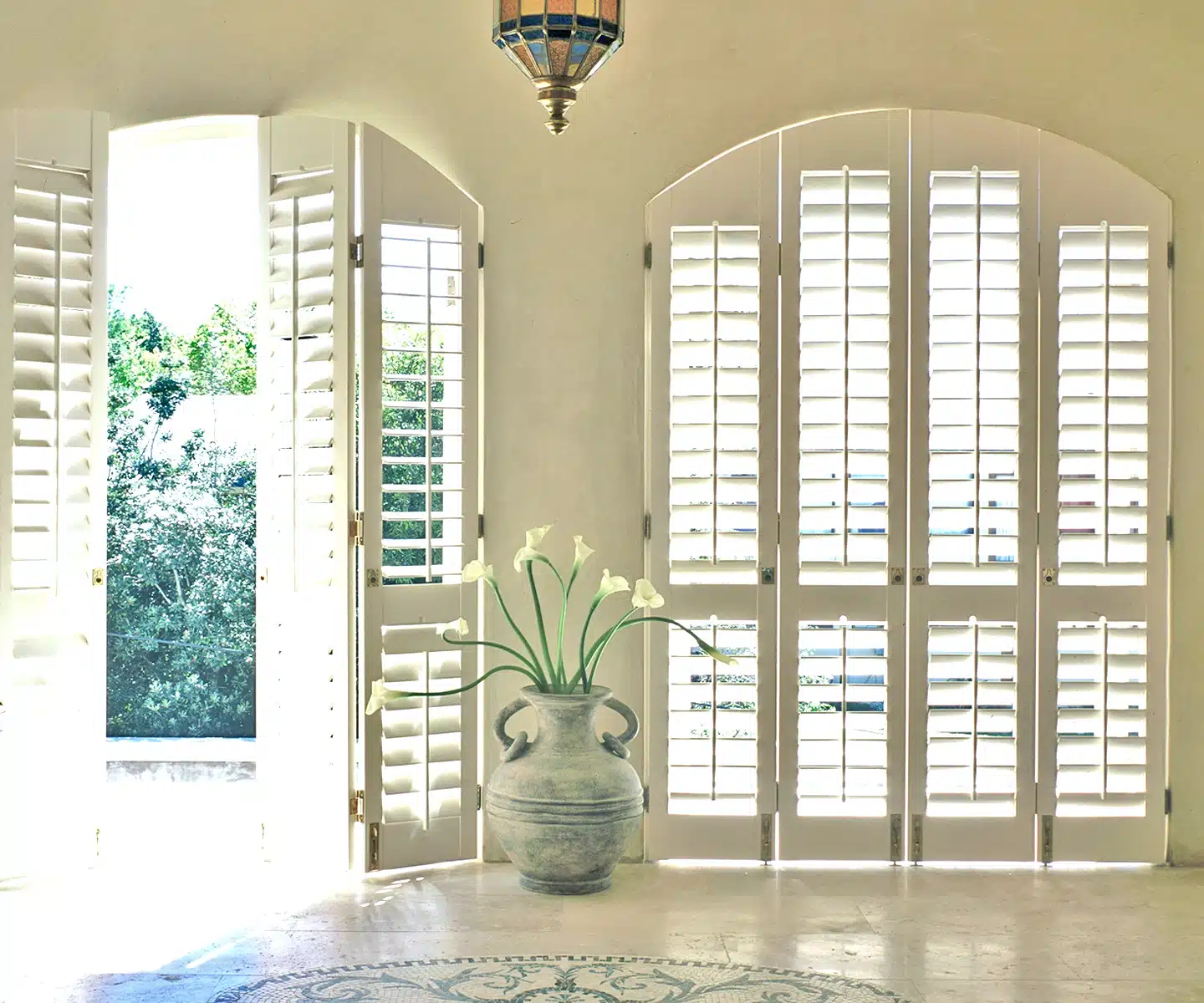 To measure your windows accurately determine their dimensions, including width, height, and depth. Consider the shape of your windows, especially if you have specialty windows like arched, bay, or corner windows. Custom shutters are a great solution for unique shaped windows.
Budget 
Keep in mind that the cost of shutters can vary significantly depending on factors such as material, customization, and brand. While wood shutters tend to be more expensive, options like faux wood or vinyl shutters offer affordable alternatives without sacrificing aesthetics or functionality.
Materials
Selecting the right material is all about your preferences and the room's environment. Here are some of the main benefits and considerations for popular materials:
Wood:

Offers a classic, elegant look but may require more maintenance and be less suitable for humid areas.

Faux Wood (Composite or PVC)

: Provides a wood-like appearance, durability, and moisture resistance, making it ideal for kitchens and bathrooms.

Vinyl:

Highly moisture-resistant and budget-friendly, suitable for high-humidity environments.
Color and Finish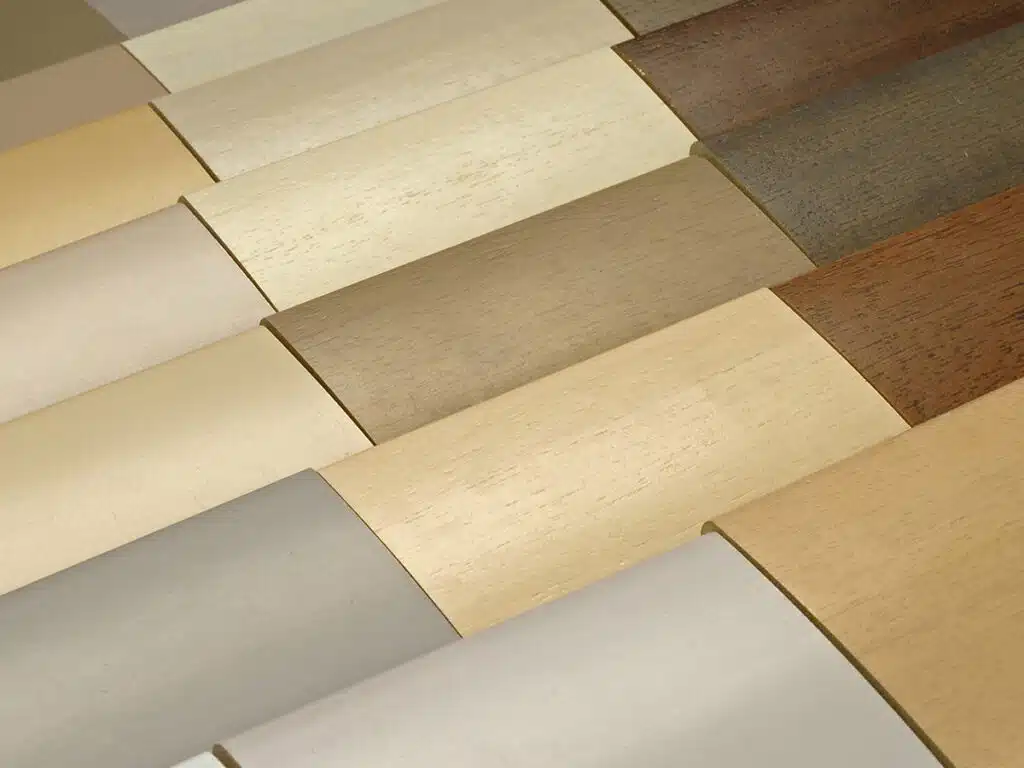 Shutters come in many colors and custom finishes, so you can find the perfect shade to complement your interior decor. Options include painted, stained, or natural wood finishes. Consider how the shutters will blend with your existing color scheme and whether you want them to be a focal point or to blend into the background.
Indoor Shutters Are a Great Investment with Norman USA 
Norman's louvered shutters have a classic elegance and aesthetic appeal that elevates any room. Their adjustable louvered system provides precise control over natural light, while their insulating properties help with energy efficiency. Durable construction makes our products last a lifetime, and all of these reasons are why interior shutters are a great investment for your home. Customize your dream shutters with help from our design team today!
FAQS
What are indoor shutters? 
Interior window shutters are adjustable window coverings consisting of horizontal slats, typically made of wood, faux wood, or other materials, that can be opened or closed to control light, privacy, and ventilation in a room.
What are the advantages of using indoor shutters in my home?
Advantages of using window shutters include enhanced aesthetic appeal, full light control, improved privacy, energy efficiency, durability, and potential property value increase.
Are there different types of indoor shutters available? 
Yes! Norman offers plantation shutters, cafe shutters, premium hardwood shutters, faux wood shutters, composite shutters and more.
How do I choose the right interior shutters for my home?
Window size and shape, budget, style, and materials should all be top considerations for choosing the right interior shutters.
Can I install indoor shutters myself, or do I need professional installation?
Ill-fitting window treatments don't function properly or look good, so it's best to leave installation to a professional.
Find a Specialist