Blinds and shades are household staples. Blinds typically consist of horizontal or vertical slats that can be adjusted to regulate light and provide privacy. They come in various materials, such as wood, aluminum, or composite. 
Shades, on the other hand, are made of a single piece of material that can be rolled, folded, or pulled down to cover the window. They offer different levels of opacity, from sheer to blackout, and come in a variety of styles.
Understanding Blinds
Simply put, blinds are made up of a series of adjustable horizontal or vertical slats that can be used to control the amount of light and privacy in a room.
Types of Window Blinds
Gone are the days when standard, uninspired PVC blinds were the only option on the market. Today's homeowners have a range of stylish options, from classic hard-grained wood blinds to sleek aluminum mini-blinds, there are trending blinds for any space.
Faux Wood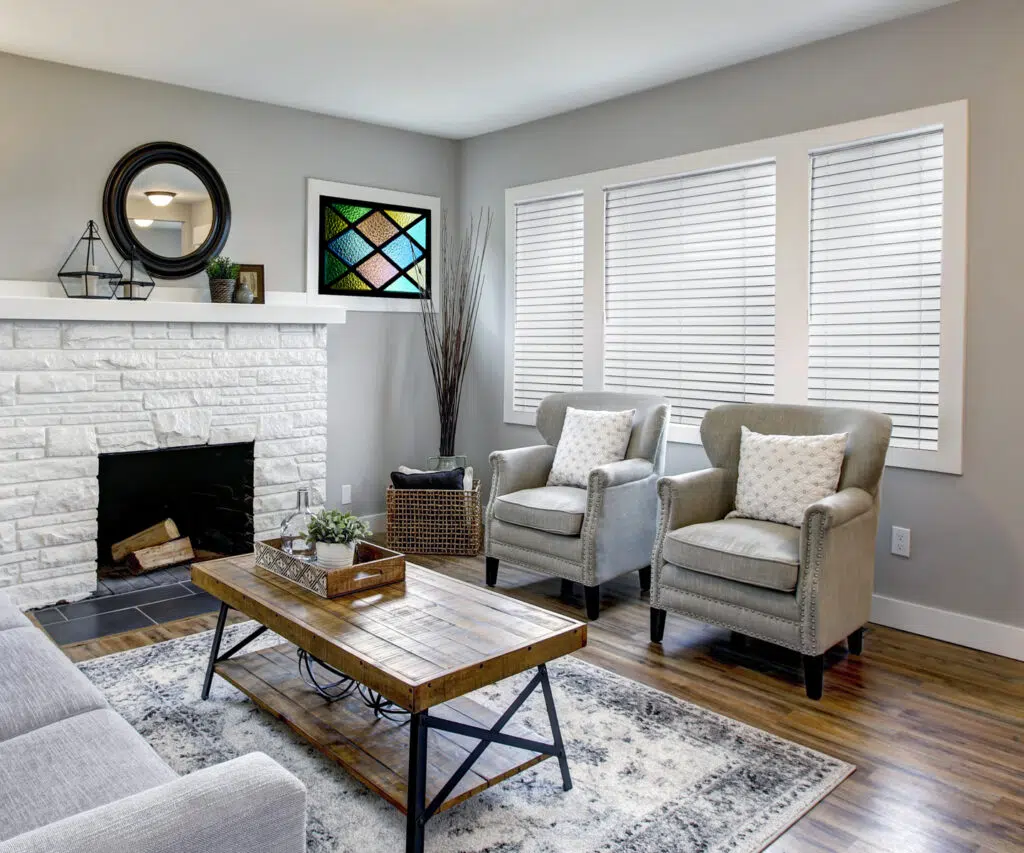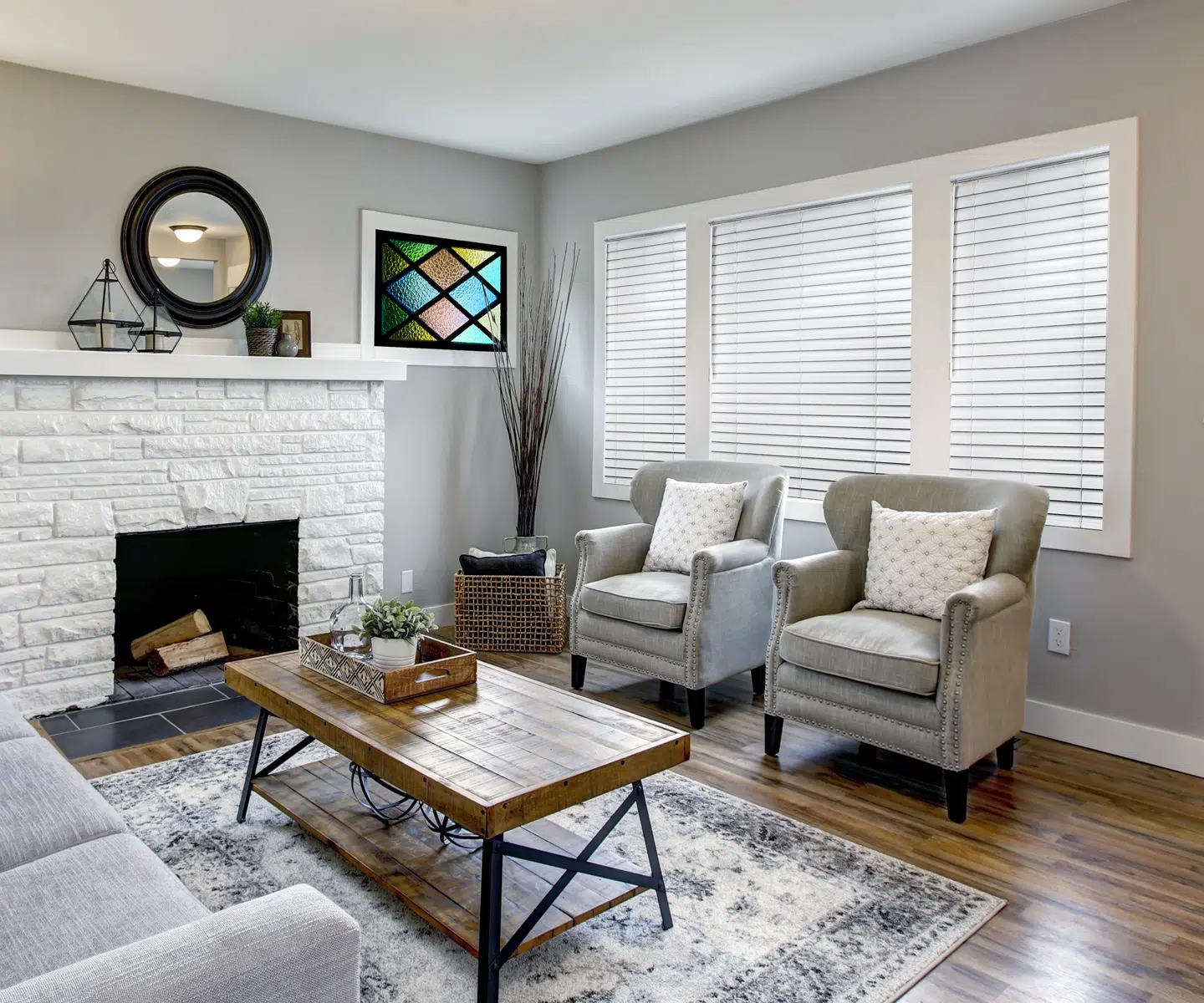 Faux wood blinds are designed to mimic the appearance of real wood blinds while offering several distinct advantages. Made from eco-friendly premium ABS composite materials, they are resistant to moisture and humidity, making them ideal for use in kitchens and bathrooms where real wood blinds might warp or crack. 
Wood Blinds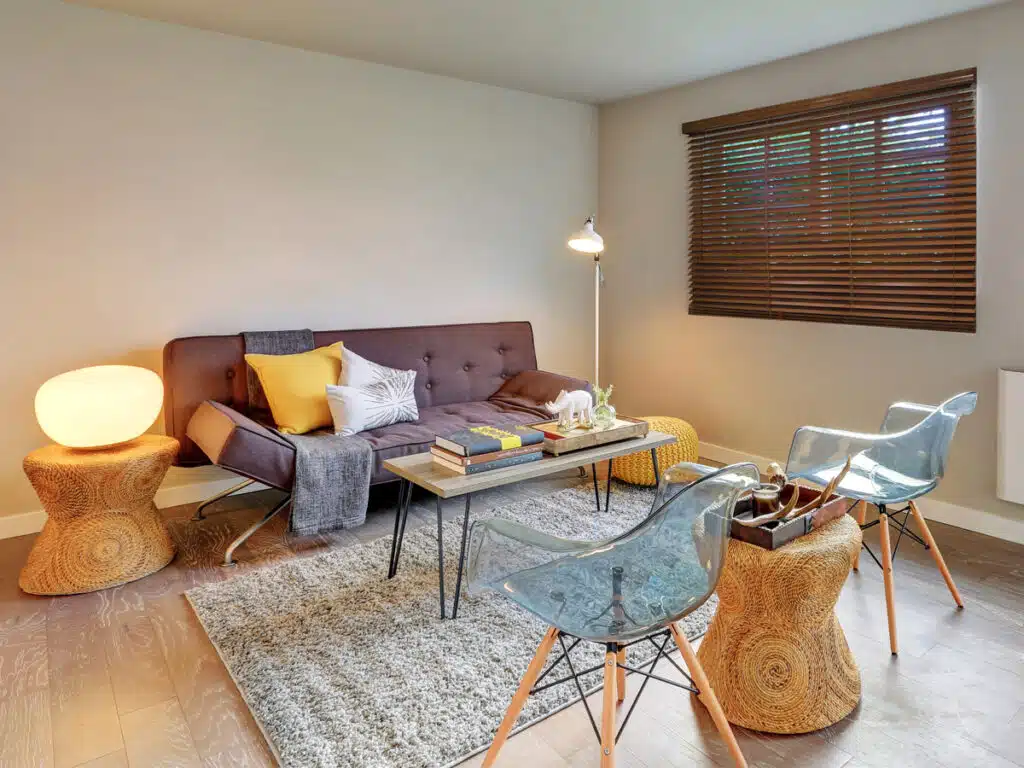 Wood blinds are a classic and timeless window covering option that adds a touch of sophisticated beauty to interior spaces. Warm and inviting, they are known for their natural texture and rich grain patterns. Wood blinds offer excellent light control and privacy, and can be custom-made to fit your specific window dimensions and design preferences. 
Aluminum Blinds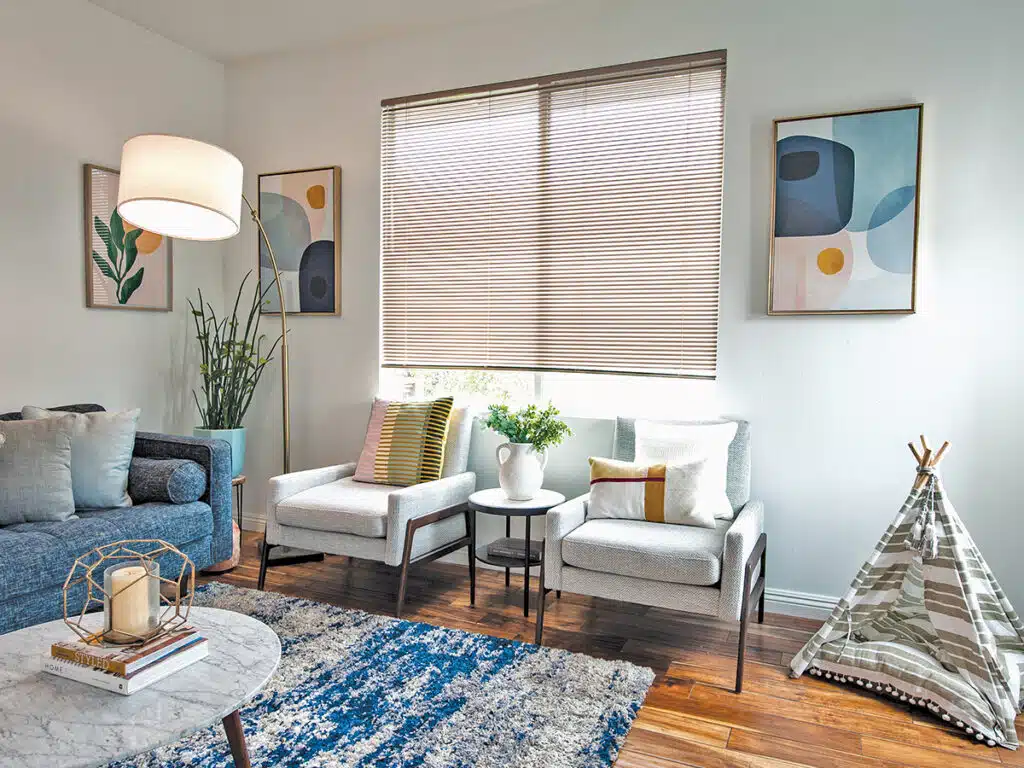 Aluminum blinds offer a combination of durability, modern aesthetics, moisture resistance, and easy maintenance, making them a practical and stylish choice for bathrooms and kitchens. They feature a clean and minimalist aesthetic, perfect for modern interior designs. 
Vertical Blinds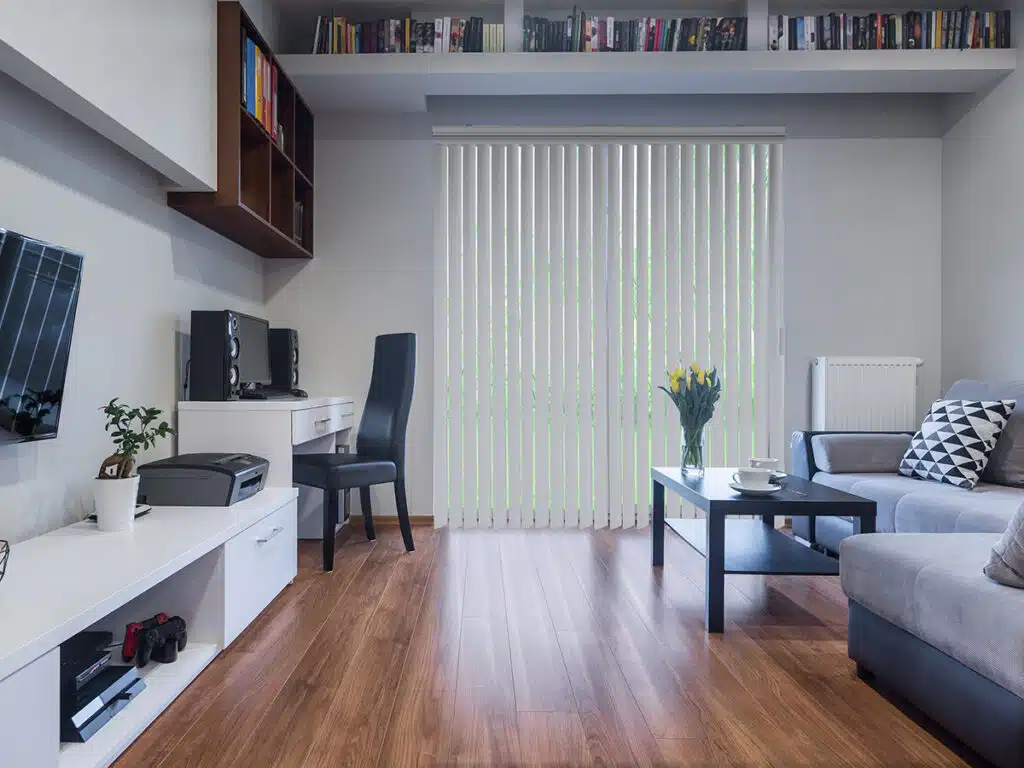 Vertical blinds are a versatile and practical window covering option that excels in light control, privacy, and customization. Highly functional for large windows and doors, they're a great choice for high-traffic areas like sliding glass doors and French doors. Synchrony™ vertical blinds come in corded, wand-controlled, or motorized options for ease of use.
Understanding Shades
Shades are made from a single piece of material that can be raised, lowered, or adjusted to cover a window. Norman® shades are crafted from high-quality materials, each engineered with a  design that offers unique benefits and aesthetics. Here are some top trending shades:
Types of Window Shades
Honeycomb Shades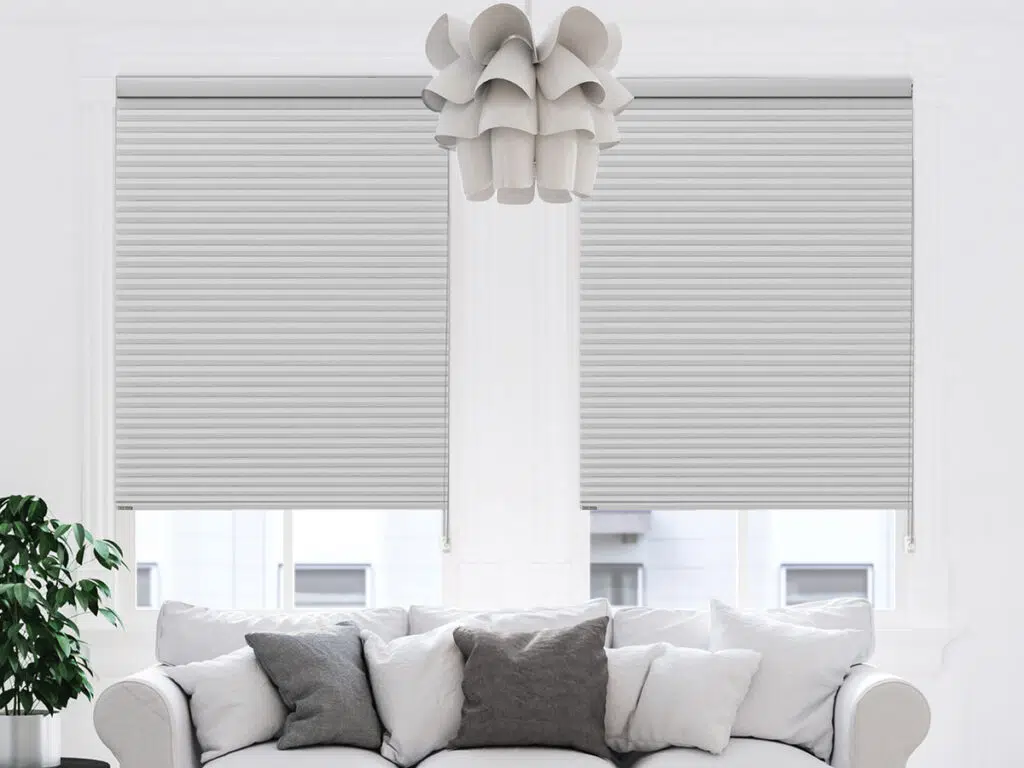 Cellular shades are constructed with two or more layers of fabric that form honeycomb-like cells. These shades provide excellent insulation and energy efficiency by trapping air, making them suitable for maintaining indoor temperature and reducing energy costs. Honeycomb shades come in various opacities and are admired for their clean, modern appearance.
Roller Shades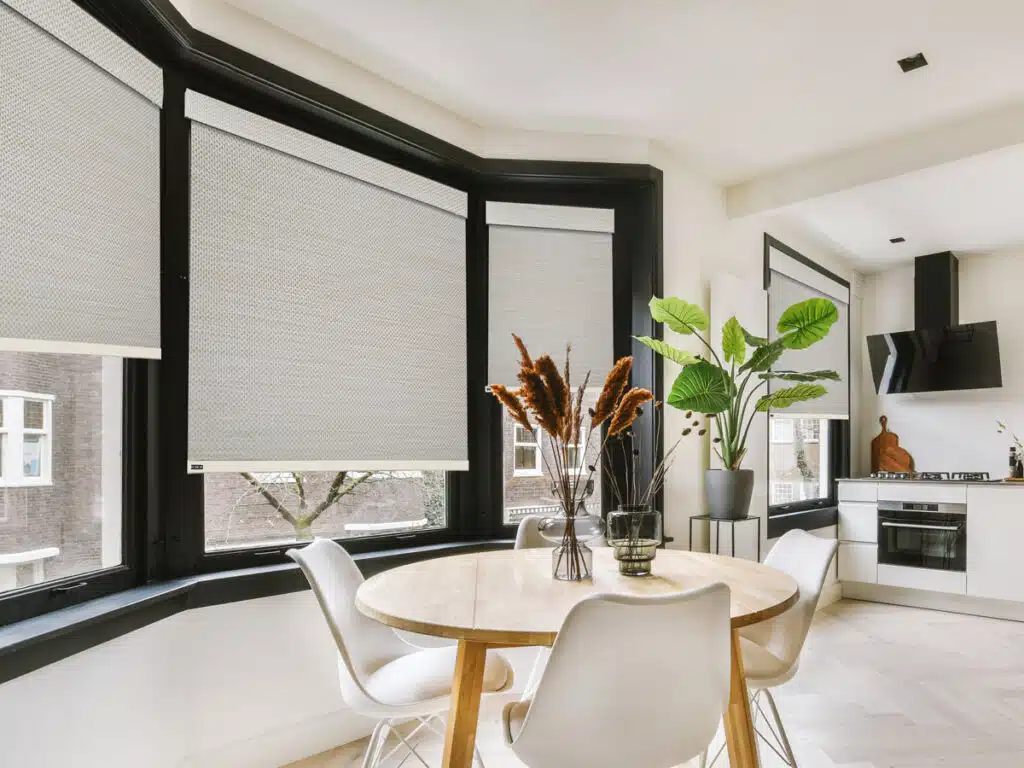 Made from a single piece of fabric that rolls up and down around a tube or roller mechanism, Soluna™ roller shades are a classic option known for their simplicity and ease of use. Choose from various opacity levels, including sheer, light-filtering, and blackout, to best suit the needs of your bedroom, nursery, or living room. 
Roman Shades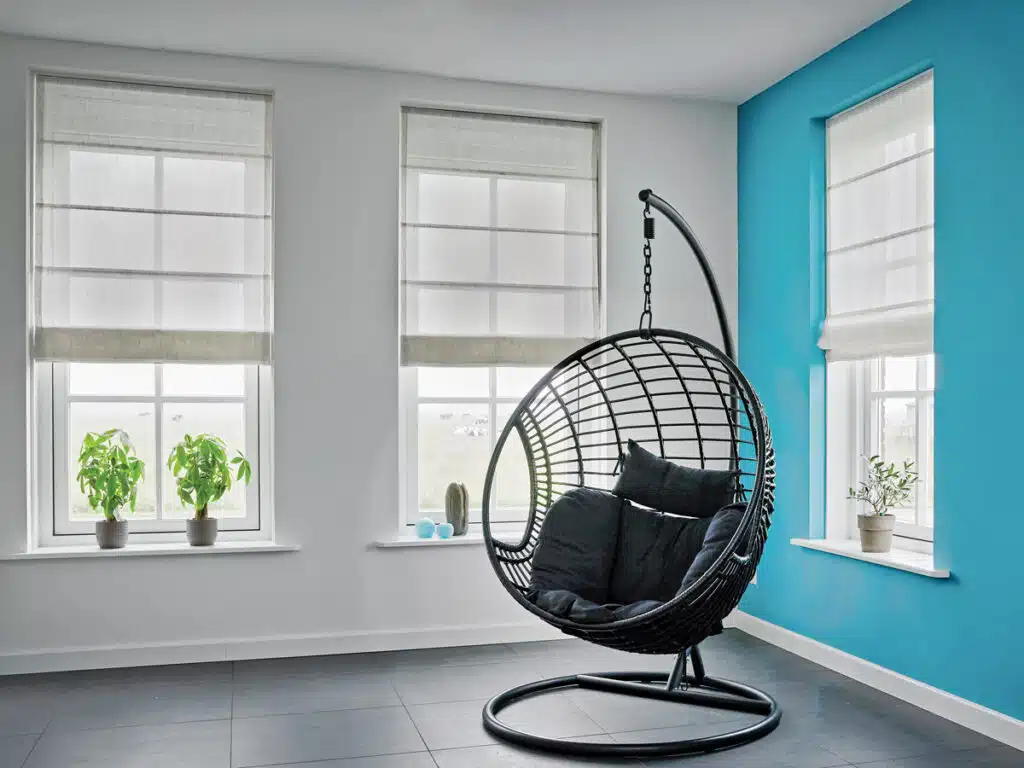 Centerpiece™ Roman shades stack neatly when raised and form horizontal folds or pleats when lowered. They offer a soft and classic look while simultaneously providing superior levels of privacy and light control. Customize your texture and fabric to instantly elevate any dining room, 
Sheer Shades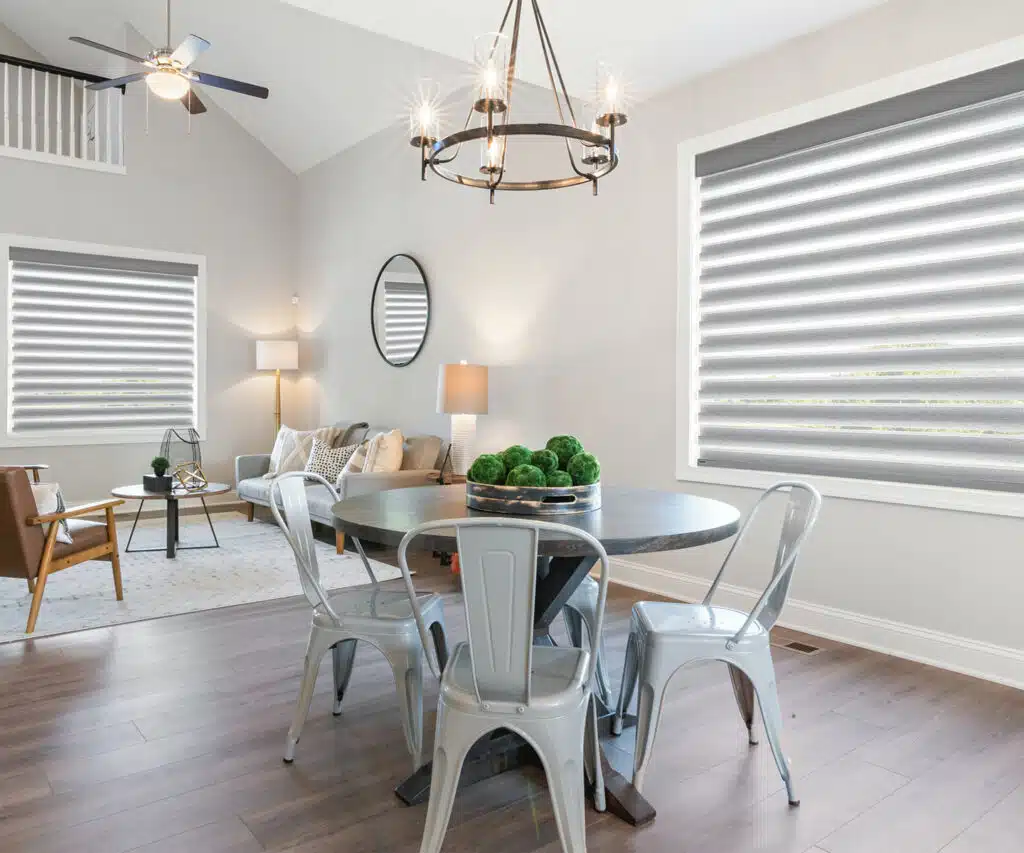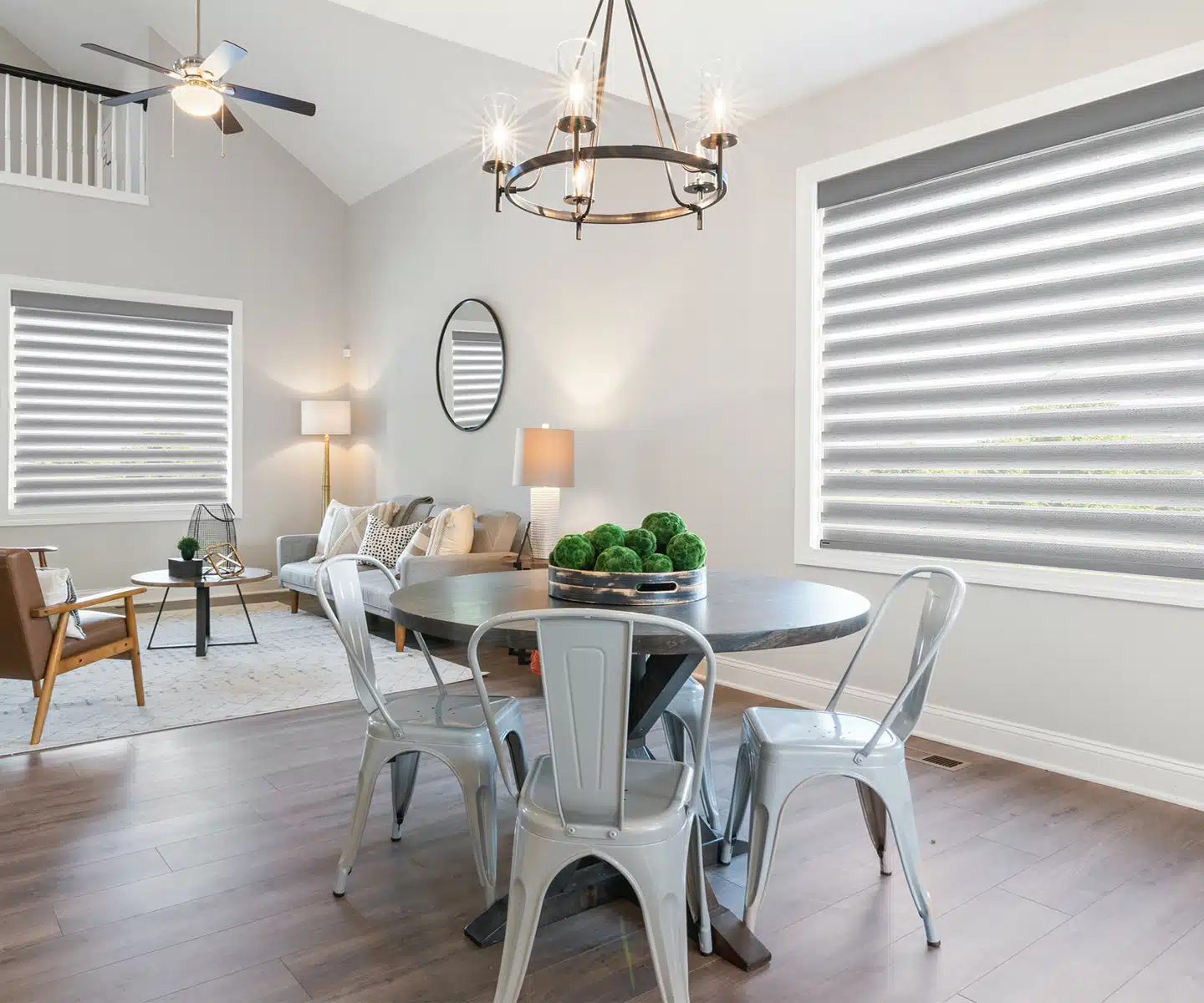 Sheer shades offer a delicate and sophisticated window covering solution that combines the benefits of light diffusion, privacy, and aesthetic appeal. They are an excellent alternative to heavy drapes or curtains for those who want to enjoy natural light while maintaining a level of discretion and style. 
Blinds vs. Shades: The Ultimate Comparison
Before you buy, make an informed decision on the pros and cons of each window treatment and what may ultimately be the best window treatments for your room. 
Design and Aesthetics
With their streamlined look and clean lines, blinds are a natural fit for modern and minimalist designs. Whereas shades are soft window treatments that compliment rustic and elegant interior designs. 
Light Control
Shades and blinds each offer high-end solutions for light control and blocking direct sunlight while allowing natural light in. Adjustable slats on your blinds and opacity options on shades help customize your light control.
Privacy
Some homeowners choose to combine both blinds and shades for maximum privacy and light control. For example, you might install blinds for daytime privacy and light control and add shades for a softer look and increased privacy at night.
Materials & Durability
Norman® 's blinds and shades are all crafted with high-quality materials. Composite and aluminum blinds are preferable for high-moisture bathrooms and kitchens, while luxury fabric shades and hardwood blinds are elegant durable choices for dining and living rooms.
Rooms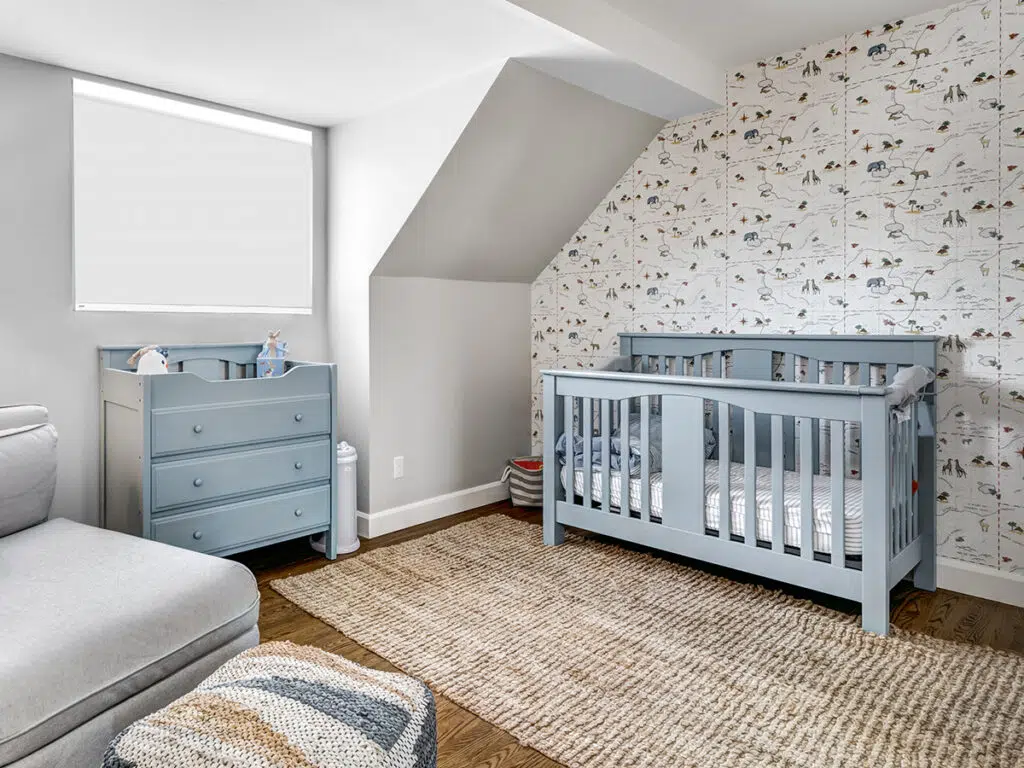 Blackout shades are the premier choice for bedrooms and nurseries for a great night's sleep. Faux wood blinds are appropriate for kitchens, while vertical blinds are the go-to choice for sliding doors. 
Budget
Norman® has shade styles and blinds for all budgets. You'll find different prices depending on the material, so be sure to explore multiple options. New aluminum mini blinds are a customer favorite. 
Cleaning & Maintenance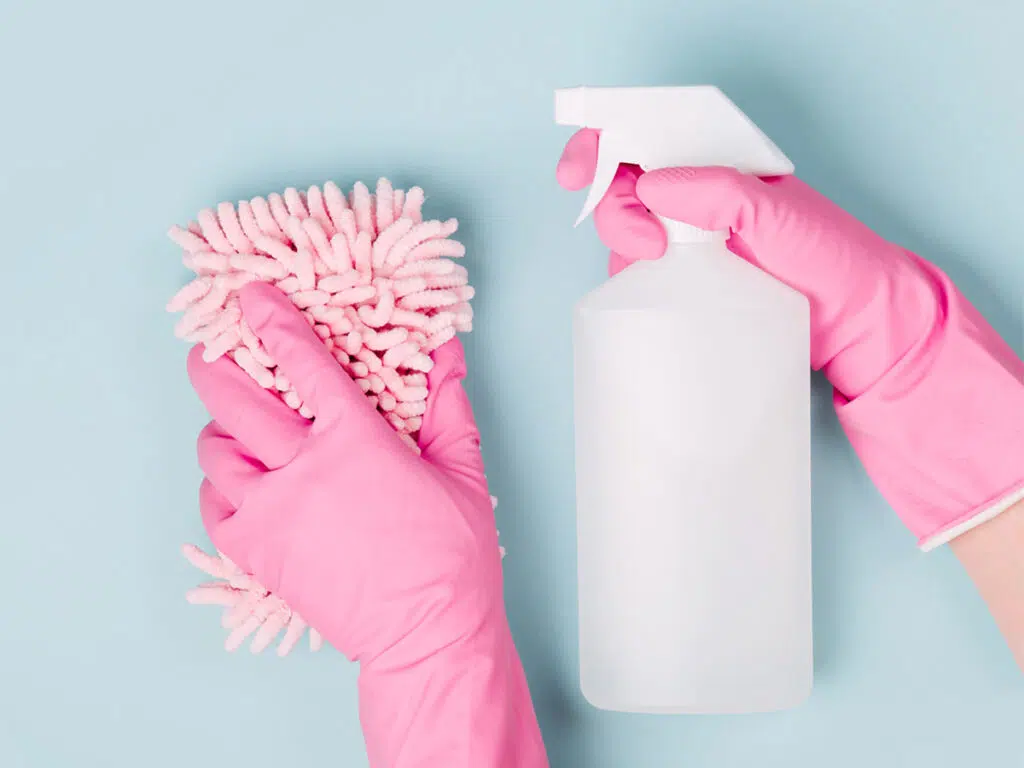 Shades and blinds are both easy to clean and care for. Regular dusting and spot cleaning is all it takes to keep them looking as good as new!
Automation Options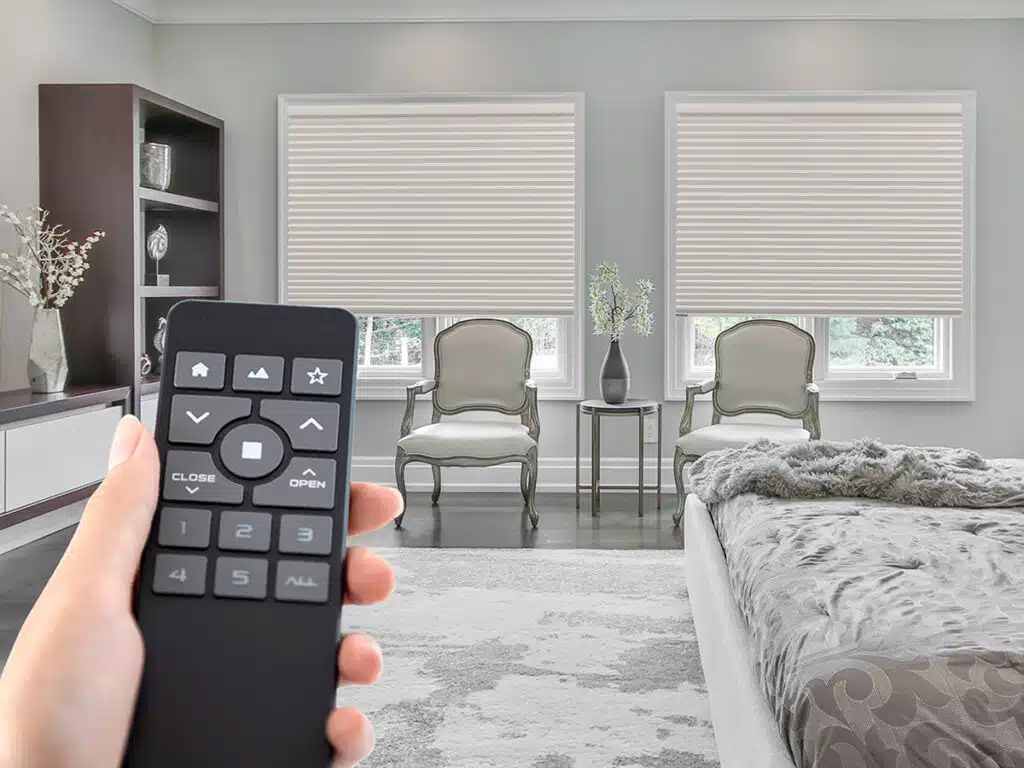 Norman®'s smart motorization options are ideal for a new home with young children. Motorized blinds and shades can be operated using a remote control device. With the press of a button, you can raise, lower, or adjust the slats to your preferred position.
So, Which One's Better?
To recap, consider the style and function of your window and living space. Blinds and shades offer unique advantages that you'll want to leverage to elevate your room. Light control, privacy, durability, and style are all equally important factors as you weigh your options.
For Either Blinds and Shades, Norman® USA Has the Best
No matter which way you're leaning, you can't go wrong with the elegant and functional blinds and shades available with Norman®. Shop confidently and bring your vision to life with window treatments that are fully customizable in size, shape, fabric, and finishes. Our team of design experts is ready with recommendations to help you find the best option for your project.
FAQs
What's the main difference between blinds and shades?
A: Blinds have adjustable slats that allow for precise control of light and privacy, while shades consist of a single piece of material that offers a softer, diffused light.
Which option is more economical, blinds or shades?
A: Norman® offers budget-friendly blinds and shades.
Is it better to have blinds or shades in my room?
A: For precise light control, blinds are a better choice. For insulation and energy efficiency, honeycomb shades are unmatched.
How can I choose the best window treatment?
A: The best window treatment depends on the function of your window, design aesthetic, and customization needs.