The age-old debate between blinds and curtains is still going strong among homeowners and interior designers alike. Curtains have their own charm with their flowing fabrics and decorative patterns, while blinds offer a unique set of advantages when it comes to both style and efficiency. 
We'll explore the distinctive benefits of blinds over curtains, highlighting why they stand out as the preferred choice for those seeking a versatile and modern solution that not only enhances the aesthetic appeal of a space but also provides unmatched functionality.
What Are Window Blinds?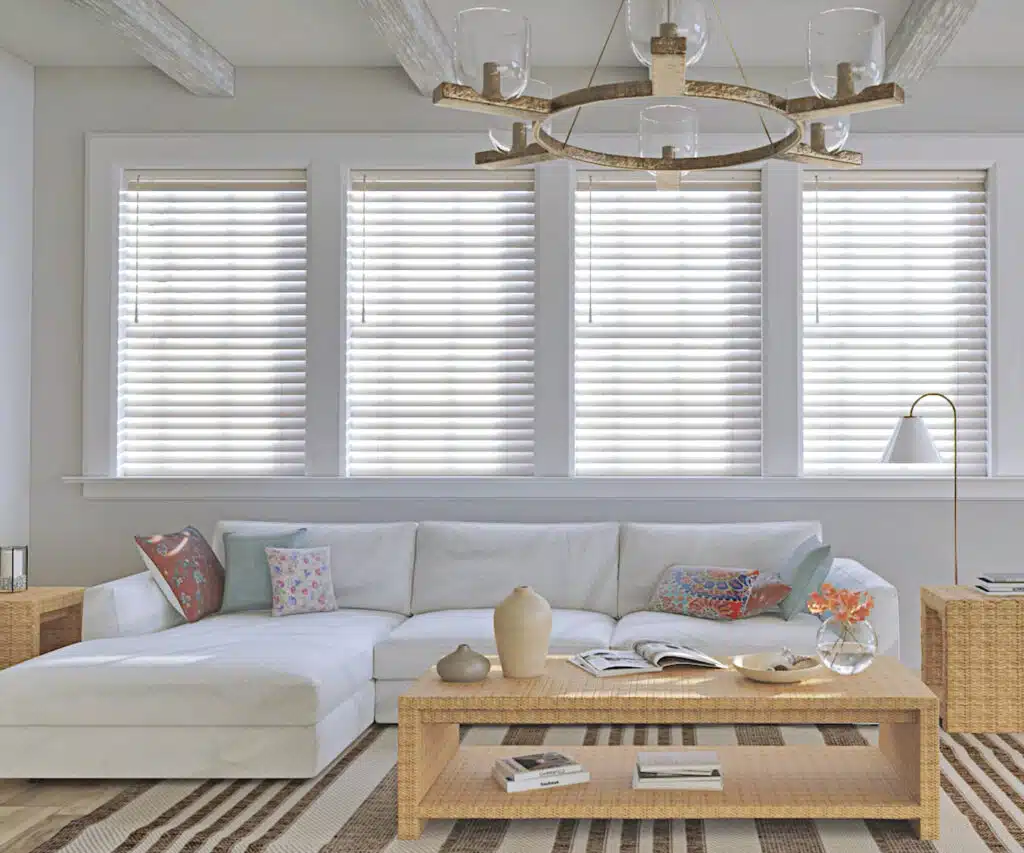 Window blinds are typically made of slats or vanes that can be adjusted to control the amount of natural light, privacy, and outside visibility in a room. Designed to fit within or over a window frame, they can be operated manually or motorized. Blinds are a popular choice for both residential and commercial spaces due to their versatility and practicality.
What Are Window Curtains?
Curtains consist of fabric panels hung on a rod or rail above a window or door opening and are manually operated by simply pulling or pushing the fabric panels along them. They are functional and decorative, enhancing aesthetic appeal while providing privacy and insulation. Curtains come in a wide variety of styles, fabrics, and designs to suit different interior decor preferences.
The Case for Blinds
1. Light Control
Blinds provide precise control over the amount of light entering a room. By adjusting the angle of the slats or raising and lowering the blinds, you can achieve the desired level of brightness and ambiance.
2. Privacy Options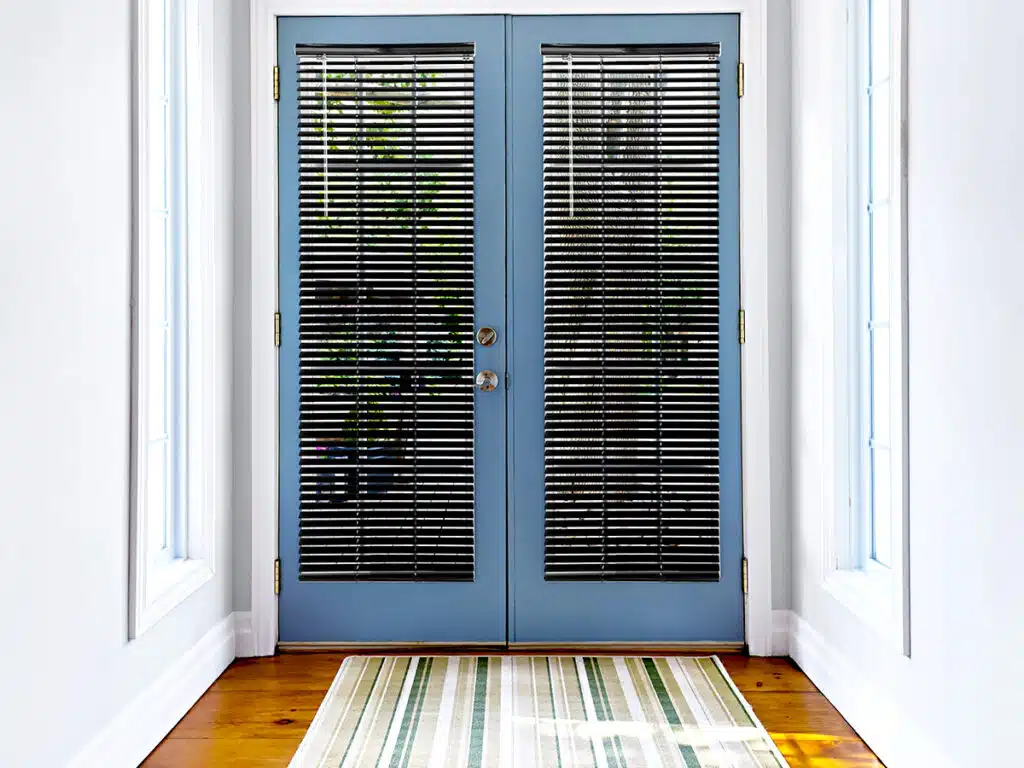 Blinds offer versatile privacy options. You can fully close them for complete privacy or tilt the slats to allow some light in while maintaining privacy. Depending on the type, blinds provide varying degrees of privacy. For instance, blackout blinds can offer near-total privacy when closed.
3. Low Maintenance
Blinds are incredibly easy to clean and maintain. Regular dusting with a microfiber cloth keeps them looking good as new, and spot cleaning with a damp cloth and mild detergent will take care of any pesky stains.
4. Modern Aesthetics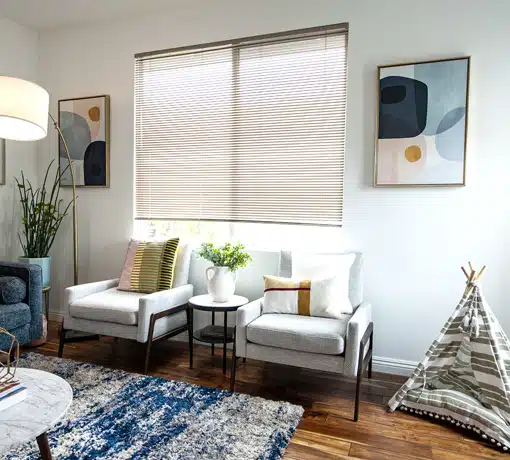 Blinds offer a sleek and contemporary look sought after by design conscious shoppers. Their minimalist and neat appearance, which can create a streamlined and tidy look for your windows. They are also part of this year's window treatment trends.
The Case for Curtains
1. Definitive privacy
Curtains provide a high level of privacy when fully closed, especially those with thicker or blackout fabrics that block outside visibility entirely. You can partially close them or use sheer curtains to allow diffused light for more flexible privacy options.
2. Fabric Options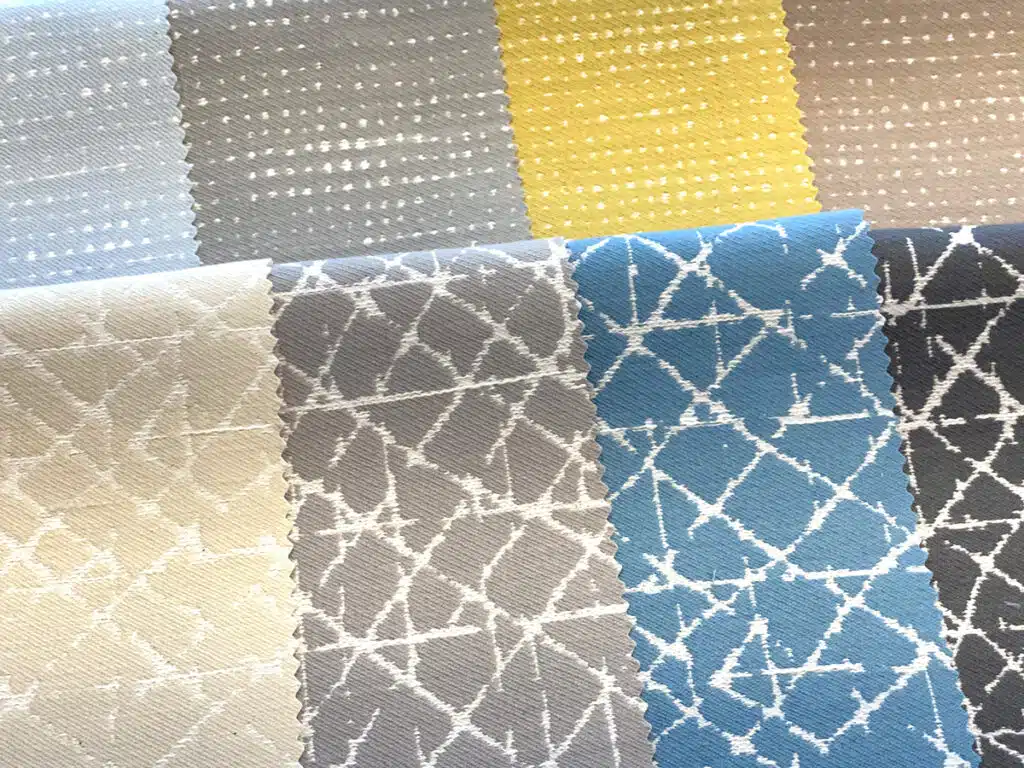 Available in a wide array of fabric options, including cotton, silk, linen, velvet, sheer materials, and more the versatility of choices for curtains allows you to choose a color, pattern, and texture to match your interior decor, style, and functional needs.
3. Elegant Design
Curtains are renowned for their ability to add elegance and sophistication to a space. The way they drape and puddle on the floor can create a dramatic and luxurious effect, making them a statement piece in interior design. They can be customized in terms of length, color, and style, to achieve a tailored look that perfectly suits the character of your space.
4. Sound insulation
Heavier and thicker curtain fabrics, such as velvet or lined curtains, can provide some degree of sound insulation. They help absorb sound waves, reducing noise from outside sources and improving the acoustic comfort of a room. This is convenient for urban living spaces, rooms that face busy streets, and even just homeowners wanting to block out the noisy next door neighbor! 
Advantages and Disadvantages of Each
Design Versatility
Curtains create drama and are often chosen as statement pieces for interior design. They're a great choice for entertaining spaces like formal dining rooms and living rooms. However, due to their material, they are not suitable for high-traffic or high-moisture areas.
Blinds on the other hand, have a modern and streamlined appearance that suits contemporary design aesthetics. They are known for their longevity, featuring sturdy materials such as aluminum and faux wood that are resistant to moisture and are less likely to warp or fade over time. This makes blinds a great choice for kitchens, bathrooms, bedrooms, and office spaces.
Space
Blinds have a compact design that takes up minimal space, allowing for a clutter-free and unobstructed window area when fully raised. Because blinds stack neatly when fully raised, they're suitable for rooms with limited wall space around small windows.
Curtains main design drawback is that they require space for the drapery to stack when opened fully. This can be a limitation in small rooms or spaces with limited wall space around windows. However, if you have especially wide or large windows, curtains may be the ideal solution.
Energy Efficiency
Certain curtains, like those with thermal or blackout linings, offer insulation properties. They help regulate indoor temperature by reducing drafts, trapping heat during the colder months and blocking excessive heat during the warmer months.
Closed blinds can also prevent heat gain during hot weather and help retain warmth in the winter, reducing heating and cooling costs. Cellular or honeycomb blinds have premier insulating properties that create a barrier between the window and the room, further enhancing energy efficiency.
Price
Ready-made curtains in standard sizes are often more affordable than custom-made curtains. Custom fabric, tailored measurements, and a larger sized window will all increase the price. Blinds in standard sizes tend to be more budget-friendly as well. The material of blinds also significantly impacts their price. For example, wood blinds tend to be more expensive than aluminum or vinyl blinds.
Cleaning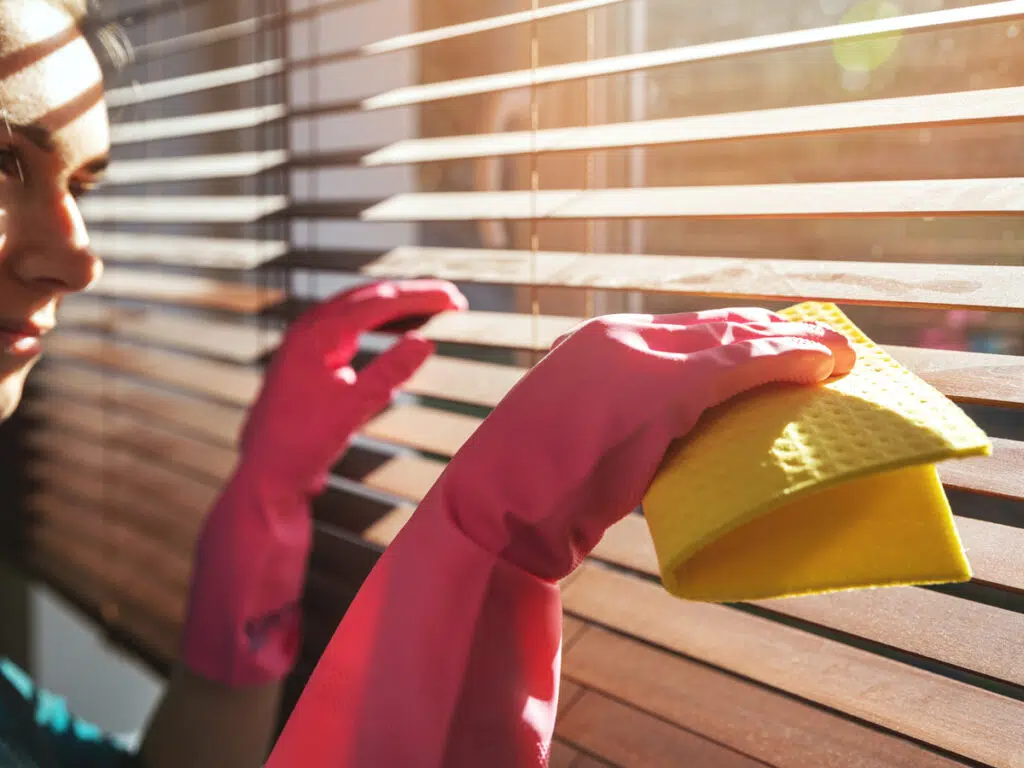 Blinds require very little maintenance, just a quick dusting regularly and spot cleaning when needed. This is ideal for busy homeowners. Curtains require a deeper clean, and while some fabrics may be machine-washable, others need to be dry-cleaned. They also need to be vacuumed with an attachment to remove dust. The cleaning process is certainly more labor intensive.
Which One Should I Pick?
To make the best choice for your unique needs, consider the following criteria:
1. Room Function: 
Venetian Blinds:

available in wood or aluminum, they work well in living rooms and kitchens.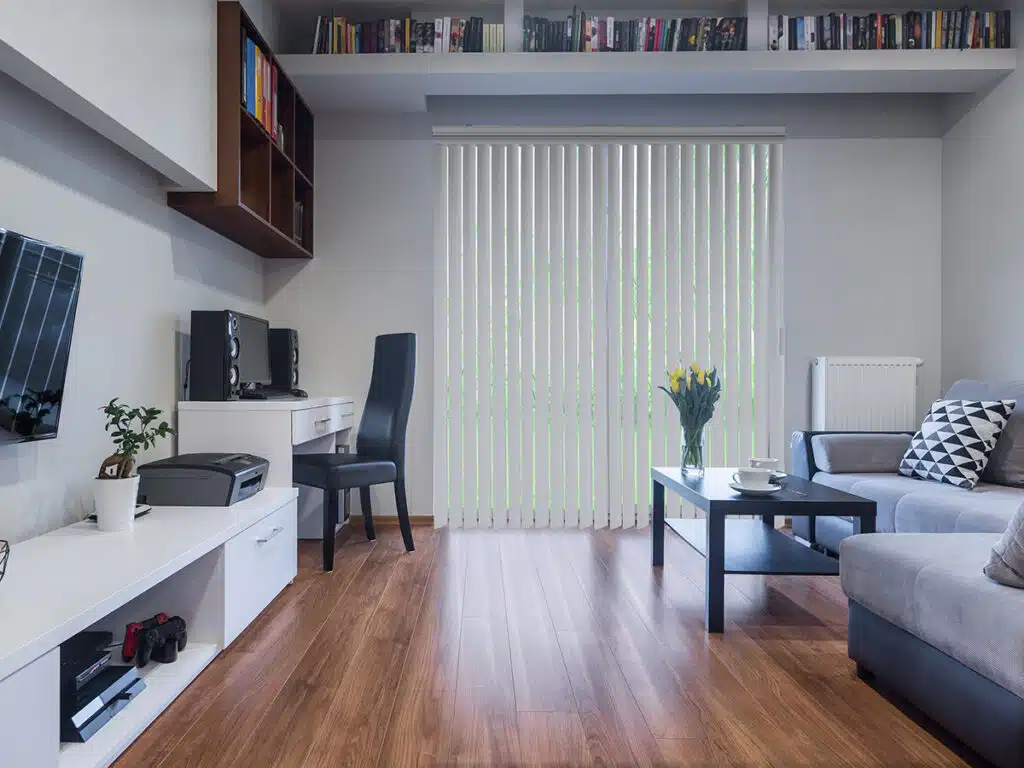 Vertical Blinds:

a top choice for sliding glass doors and large windows, they're ideal for living rooms and patios.
2. Decor Style: 
Choose blinds that complement or contrast with your room's color scheme and match the style of your blinds to your overall decor. For a cozy feel, use fabric or wood blinds, while sleek and modern interiors may benefit from metal or vinyl blinds.
3. Budget Considerations: 
If your windows are close to standard measurements, shopping ready-made blinds can be a cost-effective option. Basic styles like Venetian or roller blinds are often more affordable than intricate designs.
4. Light and Privacy Needs: 
Privacy has to be a top priority in bedrooms and family rooms, while more openness and natural light may be desired in living room and kitchen areas. Determine your needs ahead of time and shop accordingly.
Norman® Windows Is Your Best Option for Window Treatments
Norman®'s unbeatable selection blinds features high-quality materials, expert  durable craftsmanship, and a variety of on-trend designs to fit any budget. Our team of design experts are here to help you customize size, color, material and more to create the perfect window treatment solution.
FAQs
What's the main difference between curtains and blinds?
A: Curtains are fabric panels that hang vertically and are typically operated by manually pulling them open or closed, while blinds consist of horizontal or vertical slats that can be tilted or raised/lowered.
Are blinds more budget friendly than curtains?
A: In general, standard size blinds made from cost-effective materials, such as faux wood and aluminum blinds can be more budget-friendly than curtains.
Which blinds are more energy-efficient than curtains?
A: Cellular shades feature a honeycomb design that traps air and is more energy-efficient than curtains.