Are you going to decorate your house? If so, you can use mood boards, a technique used by professional interior designers to achieve purposeful styling and a cohesive look. It will allow you to find out what your style is, and considered is an important tool for furnishing your interior.
But what exactly is a mood board? And how do you make one? We're here to help!
You are going to (re)decorate your house, super fun! But if you don't quite know what you want yet, it's difficult to just start. The best way is to map out your favorite interior style is to make a mood board. This way you create an overview of what you like and you immediately see what does and does not fit together.
Get living inspiration
Before you start, it's nice to get some inspiration. We have written numerous blogs about the latest interior trends. We hope these blogs give you inspiration for your next design project.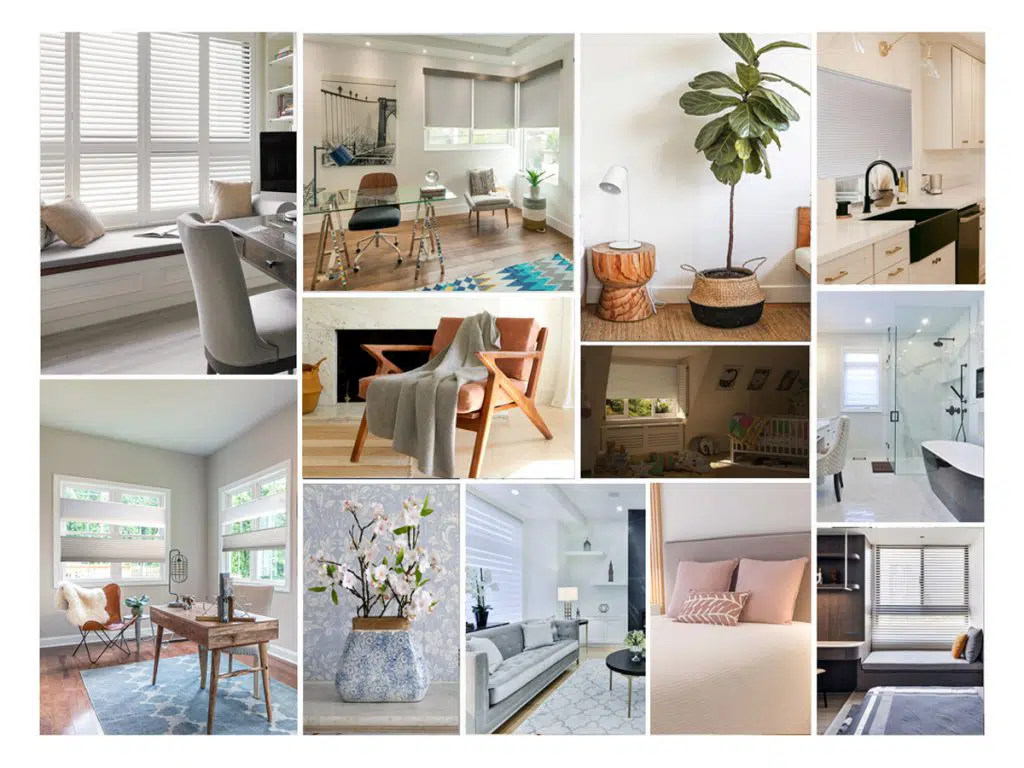 What is a mood board?
A mood board is often a collage of images. You can make them both online or on paper. The perfect mood board consists of a general and thematic variant. It's the perfect way to set the groundwork for your décor scheme before you add window treatments such as blinds, including mini blinds, faux wood blinds, vertical blinds, or window shades and plantation shutters.
In the general mood board you record what general feeling the house should have. Think, for example, of an industrial, Scandinavian or rural interior. Do you want to add cool urban colors or warm wood tones? Or mix styles together. Sleek and modern, cozy or natural can also be a starting point. Find images that fit your chosen mood, looking at shapes, colors and materials.
With a thematic mood board you go deeper into the theme. You look for furniture, paint and of course window coverings that fit with the feel and style of  your new interior. By combining them in a mood board, you can see at a glance whether something fits your style or not.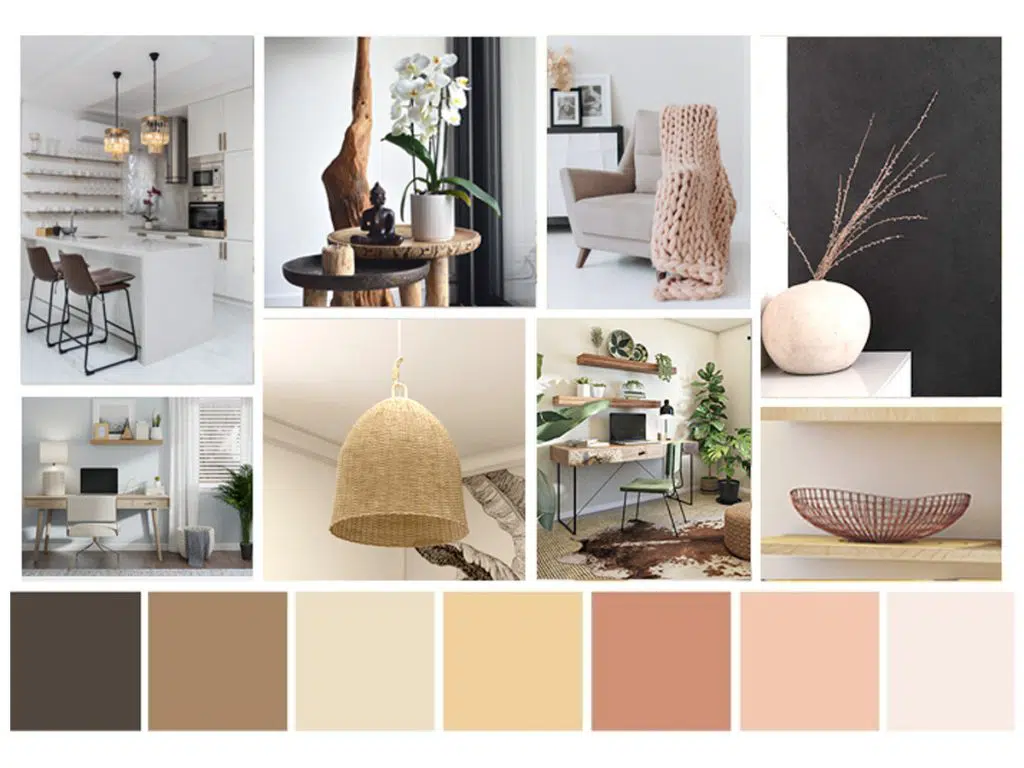 How do you make a mood board?
Now you know what a mood board is. But how do you make one? You can easily make mood boards online. An example of an online bulletin board is Pinterest . Here you can place all images on a board that suits your style. You gain inspiration by looking for interior examples in your style. Then Pinterest adjusts your homepage to the keywords you used along with your interests. You can also share your favorite photos with others you're working with, making it a great way to enhance collaboration.
Are you somewhat handy with Photoshop, InDesign or Picasa? Then you can also go to these programs for your mood board. The advantage is that you can design your mood board in your own way. A disadvantage is that you have to be able to use one of these programs to really create something substantive. Are you very handy with Microsoft Word or Powerpoint? Those work too!
What might be even more fun is a paper mood board! Collect interior magazines and other materials that catch your eye. Any texture, material, color or fabric is free game for your mood board! With scissors and a glue stick you have everything you need to let your creativity run wild. In addition, it is also very relaxing.
A big advantage of making a paper mood board is that it becomes tangible. You can feel the textures on your mood board, and see how they fit with colors, fabrics and finishes for your interior shutters, cellular shades, roller shades, roman shades, or smart blinds to create a beautiful cohesive look that matches your style and unique point of view.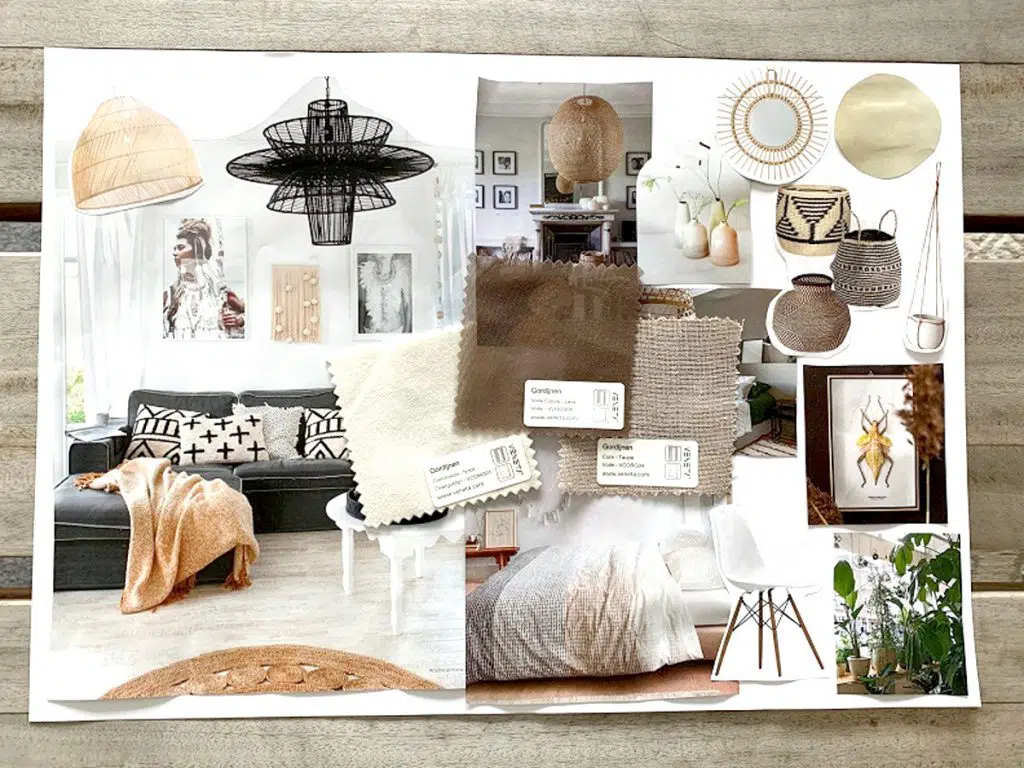 Different spaces
You can of course make one mood board for your entire house, but how about a mood board per room? The nursery could also use a refresh. How about in a botanical or classic style?
You can also style the bathroom very nicely. You may not have a complete bathroom renovation planned, but small adjustments can make a big difference. Think of new window decorations in your bathroom.
Decorating a room – or an entire house – can be a daunting process and can involve countless decisions. Creating a mood board can help keep you organized. And when it comes down to brainstorming window treatment ideas, whether it's for the sliding glass doors, patio doors, kitchen window treatments, mood boards can help you hone in on the products that will best complement your look. For some, it could be as simple as blackout blinds, but Norman® offers a whole world of window treatments including interior shutters, patio door blinds, cellular shades, roller shades and roman shades for you to explore.