Blocking light is obviously a top priority when it comes to the selection of window treatments. But are certain treatments better at blocking out sunlight and avoiding gaps than others? And is there anything you can do to improve the light blocking capabilities of your current treatments? We answer all those questions and more in this article on light blockers for blinds.
Choosing the Right Color to Darken a Room
When choosing window treatments to darken a room, it's important to consider both the function and the aesthetic. For example, blackout shades are an effective way to block out light, but they may not always provide the most stylish look. Conversely, lighter-colored shades or draperies may let in more natural light but can create a more airy feel. 
Ultimately, the best window treatment to darken a room will depend on your individual needs and preferences. If you're looking for maximum light blockage, consider blackout shades in a dark color. If you want to brighten up the space, opt for lighter-colored shades or draperies; however, keep in mind that the room darkening effect may lessen with light colored shades. If you're unsure what level of light control will work best, we've put together a handy guide to help you determine what will work best for your home.
Room Darkening vs. Blackout Shades
Room darkening shades are a type of window treatment that is designed to reduce the amount of natural light that enters a room. Blackout shades are a similar product, but they're intended to completely block out all incoming light. Both room darkening and blackout shades can be effective at reducing energy costs by keeping rooms cooler in the summer and warmer in the winter. However, the difference between them is that room darkening shades are often made from thick, opaque fabrics, while blackout shades may also include an additional liner to ensure complete light blocking.
Types of Light Blocking
Here are some of the common window treatment types and their levels of effectiveness for blocking light in your room.
Cellular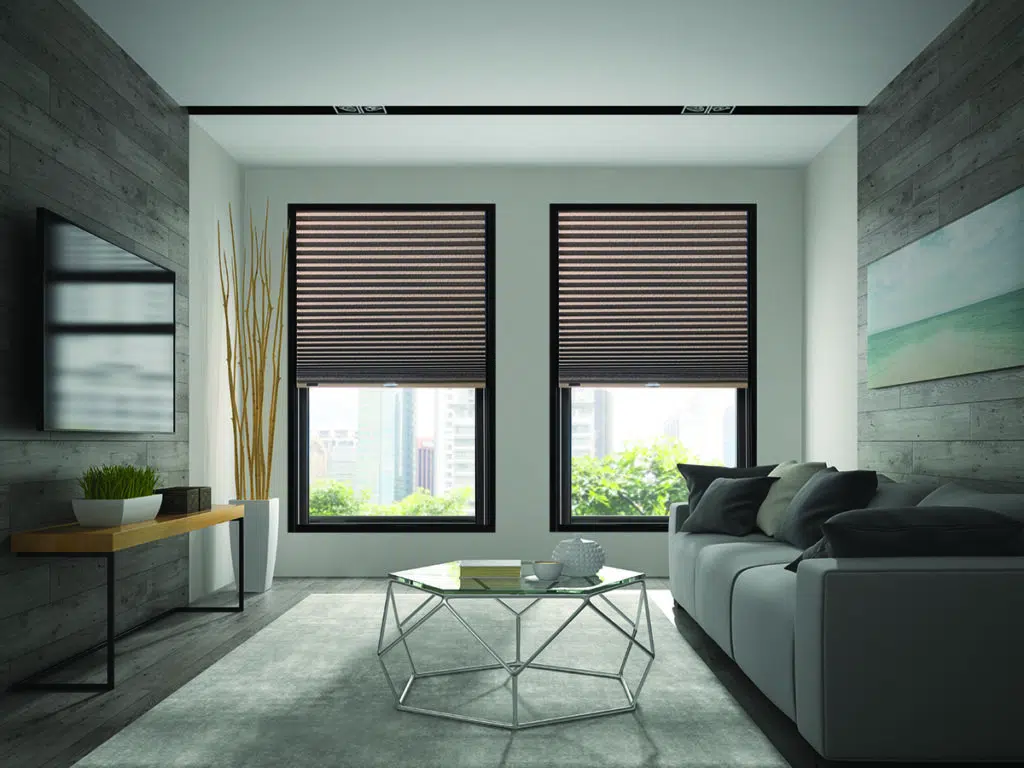 Cellular shades, also known as honeycomb shades, are a type of window covering that is designed to filter or block out light depending on the fabric. The shade's fabric typically creates a barrier that helps to keep unwanted light from entering the room. While room darkening cellular shades are very effective at blocking light, they are not completely opaque. Some light may still be able to pass through the fabric, so they may not be ideal for rooms that require complete darkness. However, an additional benefit to cellular shades are their ability to insulate a space, keeping it cool in the summer and warm in the winter.
Wood & Faux Wood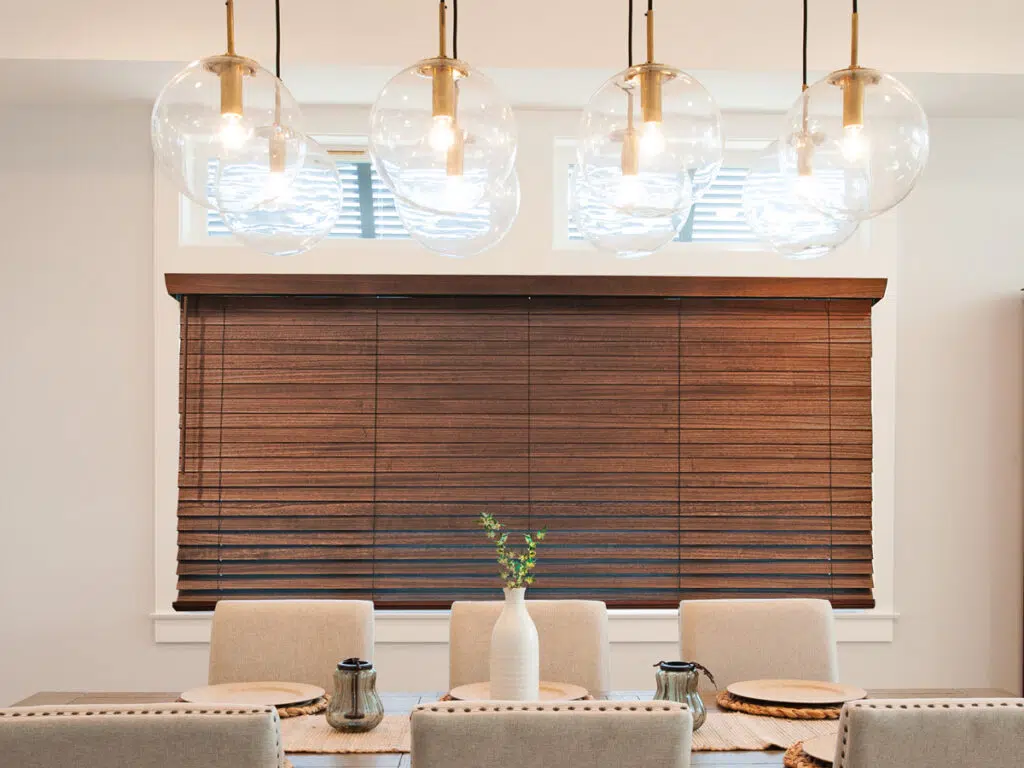 Wood & faux wood blinds are popular window treatment choices for both homeowners and businesses. One of the benefits of wood or faux wood blinds is that they're quite effective at blocking light. The tight closure of the material prevents outside light from entering the room, making it easier to control the amount of light in the space. However, traditional blinds still contain route holes in various places of each slat, allowing for light to seep through. Due to this, they are not a complete light block solution, but rather light control. To specifically address the issue of light leakage from route holes,  Norman® 's SmartPrivacy® blinds place their route holes in the back of each slat. This seemingly small change covers up potential openings for light leakage and creates a more effective room darkening solution. That being said, these blinds are also available in a variety of colors and textures, making it easy to find an option that complements the décor of any room.
Roman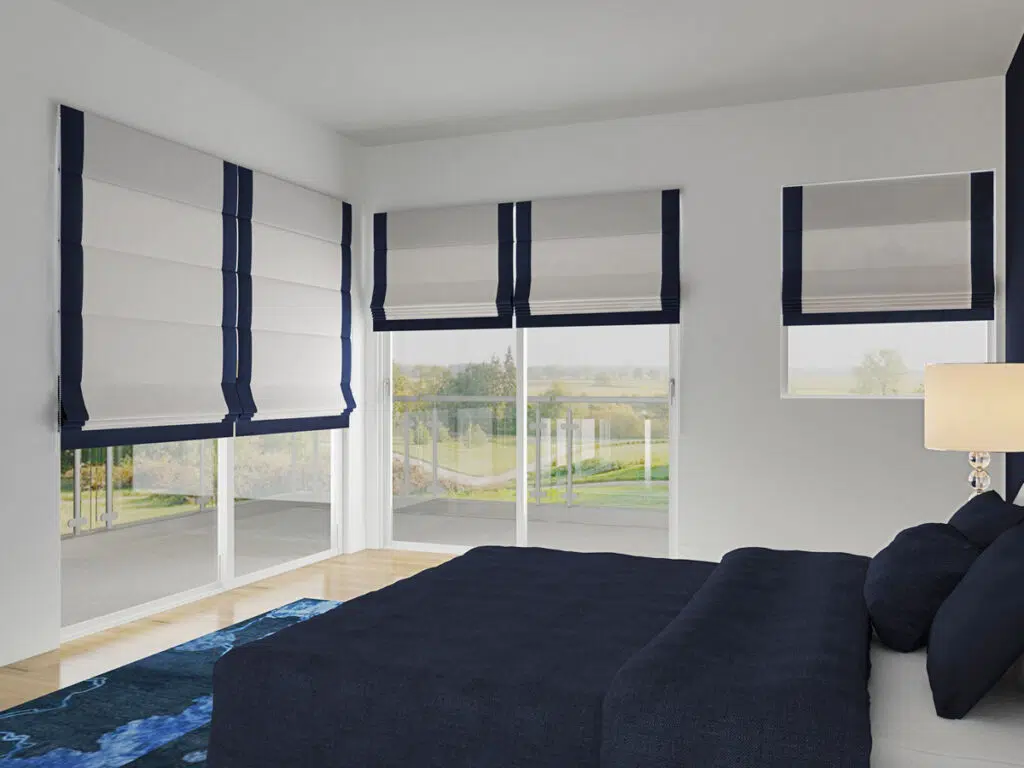 Roman shades are available in a variety of fabrics, colors, and patterns, making them a versatile option for any décor. They're also effective at light control. The fabric is folded into evenly spaced pleats, which helps to diffuse and soften sunlight. In addition, Roman shades can be lined with a room darkening fabric to limit or control light. This makes them an ideal choice for bedrooms and media rooms. When closed, Roman shades provide privacy and reduce glare. When opened, they allow natural light to enter the room. For these reasons, Roman shades are an effective way to control light in any space.
Roller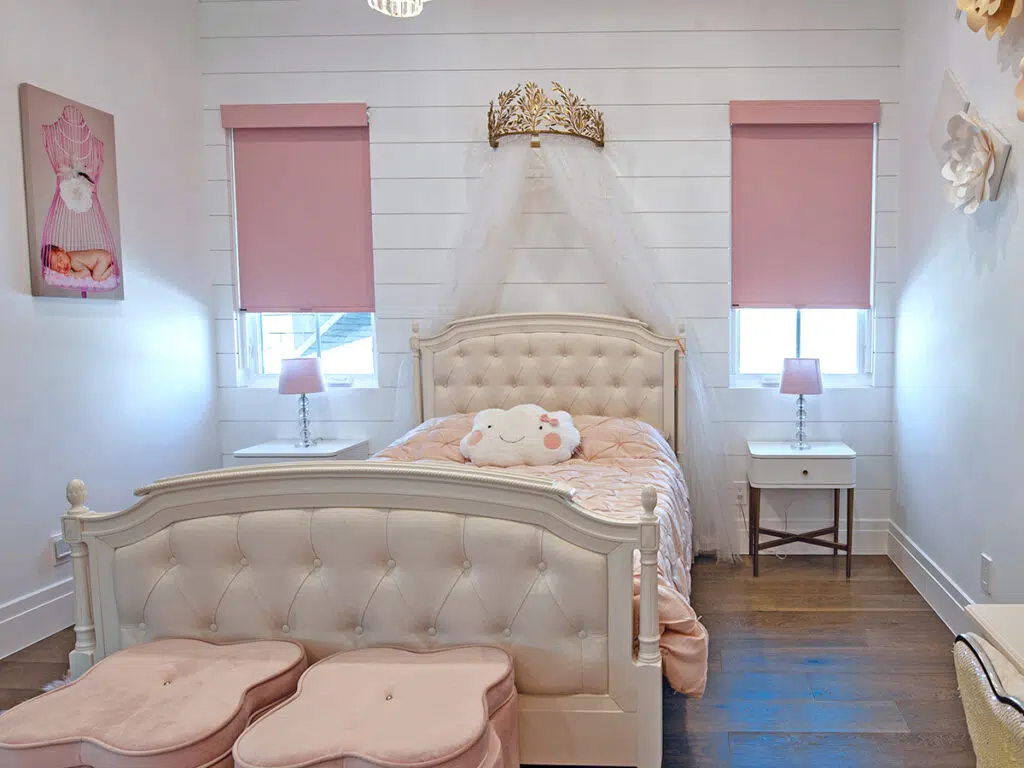 Roller shades are typically made from a range of fabrics from sheer material to solar screen fabrics, or even coated room darkening fabrics. Roller shades are available in a wide range of colors and styles, making them a popular choice for both residential and commercial settings. When it comes to blocking light, roller shades are most effective when the shades are closed or nearly closed. However, since roller shades have the largest side gaps than any other window treatment, some light may be able to pass through; so traditional roller shades may not be the best choice for rooms that require complete darkness, such as bedrooms.
Covering Gaps
If you have light gaps in your window treatments, there are a few ways that you can cover them. One thing to consider is the installation of a light blocking system. This is a special window treatment system that includes blockers on the bottom and sides of your window opening. They will block out the light that comes through the gaps of the window frame at an extra cost.
If you want to cover light gaps in your window frame without purchasing any additional accessories, consider installing your window treatment with an outside mount. Outside mounted window treatments are installed over the window opening rather than inside which is the traditionally preferred method. By mounting window treatments on the outside of the window opening, you can further reduce unwanted light from sneaking through by covering the entire opening. Another built-in method of covering light gaps is to purchase layered window treatments. Layered window treatments combine the functionally of two room darkening or blackout window coverings to create a more robust light blocking solution. DayNite™ shutters, for example, use both a room darkening honeycomb shade and the tight closure of shutter louvers to craft an innovative blackout solution.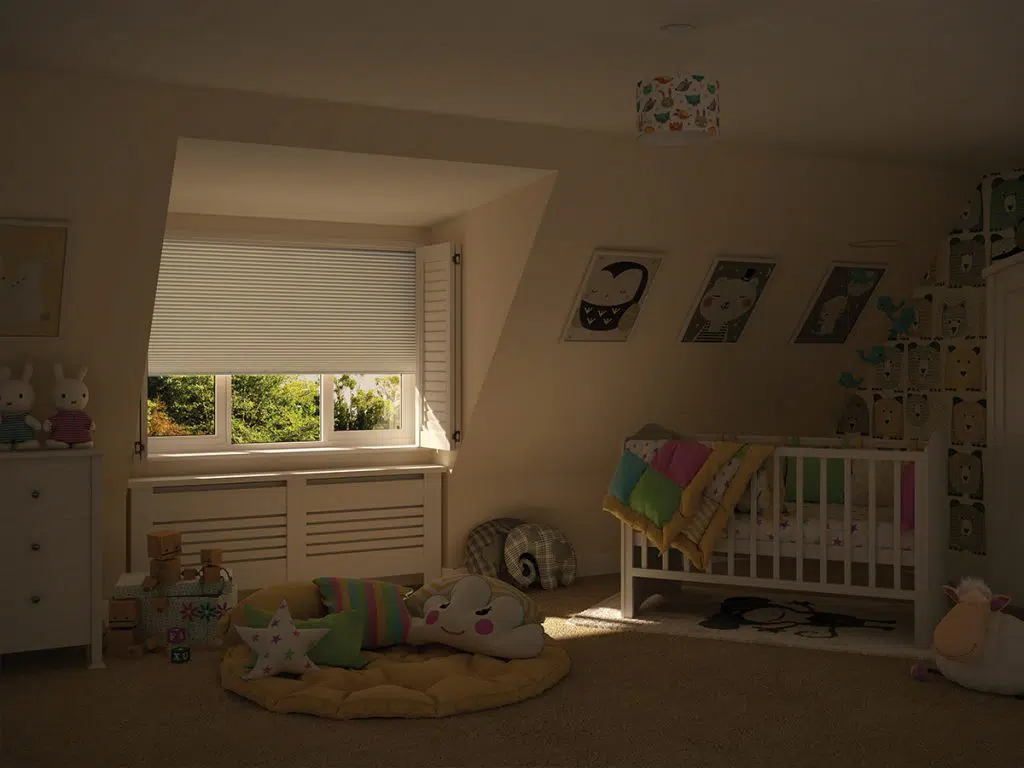 LightGuard 360™
Light blockers for window treatments are commonly used to improve energy efficiency and reduce light pollution, and one of the best light blocking solutions is LightGuard 360™.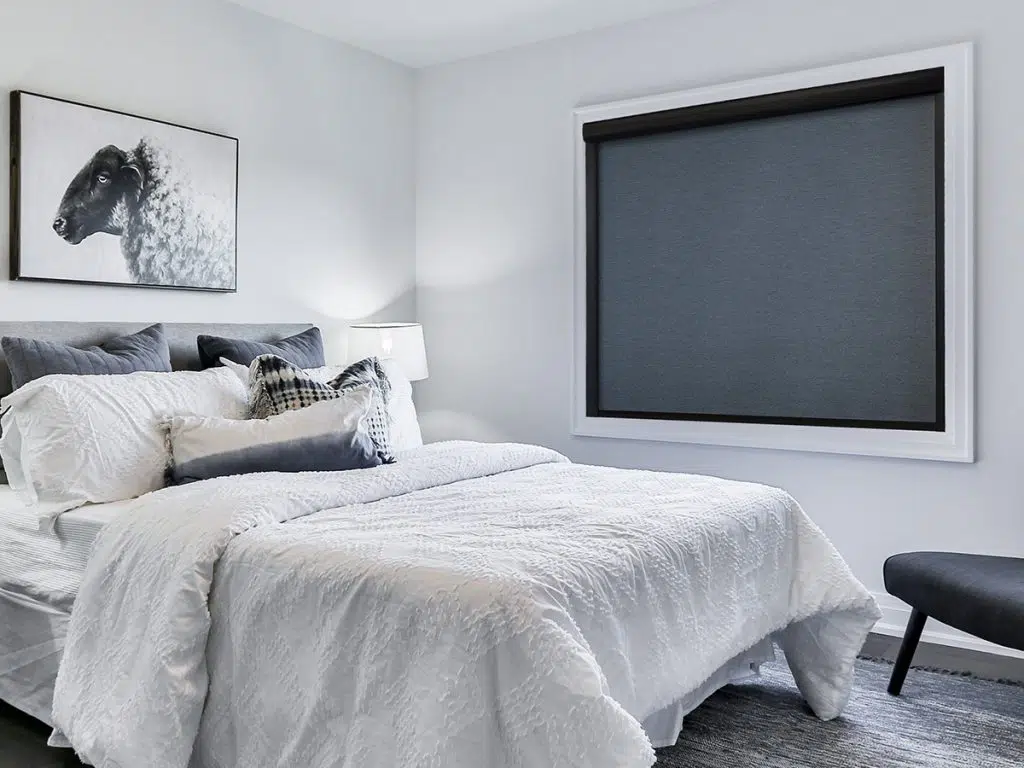 The LighGuard 360™ light blocking system creates a perimeter that helps to keep unwanted natural light from peeking through the gaps on the sides, top, or bottom of the window treatment. Coupled with a room darkening roller shade, this barrier creates a darker and more efficient blackout solution, so you can catch up on the sleep you've been craving.
Finding the Right Light Blocking Solution
Whatever your desired level of light control is, you'll be able to find a window treatment for your needs with a Norman® retail partner. We've broken all kinds of different possible answers to your light blocking questions, so feel free to thoroughly weigh your options to see what will fit your wants and needs the best. When you've found the perfect light control solution for your home, reach out to a local Norman® retail partner to receive it as soon as possible!