Stained wood shutters are sophisticated, timeless and highlight the unmistakable natural elegance and luxury found in real hardwood shutters. The natural grain patterns and uniqueness of each tree used in the crafting process yield that truly one-of-a-kind experience.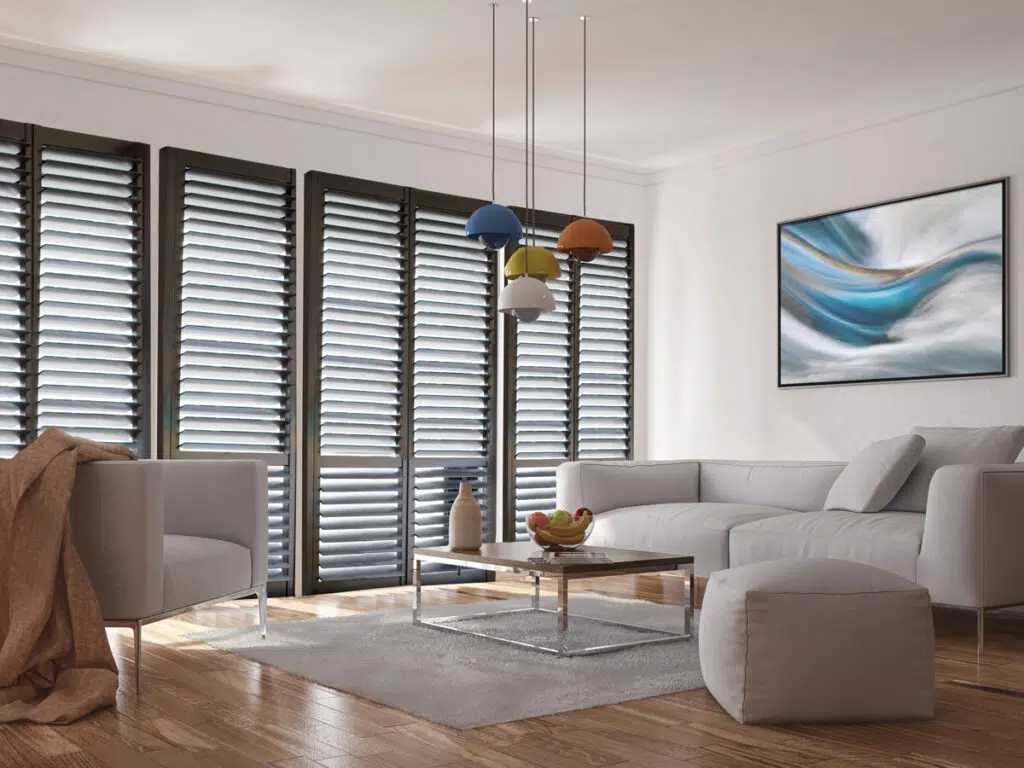 The Paulownia hardwood used in Norman®'s stained shutters uniquely offers luxurious wood graining with elegant natural characteristics exhibiting both depth and character.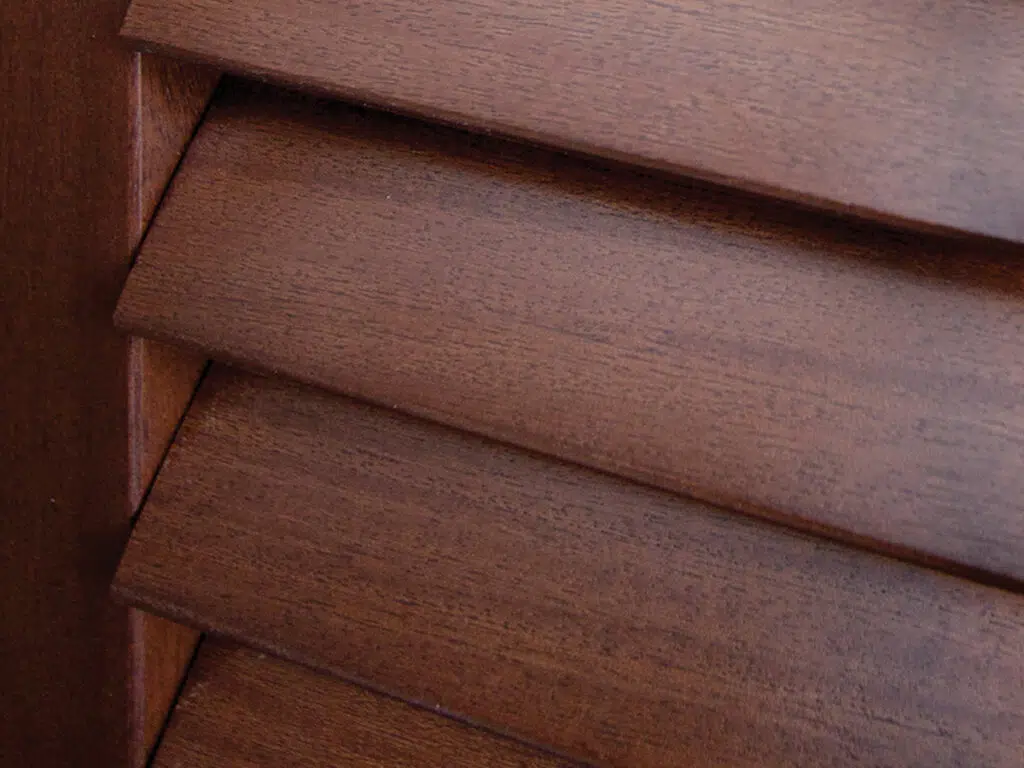 Types of Stained Wood Shutters
Whether you're seeking traditional stained shutters or more modern stained shutters, choose from a stunning variety of finishes in the Norman® collection that range from light wood tones to deep rich hues. Explore each shutter style to learn more about its unique set of benefits and features.
Plantation Shutters
Our most popular form of stained wood shutters, Normandy® shutters are known for their timeless beauty and feature adjustable louvers that allow you to control the amount of light coming through your windows. Norman® offers modern styling options for these shutters including Invisibletilt™ tilting mechanism and larger louvers designed to fit today's wide or tall windows and sliding glass doors.
Traditional Shutters 
Sought after by interior designers for their versatile, timeless, and elegant look, traditional shutters are the perfect addition to any dining room or living room. All of Norman®'s expertly crafted traditional shutters are fully customizable, to fit any size, shape, paint color scheme, or budget. We've never met a window we couldn't fit!
Attention to detail is what truly sets these award-winning shutters apart from the competition. Prescription-treated hardwood, engineered stiles, and mortise and tenon joinery all help create premium-grade, long-lasting window treatments.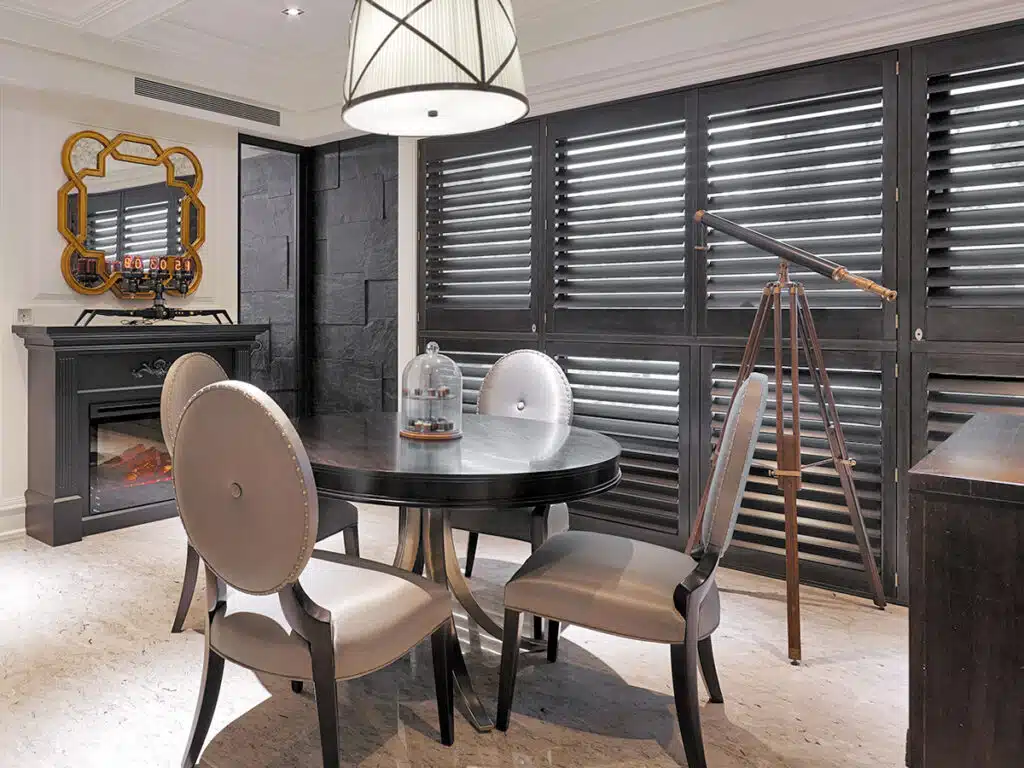 California Shutters 
California shutters are shutters with louvers 2 ½" or smaller. With their traditional look, these handcrafted shutters create a cohesive look while providing an array of benefits, from sound absorption to energy efficiency and increased curb appeal. 
Norman® offers a variety of stain finishes to ensure that any wood tone you're looking for is available. The clear coating we use protects the surface without masking the beauty of the wood grain.
Benefits of Choosing Stained Wood Shutters
Elegant style meets functionality when selecting stained wood shutters for your home. Create the perfect balance between natural light and privacy indoors with shutters or boost curb appeal and increase the value of your home! Learn more about the wide array of benefits this window treatment has to offer.
Durability & Longevity
Premium wooden window treatments like stained wood shutters are designed to act as a barrier between the outdoors and indoors, providing insulation from heat, cold, noise, dust, and more. Unlike vinyl shutters, Norman® shutters are built to last a lifetime with superior strength and durability. 
With top-of-the-line finishes, you can trust that these shutters will stand up to daily wear and tear while retaining their beautiful grain patterns and color for decades. 
Materials & Craftsmanship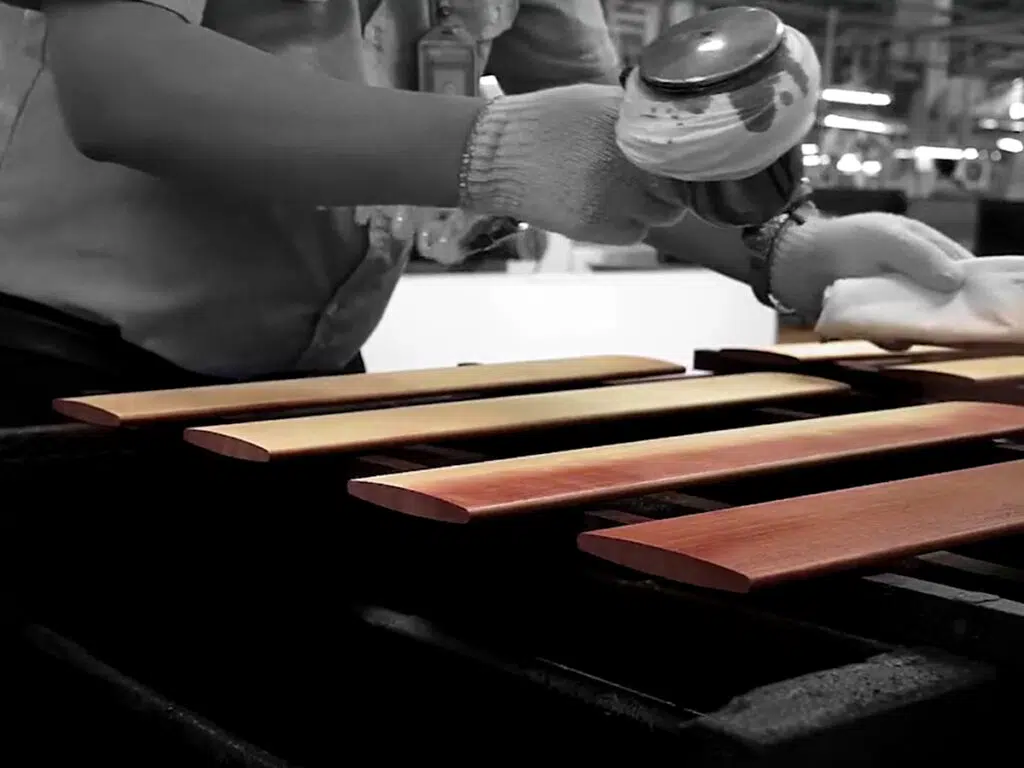 Sophisticated and unique, with real hardwood's unmistakable natural beauty and luxury. The fast-growing Paulownia hardwood in Normandy® stained shutters offers luxurious wood grain with elegant natural characteristics, exhibiting both depth and character. All Normandy® hardwoods are prescription wood conditioned for extraordinary durability and exhibit one of the best strength-to-weight ratios among all wood-type shutters.
Versatile Design
A modern take on a classic Southern staple, Norman® shutters can instantly elevate your interior design. Try a large louver size to increase your view of the outdoors or choose a modern frame to make a bold statement in the room. Pair wooden shutters with textured side panels for added depth. Perfect for the living room, dining room, bedroom, or home office, their versatile design provides plenty of opportunity for customization to fit your desired look.
Customization Options
Norman® stained wood shutters are fully customizable and can fit any size, shape, color palette, or budget. In addition to the wide variety of colors available for our interior and exterior stains, you can also choose from various louver sizes, frame styles, blade designs, and decorative trims to create a truly unique look.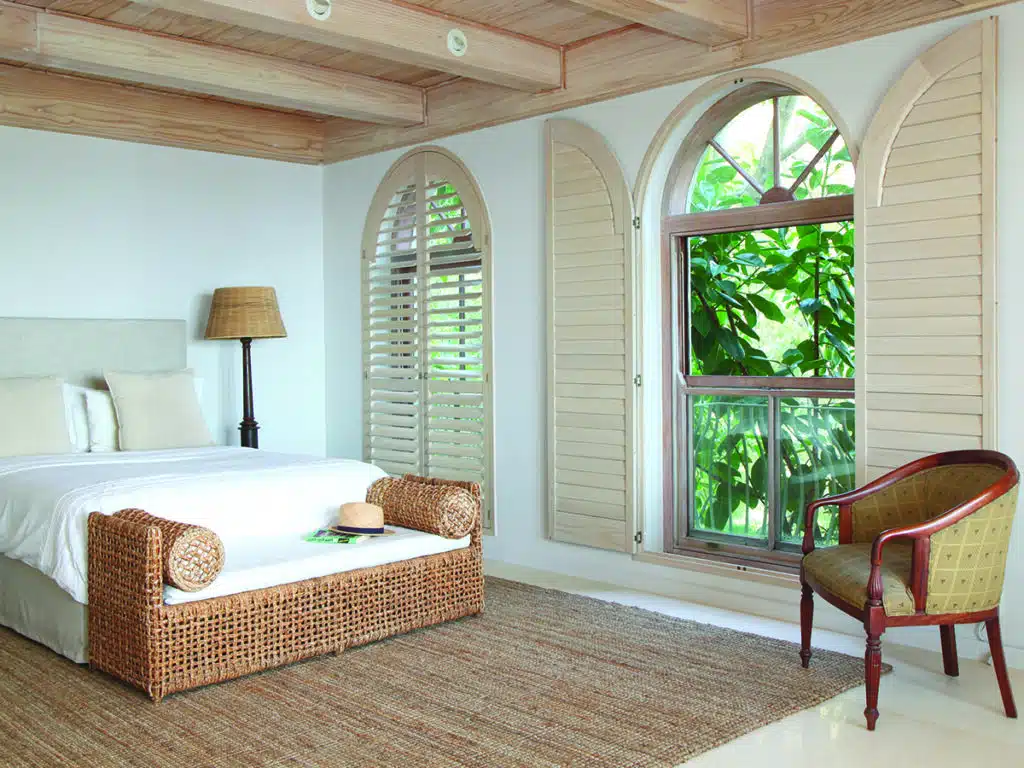 Normandy® Shutters: The Ideal Stained Plantation Shutter
Plantation-style shutters abound in today's market, but Norman®'s are the cream of the crop. Our award-winning Normandy® Shutters are the right combination of innovative design and timeless beauty, crafted to last a lifetime. With prescription-treated Paulownia hardwood construction, superior strength-to-weight ratio, adjustable louvers, UV-rated rich color stains, and a wide array of customization options available — Normandy® shutters are truly shutters perfected. 
General Tips for Cleaning and Maintenance 
Despite what you might expect, stained wood shutters crafted from hardwood are not high maintenance. For best results, we recommend dusting them regularly with a feather duster or lightly vacuuming at least once a month. For deeper cleaning, use only mild soaps and warm water in order to avoid damaging the stained finish. 
FAQS
Q: Are stained wood shutters expensive?
A: Compared to other window treatments, Norman® custom wood shutters are competitively priced and offer great value. The cost of your shutters will depend on the size and complexity of the design as well as any additional features such as motorization or custom color.
Q: Can stained wood shutters be customized to match my home's décor?
A: Yes! Stained custom shutters from Norman® are tailor-made to provide a perfect fit for your window. With a wide variety of stain offerings to choose from along with other custom options, you can find the perfect shutter to match any color palette, furniture, or interior design of your home. 
Q: Are stained wood shutters easy to maintain?
A: No need to worry, stained window shutters are surprisingly easy to care for. To keep them looking their best, we recommend dusting or lightly vacuuming them once a month and using only mild soap and warm water for deeper cleaning — to avoid damaging the stained finish. 
Q: Can stained wood shutters block out sunlight?
A: Yes. Stained wood shutters offer adjustable louvers, giving you complete control over how much light enters your room. Norman® offers a DayNight shutter, which can completely block out unwanted light and add insulation. 
Q: Are stained wood shutters durable?
A: Yes. Norman® stained wood shutters are handcrafted from premium hardwood and wood composite, designed to last a lifetime. With premium finishes and UV-rated stains, you can trust that your stained plantation shutters will stand up to daily wear and tear while retaining their beautiful grain patterns and color for years to come.