California shutters are a classic and versatile window covering that has significantly impacted the world of interior design. These window shutters are characterized by their wide horizontal slats, which are typically adjustable, allowing for precise control over the amount of light and airflow entering a room.
What are California Shutters?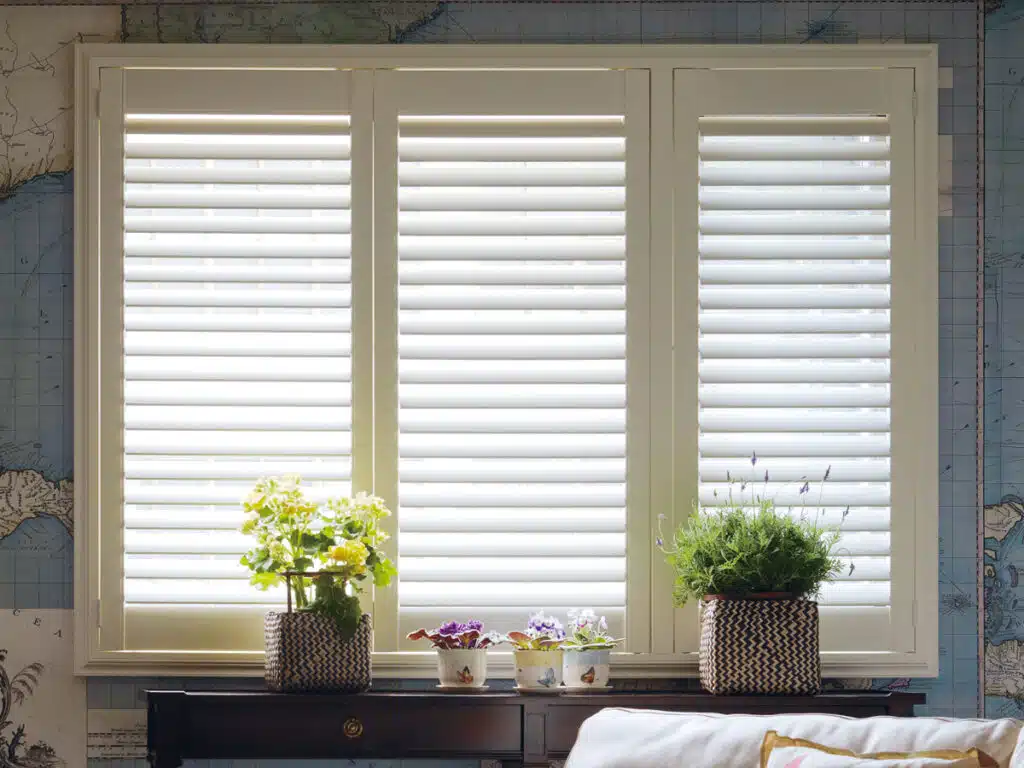 California shutters are window coverings crafted with louvered shutters that are easily adjustable for privacy and light control. Their sleek slats, customizable design options, and insulation properties make them a versatile and stylish choice for interior design, enhancing both the visual appeal and the functionality of a room.
Why the name California?
California shutters have their roots in the American South, particularly in the antebellum era when large plantation homes featured these distinctive shutters. They were designed to protect homes from the harsh southern sun and provide ventilation while maintaining privacy. Over time, the popularity of plantation shutters spread beyond the South and eventually worldwide. These window treatment options are currently trending for a farmhouse chic design look.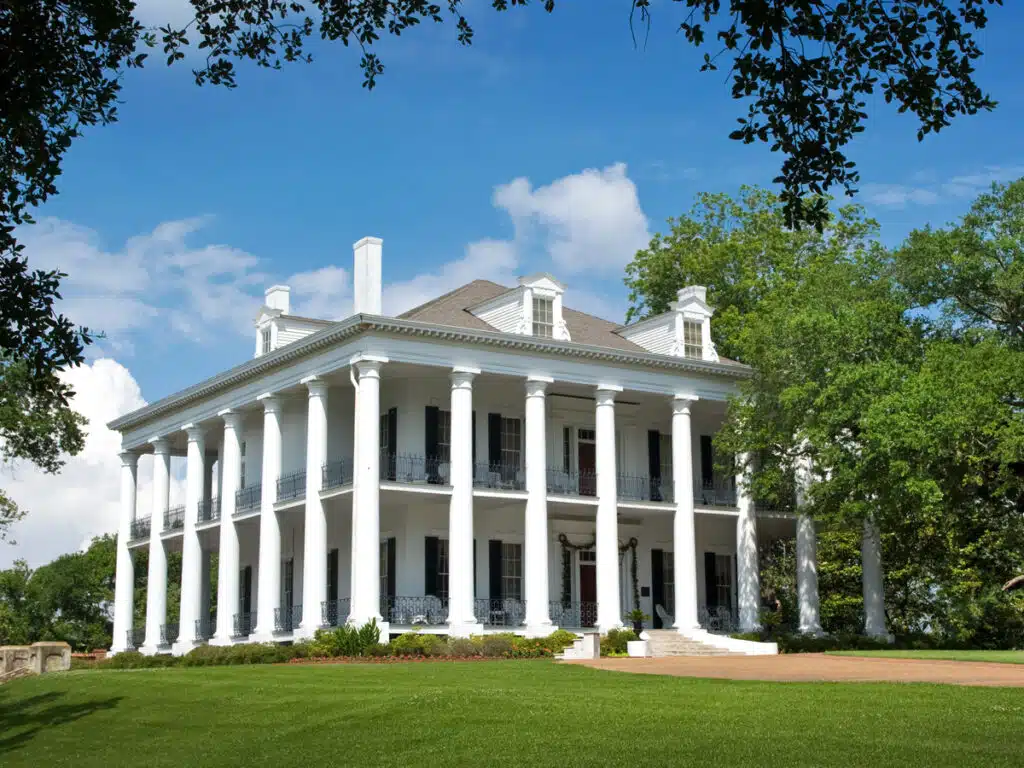 Materials and Customization
Hardwoods are commonly used for their durability and natural beauty. Faux wood and composite shutters are also available for high-moisture areas. Wooden shutters are durable and provide excellent insulation, but they can be more expensive than other materials like faux wood. For more information about these materials, see our wood vs composite shutter comparison.
Features of California Shutters
Durability: A Good Investment
The construction of California shutters involves careful craftsmanship. Slats are securely fastened, and the frames are reinforced to withstand daily use and environmental factors. Robust materials paired with quality finishes make traditional shutters resistant to damaging UV rays and everyday wear and tear.
Aesthetics and Home Value
Clean, crisp lines and customizable design options make living room plantation shutters suitable for various interior styles, from traditional to modern and everything in between. They provide a sense of timeless sophistication, adding a touch of elegance to any room. California shutters not only enhance a room's visual appeal but also increase its overall value.
Maintenance
Smooth surfaces and durable materials make these interior shutters relatively easy to clean. Periodic dusting or a light wipe-down every few weeks is usually sufficient to keep them looking clean and fresh. Their simple design allows you to reach all parts of the shutter quickly without much effort. 
California vs. Plantation Shutters
California shutters are often confused with Plantation shutters. Even interior designers are guilty of mixing up the two! Let's review the key differences, including the size of the louvers, their suitability for different window types, and the materials used.
Louvers
Plantation shutters typically have larger louvers (slats) that are usually around 3.5 to 4.5 inches in width. In contrast, California shutters have smaller louvers, typically in the traditional range of 1.25 to 2.5 inches.
Type of Window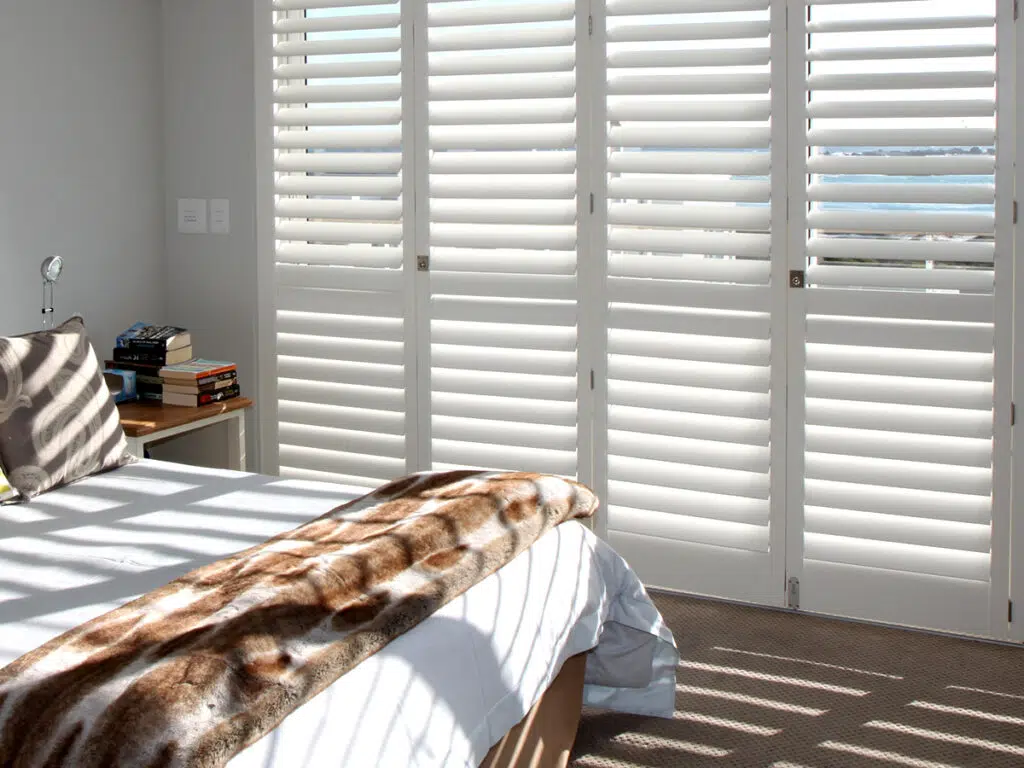 Plantation shutters are most commonly associated with large windows and rectangular windows. They are known for their adaptability and suitability for different window sizes and shapes such as sliding glass doors and french doors. California shutters are more often used for small windows in bathrooms and bedrooms. 
Materials
Plantation shutters are traditionally made from hardwoods, giving them a premium, high-end look. Custom shutters can be made from a variety of materials, including wood (like basswood or poplar), faux wood (composites), and vinyl. This wide range of materials provides flexibility in terms of cost, durability, and appearance.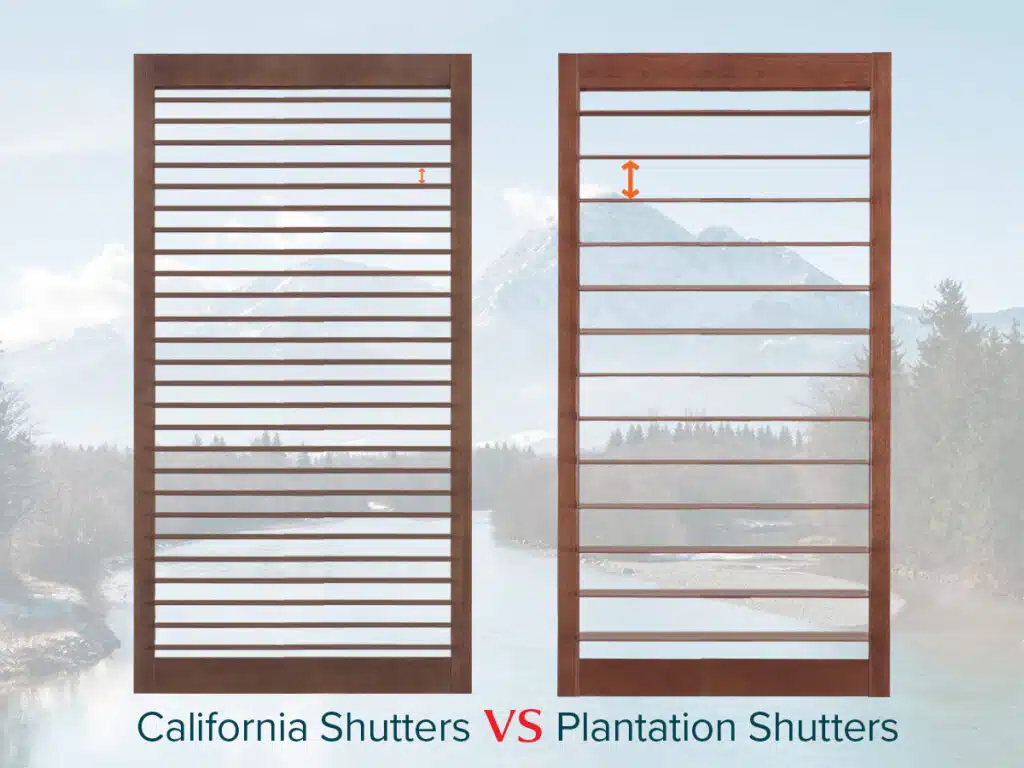 Which Should You Choose?
Plantation shutters are the perfect shutters for formal living and dining rooms. Their traditional elegance can enhance the grandeur of such spaces. Their size and installation are a good fit for picture windows, french doors, tall windows, and more. Their insulation properties help keep your space warm in the winter and comfortably cool in the summer. 
California shutters are extremely versatile in design, with different options to adapt to a wide range of interior styles. They are an excellent choice for modern and contemporary designs due to their clean, crisp lines. Their construction is appropriate for smaller windows and tighter spaces. Each type of shutter has budget friendly options.
Professional Installation Services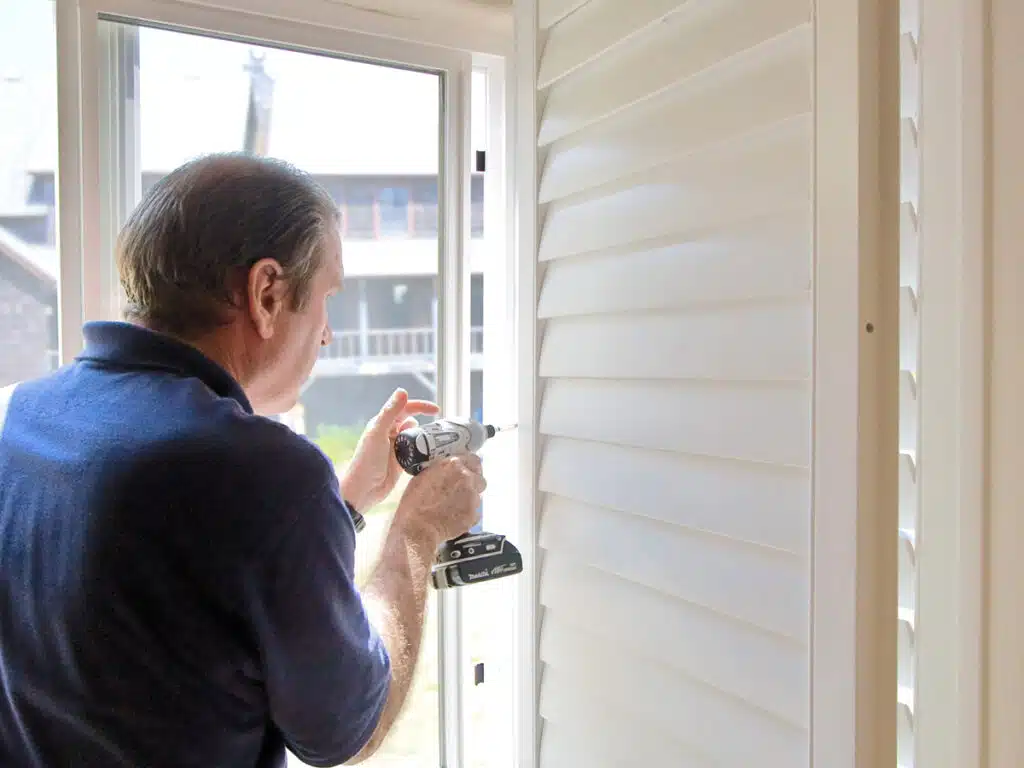 Professionals will get accurate measurements of your windows, ensuring that the wood shutters fit perfectly. Proper measurements are essential to prevent gaps, ensure a tight fit, and maintain the shutters' functionality. Professional installers also have the expertise to align and level the shutters correctly, so your window treatments look great and function properly.
Where to Buy California Shutters
With unparalleled craftsmanship, luxury materials, and curated quality finishes, Norman® has the best selection of custom shutters and blinds on the market. Explore all our collection has to offer and find the perfect fit for your unique design dream. Homeowners can consult your nearest Norman® retailer for personalized attention.
FAQs
What materials are California shutters typically made from?
California shutters are typically made from product materials such as wood, faux wood, or vinyl and can be stained in different colors. Norman® do not sell vinyl shutters. Read this to learn more.
Are California shutters suitable for all types of windows?
California shutters are adaptable to various window types, but their suitability can depend on factors like window size and shape; they are less practical for arched or circular windows and their full height.
Can I use California shutters in rooms with high humidity, like bathrooms or kitchens?
Yes, but it's essential to choose materials specifically designed to withstand moisture, for example, Woodlore® Plus Shutters are built to resist moisture, warping and shrinking.
Are California shutters different from plantation shutters?
California shutters and plantation shutters are often used interchangeably, but California shutters have a smaller louver size than plantation shutters, and plantation shutters are usually crafted from hardwood.